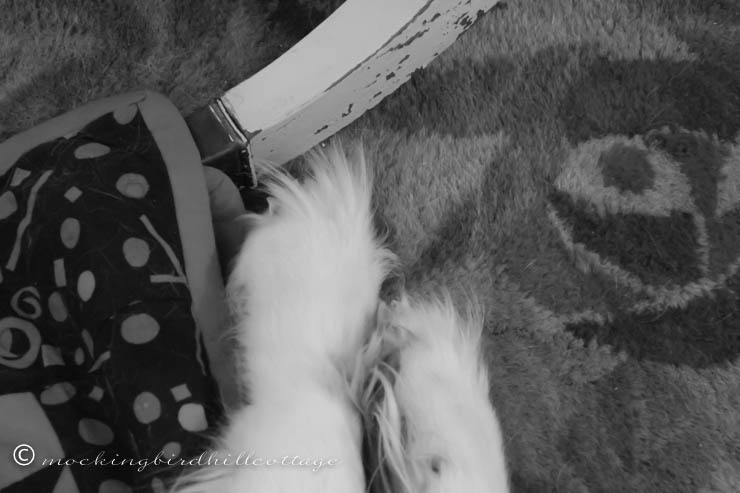 Sweet little paws; photo taken just this minute as my girl sleeps deeply in Mom's "tunnel.'
I missed her so much. And her dad, too. I got home around 2:00 yesterday afternoon. Within an hour or so, I was vacuuming. Don did a great job around the house, but he doesn't see what I see, you know? He made a wonderful dinner and we cuddled on the sofa.
Sigh of happiness.
What a lovely experience working on An Octoroon  was. It was such a gift, out of the blue, and I'm very, very grateful. Yes, it's nice to earn some money, but even more, I was exposed to a powerful new play that is simply stunning. I wouldn't have seen it, otherwise. Every night, I looked forward to watching it again. The actors are very talented and perfect in their roles; in the case of some actors, multiple roles. The director is amazingly inventive. This play was mounted last year at Soho Rep, which is a well-known off-Broadway theater with a house that seats maybe 40 people. Theater for a New Audience is remounting it in their new theater, which is about 10 times the size of Soho Rep, so it's a wonderful opportunity for the play to be seen by more people. It won the Obie Award for Best New Play of 2014. The director of the play is also the Artistic Director of Soho Rep.
As always, I leave one place and leave a part of myself there, while I sit here at home wondering how the Press Night tonight will go and how rehearsals will go this afternoon and tomorrow, ahead of Opening Night on Thursday. Such a lovely group of people – starting with Jeffrey, the Artistic Director of Theater for a New Audience.
Grateful.
And now, a little bit of a rant about the Oscars. First, let's just agree that there can't really be a "Best" anything. It's all subjective. It's all a matter of taste. Every year, I find myself feeling the push-pull to watch the ceremony, all the while knowing that this kind of competition is flawed and, in the end, unfair. That's a given.
Sunday's telecast brought some familiar complaints, along with a few new ones.
1. The tendency to play music and cut off an award winner's acceptance speech. This is nothing new, it's been happening for years. But it's insensitive. This is an award show, after all, and for the winners, a dream come true. It well may be the greatest moment of their professional lives. They deserve to be heard. Is an inane joke from Neil Patrick Harris more important than 30 more seconds of an acceptance speech? It shouldn't be. Pawel Pawlikowski, director of Best Foreign Film winner, Ida, was interrupted twice by 'play-off' music from the orchestra – fortunately for us, he ignored it. The winners of the award for Short Documentary, in this case, a film about suicide hotlines, were interrupted by play-off music as one of the winners was speaking about losing her own son to suicide.
Could the producers be any more insensitive?
2. And, in that same vein, right after that winner was interrupted in the middle of her heartfelt words about her son's suicide, Neil Patrick Harris made what he thought was a humorous comment about her dress. Totally inappropriate – was he even listening to the speech? In a night full of not-very-funny jokes and in some cases, insensitive ones, this one really ticked me off. Listen, I know Neil Patrick Harris, I've worked with him. I've coached him. He is a lovely guy. So I'm not saying anything about his character. I'm speaking to the whole Oscar Show mentality – where gimmicks and jokes and not-very-good production numbers and constant hype about Lady Gaga or Neil's Oscar predictions seem to take precedence over the the actual awards.
3. Yes, Lady Gaga sang beautifully. I wasn't at all surprised because I know she's a trained singer. Good for her- she did a great job. It's lovely to see her show her quite impressive chops. But, it says something about the show itself when the appearance of Julie Andrews brought a sigh of relief. She is a true multi-talented movie and theater star, gracious, elegant, and as classy as they come.
4. In Memoriam. I don't even want to go there. So many artists were omitted. I advise you to go to tcm.com and watch their In Memoriam tribute, which is much, much better and heartbreakingly beautiful.
Okay, I've ranted long enough. I'm happy for the winners, all of whom are immensely talented. But the Oscars are getting to be just another awards show: all glitz, ratings-driven, badly written and misdirected.
Just some thoughts from a movie lover.
Happy Tuesday.