Endless snow. Remember that song, Endless Love ? Never a favorite. I was forced to sing it at more than a few weddings; yikes, that brings back awful memories. Well, the melody is once again in my head with the lyrics morphing into 'endless snow.' Perhaps I should rework all of the lyrics in a plaintive and depressing tribute to the non-stop snow that is falling?
It started snowing late yesterday afternoon and hasn't stopped. So far? About 8 inches, with the same amount predicted to fall during the course of the day.
Nothing like hauling on one's boots and jacket and hat at 6 am to shovel snow in Dame Scout's mini corral. Believe me when I say I'm really enjoying being back in the house sipping some morning coffee!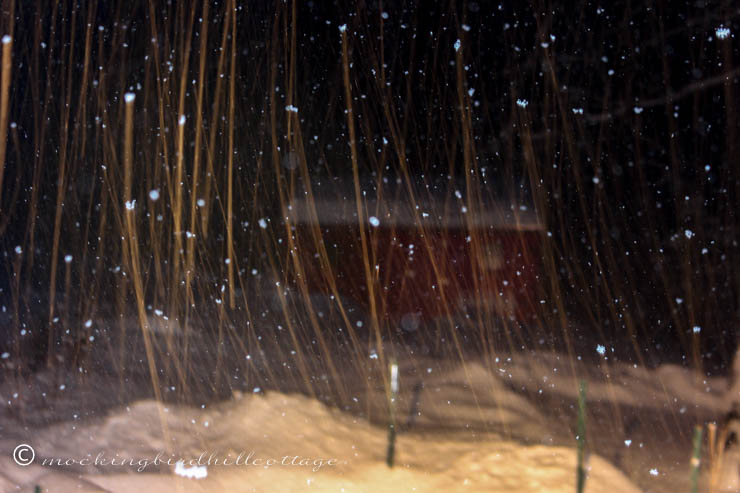 This is what happened when I aimed my camera out the kitchen door to take a shot of the snow this morning. I rather like it: white snowflakes, shots of gold, the red shed in the background.
We're over the snow, of course. Yes, there is a beauty in it. There is beauty in any  landscape and we try to remember that as we face the endless mounds of snow on our immediate horizon. Nevertheless, the snow, and the feeling of being housebound, along with the colds we've both been battling, makes us want to scream. A little.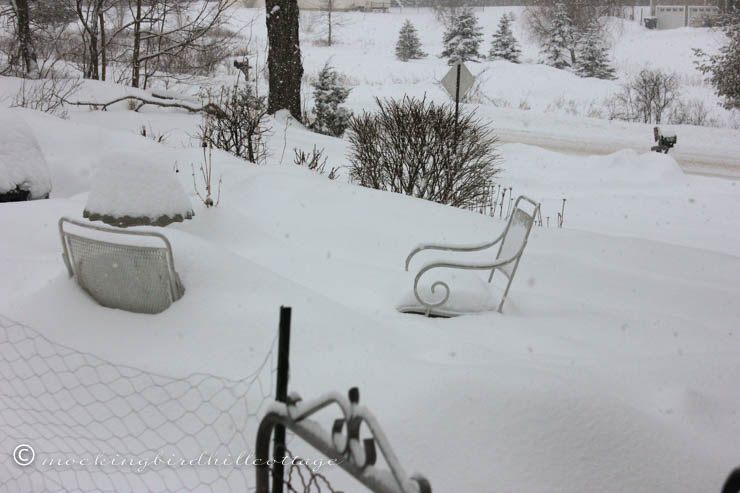 Will the chairs on the funky patio soon be buried? It's starting to look that way.
Oh winter, you are no longer fun for me. I try, I do. When you first arrive, you are delightful. That first snowfall? Lovely. Magical. It's as if we're seeing snow for the very first time.
But along about February? You have overstayed your welcome. We look at all of the snow and wonder how it will ever melt, especially when we are saddled with below zero temperatures. It seems impossible, even though we know it will eventually melt away.
But maybe not until April.
I have some work coming up in Manhattan/Brooklyn that will require me to be in the city on and off for a week or two. It looks like it will start at the end of this week. The theater company will put me up on those nights when I have to watch evening performances, which is a relief, as I wasn't looking forward to traveling back home in the wee hours of the morning. I've done that before and it's exhausting. I'll know more about my schedule later today. I'm working with a company I worked with a few years back when I coached The Merchant of Venice, starring F. Murray Abraham. This production is not Shakespeare, however. I'm going in to listen to the actors as they work on the stage and make sure they can be heard and understood in the theater's new space in Brooklyn. I'm excited about seeing that space, which opened last year.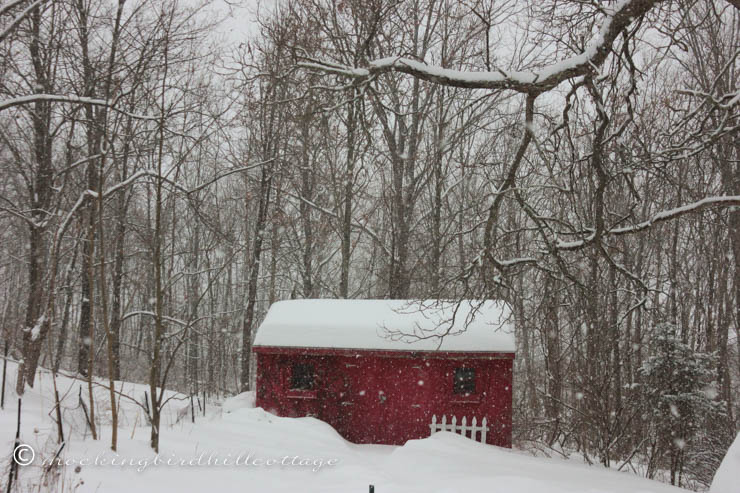 There's a new post up on Just Let Me Finish This Page with more interesting links concerning the newly discovered novel written by Harper Lee, as well as some other links you might enjoy.
Happy Monday.