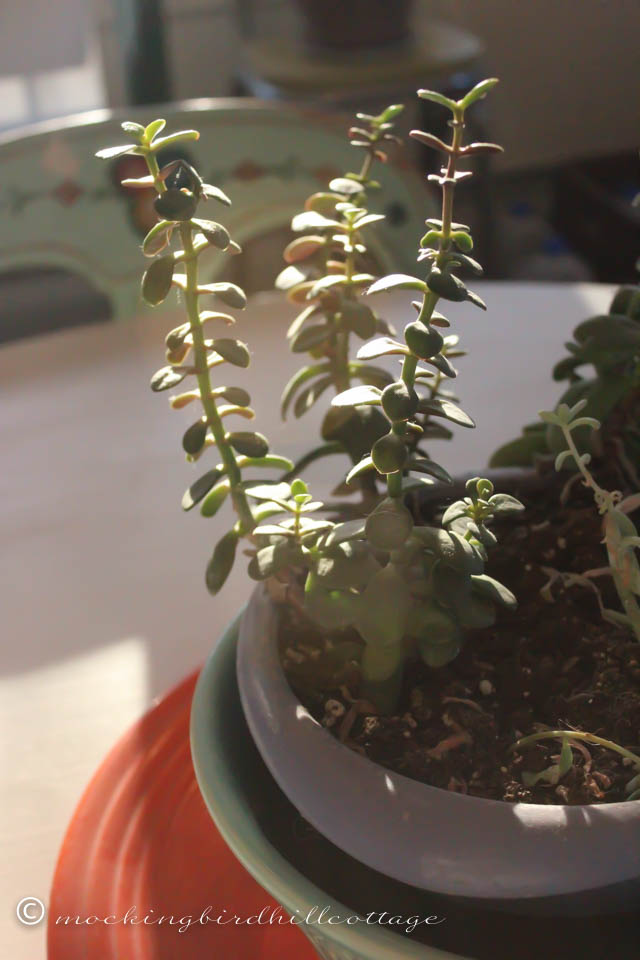 Here's the challenge of the blogger in the throes of winter.
Photos.
I stand here in the morning after I've had my coffee, holding my camera, searching for something, anything  to capture with my lens. Something that you haven't seen before? Almost impossible after seven years of blogging. A new view of the inside of the cottage? Equally impossible. (Unless I do something like hang upside down while photographing the kitchen…)
For example, you've seen Riley's Dish Garden before. Many times. The plants have changed a bit, but I'd bet money that this particular configuration is the same as the last time I took a photo of it. The morning light makes it look interesting, however, so I'm going with it.
It's friggin' cold out there. Unless there's a great sunset, I'm basically looking at snow. I've taken hundreds of photos of snow over the years. It's white, there's a lot of it out there and, quite frankly, unless I tromp through the woods, I'm not going to come up with anything new. And maybe not even then. I'm sick of the snow at this point. Don is sick of the snow. Scout is sick of the snow. End of snow story.
And I'm not tromping through the woods.
We're suffering from cabin fever here. I'd love to take some photos of little green things emerging from the ground, but I don't think that will be happening for another month, at least.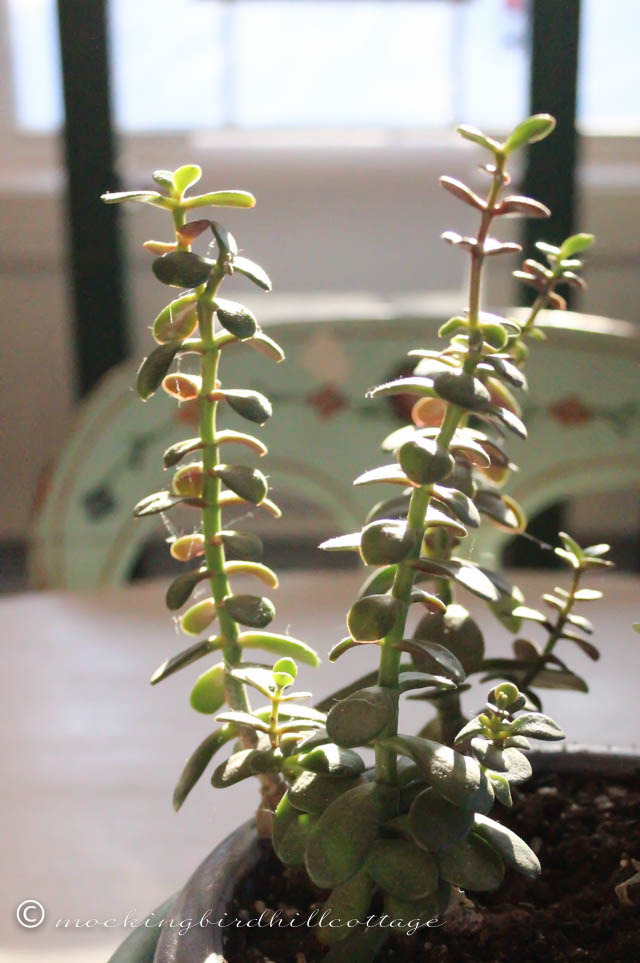 I think I need to dust this plant. See the little cobwebs? That's something that a camera lens can do for you – help you to see tiny details that you might miss otherwise. I cropped this photo into a close-up of the plant and there, right before my eyes…little cobwebs. Edited to add: And dog hair. No mites, don't worry.
Maybe I should do this with all the areas in my house. It would bring a whole new level of dirt and dust awareness to my cleaning regimen.
Don has a gig tonight. I'm staying home with Miss Scout, who cannot be without either Mom or Dad for any length of time these days. I'll treat myself to a long soak in the tub, bubble bath included.
We watched the first two episodes of House of Cards  last night. We're wondering if this season will bring the same excitement, brazen behavior and ruthless actions as the first two seasons. So far it doesn't seem that way, but it's early on in the 13 episode season, so we are refraining from any conclusions until we see more.
I call the Underwoods (the characters played by Kevin Spacey and Robin Wright) the Macbeths of Washington D.C. Very Shakespearean, this series.
An Octoroon  received a rave review from the New York Times. Huzzah! (Don't look for my name in the credits in the review. I didn't come on board until the last moments in the process. I am  in the program, never fear.) I'm so honored to have been a small part of this incredible production. This play is an important, powerful work. It's heartbreaking, wildly funny, and tragic. It's daring and beautifully written. You can read about it in the review, if you're interested.
Happy Saturday.