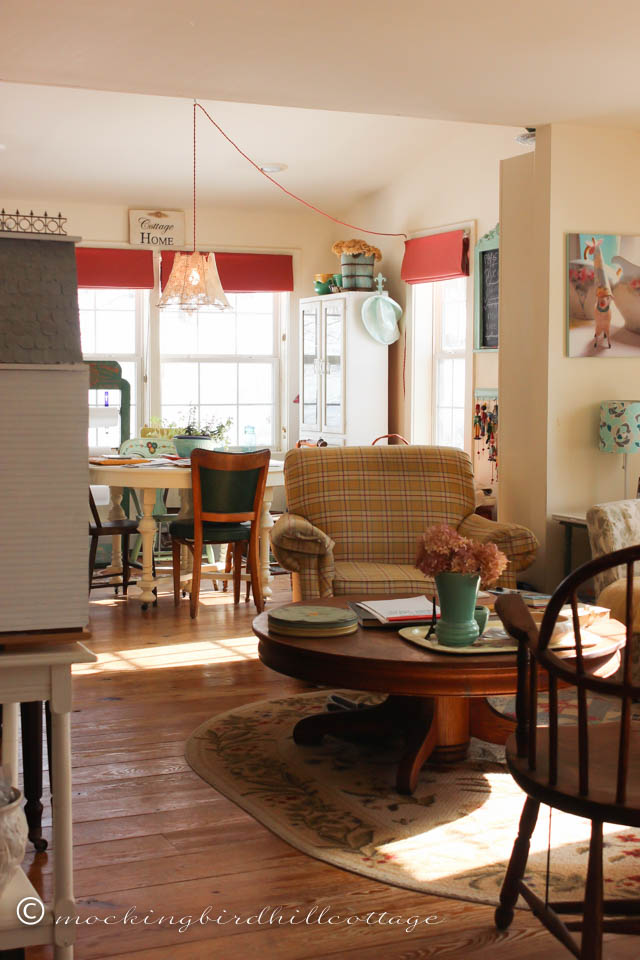 This has been my almost-constant view lately, as I sit in my chair, kleenex in hand, sniffling, coughing, drinking orange juice, generally feeling yucky. Sometimes I read; actually, I've been reading a lot, sometimes I browse on the old internet, sometimes I feel sorry for myself. Waaah.
Last week was a tough week and this one….well, it's starting out with a bang. We're in a snow event here with snow falling all night and about 7 or 8 inches on the ground this morning, with snow expected to fall all day long. Here's another view for you today: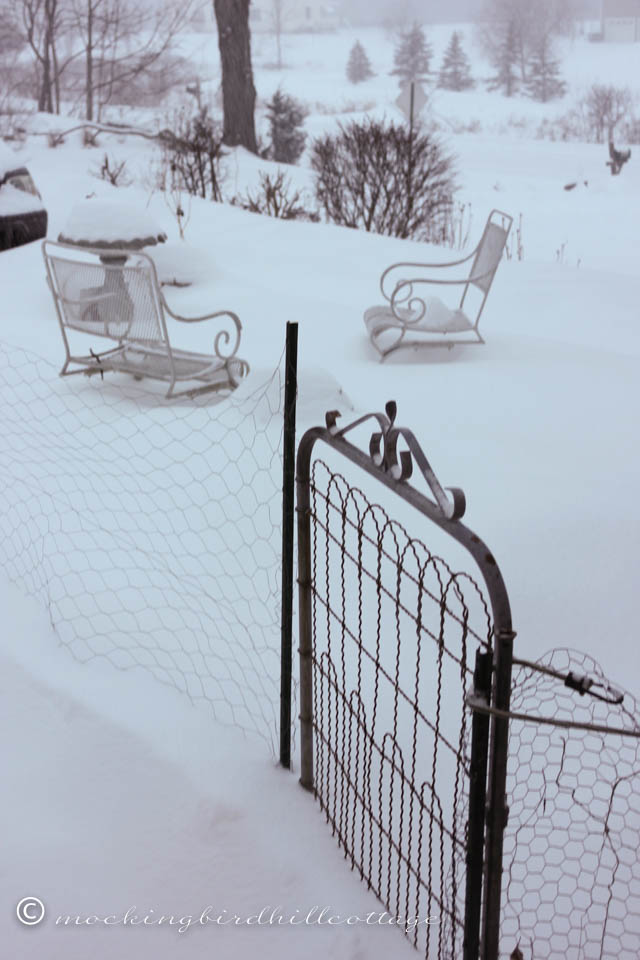 Soon it will be higher than our chairs on the funky patio.  I got up around 6 this morning, jolted awake by a coughing fit, and Don got up just long enough to go out and shovel Scoutie's little corral for her. Then he went back to bed. This picture was taken about an hour later. You can't even tell where Don shoveled.
And the temps are frigid out there, which doesn't bode well.
I'm ready to shovel, but Don won't let me. (I may sneak some in.)
We are ready for winter to be over.
Unfortunately, it's only February 2nd.
Thanks for all your wonderful 10 favorite movie lists yesterday! What fun it was to read everybody's faves. As I suspected, each time I read a list, I was reminded of yet another movie that I loved. (I stealthily added Cinema Paradiso  to my list later in the day.) If you haven't read the comments on that post, you may want to make some hot chocolate, or coffee, or tea and peruse everybody's favorites.
What else? I'm just about to finish Howard's End is on the Landing  by Susan Hill and I'm diving into The Long and Faraway Gone  by Lou Berney. I have a book review coming up on this blog tomorrow.
I'm taking a little survey on Just Let Me Finish This Page, inspired by a chapter in Susan Hill's book. Do you jot notes in the margins of books? Are you someone who never writes in the pages of a book? Or are you somewhere in between? Stop by Do You Scribble in the Margins?
Happy Monday.