Lots of snow, sleet and rain here in the city. I do love watching it fall outside my window, knowing that I don't have to shovel. Apologies, Don! But really, it's so nice to know I can enjoy it, without wondering how I'm going to clear everything out and drive on the slushy and/or icy roads. Reminds me of my apartment days in Philadelphia and Boston, both of which accumulate a lot of snow in the wintertime. Yes, I have to walk in it, but hey, that's nothing!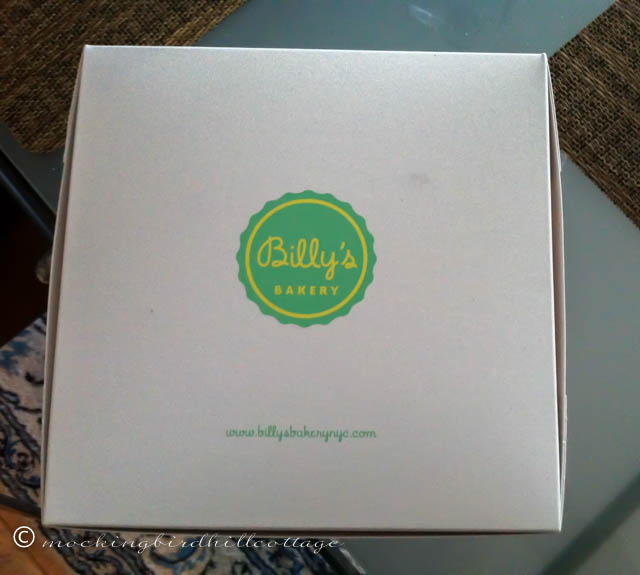 I went back to The Mysterious Bookshop and then, as if my feet had a GPS of their own, found myself at Billy's Bakery. It wasn't open. Oh no, I thought. Not open on Saturday? Then I saw someone inside and looked more closely at the posted hours. They didn't open until noon and it was about 11:50. So I contented myself with finding the address for Whole Foods in Tribeca. I wanted a good lunch from their food bar – I've not been eating as well as I usually do – it's a  problem with being on the road for a relatively short time on a budget and with no per diem. Then the door to Billy's magically opened and I bought three more cupcakes. Yellow daisy. I had one yesterday, will have one today, and – you guessed it – will have one tomorrow. Ummm-mmmm good!
Back to the bookshop. I want to work there. Wouldn't it be heavenly to order books, sort them, put them on the shelves, and have lovely chats with customers about what books to buy, about recommendations, about the authors? All in that wonderful shop with tall bookshelves made of darkly finished wood? With a glass case full of rare books? With a leather sofa to sink into?
The only drawback: a three hour commute every day. That does put a damper on things.
I bought three more books: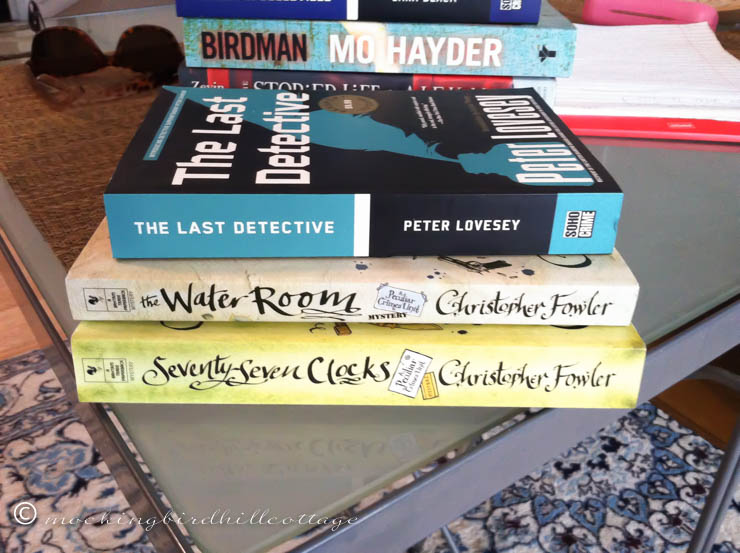 The books by Christopher Fowler are part of a series about two men, Arthur Bryant and John May, called the Peculiar Crimes Unit Mysteries. I believe I have the first one in the series at home – still unread. They are supposed to be wonderful and the man I spoke to yesterday confirmed that. He said he loves them.
The Last Detective  by Peter Lovesey has an introduction by Louise Penny where she says that this book "changed to the face of detective fiction when it was released in 1991. It broke every template, every tradition, every 'rule' of the genre." She's a huge fan of the series. So, of course, I bought the book.
When I'm going to get the time to read all of these with my list of "To be Reviewed" books quite lengthy, I don't know. But they will be there, on my bookshelves, waiting for me. Meanwhile, I finished the Olen Steinhauer book yesterday. I think I'll start Cara Black's Murder in Belleville. Not sure yet.
I've sent off a note to the director to find out if I can leave tomorrow. Fingers crossed. My family needs me. I need them. I need to nuzzle my nose into the hair on Scoutie's head. I love her scent. I need to hug my husband. I'm grateful for this job and the opportunity to spend some time in Brooklyn, but I need my sunny little cottage.
You understand.
A review of The Storied Life of A. J. Fikry  on Just Let Me Finish This Page today.
Happy Sunday.