Yesterday was a full day: coaching all afternoon, taking notes on the performance at night. I can't complain – I'm working and I have a nice apartment to stay in.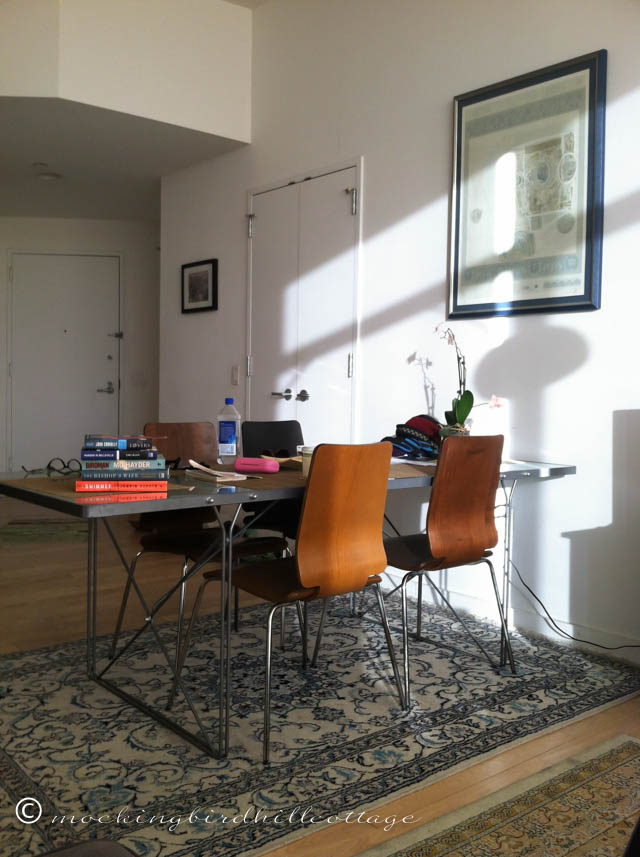 I'll only show this view, as this is someone's home and I don't feel comfortable showing anything that would be too personal. That table is the dropping off point for all of my stuff; books, hat and gloves, glasses, theater ID, water bottle, sunglasses. The sunlight pours in the windows. Not bad at all.
The other night at the theater I ran into one of the young actors I coached last summer in A Raisin in the Sun, as well as a former student from my Old Globe days. It was so nice to catch up with both of them. This play, The Octoroon, is selling well; every performance is packed and the audiences are loving it. The play is very, very powerful and I find I've fallen in love with it. It's always tricky coming in late in a production, which is the position I'm in with this show, but the cast is very talented and welcoming. I'm doing what I can to clean things up vocally.
Do you ever obsess about a piece of music you hear? I do that frequently. If I don't know the title, I'll search high and low until I figure it out. Well, I'm a huge fan of 80's era R & B – Earth, Wind & Fire, Teddy Pendergrass, Luther Vandross, James Ingram, Stevie Wonder, Jeffrey Osborne, Chaka  Khan, the young Whitney Houston…. I love the sound, the lush arrangements, everything. A lot of the music was produced in Philadelphia and that sound is very distinctive. I also lived in Philadelphia in the eighties, but that's neither here nor there. Or is it?
There is music playing throughout intermission and the other night I heard a piece that I loved. It sounded like the great Deniece Williams – one of my favorite R & B singers, with the voice of an angel and a vocal range that would put Mariah Carey to shame, sung cleanly and honestly, without Ms. Carey's need to perform vocal gymnastics. Last night, I heard it again, so I pulled out my iPhone and recorded it via Voice Memo. When I came back to the apartment, I stayed with my instinct that it was Deniece Williams and started to search for the song on iTunes.
Bingo. I hadn't listened to more than 3 songs when I found it. It's called Silly  and was recorded in the early eighties. I immediately downloaded it and now I have it playing on an endless loop on my earbuds. Love, love, love it. Love that time, those arrangements, the incredible voices, the romantic, lush quality to all of the songs.
So if you're wondering what I'm doing, I can be found listening to Ms. Williams. If you're unfamiliar with her work or think you're unfamiliar with her work, think of Gonna Take a Miracle, Free, and her duets with Johnny Mathis, including Too Much, Too Little, Too Late. She also had a big hit in Let's Hear it For the Boy.
I already have Gonna Take a Miracle  and Free on my playlist. Why do I have a feeling I might be adding even more?
The cupcakes, the cupcakes – I don't remember the flavors, my friends. I am not one that likes to sample a lot of different flavors. I like a basic yellow or chocolate cupcake with the frosting being the thing. Let's face it, that's where the fun is. So the cupcakes I picked that day? Three were yellow and one was chocolate.
Okay. I just looked up the names: Yellow Daisy Cupcake and Classic Chocolate Cupcake. I have one more left. Will I have to get some more? You tell me.
Happy Thursday.