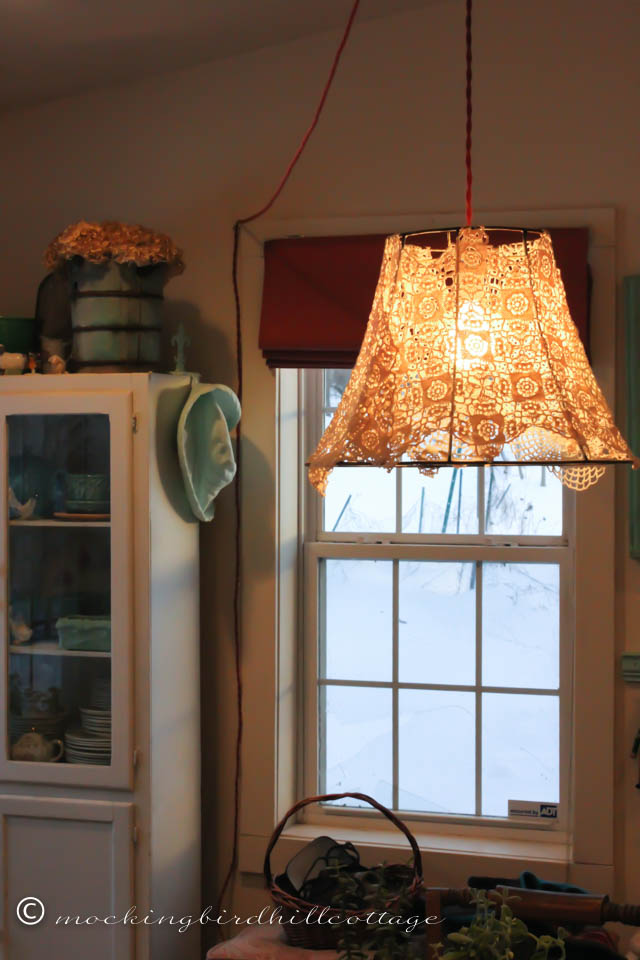 I like my homemade doily swag lamp. Sometimes I consider changing out the shade. However, when last I mentioned that idea to Don, he gave it a thumbs down. Turns out he likes the crocheted doilies because they allow him to see through the lamp to the window and beyond. There's a lightness, an airiness to the whole thing. So it stays as is.
When I realized I'd be staying in Brooklyn off and on over the next week and a half (in an apartment close to the theater) I knew it was time to finally order my Kuissential SlickDrip.
What the heck is that, you ask?
You know I love my coffee. Since last summer, I've started making my coffee every morning using the single cup pour over method. Best coffee I've ever tasted. It involves using a filter holder that sits on top of a mug, a number 2 filter, a couple scoops of coffee and boiling water.  Simple. Cheap. Just the cost of the coffee and the filters. Here at the house, we use a filter holder made by Melitta that we've had for years. But what to do when one of us is traveling?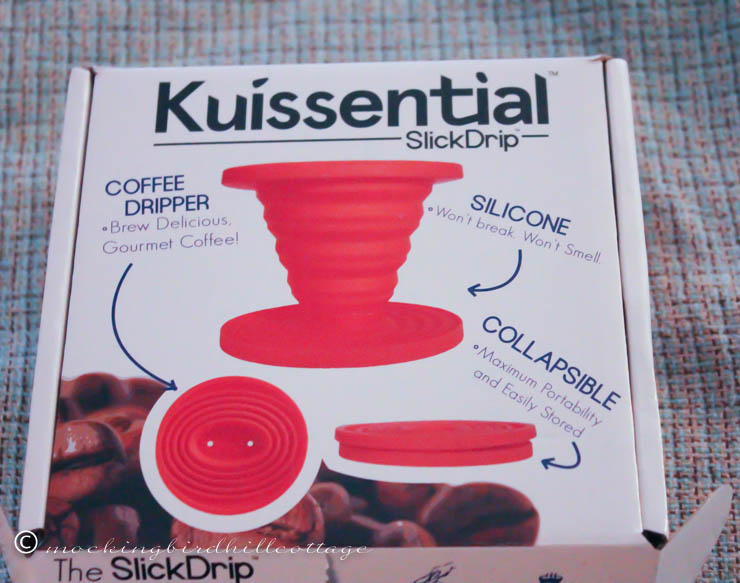 This. It is perfect for traveling. It's made of silicone, and collapses for easy packing.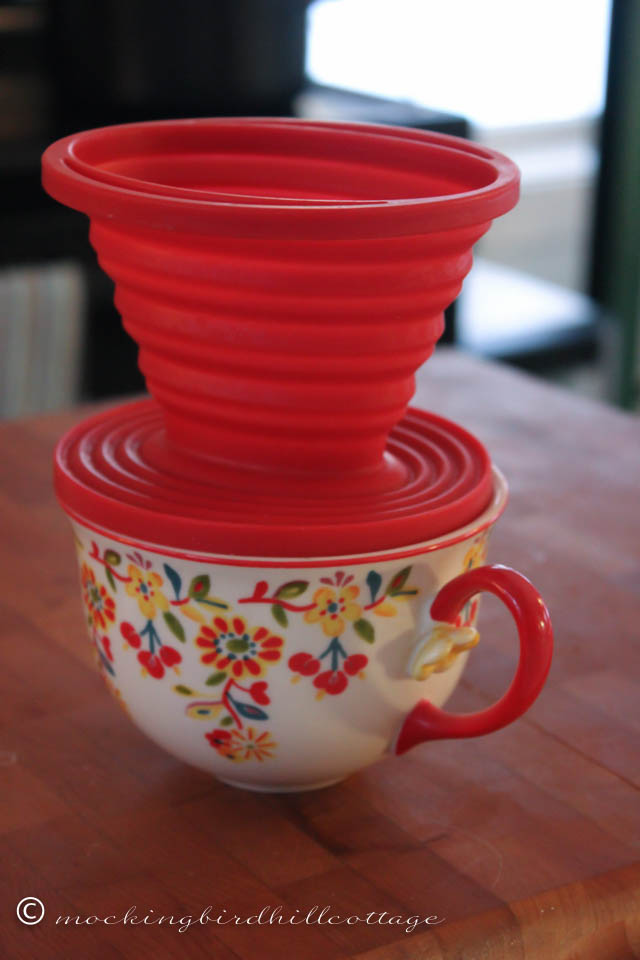 Here it is, sans filter.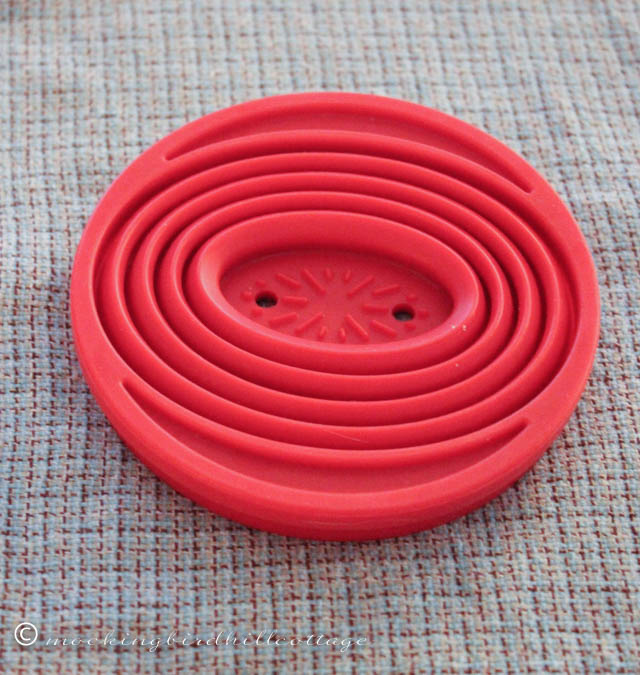 And here it is in its neatly collapsed state.
I tried it out both yesterday and today and, maybe I'm crazy, but my coffee seems to taste better than ever.
I was turned onto the SlickDrip by my roommate this past summer in Chautauqua. Andrea is a costume designer and she travels a lot. She told me she had two needs on the road: portable speakers for her music/playlist and the SlickDrip. She likes a strong cup of coffee. Her enthusiasm for it was infectious. She insisted on making me a cup of Peets using the SlickDrip and I went into a swoon after tasting the coffee. I became a single cup pour over convert. When I came home, I dug out our Melitta filter holder and stopped using the coffeemaker. It's now in the closet and I've never turned back.
I'm not being paid by Kuissential, they don't know I exist. Oh, wait: they do  know I exist because, after I purchased the SlickDrip via Amazon, they sent me a great email with all sorts of tips for making great coffee. I just wanted to share this with you because it's such a neat idea.
Anyway, you know I love to talk about coffee and I know everyone has their preferred method of brewing coffee. It's a highly personal thing! But, after years and years of coffee drinking, I feel like I've finally found the best way to make an excellent cup of coffee and it doesn't involve the expense of a coffee maker. Who knew? We've happily kicked the coffee maker to the curb.
And just like making a good cup of tea, this takes a little time. I find the ritual of slowly adding water to the grounds very calming – a little ceremony, if you will. It's a nice way to start my morning.
Tomorrow, when I take off for Manhattan/Brooklyn, I'll have a bag of Peets, a few filters, and my collapsible coffee dripper.
And some books to read, of course. And my flannel pajamas.
New post up on Just Let Me Finish This Page. I want to know your thoughts on The Long Way Home  by Louise Penny. I just finished it.
Happy Thursday.