I haven't checked in with Don yet this morning, but I hope all is well there after a night of wind chills that went down to 25 below zero. Crap. Same thing here, though not quite as low; about 15 below. Thank goodness I only have to walk about 100 feet from the theater to the apartment building!
This February has been one for the records. Literally. The temperatures in my neck of the woods have broken records that are over 25 years old; in NYC, over 50 years old. You have to hand it to New Yorkers, though. Nothing stops them. All of the warnings about wind chill did not keep a full house of audience members from watching the show last night and giving it a standing ovation.
It's pretty powerful theater. I can't take credit for any of it. It's the incredible work of the playwright, the director, the designers and the wonderful actors. I just do a little tweaking.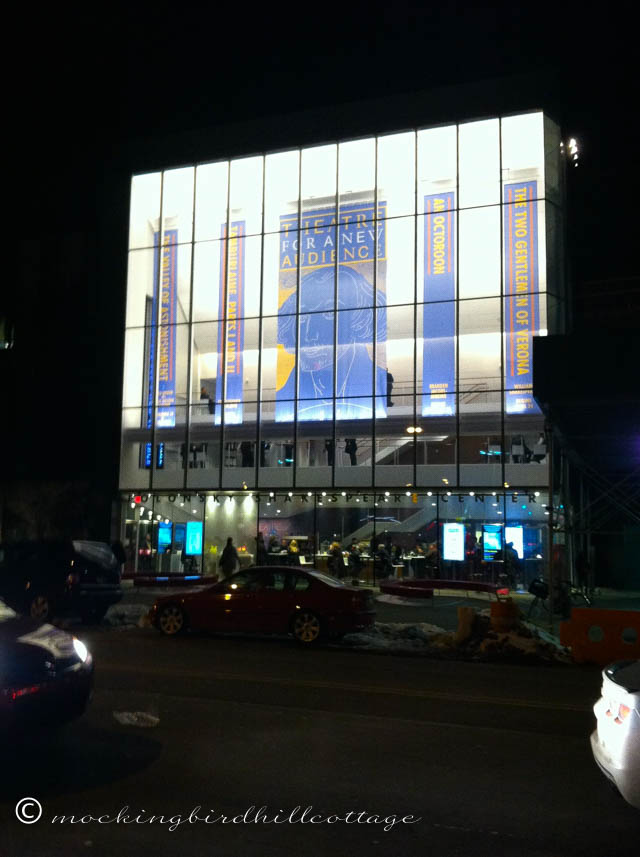 This is the theater at night. Theater for a New Audience moved to their new home a couple of years ago after years of using other spaces in Manhattan. It was a dream come true for the Artistic Director and the TFANA staff. Beautifully designed, the front of the building is glass and incredibly striking – which is why I wanted you to see a picture of it at night. The theater space can be converted to just about any configuration. It's a wonderful, wonderful space for this particular theater company. And it's an acoustic dream come true, as well.
Right across the street is the beautiful Brooklyn Academy of Music, or BAM.
By day: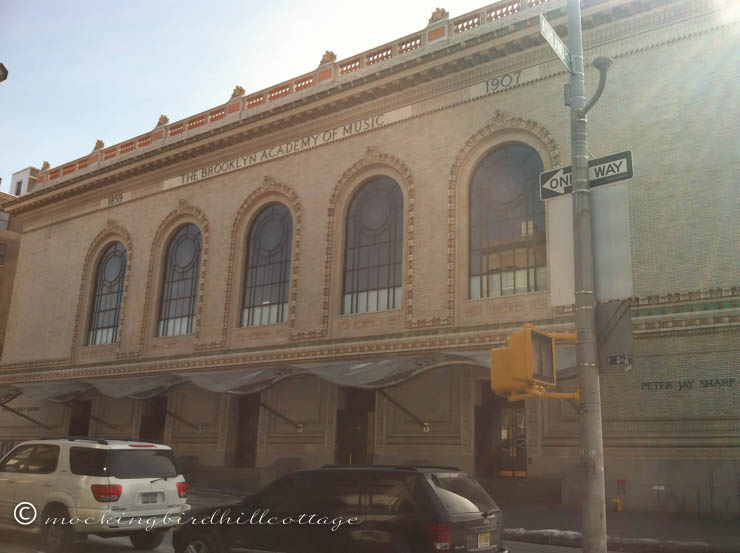 By night: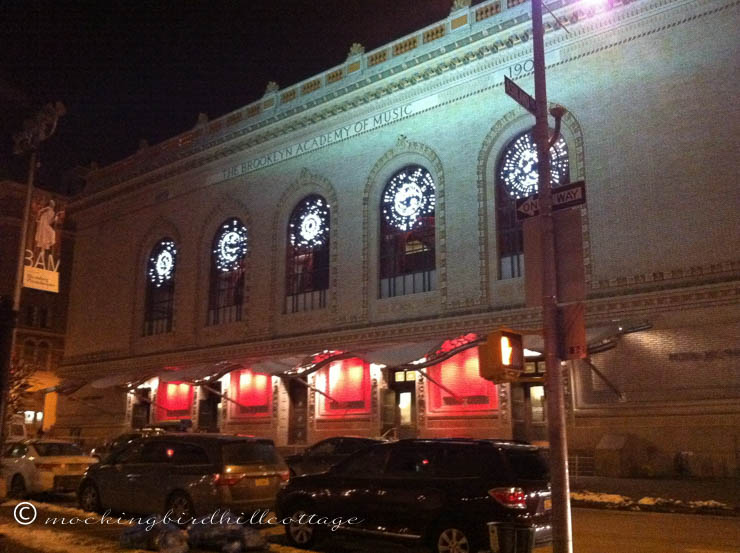 Those white lights in the tall windows move in a constant circular motion.
This is an amazing three or four block mecca for the performing arts. BAM, TFANA, and two smaller BAM theaters – all within a hundred feet or so of each other.
Today? More coaching work, another preview tonight, then a four show weekend. I'm not sure, just yet, when I'm heading home. I expect it to be on Monday, unless something comes up. I'm only booked in the apartment through Tuesday and Tuesday night is the Press Opening, so I want my work to be finished by then.
Happy Friday.