Oh boy. 10 – 15 inches of snow headed our way tonight into tomorrow. I know some of you to the west of us are already getting hammered.
Don, honey…I'm glad you've got that snowblower because I am not up for shoveling at this point in time. Maybe a bit of shoveling for Dame Scout's mini-corral, if I'm feeling better, but that's about it. Right now, even that seems an impossibility.
Let's look at something pretty. Friday night's sunset: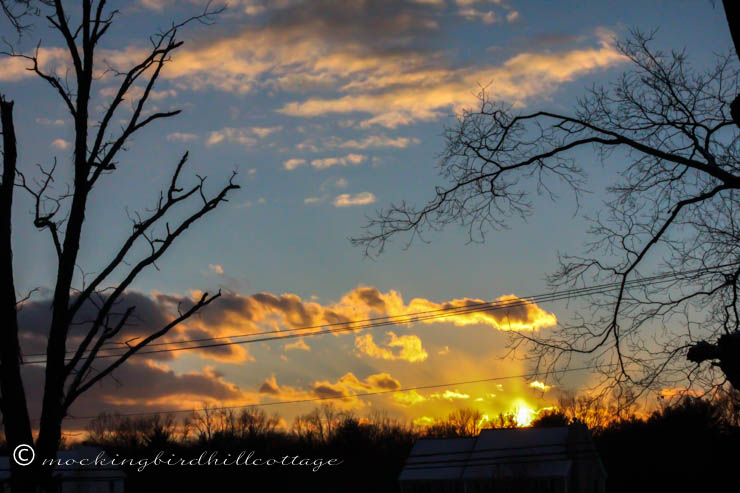 Pretty spectacular. Isn't it nice that I can just pop my head out the kitchen door and capture this beauty?
Today's topic:  Name Your Ten Favorite Movies.
I'll start off, in no particular order, and I know as soon as I see your lists, I'll remember others that I love. These are movies that I will immediately drop whatever I'm doing to watch.
It's truly hard to narrow the list down to ten, but give it your best shot.
1.  To Kill a Mockingbird (no surprise there)
2. Anything with Fred Astaire and Ginger Rogers
3. All the President's Men
4. It Happened One Night
5. Big Country
6. The Awful Truth
7. His Girl Friday
8. Anything with Audrey Hepburn
9. It's a Wonderful Life
10. The Shop Around the Corner
11. Add on: Cinema Paradiso 
Okay. Your turn. I may or may not comment, depending on how I'm feeling.
(I probably will.)
Happy Sunday.