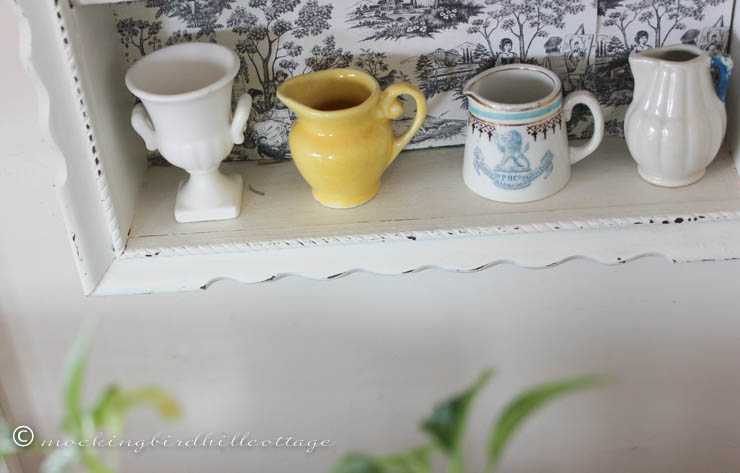 This photo is here simply because I love these little pieces of miniature pottery – no other reason.
We came through the big event on Monday with about 15 inches of snow. It was brutal. Very, very cold temperatures coupled with snow that fell constantly overnight and into mid-afternoon. And Don, bless him, did everything. I was still under the weather and simply couldn't. I can't help but think about last year at this time when Don was away working and I was facing massive amounts of snow. I'm so grateful that I didn't have to face all this on my own and with a raging cold, besides. I don't know what I would have done.
And we didn't have a snow blower last year.
Thanks, husband! (He's been taking very good care of me.) I am feeling much better, by the way. Still coughing at times, still a bit stuffy, but the feeling rotten and miserable stage is fading away. Thank goodness.
Yesterday I happened to look out the kitchen window and saw two birds that were unlike any others I usually see around here. They were clearly a pair. One would fly to a branch and soon the other would follow suit. Their feathers were blue, their breasts brown and white. I grabbed my camera. I don't have a telephoto lens so I had to resort to a good old-fashioned crop when I was editing.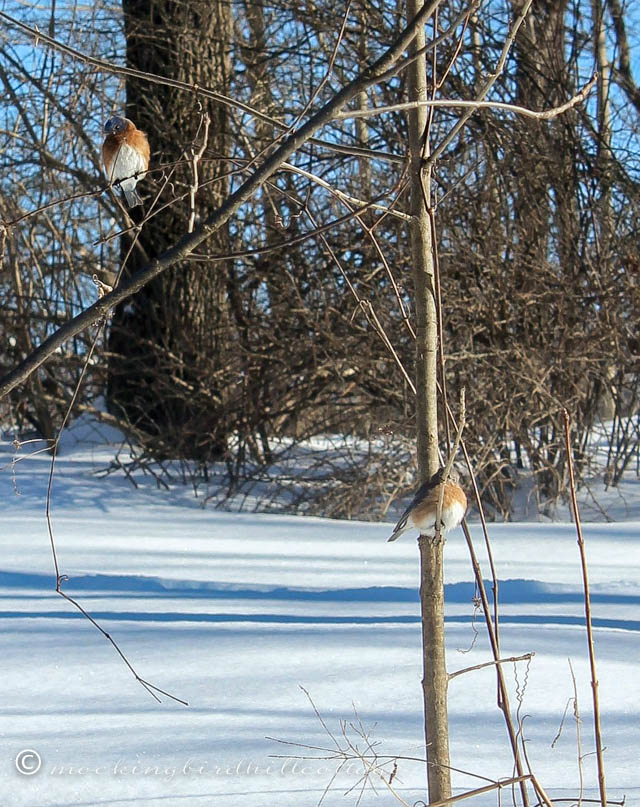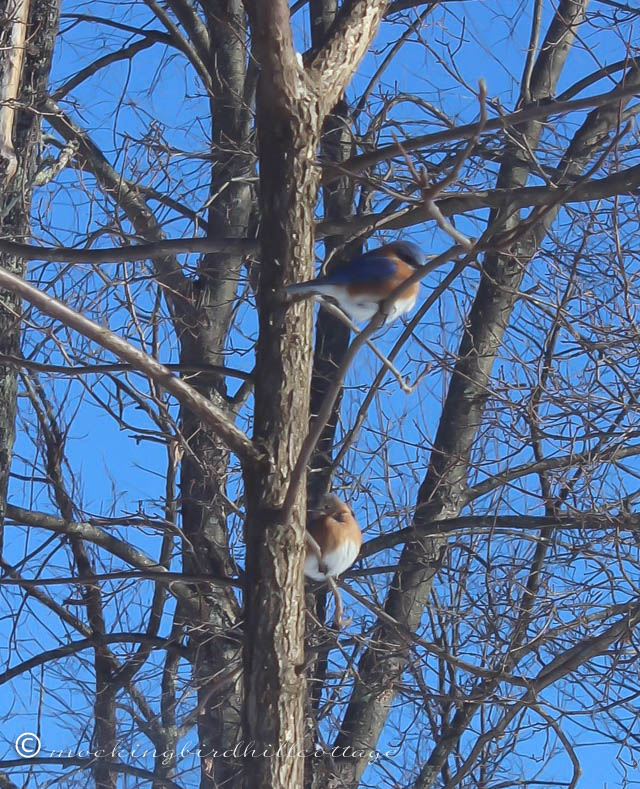 They're bluebirds! Eastern bluebirds, to be exact. I know they are common in this part of the country, but I never see them. Never. I was so excited! Of course, I ran to my bird books to research them and discovered that they tend to stick around in the winter. The male, of course, has flashier coloring than the female. I loved watching those blue feathers spread as he flew from branch to branch.
This area is right behind the kitchen. It consists of a few young trees (one of them an oak) and lots of brambles. I wage a continual battle with those brambles because I hate them and they obscure my view of the back forty. But I'm reminded at times like these that birds love them. They take shelter there. I see it again and again. So, maybe I have to re-examine my feelings about those brambles. Less of a nuisance and more of a necessity for my beloved birds?
Thank you all for all the links and emails about Harper Lee's announcement yesterday. I ended up writing a post on Just Let Me Finish This Page, which you may or may not have seen. In it, I share some of my feelings about the announcement. You can read it here. I kept adding to it as the day went on and my unease over the whole thing grew.
I have more than a little trepidation about this announcement. It's well known that Ms. Lee is in very frail health. She is deaf and nearly blind. She had a stroke in 2007, I believe, and has been in a care facility ever since. Marja Mills, who wrote The Mockingbird Next Door: Life with Harper Lee  said that the last time she visited Harper Lee in the facility (I'm paraphrasing here) she was no longer the Harper Lee she knew. None of us can truly know the state of her mind, but I do know that her eldest sister, Alice Lee, who was her lawyer and protector, died last November at the age of 103. Alice practiced law until she was 100 and was as sharp as a tack. Alice's partner in the law firm now handles Harper Lee's legal affairs.
It's not that I doubt that Harper Lee wrote it. It's more that I wonder just how aware Harper Lee is of what's going on. Would she truly consent to this manuscript being released as a book when she is incapable of editing something she wrote 60 years ago? Harper Lee, who has always insisted she would never publish another book, who has had nothing to do with the press, who has guarded her privacy zealously, as did Alice, who was the buffer between Lee and the world?
Silly, but I feel very protective of Harper Lee. If you read my post on Just Let Me Finish This Page, you'll find some links that I think you should read, if you're at all interested in this.
Another novel by Harper Lee? A potentially wonderful thing.
On the other hand, there is something powerful in one book, one story, one beautiful tale that has captured generations of readers.
Maybe I'm too suspicious. Maybe I've read too many mysteries. I just hope Harper Lee is fully behind this. That she knows what's going on. That, after years and years of guarding her legacy, she has, for some reason, decided to reveal more of herself and her writing to the world.
If that's the case, then I welcome the new book.
Happy Wednesday.