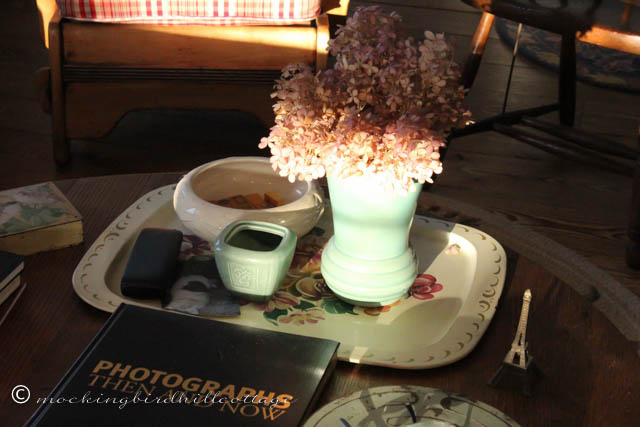 Thank goodness for the sunlight that creeps in and fills the house with light. Gray winter mornings are not nearly as welcome. But bright winter sun, bouncing off the white of the snow on the ground, is very welcome indeed.
I was looking at some books that I've had for a long time the other day and these bookmarks were buried among the pages: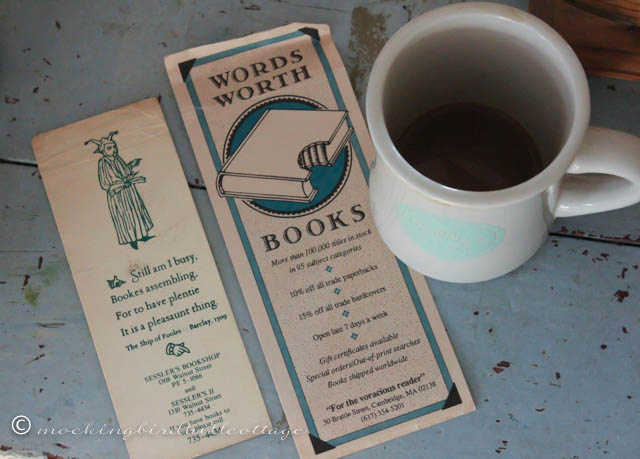 Sigh. A blast from the past, a past that included more independent bookshops. These bookmarks represent two of my favorite bookshops, one in Philadelphia, one in Cambridge.
On the left: Sessler's. Oh, how I loved this bookshop. It was on Walnut Street in Philadelphia and in the early to mid-eighties, when I was living in Philadelphia while attending graduate school at Temple University, I stopped in there several times a week. It was what you would like a bookshop to be – lots of floor to ceiling bookshelves. Cozy. Books of all kinds, on all subjects. Classical music playing in the background. And the manager, Hayes Hibberd, was the quintessential bookseller. He knew books. They were like family members to him. There wasn't much he didn't know about books past and present. He would often put books aside for his customers, books that he knew they would like, books to expand their reading horizons.
And his voice! Obviously, in my line of work, I am very aware of the sound of the human voice and I have my preferences. Mellifluous, rich, resonant? Yes and yes and yes. Hayes had that kind of voice. It's been over 30 years since I lived there and I can still  hear his voice in my head.
Sessler's started to go out of business while I was still living there – in 1986  – one of the early deaths which came about because of competition from chain bookstores. It broke my heart. I was a very poor graduate student at the time, but when I heard the news that they were closing, I went into the shop and bought a large copy of an atlas, which had been marked down. I needed something to commemorate the occasion.
I still mourn the passing of Sessler's.
On the right: WordsWorth Books. Oh, my heart. WordsWorth was situated in Harvard Square. I lived just about 5 blocks from Harvard Square, so as you can imagine, I made sure I visited that bookstore often. It had everything. The Boston area loves bookstores, and in those days there were a lot of them. WordsWorth was my favorite. It had a knowledgeable staff, large windows, sunny corners in which to peruse a book or two. You can read their tag line on the bookmark: "For the voracious reader." And I was, and am, a voracious reader. "More than 100,000 titles in stock in 95  subject categories."
Sigh.
WordsWorth went out of business in 2004. By the time I had a chance to revisit Cambridge and Boston a few years back, it was long gone. I didn't know that at the time and I went to Cambridge to see my old haunts, the apartment building I used to live in, and WordsWorth.
It wasn't there. I remember thinking, "Am I remembering the location correctly?"
But I was. And it wasn't.
Favorite bookshops are like beloved friends. When they go out of business, due to the economy, due to competition from juggernauts like Amazon or Barnes and Noble, we mourn their passing. Our hearts break a little. And just like the big box store or chain restaurant makes every town  look like every other town, the loss of the mom and pop store version of the bookstore eliminates the unique and quirky. They fade out of sight.
Thankfully, independent bookstores are still going strong, in spite of the competition. Many have been lost, but many have also survived. Let's make sure we help them along the way by buying books from them when we can. Yes, I use Amazon at times. I definitely use my local library. I buy used books. But last year, I made a vow to buy books from independent booksellers when I can. And I've done very well with that vow, I'm proud to say.
Oh, almost forgot. I sometimes get friend requests on Facebook from people whose names I don't recognize. Some of those requests I dismiss immediately. If you send a friend request to me, please let me know who you are. I might not recognize your full name. Thanks.
Happy Friday.