Mallomars, our favorite cookie, are seasonal. They're available only from September through March. In the days when there were no refrigerated trucks, the chocolate would melt, so shipping stopped in March. And for some reason, even though that is no longer an issue, the company continues that tradition.
Mallomars, by the way, are chocolate covered marshmallow cookies, with a little crust on the bottom. They are heavenly.
The other day we were in our local grocery store and, to our dismay, the space normally occupied by Mallomars was empty. We were quickly jolted into the realization that it was March. Oh no! Not deterred by this bit of news, we went on a reconnaissance mission yesterday and found some.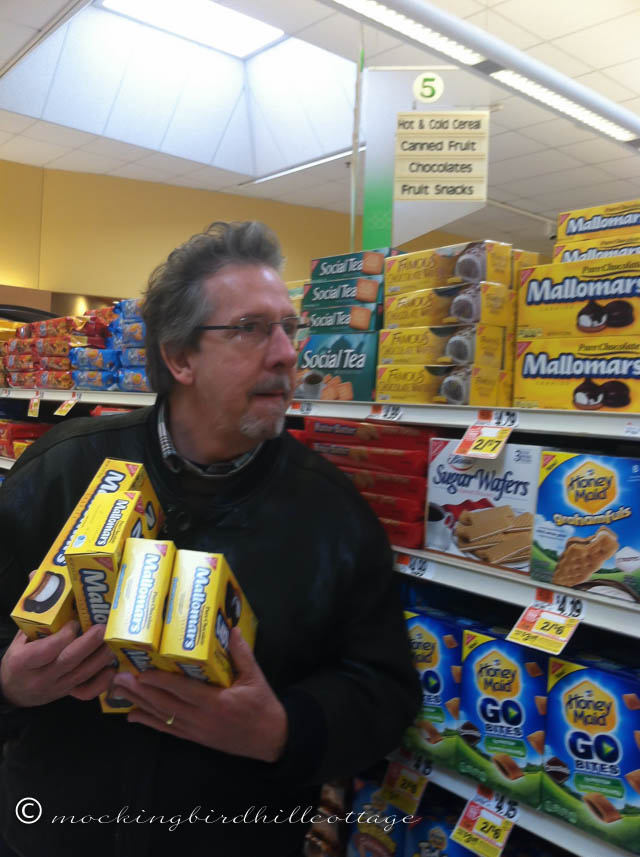 Don grabbed two boxes off the shelf. I quickly urged him to get four.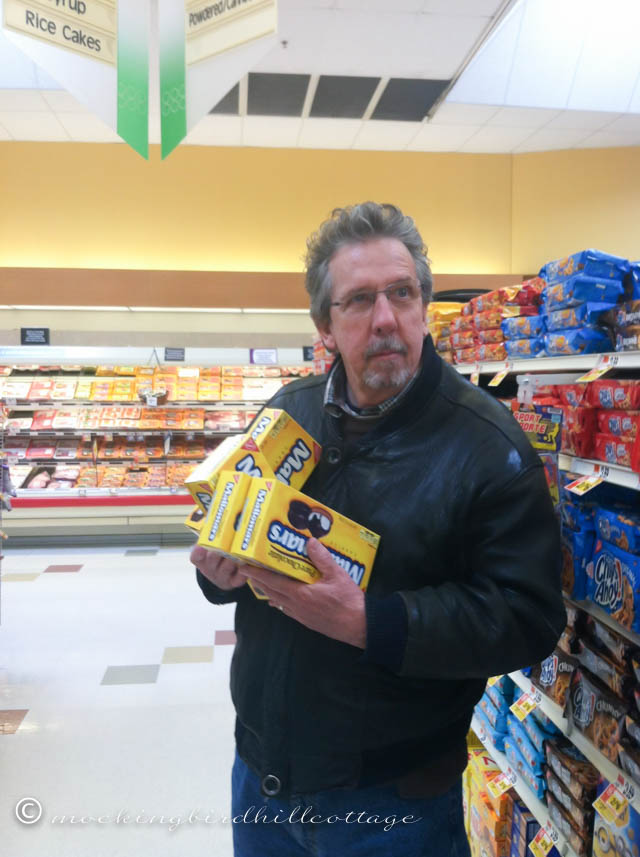 Here, he scans the immediate area, looking for any nefarious interlopers.
By the way, they were on sale.
On to egg cups: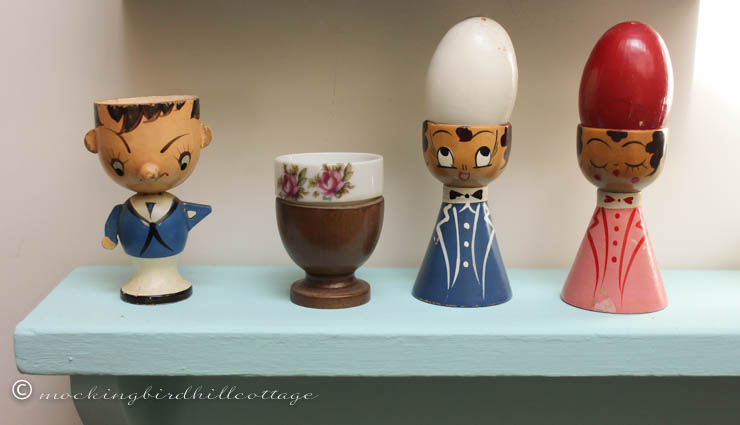 Wooden egg cups, from left to right:
1.  Don and Scout bought this for me for my birthday. I've tried to track down some information on this one and am still searching. It's marked Made in Japan and we think it's from the forties. Edited to add: I just saw one like this on eBay – in its original packaging. Made for Woolworth's (40s -50s) and it came with an egg warmer that was a white felt sailor cap! Wish I had the cap.
2.  A lovely single egg cup with a wood base and porcelain top. A gift from my mom. Stamped on bottom: Japan.
3.  A set of two wooden egg cups – a gift from Sandra, a dear reader of this blog. She found them at an estate sale. The eggs are salt and pepper shakers. Adorable.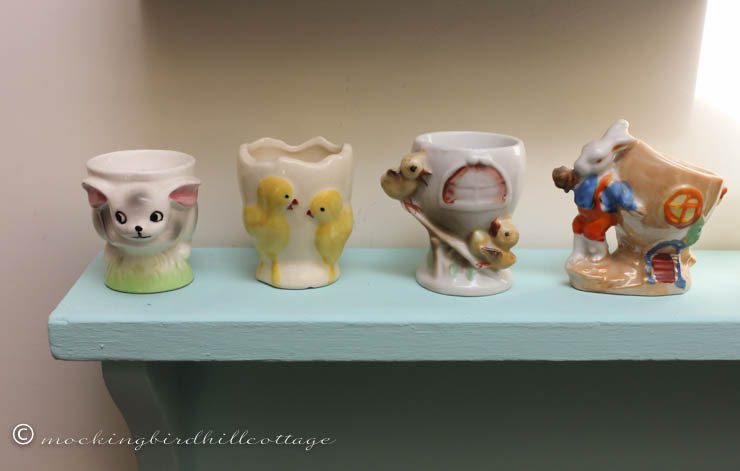 1.  A bunny rabbit egg cup. This one is a special love of mine because it reminds me of Scout. The look in the eyes, the big pink ears, the adorableness.
2.  My very first egg cup. In fact, this egg cup is the one that inspired me to start collecting. It was a gift from my godparents when I was a little girl. Made for the Fannie Farmer chocolate company, this is one in a series of seasonal egg cups that were sold, usually with chocolates, at Easter time. Uh….we won't say how old this one is. But it's definitely vintage! And priceless.
3.  Two chicks on a seesaw. Marked Made in Japan.
4.  A rabbit standing outside his little house, complete with window and door. He's smoking a pipe. Lustreware. Unmarked.
1.  A dog. Marked Made in Japan. Porcelain. (At any minute, I expect this guy to pull out a cigar to smoke.)
2.  A little girl in a bunny costume holding a polka dotted egg cup. Unmarked. Absolutely adorable.
3.  A bunny peeking around an egg cup house with window. This window motif shows up in a lot of figural egg cups. Made in Japan.
4.  One of my favorites. Two rabbits holding up an egg cup. Made in Japan. I distinctly remember sneaking out of our bedroom to bid on this one in the middle of the night.
Remember this one from yesterday?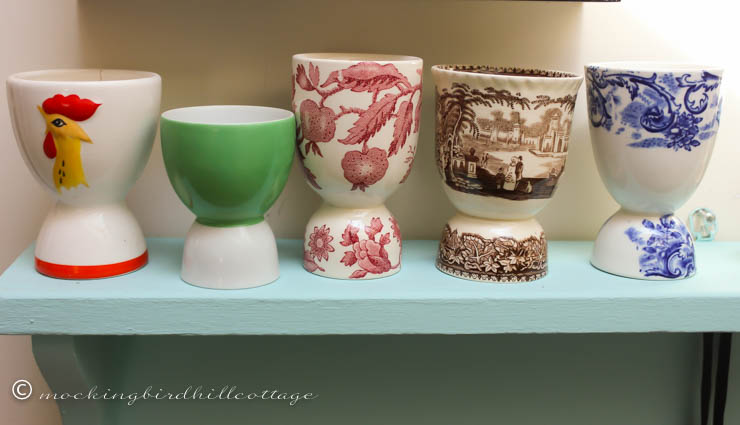 The egg cup that is second from the end on the right – the brown transferware cup marked Mason's Vista? As I looked at this photo yesterday I was struck by how lopsided it appeared, something I'd never noticed before.
Today I was looking in my egg cup reference book and saw this (in reference to Masons):
Many of their older cups may seem slightly lopsided, thus the old saying "If it rocks, it's Masons."
Aha! That explains it! I wasn't seeing things.
I find this particular collecting passion of mine to be endlessly fascinating!
More tomorrow.
Happy Thursday.