Just two more egg cup posts – we'll finish our tour tomorrow. This annual tour has been a bit of an enabler; I spotted an egg cup I've always wanted on Etsy and it is now on its way to my mailbox. No, you guys are the enablers…that's it. I'm going to blame it on all of you.  After all, you asked for this tour and I complied and then I took pictures of all of my egg cups and then I got excited about all of my egg cups and then I started looking at my reference book and then I started looking at eBay and Etsy and then…I bought one.
Here we go: Egg Cups, the Sunday Edition.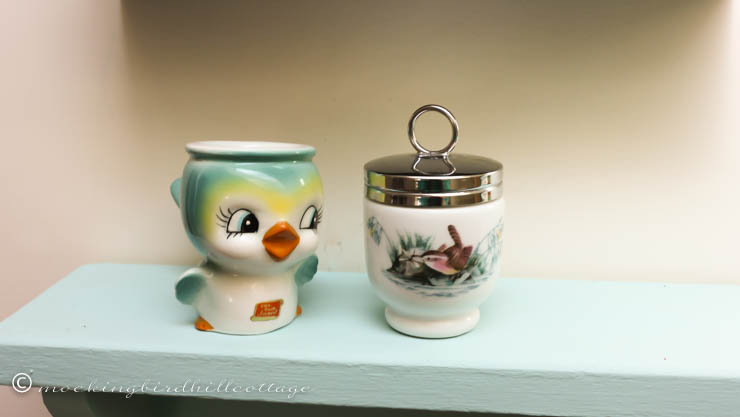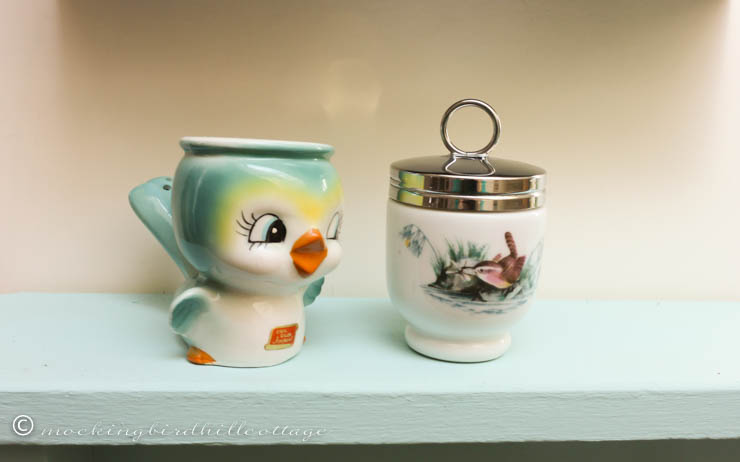 1.  The adorable egg cup on the left was a birthday gift from Linda, one of my dear blogging friends. (Linda also collects egg cups.) I am crazy about that face! I've included two photos so you can see that the tail functions as a salter. There's a stopper at the bottom of the tail to keep the salt in. The sticker on the front says: Our own import. And marked on the bottom with another sticker: Japan. It's in perfect condition. And that aqua is my favorite color!
2. The cup on the right isn't really an egg cup. It's an egg coddler and it was a gift from my mom. Beautifully decorated with one bird on one side and two birds on the other, it's marked Royal Worcester Porcelain, England.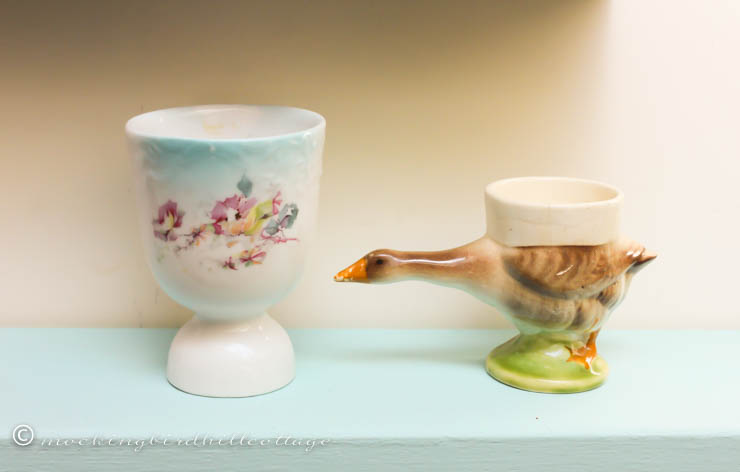 1.  I found this egg cup at my favorite shop in San Diego, Vignettes. You do see why I had to buy it, right? Those are my favorite colors! And the design is delicate and lovely. It's unmarked. I keep it in the den china cabinet with a tiny little bird nest that I found placed at the top of the cup.
2.  This goose egg cup is a favorite. Marked: Sarreguemines France with the letter A. Sarreguemines is an area in France where faience and majolica was made. It has a lot of crazing and is vintage. I found it, much to my delight, at a local antique shop a few years back. I've never seen it anywhere else.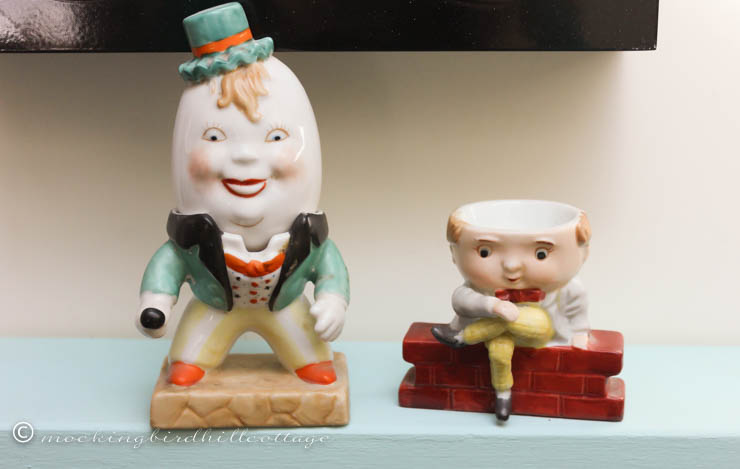 1.  Oh, this guy…he was the result of a bidding frenzy on eBay many years ago. I had to have him. He's very tall. I didn't realize until last year, when I saw them offered on Etsy, that he is one of a pair that function as egg cups/shakers. There are supposed to be holes in the top of his hat for shaking the salt onto the egg, but there aren't, which makes this piece even more intriguing. There is a hole at the bottom of the head for a stopper. The egg cup itself is revealed when the head is taken off the body. I love his face, his rosy checks, the clothes he's wearing, everything. Marked: Ardalt 6343 Occupied Japan. The Occupied Japan mark means that the piece was made during the American occupation of Japan after WWII, which lasted from 1947 – 1952.
2.  Humpty Dumpty, made by Mansell in Great Britain. I usually put a decorated egg from Prague in the egg cup, so that his poor head is intact. Crazy about this one. I saw one on eBay the  other day, so you can still find this guy. Marked: Collectible Porcelain. Mansell Print Ltd. ©
It's sunny today and the temps, though chilly, are rising. This may be the day that we open up the big corral for Scout. The remaining snow should be gone by mid afternoon. She's going to be very happy.
Happy Sunday.