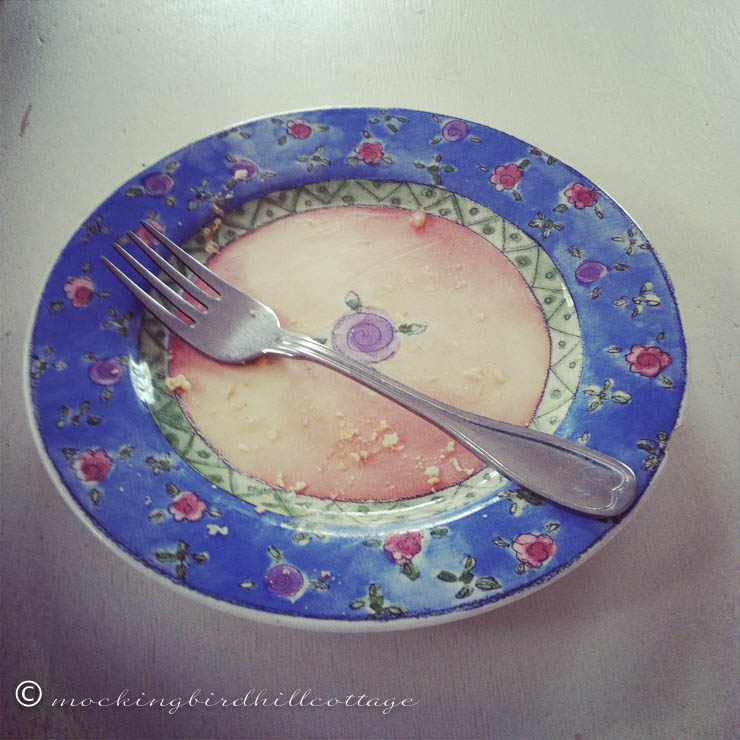 Evidence of yesterday's Pi Day celebration here at the cottage.
Apple pie for breakfast.
It rained most of the day yesterday and then turned very foggy last night. Since Don was out doing a gig, I was a wee bit nervous about his return home, but he made it home safely. All is well.
Today looks to be gray and windy. I saw the sun for brief moment, but it has disappeared. I will repeat to myself, "That's okay. Gray is okay, because the snow is melting!"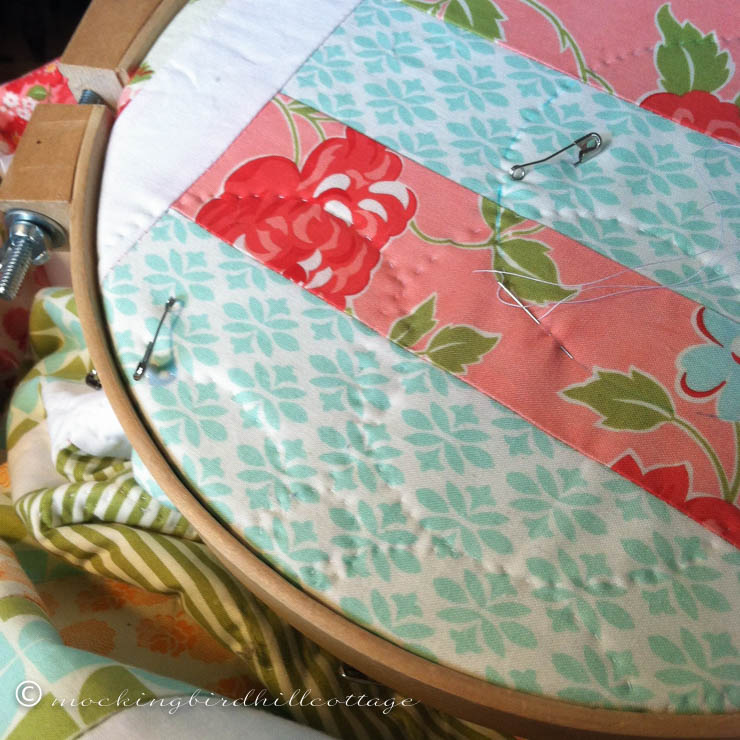 After gazing across the room at the quilt ensconced in its protective cover every day for about a month and a half and doing nothing, I finally took it out of its bag and gathered my hand quilting tools together. I switched out the lamp on my side table (not bright enough) and spent about three hours hand quilting in the late afternoon. As always when I start hand quilting after a long break, the index finger on my left hand has to build up a callus to withstand the prick of the quilting needle. That callus isn't quite there yet, so my finger is a bit sore today.
This quilt has very large squares, so when I take a look at it and think to myself, "I'll do a square a day!" I quickly realize that my expectations need to be adjusted. I'm quilting rather densely and there's simply no way I can do a whole square unless I'm willing to forgo everything else I have to do in the course of the day. A good lesson in staying in the moment. I'll just do what I can do that day.
And of course, Dame Scout was constantly demanding something or other. She needed to go out. She wanted her dinner. She wanted me to start cooking my dinner so she could watch. She had to go out again. She has very clear ideas about the proper order of her day. My job, apparently, is to facilitate it for her.
Doesn't she realize Mom is quilting? That the quilt is big and awkward and that Mom has to get up and rearrange everything before she can attend to her Dameship's needs?
Short answer: She doesn't care.
I do love hand quilting. It's the only way I quilt. I've quilted everything – from a queen-sized quilt to a mini quilt – that way. It takes a lot of time, yes, but it's very satisfying. And meditative. Someday I may send one out to be quilted because it can be hard on your hands and wrists, but for now, I'm doing it my way.
I realized after I asked the question about whether I should showcase the egg cups again this year that the way I phrased it sort of prohibited anyone from saying "No more egg cups!" in the comments. Silly. Ah well. It does seem, however, that most of you would like to see them again or for the first time, so I will highlight them sometime before Easter.
It's the Ides of March.
Happy Sunday.