The antiquing adventures of Don and Claudia continue. Sunday found us at our local antique barn  where we took shelter from the windy blustery grayness of the day. We didn't expect to find anything, in fact, we were just killing some time on a Sunday afternoon. However, we did find three little treasures. Each time we found something, I debated whether to purchase it and Don, who turns out to be my enabler, encouraged me to "Get it!"
First up, some Roseville pottery in the Apple Blossom pattern. Let me say straight away that this piece has a big old chip and a hairline crack. That's why it was priced at $25. Unless the damage on a piece is so glaring I can't get around it, this sort of thing doesn't usually matter to me. Even so, I hesitated and…you guessed it…Don said, "It's been loved and used. Besides, cracks let the light in." A lovely reference to Leonard Cohen.
What's not to love about this guy?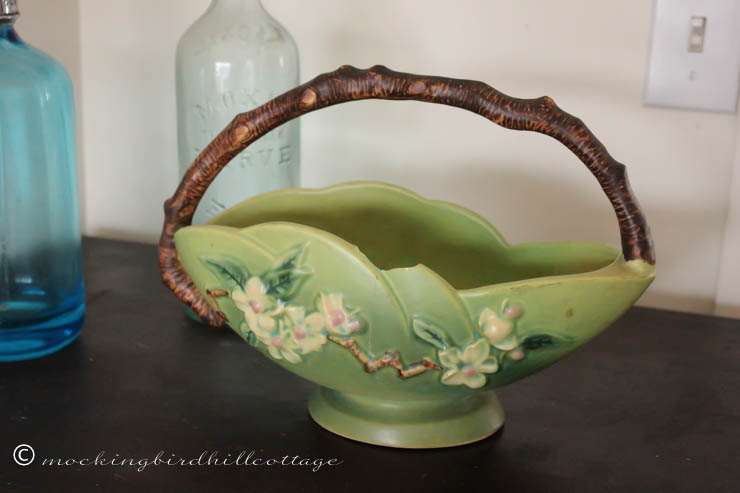 I believe this is called a basket. I have one other piece of Apple Blossom that lives on my bedroom dresser. You can see the damage right there on the top edge in the front of the piece. Instead of a curve, you see a sharper edge where the piece was broken.
It really doesn't bother me at all. If this piece was undamaged it would go for at least $150. I'd say I got a good deal.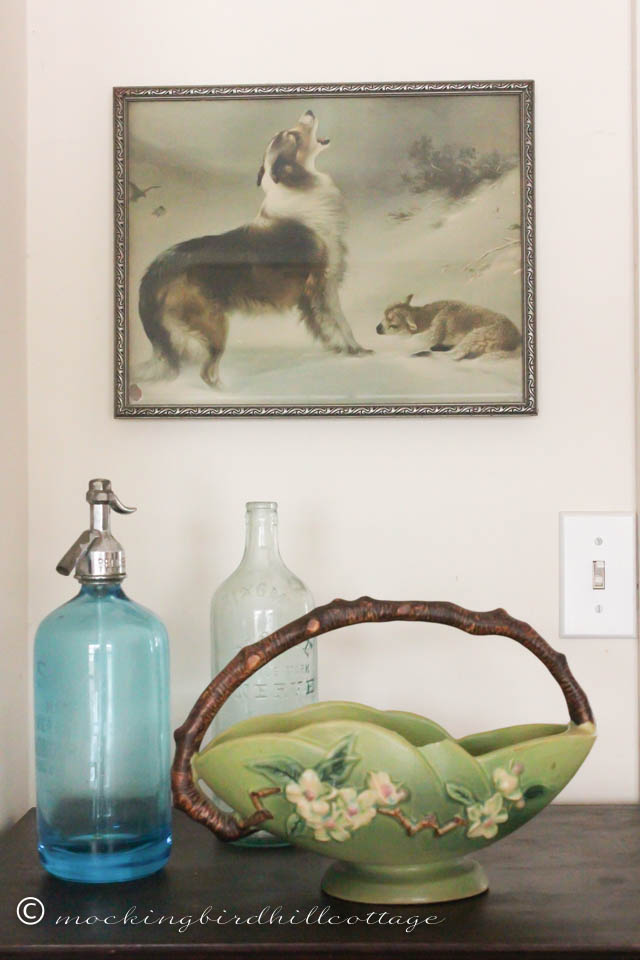 It's so pretty and it works beautifully on the music cabinet underneath the Lost Lamb print.
I don't know if you're familiar with the famous English ceramic designer Susie Cooper. I've known about her a long time and have always wanted one of her pieces. Her career was a long and fruitful one – spanning seven decades. Her work is highly collectible, especially her Art Deco pieces. I spotted a set of four cups and saucers – all priced individually, thank goodness, so I was able to purchase one. Buying all four would have been too expensive for me.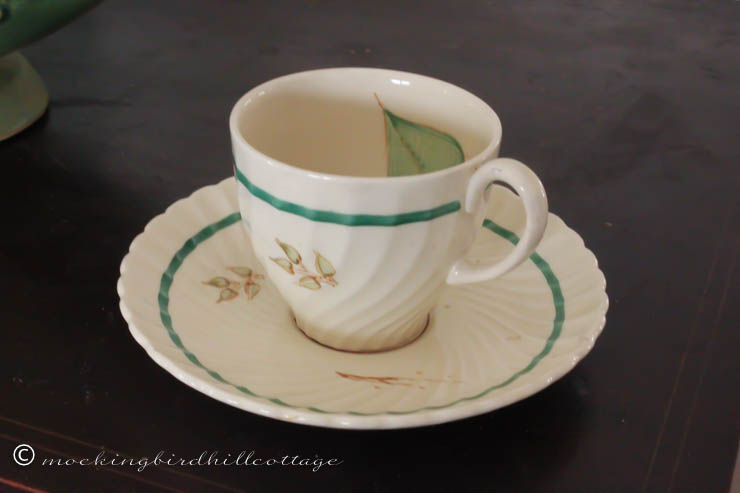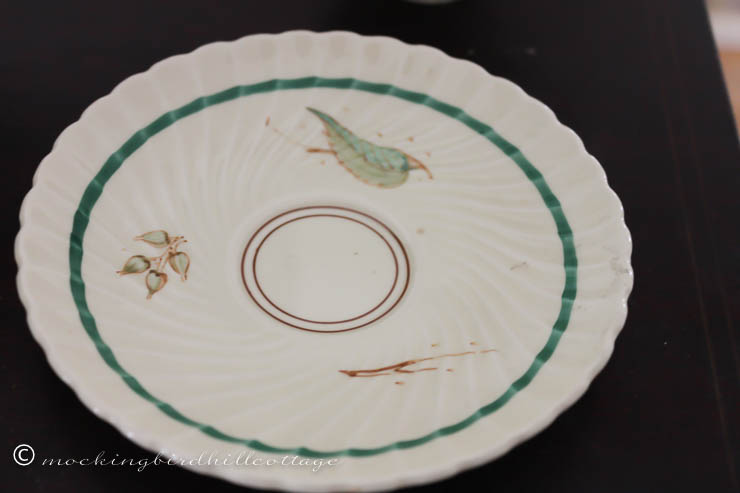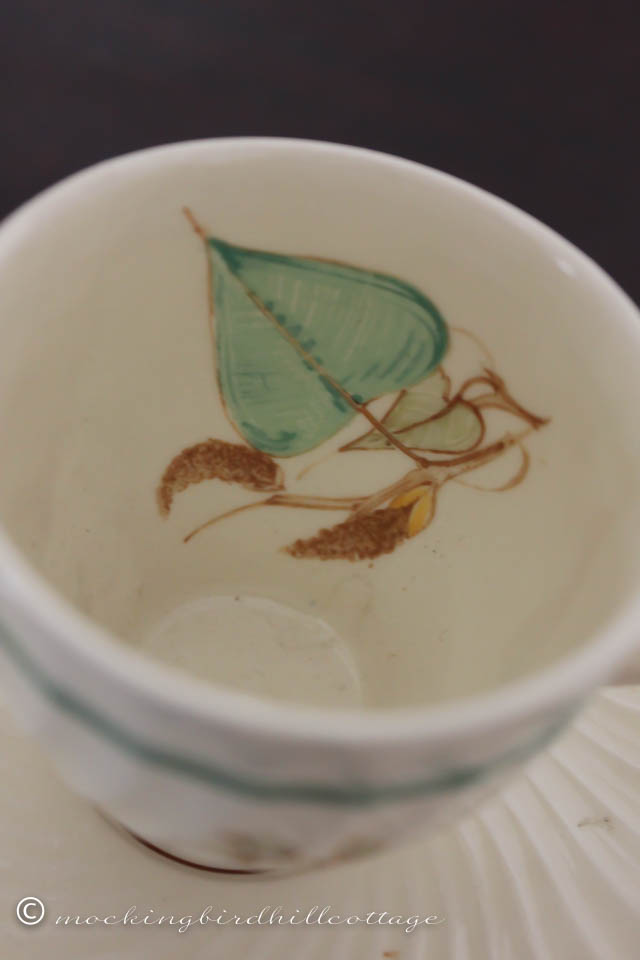 The details of the design are so charming.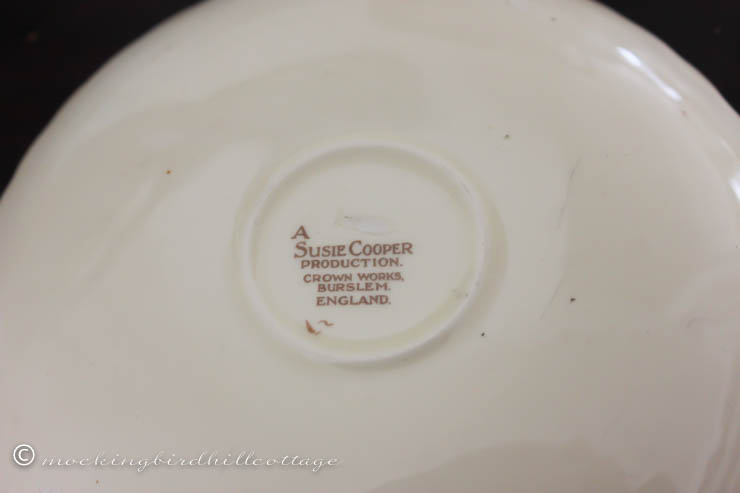 This mark puts the piece somewhere between 1932 and 1964. I have to do some more research.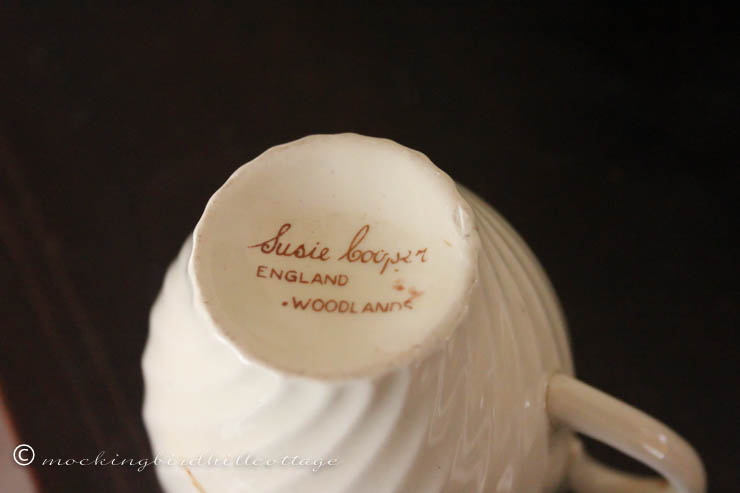 Whoops! It would help if I picked up the cup and looked at the bottom. The pattern is Woodlands. Made in 1938-39. I just saw a photo of a cup and saucer that's in the collection at the Victoria & Albert Museum in London. Maybe I should go back and buy the other three?
And, finally, Don spotted this one and said it must come home with us to join our singing birds on the piano. I'm pretty sure it's unmarked McCoy. If it isn't, no biggie. I love the glaze on this little guy.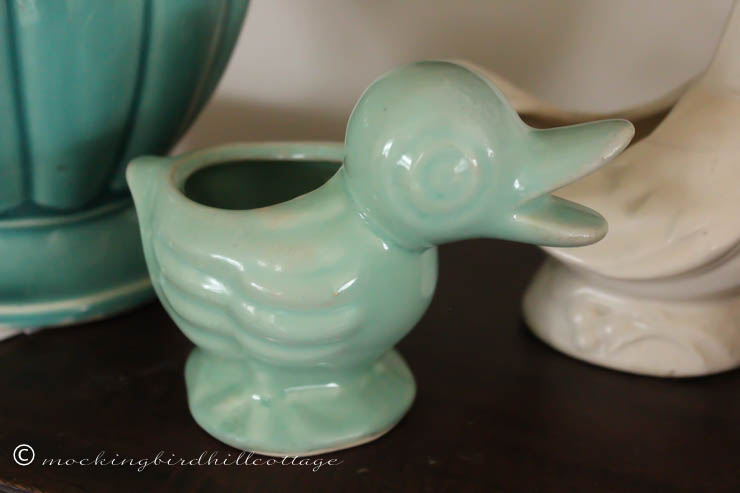 Isn't he adorable?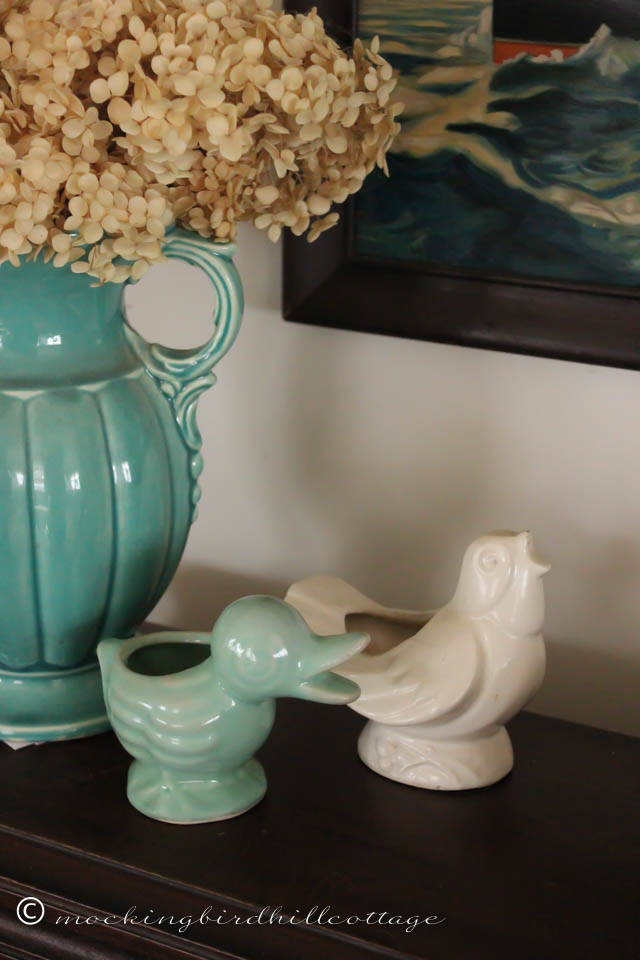 He's doing the duck version of singing. We like to sing around here, so the more, the merrier.
Then our feet somehow propelled us to the homemade donut shop just a few shops away. Best donuts ever. Oh lordie.
Then we went home and crashed from the sugar. But it was worth it.
Happy Tuesday.