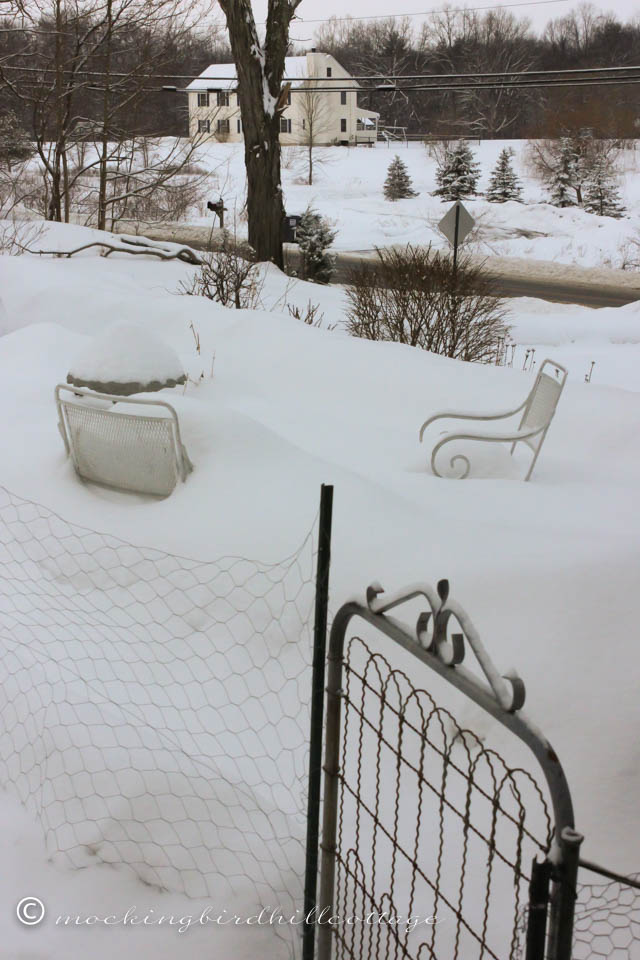 I know I said no more snow pictures, but it snowed all day yesterday. Thanks, March: the little bit of hope I felt when I knew February was coming to an end has fizzled. Where's my funky patio? Where's my garden?
Okay. Let's go back to my playlist. I love reading all of your comments. I have recordings by so many of the people you have mentioned – many of them should be copied to my computer and put on the playlist, but that has yet to be done.
Here we go. Let's hit Shuffle.
My Playlist
• The Look of Love – Dusty Springfield
This has to be one of the sexiest songs ever written. Ever. Written by the great Burt Bacharach and Hal David for the movie Casino Royale, it has been recorded by a whole host of artists. I have it on the playlist in three different incarnations; Sergio Mendes and Brasil '66, Diana Krall and this one by Dusty Springfield, which I think might be the best. Springfield's husky voice brings just the right sound to this song.
The look of love
is saying so much more
than just words could ever say
and what my heart has heard
well, it takes my breath away
•  All Around the World – Lisa Stansfield
I love this song, written in 1989 and performed by British pop singer Lisa Stansfield. She's got a powerhouse of a voice and this song has an infectious arrangement that has me singing along every time I hear it.
Been around the world and I, I, I
I can't find my baby
I don't know when, I don't know why
Why he's gone away
And I don't know where he can be, my baby
But I'm gonna find him
•  Traces – Classics IV
I loved the smooth voice of Dennis Yost, the lead singer of the Classics IV. They had a series of hits, Spooky, Stormy and this one, Traces. It brings back memories of being in my bedroom, listening to records when I was a teenager. Love lost, young love….what better subject for a teenager?
Traces of love long ago
that didn't work out right
Traces of love
with me tonight
•  This is the Life – Matt Monro
Matt Monro was British singer who sang in the smooth style of Jack Jones (who will make an appearance on the playlist) and Johnny Mathis. My mom always had the radio on when I was a kid and I heard Monro frequently. I loved his vocal quality. So, eventually, I bought a CD of his music. This song is very sixties to me, almost Rat Pack-y. Written by Lee Adams and Charles Strouse (who wrote Bye, Bye Birdie.)
House at the beach
Dinners at 21
Head waiters smile when you walk in.
Hand tailored suits, shirts with your monogram
•  There is a Time (Le Temps) – Charles Aznavour
Charles Aznavour, the quintessential French singer – I've always loved his passionate singing. This song is so amazing when sung by Aznavour. The tempo quickens throughout the song, so that by the end you feel as if you're whirling on a carousel that's gone out of control. It's fabulous.
This time, this time, this time there's no time to waste
We know the time we have cannot be replaced
This time, this time, this time let's not hesitate
We know our time is brief, and it cannot wait
•  Belle of the Ball – Leroy Anderson
Don't get me started on how much I love Leroy Anderson. He wrote light concert pieces, many of which you've heard over the years. The Syncopated Clock, Bugler's Holiday, The Typewriter, and his most famous piece, Sleigh Ride. They were recorded by Arthur Fiedler and the Boston Pops. Belle of the Ball is one of my favorites. I dare you to listen to this and not feel filled with joy. And I bet you'll start to waltz. It's that wonderful. It makes me happy.
•  It's Gonna Take a Miracle – Deniece Williams
I wrote about Williams recently on the blog. I have three of her recordings on this playlist. She has an extraordinary range – it's truly amazing. An incredible singer. It's Gonna Take a Miracle might be her biggest hit. It's been recorded by Laura Nyro, the Manhattan Transfer, and was originally recorded by The Royalettes. This version is my favorite.
Loving you so
I was too blind to see
You letting me go
But now that you've set me free
It's gonna take a miracle
Yes, it's gonna take a miracle
To make me love someone new
Cause I'm crazy for you
•  Speak Low – Sammy Davis, Jr. and Laurindo Almeida
Davis recorded a series of songs with Brazilian guitarist Almeida. Just the guitar and Davis' voice. I love these recordings, which I think show Davis at his best. Speak Low was written by Kurt Weill and Ogden Nash for the musical, One Touch of Venus. (Sung, by the way, by Mary Martin in the original Broadway cast.) Sexy, sexy song.
Speak low, darling, speak low
Love is a spark, lost in the dark, too soon, too soon
I feel wherever I go
That tomorrow is near, tomorrow is here and always too soon.
•  Just to See Her – Smokey Robinson
Written by the great Smokey Robinson, this song is one of my favorites. His voice is beyond compare, his storied history as a Motown singer with the Miracles and then later as a solo act is well known. His voice is a smooth as silk. This arrangement is fabulous. I think it's Robinson at his best.
Just to see her
Just to touch her
Just to hold her in my arms one more time
•  Who Can I Turn To (When Nobody Needs Me) – Anthony Newley
This is one of the great, gut-wrenching songs, written by Newley and Bricusse for the musical The Roar of the Greasepaint, the Smell of the Crowd. I listened to the original cast album over and over when I was a teenager. Newley had a voice that was incredibly powerful, filled with passion – some might even say over the top – but I say he was one of the best.  This rendition breaks my heart, every time I hear it. I once listened to it on my iPod repeatedly for two hours while commuting to the city.
Who can I turn to
When nobody needs me
My heart wants to know
And so I must go
Where destiny leads me
•  Boogie Wonderland – Earth, Wind & Fire (with the Emotions)
I make no bones about how much I love Earth, Wind & Fire. Love, love, love them. They make me happy. They fill me with joy. I start to dance and sing when I hear them. Great arrangements, great voices, one of the greatest groups of all time. The lyrics don't matter so much – the sound is everything.
•  Dancing in the Dark – Diana Krall
This the track that first introduced me to Diana Krall and I've since purchased several of her CDs. This, though, is probably my favorite. Produced by the legendary Claus Ogerman, who produced my favorite Frank Sinatra/Antonio Carlos Jobim albums, the arrangement is sexy and bossa-nova in flavor. It's simply gorgeous. I first heard it on the Jonathan Schwartz show that airs on WNYC every Saturday and Sunday. I'll write more about Schwartz at another time but I will say that if I have a dream of having a radio show, the dream is based on his show, his knowledge of music, his incredible taste. Incidentally, Schwartz is the son of Arthur Schwartz, who wrote Dancing in the Dark for the movie musical, The Band Wagon. Sexy, sexy, sexy.
Dancing in the dark 'til the tune ends
We're dancing in the dark and it soon ends
We're waltzing in the wonder of why we're here
Time hurries by, we're here and we're gone
•  A Sleepin' Bee – Bill Henderson
Composed by Harold Arlen and Truman Capote for the musical House of Flowers, I was first introduced to this song by Barbra Streisand. This version, with Bill Henderson singing, was discovered on a CD I have called Closer Than a Kiss: Crooner Classics, which has turned out to be one of my favorite CDs. Bill Henderson is a jazz singer – also an actor – who has performed with Ramsey Lewis, Count Basie, Oscar Peterson. I love his style and I love this arrangement.
When a bee lies sleepin'
In the palm of your hand
You're bewitched and deep in
love's long looked after land
•  Bugler's Holiday – Leroy Anderson
For the same reasons I love Belle of the Ball. This piece, written for three buglers, is joyous and fantastic and it makes me happy. End of story.
•  Can't Get Used to Losing You – Andy Williams
Love Andy Williams, especially when he sings the great Henry Mancini. This wasn't written by Mancini, but I love the arrangement. His voice is overdubbed, so we can hear Andy singing along with himself. The strings that are plucked in the opening may be my favorite part of the song.
Guess there's no use in hangin' round
Guess I'll get dressed and do the town
I'll find some crowded avenue
Though it will be empty without you
•  I've Got a Love – Don Sparks
I have a few of Don's songs on this playlist. This is one of my favorites. Don's a romantic – lucky for me – and this song is all about a love found after many years of waiting.
It wasn't what you said
Or how the sunlight played around you
Not your kisses red
Left on the face that finally found you

With my back against the wind
I knew it when I told a friend
I've got a love, I've got a love,
I've got a love, I've got a love.
More tomorrow my friends.
There is a new post up on Just Let Me Finish This Page  today.
Happy Monday.