Did you think I was done? Oh, silly you! I could go on and on, but I'll stick to what's on the playlist. More snow yesterday and overnight. Please, someone, tell it to stop.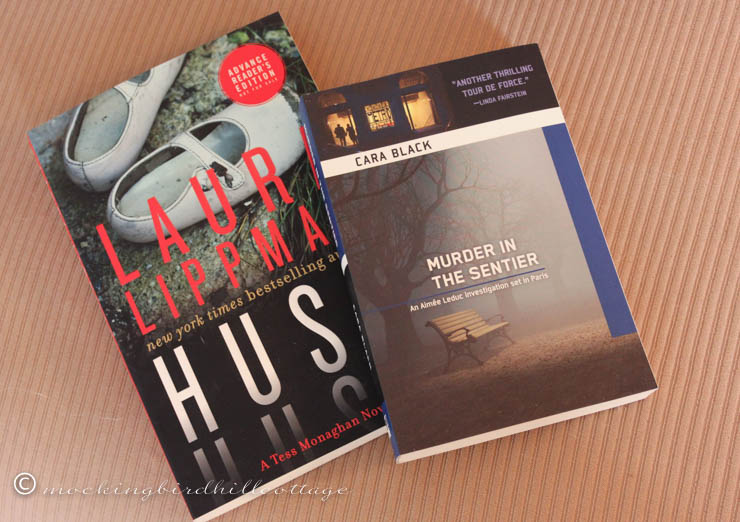 I'm currently reading Laura Lippman's newest book, which was just published and which I'll review in a couple of weeks. And the third book in Cara Black's series just arrived in my mailbox yesterday. I wrote about Cara Black on Monday on Just Let Me Finish This Page.
Lots of books, backed up and holding, which is my idea of perfection. I also have another book review coming up Friday on this blog for a book I loved. And today, I have a book review up at Just Let Me Finish This Page for All the Old Knives  by Olen Steinhauer – a must-read, in my opinion. You can read the review here.
Books, books, books. Now, let's talk music. Shuffle, please.
My Playlist
•  Silly – Deniece Williams
I wrote about this song just – what was it? – last week. I kept hearing this song in the music that was playing during intermission  for An Octoroon. Invariably, I was in the middle of a conversation and I would be trying to maintain my end of the conversation while also trying to identify the song and singer. Finally, I grabbed my iPhone and recorded it. I was pretty sure it was Deniece Williams and after a few times I found the song and downloaded it to iTunes. Silly. I have since played this song about a thousand times. I can't get enough of it. I love the melody, I love the words, I love the arrangement. It was written by Fritz Baskett, Clarence McDonald and Miss Williams herself. Produced in Philadelphia by Williams and legendary producer Thom Bell, it is now one of her most famous songs. I can see why. I made Don listen to it. He loves it. It was released in 1981.
Silly of me to think that I could ever have you for my guy
How I love you…How I want you
Silly of me to think that you could ever really want me too
How I love you…

You're just a lover out to score
And I know that I should be looking for more
What could it be in you I see
What could it be…
Oh love, oh love, stop making a fool of me
Oh love, oh love, stop making a fool of me
Her voice is incredible. But I've said that before.
•  Out of this World/So in Love – Nancy LaMott
    Let me tell you about Nancy LaMott. She was a cabaret singer, a singer of the Great American Songbook. She had the voice of an angel. Truly. She died much too young. She is still held in great esteem by other singers. I can think of no other singer who moves me as deeply. Her voice was crystal clear. She conveyed great emotion. If you want to hear a great singer interpret American Popular Song, I urge you to listen to Nancy LaMott. Every week, Jonathan Schwartz (who I mentioned the other day) closes his show with one of her recordings. This one – a combination of So in Love from the musical Kiss Me Kate by Cole Porter and Out of this World (a personal favorite) written by Harold Arlen and Johnny Mercer, brings me to tears every time I hear it. The arrangement is exquisite. Her voice? The most exquisite. I can't even think about it without crying.
You're right out of a book
The fairy tale I read when I was so high
No armored knight out of a book
Could find a more enchanted Lorelei than I

After waiting so long for the right time
After reaching so long for a star,
All at once from the long and lonely night time
And despite time, here you are!
•  Hotel California – The Eagles
    Love, love this song. Another story song by the great Eagles. Written by Don Felder, Don Henley, and Glenn Frey. Don Henley sings the vocal. The guitar work alone is worth the listen. At the end, an extended guitar section played by Felder and Joe Walsh will knock your socks off. I'm not one who goes on and on about electric guitars, but this long riff takes my breath away. It's simply great.
On a dark desert highway, cool wind in my hair
Warm smell of colitas rising up through the air
Up ahead in the distance I saw a shimmering light
My head grew heavy, and my sight grew dim
I had to stop for the night
•  Wait – Earth, Wind & Fire
    Another great one by a great, great group. Great horns in the background, great vocals. They just do this kind of thing better than anyone else. And it modulates. Can you tell that I like that?
It's crazy if you think we're just friends
Lovin' when infatuation ends
The wait for you, baby, it now begins
•  I'm So Lonesome I Could Cry – B.J. Thomas
    I first discovered Thomas through one of my favorite songs as a teen – Hooked on a Feelin'. But this is even better. Thomas has the kind of voice that touches your heart, especially in this song, written by Hank Williams. Everyone's been there. We've all felt it. This song breaks your heart, especially in the capable hands of Thomas.
Did you hear that lonesome whippoorwill
He sounds too blue to fly
The midnight train is whining low
And I'm so lonesome I could cry

I've never seen a night so long
When time goes crawling by
The moon just went behind the clouds
And I'm so lonesome I could cry
•   Grazing in the Grass – The Friends of Distinction
     First recorded by Hugh Masekela, this vocal cover by The Friends of Distinction shoots out of the starting gate and never stops. I don't know how these guys can spit out 'I can dig it' as fast as they can. It's a great arrangement of a fabulous song. You cannot help but move when you hear it. I'm moving right now as I listen to it. I'm dancing in my chair.
Everything here is so clear, you can see it
And everything here is so real, you can feel it
And it's real, so real, so real, so real, so real, so real
Can you dig it?
•  Monday, Monday – The Mamas and the Papas
    Lord, I loved the Mamas and the Papas. Their voices blended together beautifully. My brother had their album (the one where they're in the bathtub in the cover photo) and I 'borrowed' it and played it over and over again. I still have it. I love this song.
Monday, Monday so good to me
Monday morning, it was all I hoped it would be
Oh Monday morning, Monday morning couldn't guarantee
That Monday evening, you would still be here with me.
•  I've Got You Under My Skin – Frank Sinatra
    Possibly my favorite Sinatra. This version of the Cole Porter song has Sinatra at his swingin' best with an incredible arrangement by Nelson Riddle that builds and builds – horns blazing, strings singing. I've actually listened to this over and over to learn more about the arrangement itself. After hundreds of listens, I still learn more about it. The instrumental bridge with the horn solo just blasts it out of the park. And there's a doubling of all the notes – buh-buh, buh-buh – that drives me crazy in the best possible way. A match made in heaven – Sinatra and Riddle. And then he winds it down to a quiet "And I like you – under my skin."
I've tried so not to give in
I've said to myself: this affair never will go so well
But why should I try to resist when baby I know so well
I've got you under my skin
•  I'll Take Romance – Matt Monro
    More from British crooner, Matt Monro. I'll Take Romance, written by Ben Oakland and Oscar Hammerstein, is wonderfully waltz-like, a song of pure romance.
I'll take romance
While my heart is young and eager to fly
I'll give my heart a try
I'll take romance

So my lover when you want me call me
In the hush of the evening
When you call me in the hush of the evening 
I'll rush to my first real romance
Smooth as silk, Monro sings this beautifully.
•  The Theme from Picnic – Morris Stollof conducting the Columbia Pictures Orchestra
    The gorgeous theme from the movie Picnic. I've always loved it and this rendition is straight from the movie. All orchestra. All hauntingly beautiful.
•  Last Train Home – Pat Metheny
    I cannot tell you how many times I have played this since discovering it several years ago. I think it would probably be embarrassing. This, to me, is Metheny at his best. The haunting undertone of the train runs throughout this piece, with Metheny's guitar taking us on the journey. There's a real mournful quality to it, mournful but excruciatingly beautiful. I cannot get enough of it. If you want to hear Pat Metheny doing what he does like nobody else, listen to this. Think of sound of a train in the distance, add a gorgeous melody, and you've got Last Train Home. One of my favorite pieces – ever. I'm am head over heels in love with it.
•  Get Together – The Youngbloods
    Out of my youth: a plea for tolerance, a plea for peace. It is as powerful today as it was then. Performed by The Youngbloods, with a great arrangement and wonderful guitar work, it gets to me even now. Jesse Colin Young's evocative voice is simply perfect.
Some may come and some may go
We shall surely pass
When the one who left us here
returns for us at last
We are but a moment's sunlight
fading in the grass

Come on people now
Smile on your brother
Everybody get together
Try to love one another
Right now
•  Lush Life – Sammy Davis Jr.
    Lush Life is a jazz classic with words and music by the great Billy Strayhorn. It's always been one of my favorites – the lyrics are beautiful. Davis does a beautiful job with it, from his album of the same name.
I'll forget you I will
While yet you are still
Burning inside my brain
Romance is mush
And it stifles those who strive
Well I'll live a lush life in some small dive
And I, I'll be alright with the rest
All those who lives are lonely too.
•  Lisbon Antigua – Nelson Riddle
    I grew up hearing this on my mom's radio and always liked it. Years and years later, when I was home visiting my mom and dad at their home in Northern Michigan, we were playing cards and this song came on the radio. I asked my Dad what the title was and he said "Lisbon Antigua." There you have it. I made sure to get a recording of it and it's now on my playlist. I love this piece, partly because of the melody, partly because it's arranged by the great Nelson Riddle, and partly because it brings back a great memory with my parents. (It was originally written in Portuguese in 1937.) Riddle recorded his own arrangement of it.
•  Fly Me to the Moon – Joe Harnell and his Orchestra
    This song has been recorded by everybody, but this is an orchestral version by Joe Harnell. It's hip, cool, and, as often is the case with me, I heard it on the radio and obsessed until I could find a copy. Harnell takes the theme and changes it constantly with different instruments taking the lead. It reminds me of theme and variations in classical music. Jazzy piano, plucked strings, soaring flutes, smooth violins – it's got everything. And as always on this playlist, it makes me happy.
•  Blue Tango – Leroy Anderson/Arthur Fiedler & The Boston Pops 
   Another great composition by Leroy Anderson based on the sultry rhythms of the tango. There was no one better than Anderson at creating a mood, a feeling, within a short piece of music. Lord, he was talented. I could listen to his music endlessly. Again, another piece I heard on the radio when I was a kid that I carried with me into adulthood. Reminds me of my Mom.
More tomorrow, then a book review on Friday.
Happy Wednesday.