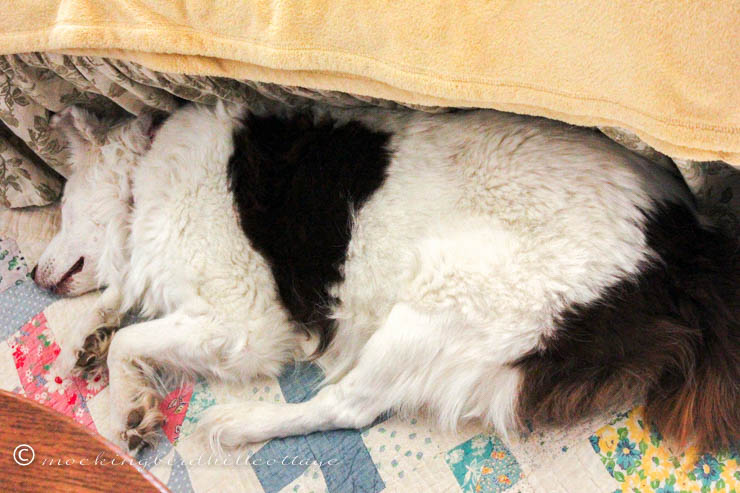 I have to throw in a picture – in this case, a photo of Dame Scoutie sleeping on her quilt. She's doing much the same thing as I write this, only she's in her 'tunnel' position. More snow and sleet and ice on the way later today. Will it never end? Don and I are trying to keep it together, but we want OUT!
More from the Playlist. I hope you're having as much fun with this as I am. I also love that you're sharing your favorites in the comments. Thank you for that. You remind me of songs that I love and just may want to add to my list. Let's hit Shuffle.
My Playlist
•  Like a Lover – Sergio Mendes and Brazil '66
    I have spent literally hours listening to this song over the years. I know I keep saying certain songs are sexy – and they are – but this one, this one is one of the sexiest. A gorgeous arrangement, with a bossa nova beat and gorgeous strings in the background, this song speaks love. Add in the fact that Sergio Mendes and Brazil '66 were so good at this kind of thing and you've got a winner. I introduced this song to Don years ago and it's one of his favorites now.
Like a lover, the velvet moon
Shares your pillow and watches while you sleep
Its light arrives on tiptoe
Gently taking you in its embrace
Oh, how I dream 
I might be like the velvet moon to you
Sigh.
•  Beyond the Sea – Bobby Darin
    Love, love, love this song – the American version of La Mer by Charles Trenet. Trenet, by the way, is someone you should also listen to – we have a recording of him singing his songs. Trenet's original version in French had totally different lyrics. The American lyrics are by Jack Lawrence. Darin's version is simply fabulous, with a big, brassy arrangement. I also have George Benson's version around here, which is also great, but Darin's is the clear winner.
Somewhere beyond the sea
Somewhere waitin' for me
My lover stands on golden sands
And watches the ships that go sailin'
You'll be snapping your fingers.
•  Expressway to Your Heart – The Soul Survivors
    Who knows why, but I love this oldie. The opening "boom, boom, boom-boom-buh-boom boom" draws you in and you can't help but move to the beat. It came out in 1967, was written by the famed Kenny Gamble and Leon Huff.
I was wrong, baby, took too long
I got caught in the rush hour
A fellow started to shower
You with love and affection
Now you won't look in my direction
On the expressway to your heart…
You'll be dancing before you know it.
•  Don't You Care – The Buckinghams
    I've always loved this song. I bought the album many moons ago just for this cut. Also from 1967, this was a big hit for the Buckinghams. Sung by lead singer, Dennis Tufano.
If you don't love me
Why don't you tell me
Instead of running around
With all the other guys in town

Can't you see
You're hurting me
Don't you care, don't you care
And my favorite part in the bridge:
mmmmm, my, my, my, my baby (with a great guitar riff in the background)
•  After the Love Has Gone – Earth, Wind & Fire
    Sigh. This is a great song, great harmonies, great arrangement. It has a slower tempo – it's less of a dance song and more of a love song. My love for this splendid group is undying.
And it modulates to another key smack dab in the middle in the song. The 'oh, oh, oh' leads us there.
And oh, after the love has gone
How could you lead me on
and not let me stay around
Oh oh oh after the love has gone
what used to be right is wrong
Can love that's lost be found
•  Free – Deniece Williams
Oh my lord. I love this song. Incidentally, it was produced by Maurice White of Earth, Wind & Fire. You'll be astounded by what Williams' voice is capable of – the notes that she hits at the end. Extraordinary. Great arrangement – quintessential Deniece Williams. I've been known to listen to this one over and over. I first heard another artist's cover of this, but I tracked down the original. No surprise – it was Niecy.
Whispering in his ear
My magic potion for love
Telling him, I'm sincere
And there's nothin' too good for us.

But I want to be free, free, free
And I've just got to be me yeah, me me
•  You Better Love Me While You May – Jack Jones
    I heard this cut on the CD I mentioned yesterday – Closer Than A Kiss: Crooner Classics. I've always liked Jack Jones. This song, written by Hugh Martin (who wrote Have Yourself a Merry Little Christmas) and Timothy Gray for the Broadway musical, High Spirits (the musical version of Blithe Spirit) has been recorded by everyone from Ella Fitzgerald to Mel Tormé. In this version, Jones is accompanied by a small group of musicians; piano, bass viol, and drums. I can sing Jones singing this in a sophisticated nightclub. This one also modulates to a new key in the middle. Love that kind of thing.
You'd better love me while you may
Tomorrow I may fly away
I want your gentle touch
Your continental touch
Your elemental touch
You want me too
Oh, I know that you do.
•  Peg – Steely Dan
    We're Steely Dan lovers in this household. In fact, one of our early conversations while courting was about how much we loved Aja, their brilliant album. Peg, infectious, fun and jazzy, is the kind of song that makes me want to dance and sing along with it.
I've seen your picture
Your name in lights above it
This is your big debut
It's like a dream come true
So, won't you smile for the camera
I know they're gonna love it, Peg.
•  Charade – Andy Williams
To my mind, Henry Mancini was one of the greatest composers of music for film. When I watch the Oscars nowadays, most, not all, songs that are nominated for Best Song are laughable. Really? Take me back to Mancini, please. This song, from the movie Charade, is simply beautiful. The arrangement, with Andy Williams singing the vocal, has a somewhat French sound, which is fitting since the movie takes place in Paris. It's one of my favorite movies, by the way, directed by Stanley Donen and starring the incomparable Audrey Hepburn and Cary Grant. Elegant, stylish, sophisticated.
When we played our charade
we were like children posing
Playing at games, acting out names
Guessing the parts we played
•  Goin' Out of My Head – Little Anthony & The Imperials
    One of the best pop songs ever. It was recorded in 1964 and since then it has been covered by many, many artists. This version – the original – is still the best. Little Anthony's voice, filled with raw emotion, takes us right into the heart of the lyrics. A song about a love that is consuming, it touches a chord in anyone who has ever longed for a requited love. Backed by a full orchestra, a sumptuous arrangement, his rendition of this song is gut-wrenching.
Well, I think I'm goin' out of my head
Yes, I think I'm goin' out of my head
Over you, over you
I want you to want me, I need you so badly
I can't think of anything but you.
•  Teach Me Tonight – Al Jarreau
     A great standard, Teach Me Tonight as covered by Al Jarreau is simply wonderful. I love Al Jarreau – I have many of his CDs and I've seen him in concert. He can do things with his voice that are simply amazing. Here he takes us along for the ride as he sings of love until the final build that knocks it out of the park. Great sax solo. Written by Gene DePaul and the great Sammy Cahn.
One thing isn't very clear, my love
Should the teacher stand so near, my love
Graduation's almost here, my love
Teach me tonight.
•  Since I Fell for You – Lenny Welch
    This may be the best of all songs about the heartbreak of love. I've used the phrase gut-wrenching before in this series, but this one makes all the others look like small potatoes. Lenny Welch has the kind of voice that has an emotional intensity beyond compare. It's raw, it's beautiful, it's almost too much. He is so gifted. No one – I repeat – no one  can sing this song like Lenny Welch. Recorded in 1963.
You made me leave my happy home
You took my love, and now you've gone,
Since I fell for you.

Love brings such misery and pain
I guess I'll never be the same
Since I fell for you.
•  I'd Sing You – Don Sparks
This is my favorite Don Sparks song. He recorded it several years ago. He doesn't even sing it anymore, but that doesn't matter. It kills me, it's so wonderful. My romantic husband writes beautifully. He's a poet. In this song, he's at his best. He arranged and orchestrated it with Garage Band on his Mac and it's superb. He'll be embarrassed by this, but I don't care.
This isn't what I meant to say
The awkward rhyme, the poor word play
It comes out wrong, it hides the song
I'd sing you

Every fear that holds my tongue
Leaves a passion yet unsung
This lovers moon 
Never hears the tune
I'd sing you

There should be a symphony in blue
A choir softly singing out for you
I lose the key
And the melody
I'd sing you
Be still my heart. This man is something else.
•  Rainy Night in Georgia – Brook Benton
Has there ever been another song that is so evocative – that so perfectly paints a picture of loneliness, the rain, of being without the one you love? Brook Benton had a gorgeous, deep, resonant voice and it is perfect fit for this song. Accompanied by a full orchestra, guitar and the lonely sound of a harmonica, this song never fails to take me to a different place.
A distant moanin' of a train
Seems to play 
A sad refrain to the night.

A rainy night in Georgia
A rainy night in Georgia
It seems like it's rainin' all over the world
I feel like it's rainin' all over the world.
•  Ribbon in the Sky – Stevie Wonder
  Simply gorgeous. There's no one like Stevie Wonder. His gifts are enormous. And he's a fellow Detroiter, so how could I not love him? This plaintive, beautiful song moves slowly – no hurry – and takes us along on a lovely journey.
If allowed, may I touch your hand?
And if pleased, may I once again?
So that you too will understand

There's a ribbon in the sky for our love.
•  Suspicion – Terry Stafford
This is a real oldie. I love it. I remember listening to it on a little radio in my bedroom when I was a young girl. It got to me even then. Stafford has a deep voice, the song is haunting, it brings back lovely memories. I had to include it on my playlist. Originally written for Elvis Presley, it was covered by Terry Stafford in 1964. Stafford has a vocal quality not unlike Presley's. I also love the arrangement.
Ev'ry time you kiss me
I'm still not certain that you love me
Ev'ry time you hold me
I'm still not certain that you care.

Suspicion torments my heart
Suspicion keeps us apart
Suspicion why torture me?
I hope you're enjoying the Playlist. I like the challenge of putting into words just why I like these selections, what it is about them that strikes a chord within me. Thanks for coming along for the ride.
Happy Tuesday.