A little story for you:
The only clock we have in our bedroom is the digital clock on the cable box. Don usually puts a framed photo of us on our wedding day in front of the clock so he can't see it at night. On Sunday night, we went to bed knowing that one of us had to get up in the middle of the night to let Scout out. When this happens, we figure whoever wakes up to go to the bathroom around 3 or 4 in the morning will also go downstairs and let her out. It's something neither of us look forward to.
So. We go to sleep. I wake up to go to the bathroom, but I haven't been sleeping all that long and I know it's too early to let her out. So I go back to sleep. I wake up again after what I know is a solid chunk – several hours – of sleep. I have to go to the bathroom. So I get up, walk across the room, move the photograph to see what time it is. It says 12:15. I know my brain is fuzzy, but it seems like I slept a lot longer than an hour. And I've already visited the facilities once before. I can't figure it out. So I go to the bathroom and I head back to bed. But I'm so perplexed that I can't get to sleep for a while. I cuddle up to Don and finally go back to sleep.
I wake up, knowing I've slept about an hour or so more.
But it's light out. What the ???? How can that be? I went back to sleep at around 1 am, slept for a little more, and now it's light out? And that means I didn't get to Scout in time. I jump out of bed, get dressed, run over to the clock.
It still says 12:15.
No wonder I was confused. I run downstairs, where Ms. Scout is sleeping peacefully and the clock shows me it's after 7 am. No accidents, thank goodness.
And then I look out the door and there's snow on the ground. I feel as if I'm in the Twilight Zone.
When Don gets up, a bit later, he yells downstairs and asks me what time it is. I say 9 am. It turns out he went through the same thing during the night. Got up, checked the clock, decided it was too early to let Scout out, went back to bed. When he finally woke up in the morning, he went to check the clock and it said 12:15 and he thought he'd slept until noon. And then he saw snow.
I have to tell you we were both feeling as if we were living in an alternate reality for several hours. It took a bit of time to shake it all off.
Later in the day, I unplugged the cable box, let it reboot, and it corrected itself.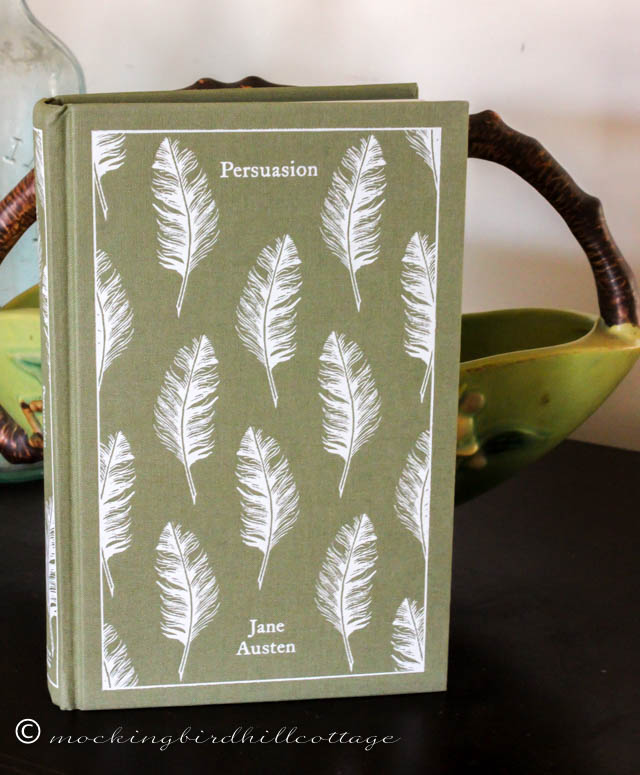 I cheated. My plan is to purchase one a month. Technically, this should have arrived in April. Ah well. I love this simple feather motif.
And there it is on the shelf, along with its fellow Austens.
The egg cup I ordered from Etsy arrived yesterday. I had to wash it and spray a little Febreeze on it, as it clearly came from a smoker's house. I used to smoke. I smoked for about 5 years. I can't believe that I smelled like smoke during those years. It completely grosses me out now. Don, too. I quit in 1985. Don quit in 1986. Thank goodness. We met in 1994, so we were well rid of the habit by that point.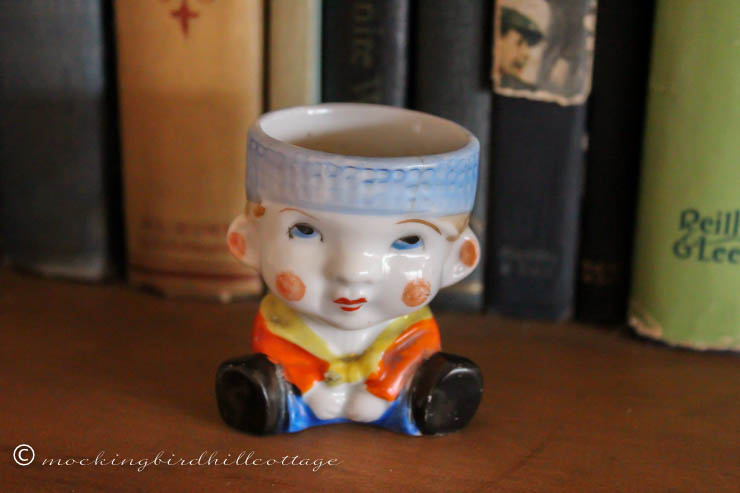 Here he is. He's a little Japanese boy. Like my little cowboy egg cup, he's sitting with his legs stretched out. These were made in Japan in the 1930's. Apparently, there are others in this particular design, though I've only seen the cowboy and this little guy.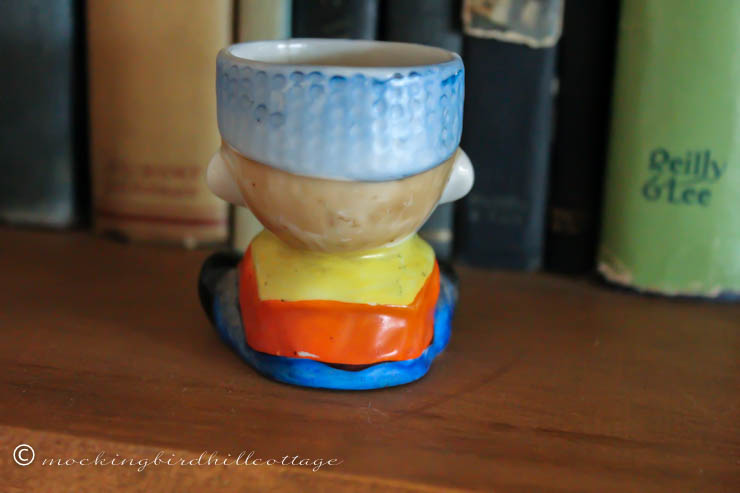 I've always wanted to add this one to my collection, so I'm happy he's finally here. Marked: Japan.
Isn't he adorable?
Happy Tuesday.