When you're somewhat housebound in the midst of winter, a day where the sun is streaming in your windows makes all the difference, don't you think? We've had more than a few of those sunny days lately (not to mention warmer temps and melting snow, huzzah!) Our bedroom is awfully pretty when the sun pours in the two tiny windows so I grabbed my camera the other day to take some pictures.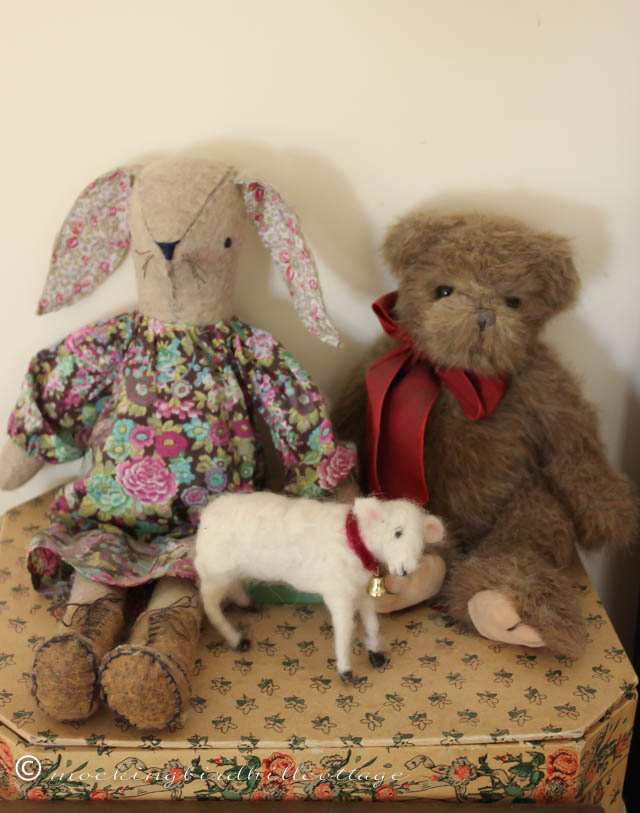 My pals. Maggie Rabbit, Wayfrum Holmes and Little Lamb. You're probably familiar with them, but if you're a newish reader, I'll introduce them to you. Maggie Rabbit was made by me from a kit designed by the lovely Alicia Paulson of Posie Gets Cozy. By the way, Alicia has just added more Maggie Rabbit patterns to her shop. They go very quickly, so if you're interested hop on over. I made Maggie when I was working out of town in Hartford and I love her.
Wayfrum Holmes was given to me by Don when I was about to leave for a six month stint in San Diego. Wayfrum kept me company while I was away from my loved ones. Little Lamb was a lovely gift from Sheila. Maggie, Wayfrum and Little Lamb are my traveling companions when I'm going to be away from home for a longish time.
They are perched upon a vintage hatbox I found many years ago in the Berkshires.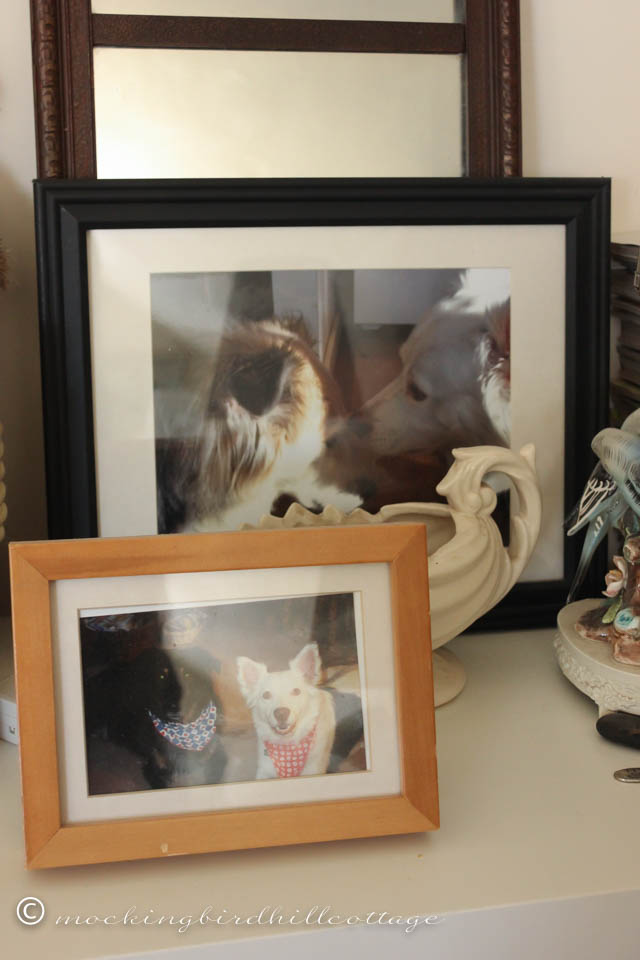 Right next to them are framed photos of our dogs: Winston, Scout and Riley. (Have to straighten that photo.) The mirror was a gift from my mom. The McCoy pottery piece is filled with pennies. And you can just see my other parakeet lamp, which is sitting on the bookcase because it needs to be rewired, along with at least two other lamps we own.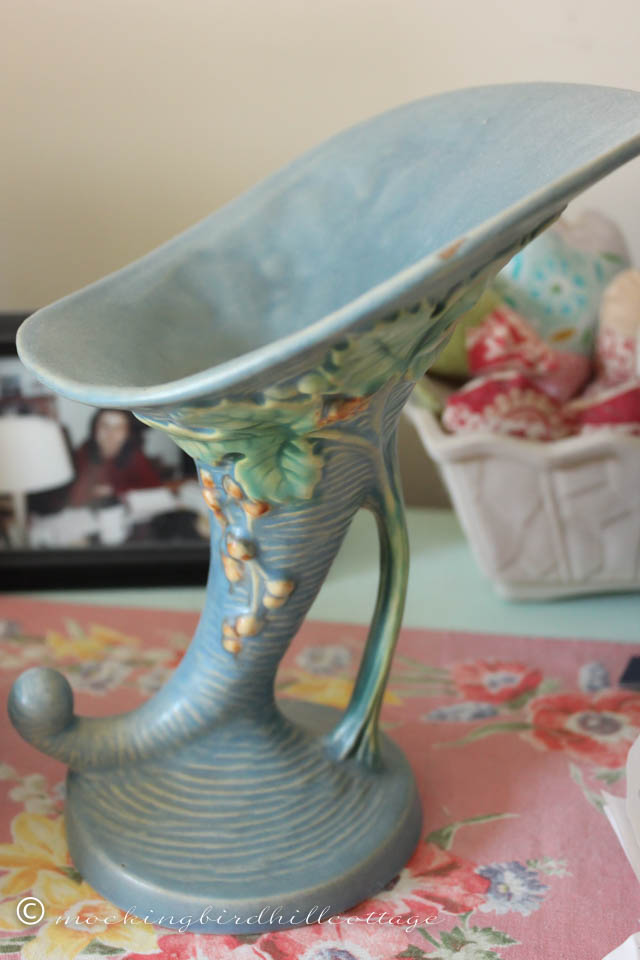 I own several pieces of Roseville pottery but this one just might be my favorite. It's a cornucopia in the Bushberry pattern. It sits in a place of honor on my dresser.
Uh oh. Now I'm fixating on Roseville and this particular pattern. It might be time to add to my collection. Roseville can be very pricey, but it's all in the timing. I've found some pieces at auction for very little money. If you go to a higher-end antique shop, you're going to pay a lot more. The very first piece I ever purchased was a little bowl in the brown version of Bushberry. I got it in a little shop in San Diego when we were still living there.
The photo in the background is of yours truly in her office when I was teaching at Boston University. The other piece of pottery on the right is McCoy. It's full of fabric hearts. The dresser scarf is really a tea towel. (I like it much better as a dresser scarf.)
It's sunny again today. Snow is melting. I know that March is a big tease and that the temperature will eventually get colder, but boy, do we appreciate this little warm spell. The driveway is mud, of course. We had to put down some straw in Scout's mini-corral because it's also a sea of mud. But we'll take it.
An interesting article in yesterday's New York Times: The State of Alabama is now investigating a complaint of elder abuse re: Harper Lee and the decision to publish her 'new' novel.
Happy Thursday.