The wonderful thing about doing these annual egg cup posts is that I am forced (in a good way) to look at them again, do a little more research if necessary, and what do you know? I fall in love with them all over again. Let's face it, it's easy to take a collection for granted. You see it every day, you walk past it on your way to do something, you forget how amazing it actually is.
So I thank you for requesting this little Easter egg cup tour. Gosh darn it – I love these guys!
And on to more egg cups.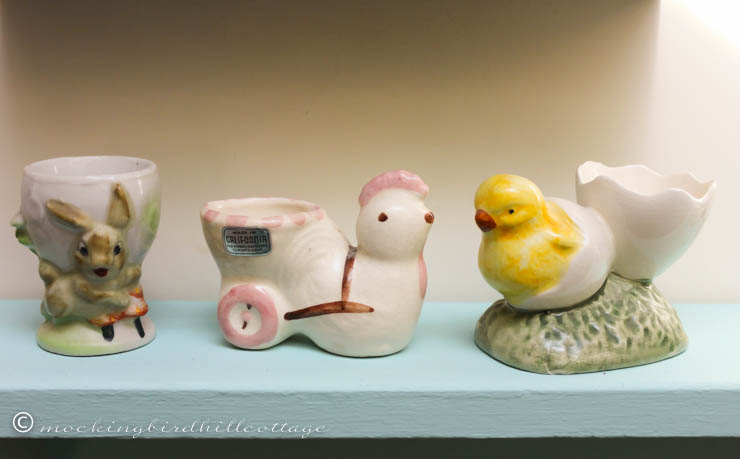 1.  Another bunny rabbit, this one scampering, in front of an egg cup. Marked: Japan.
2.  A rooster pulling a cart. It still has the original sticker on the cup (a good thing in collectible-land) that says, "Made in California. Rio Mondo Potteries. El Monte, CA." I love the cream and pink and brown color combination. I found it in a local shop.
3.  A chick emerging from an egg. This cup is vintage, from Bordallo Pinheiro, Portugal. This design is still being made and has been copied a lot!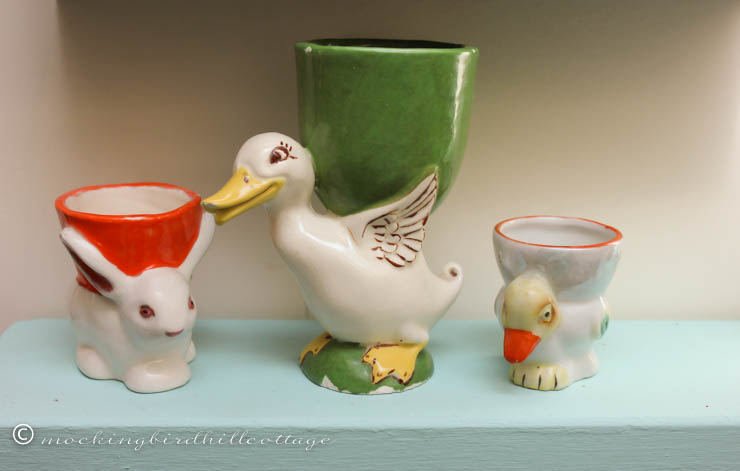 1.  A cute little white bunny rabbit carrying an orange egg cup. Unmarked.
2.  This gorgeous cup was a gift from a sweet reader of this blog, Teresa. It's hand painted and has the initials LH and '58 on the bottom. How can you not smile when you see the the joy on that duck's face? As you can see, it's quite tall and is simply wonderful. It's made from a Holland Mold.
3.  A lustreware duck egg cup. Marked: Made in Japan. A gift from my mom.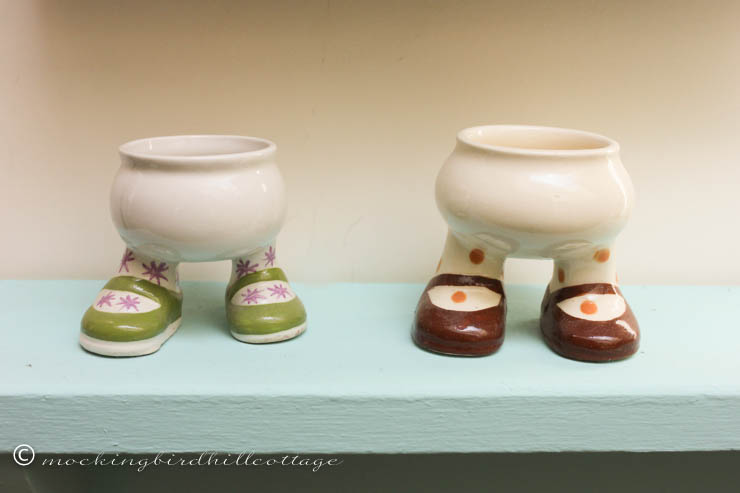 1.  An egg cup that is part of a series called Walking Ware. Made in England by Carlton Ware. There are several whimsical designs in this series. Marked: Carlton Ware, England. © Lustre Pottery. 1973.
2. This egg cup, though like the first, is unmarked. I have a feeling it's a copy of the much sought after Walking Ware line. Different color glaze, slightly larger.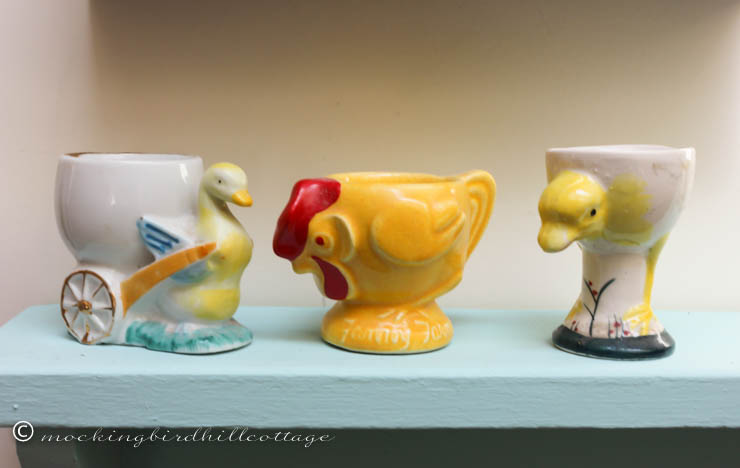 1.  A lustreware goose pulling an egg cup cart. This one is lovely, with soft colors and beautiful detail. Marked Made in Japan.
2.  Another egg cup from the Fanny Farmer line – this one made by Brush McCoy Pottery, which is the same McCoy Pottery that I collect. I found this one early on in my collecting and it's in perfect shape. I really love it. I see a lot of these that are missing the red paint, so the rooster is simply yellow or pale yellow. I am fortunate to have found one with paint intact. You can see the words Fanny Farmer and Made in USA on the base. It's quite heavy.
3.  A chick emerging from an egg. Lovely little flowers and grass painted on the base. Marked Japan. A gift from my mom. (She really liked to find egg cups and send them to me.)
I hope you're enjoying this little series. I sure am.
Happy Saturday.