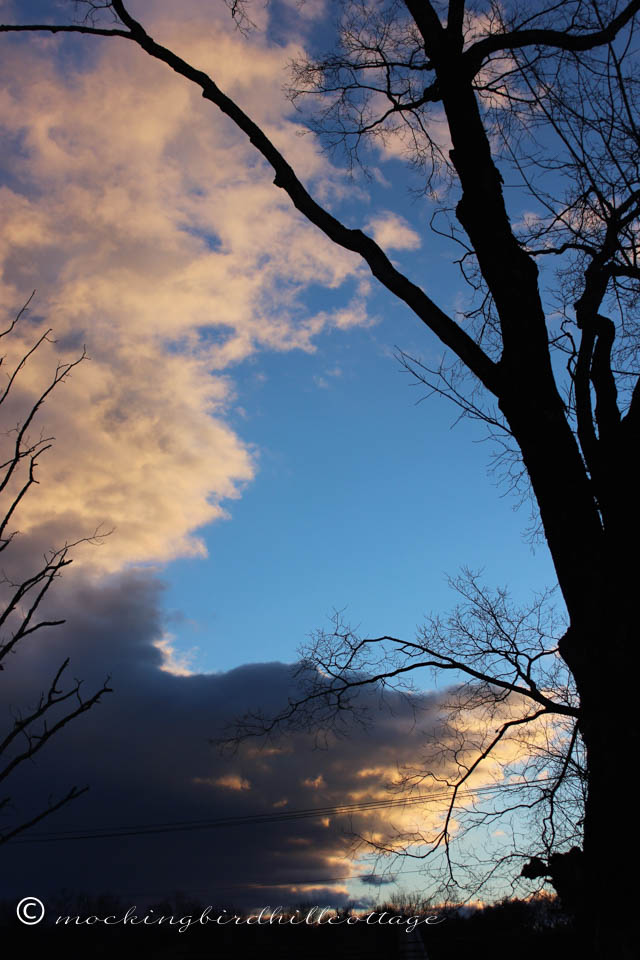 Well, it's been a crazy twelve hours or so. Yesterday brought very high winds to our area. Around 5:00 pm, we heard a boom and the power went out. We looked outside and saw something burning about 75 feet down the road from us. At first, we thought there had been a car accident, until we realized that something had happened to the power lines. We called 911, as did our neighbor. The smell of burning electrical wires filled the air.
The fire department came, but they kept their distance for a long time – I suppose they were waiting for the power to be cut by Central Hudson (which is our power company.) So the wires kept sparking and burning. We live on a busy county road, so the trucks also blocked traffic. It wasn't until we went outside that we saw wires in the street, wires blocking our neighbor's driveway and a snapped pole or two, including the one directly across the street from us. We called our neighbors to warn them about the wires, but the fire department had already called to tell them not to leave their house.
This would also be a good time to mention that the weather turned very wintry yesterday, with wind chills in the teens (this morning there was snow on the ground.) Today is also supposed to be very windy and cold. So much for Spring, right?
We lit candles, got out the flashlights, I found a battery operated lantern, and we sat together on the living room sofa, covered with blankets. I found our old transistor radio and we listened to oldies all evening long. That part of the evening was rather nice. Power was supposed to be restored by 11:30, but at 1:00 am it was still out, so we went to bed.
The power finally came back on at 6 am. Everything seems to be working, except the newish thermostat that was installed last year, which means we still don't have heat downstairs. Upstairs, yes. So we're waiting for our furnace guy to come over and figure out what the problem is. My fingers are freezing as I type this!
No frozen or burst pipes, thank goodness. That was our biggest worry.
Bless the guys from the power company. There were trucks up and down our road all night long. It was windy and freezing and miserable out there.
It's a very bizarre feeling to hear the furnace come on, but to still have no heat downstairs.
We're cold!
Thank goodness no one was driving on that part of the road when the wires came down.
Anyway, there you have it. I have to stop typing and put some gloves on.
Happy Wednesday.