We've come to the finale, my friends. I brought all the pieces I have upstairs to the den in order to photograph them for you. However, I think I will do one more post that shows you where and how I display the pottery and where I will also address any questions you might have. So ask away, and I'll also go back in the comments for the series to pull any questions you asked in that space.
Somehow, I've ended up displaying cream-colored McCoy upstairs. It just evolved that way. Some have been displayed in the cupboard in my studio and I'm now redoing the shelves to highlight them. More on that later.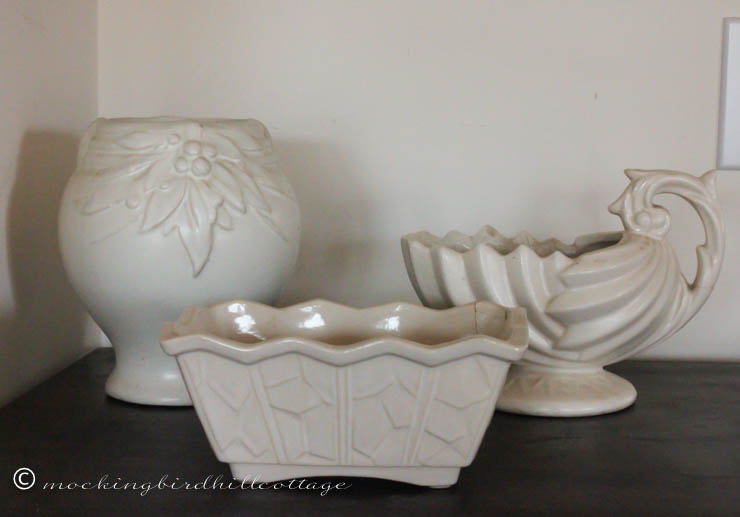 A vase, and two planters.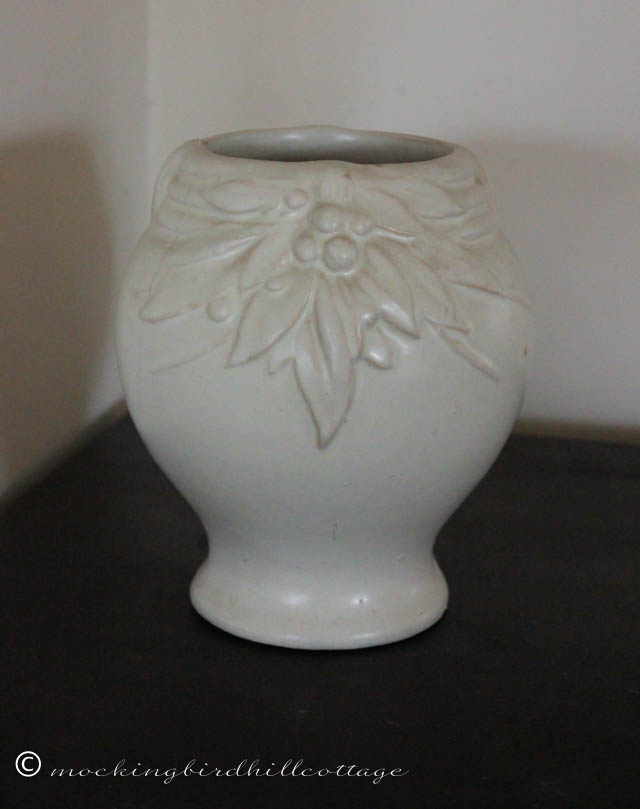 This pot is from the 1930s and has a matte glaze. It's unmarked. I'm pretty sure I found this one in Heidi's shop.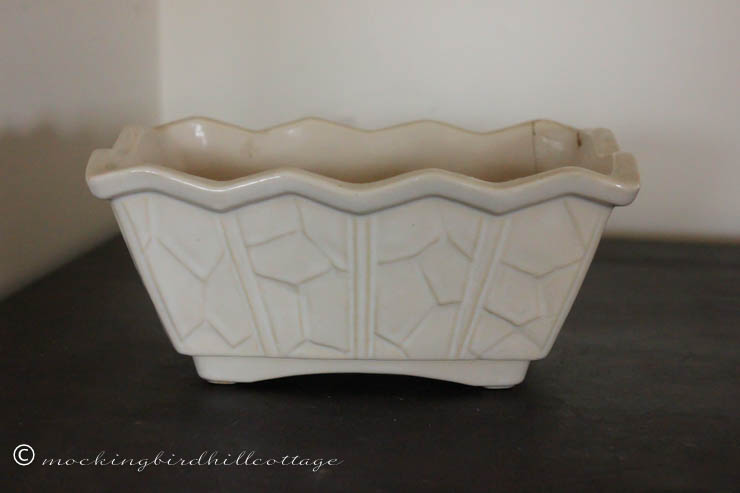 This planter was one of my earliest discoveries. I love the look of it. That repair you see in the back? I did it. This little piece fell to the floor at some point and I glued it back together. I don't have an exact date, but I think it's from the 1950s.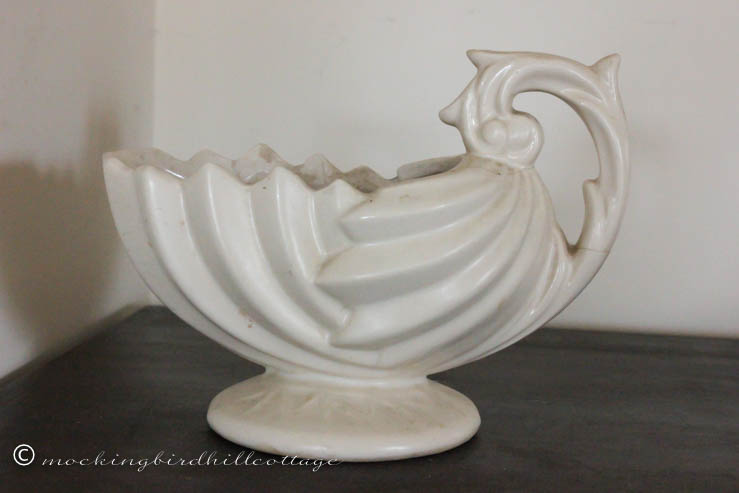 This is called the shell planting dish. It's been sitting on the bookshelves in my bedroom – holding pennies. It's still holding pennies, but I've now moved it to the cupboard. It's from 1941. Also found at Heidi's shop. I used to work there, so I grabbed these pieces as soon as I saw them!
Two pots, a pitcher, and a vase.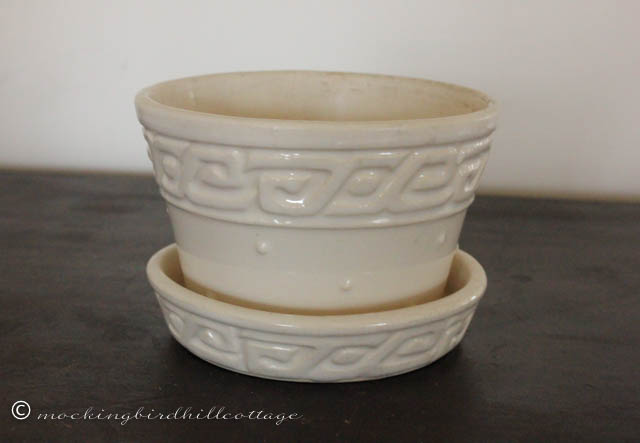 This is a violet pot – not unlike the african violet pots my grandmother used to have on her window sills. It has a greek key/hobnail design. From 1954.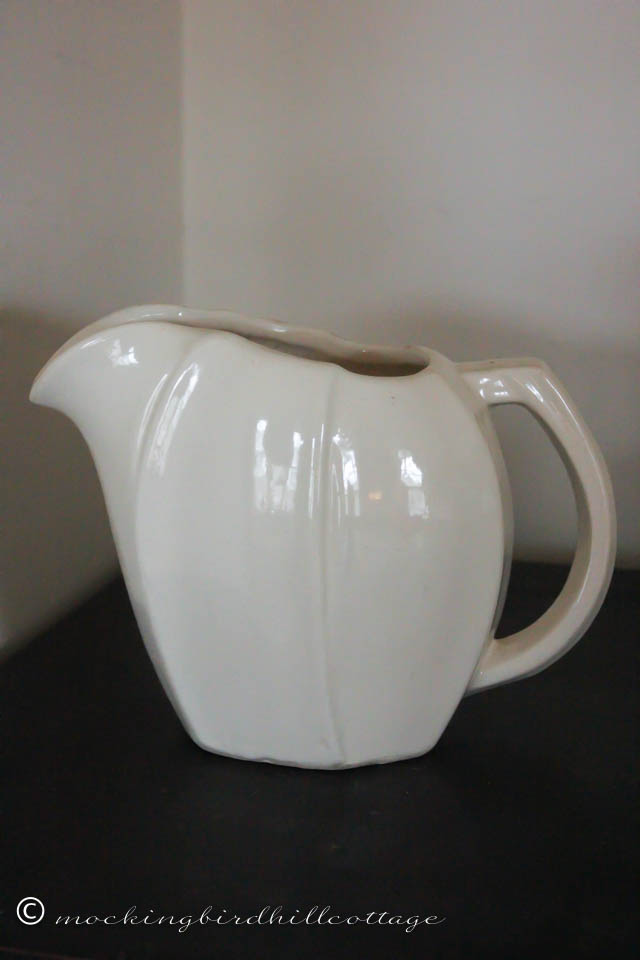 This is the pitcher I shared with you last week, a present from my dear friend Kay. From the 1940s.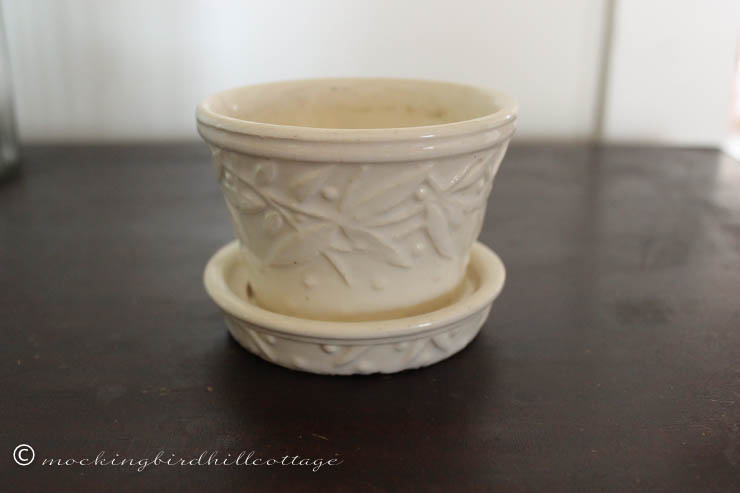 Another violet pot – this one a hobnail with leaves pattern. From 1950.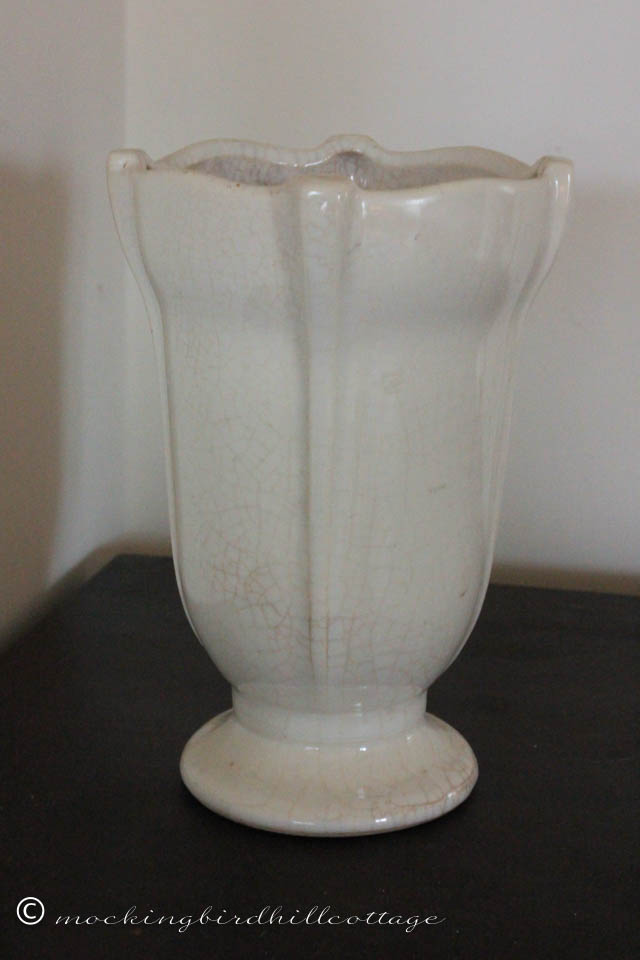 And this vase, with all its wonderful crazing. I always assumed this one was McCoy because it looks very much like one I've seen in the reference books. It's unmarked. But it isn't McCoy. The crazing and the weight of the piece seems more like a piece of ironstone, perhaps even older than McCoy. I don't know. But I include it in my group of McCoy pieces and I also include it here to show you that sometimes I'm mistaken when I think "McCoy."
Okay, I take that back. I just saw it in pink on eBay with the McCoy mark. I was right, darn it!
I love it, no matter what.
And two new pieces I picked up the other day when Don and I went for a little drive on the anniversary of my mother's death.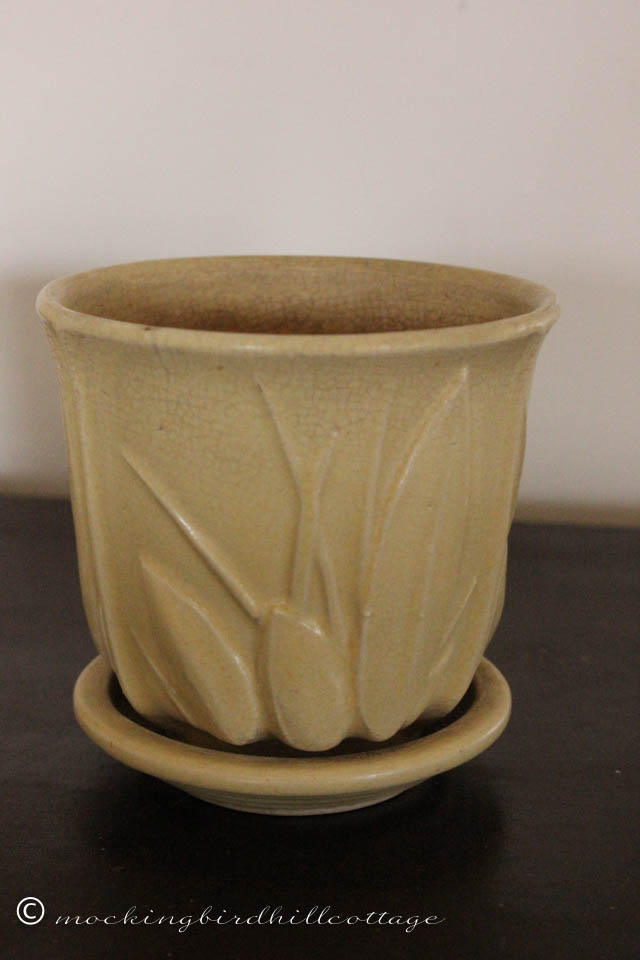 This is from the 1940s and it has the interlocking NM mark on the bottom. It's called a jardiniere in the reference books. This has a matte glaze. The inside tells me it was definitely used and loved. This was a great buy at $5.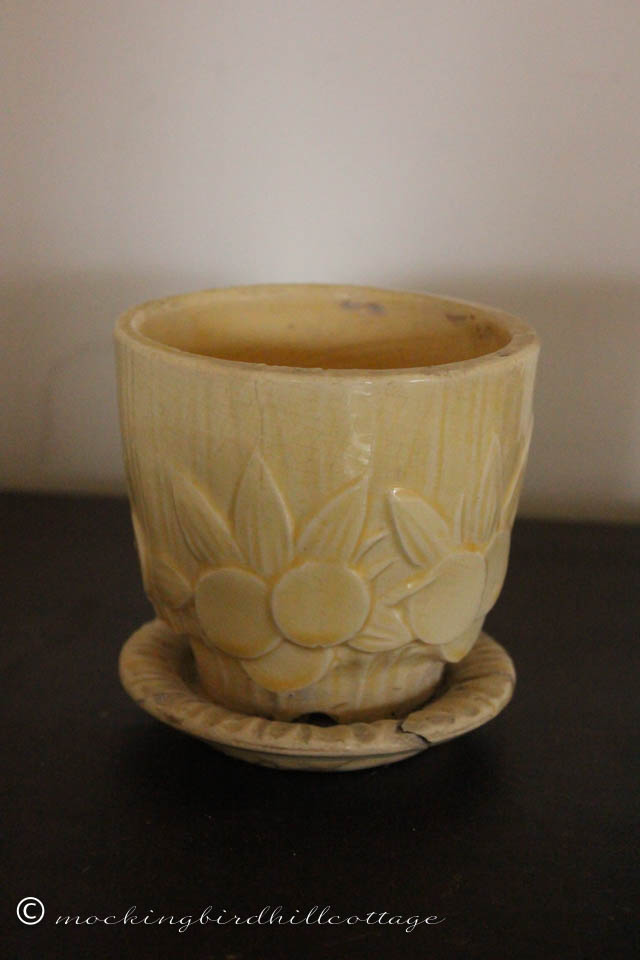 A much smaller version of the sand dollar pot – also called the Necco pot, by the way, because of the resemblance to Necco candy. This is obviously damaged. The edge of the base is glued together in a couple of places. I bought it because I love the sand dollar design and I've never seen it in yellow. And it was $1, which made it a no-brainer. I'm going to plant a little something in this sweet pot.
Ta dah!
We're finished. Well…almost. I have another piece arriving today. And I'm going to do a post about display here at the cottage. If you have more questions, fire away and I'll answer them in that post, as well as offer any tips I have for collecting this wonderful, wonderful pottery line. It certainly has brought a great deal of pleasure to my life. Plus, I get to look at it every day!
Everyone: I disabled comments for a while to give WP time to update the current version to address a security issue. All is fixed!
Happy Monday.