Okay, I know I said I would do this series every other day, but apparently I lied. I have another post planned (fingers crossed) for tomorrow and Friday is consistently the day of the week with the least visitors and page views, so today it is. We'll have Part Three on Saturday.
Speaking of page views and visits, Spring is here….and you're all busy outside, as you should be! But let me remind you that I posted a book review on Monday for a great book and I'm giving away a copy. Do you really want to miss out? I usually have twice the number of comments/entries for a giveaway, so I can only assume you're outside, trowel in hand, planting and having a great time. Take a minute, though, and read the review and throw your name in the pot.

Just a few more pieces from the den and then we move on to the living room.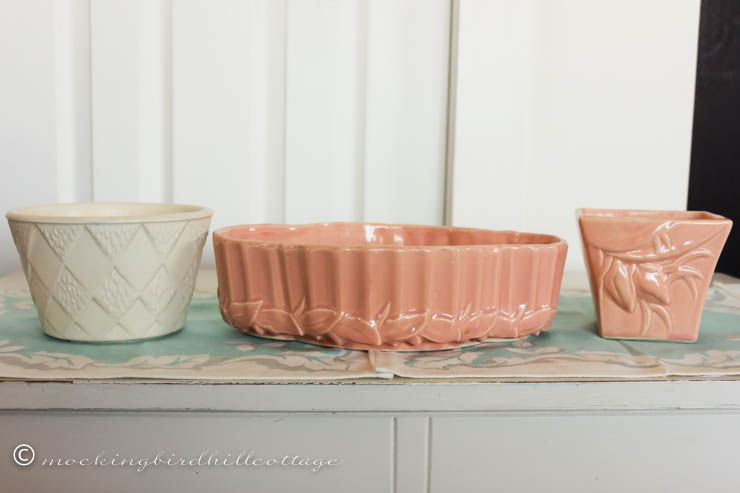 Two pots, and a centerpiece bowl.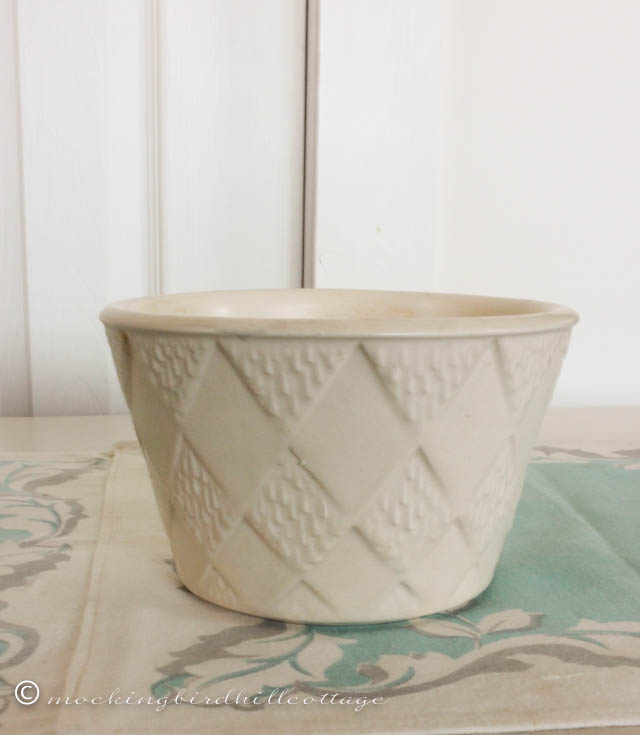 This pot is from a line McCoy produced called Floraline – which was strictly for the florist industry and was highly successful. Simple designs were the theme. This pot is probably the 'newest' piece of McCoy that I own – from the 60s. It sits on a table in the den and holds the remotes.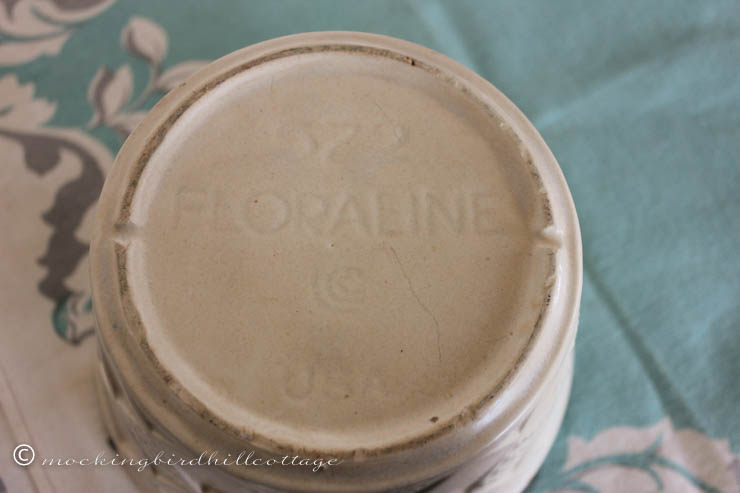 And there's the Floraline mark, as well as a number which identified the design. If you see anything marked 'Floraline' as you're out and about, you'll know it's McCoy.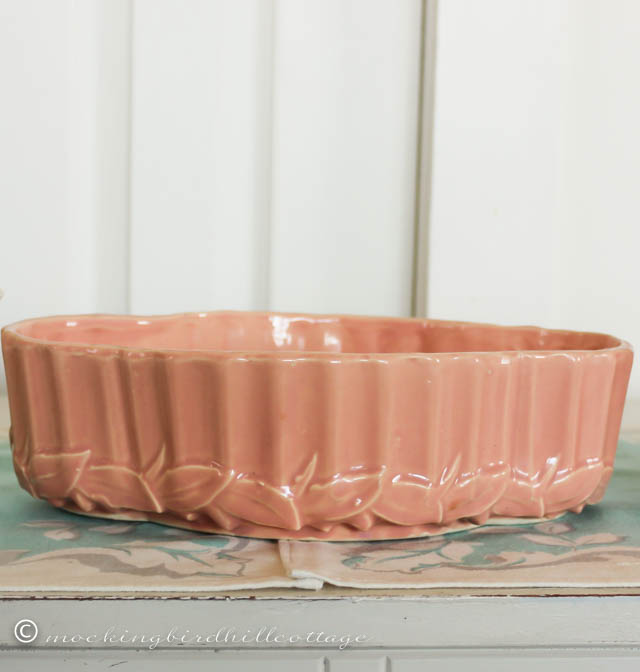 A centerpiece bowl, from around 1948, with a lovely leaf design at the base. Such a pretty color. This was a gift from my friend Heidi.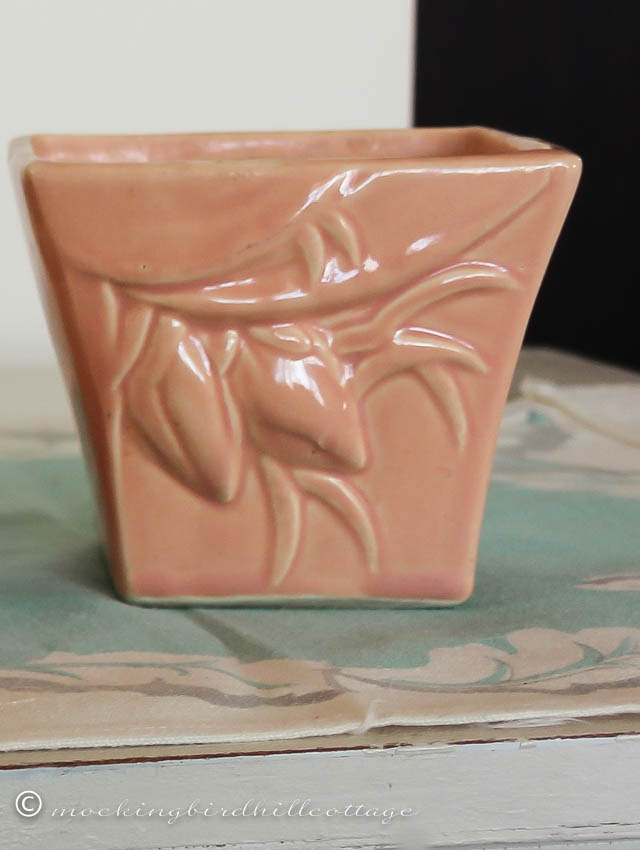 This adorable pot is from the Rustic Line of McCoy. The most common glaze for Rustic was ivory with a turquoise and brown spray. But some of it was also produced in solid colors, like this one. I have another Rustic piece in turquoise that you'll see on another day. This was a gift from the lovely Linda. It's from around 1945.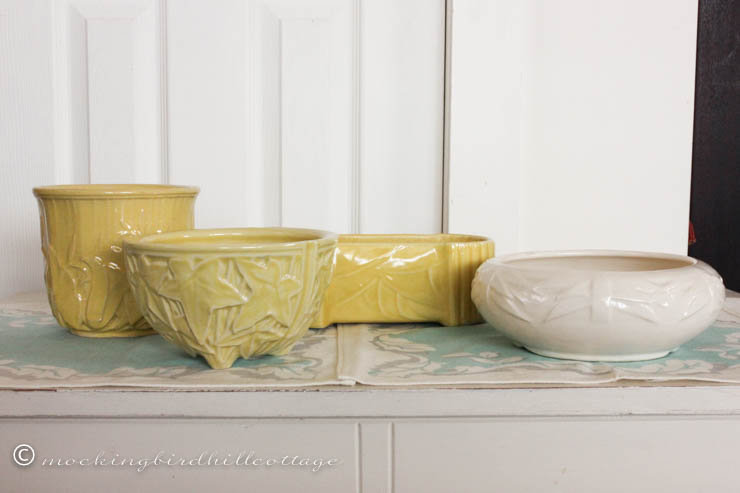 We move on to the living room. A jardiniere, two planting dishes, and a hanging pot. The yellow pieces live on the shelves in the sideboard. The cream piece lives on the coffee table.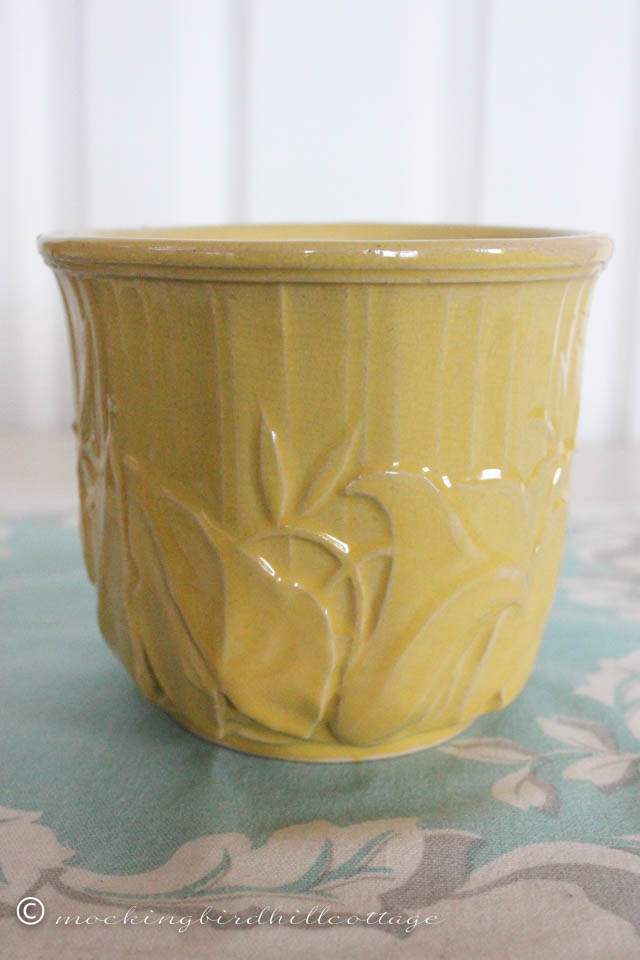 From the late forties, a yellow jardiniere. It has a lily motif. Lots of crazing, which I love. I can't remember where I got this one. (I know you think I remember where I got everything I collect, but it's becoming quite clear that I don't!) This one holds our sunglasses.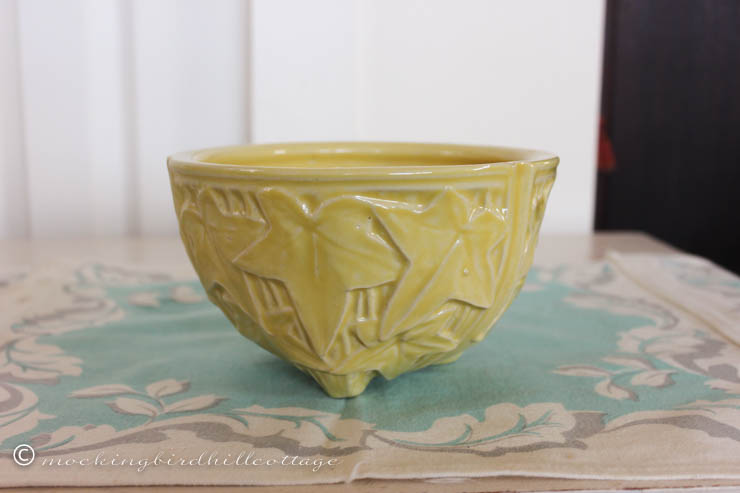 Another one of my favorites and one of the first pieces I bought – on eBay. This is a hanging basket with a gorgeous ivy design.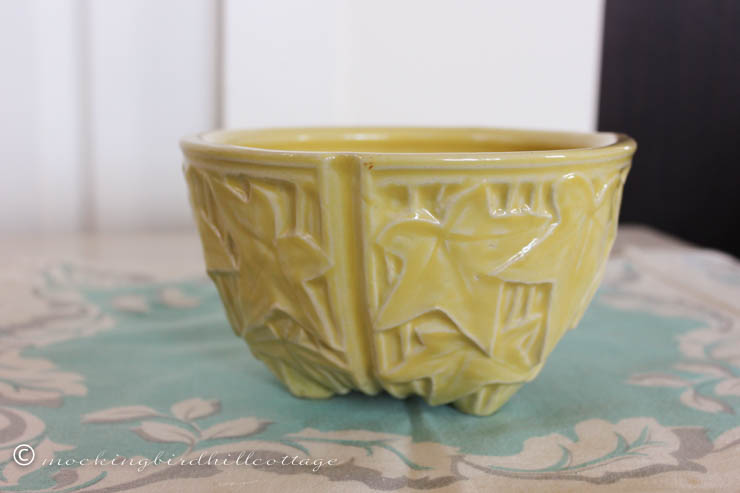 It originally came with a chain that fit into three grooves on the basket. You can see one in this photo.
And, perhaps the most creative way to show the McCoy mark: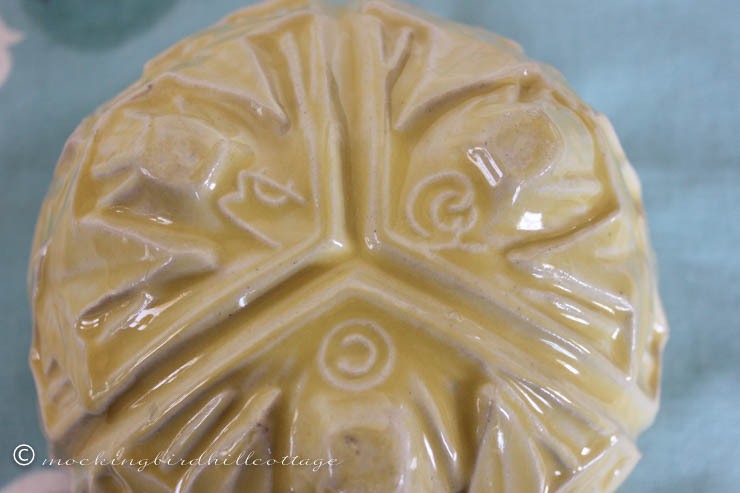 Isn't that cool? From around 1950.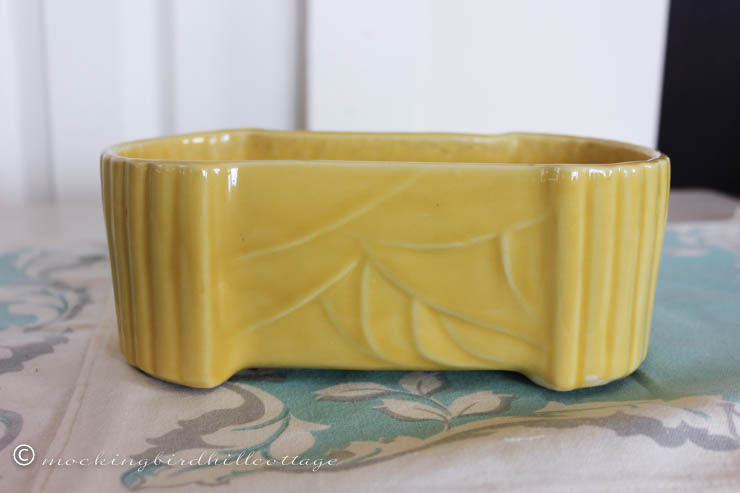 This yellow planter is from the 1940s. I'm pretty sure Don gave it to me. It holds our keys.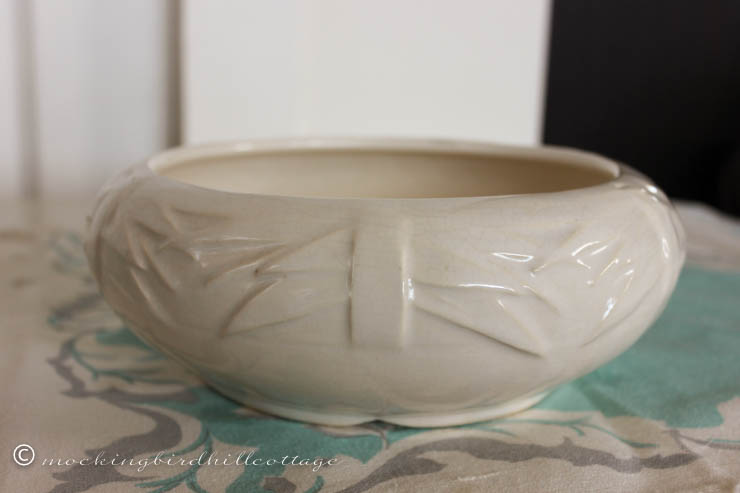 And this cream colored planting bowl is just like the aqua version I showed you yesterday. I bought this in San Diego when I was working there for six month a few years back. It made my apartment there seem like home. It sits on the coffee table and holds vintage bakelite Mah-jongg tiles – also found in San Diego.
More on Saturday – there's lots of McCoy to show you!
And you might find this video interesting. I remember seeing this when it first aired (I loved the first Martha Stewart series that aired on television, I think it was the best.) Anyway, this is a glimpse of her McCoy collection – and believe me, she has much, much more.
Here's the link to the video.
Happy Wednesday.