This is supposed to be a McCoy-free post, as the series continues tomorrow, but I had to share something with you.
My godparents lived on the next block over from us when I was growing up. I called them by their first names: Edith and Nick. You might remember that they gave me my very first egg cup, the second one from the left in the picture below.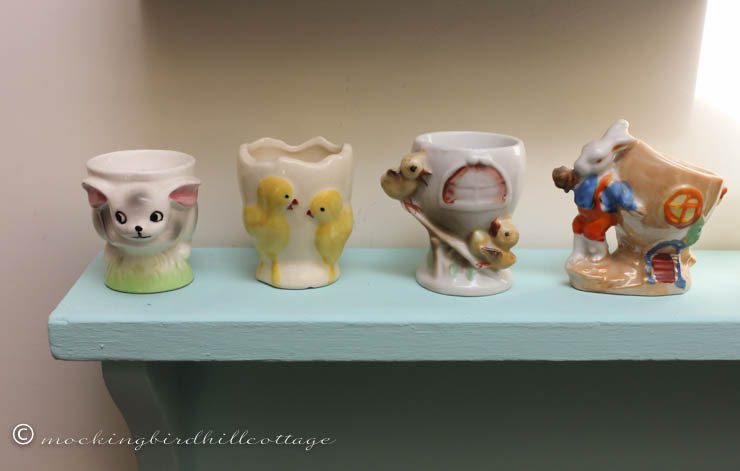 Luckily, I held onto that egg cup for years and eventually it sparked the desire to start a collection.
Edith and Nick had three children and all of us grew up together. Kay, their daughter, was just a few years younger than me. We played together all the time. I call her my godsister – is there such a word? She's also my friend.
Kay and her husband lived in Maine for many years but when Edith and Nick, now living in Florida, grew ill, they moved down there to watch over them. Sadly, Edith and Nick are gone now, as is my mom. Kay reads this blog, much to my delight. When I started the McCoy series, Kay sent me an email with a photo of a piece of McCoy pottery – a pitcher – attached. Did I want the pitcher? It had been her mother's and Kay remembered it being around for years. Of course, I said yes. Having something of Edith's here at the cottage, something sent to me by Kay, would be a wonderful thing indeed. It arrived yesterday.
This pitcher is from the 1940s and its simple lines are lovely. The design reminds me of the Strap Vase I showed you in an earlier post.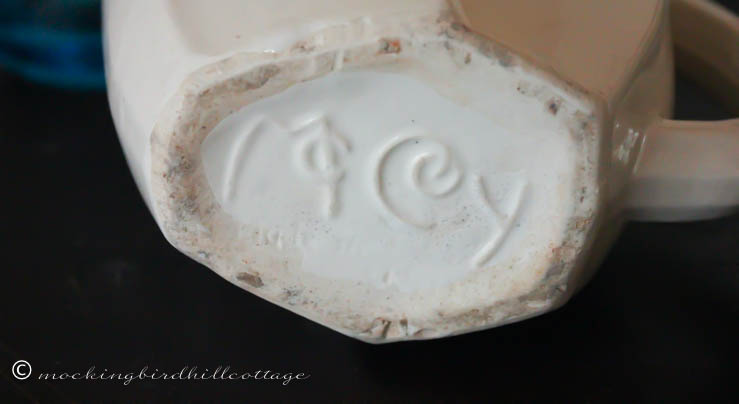 Thank you, Kay (and Edith)! Kay wrote me a few days later to say that she saw the basketweave jardiniere pictured in a post and recognized it as an aqua pot she had stowed away in her shed. She ran out to the shed to retrieve it. Needless to say, it's all cleaned up now and Kay has a beautiful piece of McCoy.
I'm headed to Hartford this afternoon to spend the night. I am working a few days here and there on their new production of Kiss Me Kate, directed by my pal Darko Tresnjak, the Tony Award-winning director of the musical A Gentleman's Guide to Love and Murder. Kiss Me Kate  is based on The Taming of the Shrew, so it includes text from Shakespeare, which is where I come in. I'm supposed to put in a total of five days work on the show, so I imagine that will include a few rehearsals and a Preview performance. I'm excited, because musical theater is my first love and Darko knows how to stage and direct a musical like nobody's business.
Since the rehearsal day is 8 hours long and the drive there is 2 hours, the result would be a 12 or 13 hour day, so the theater is putting me up for the night. That makes things much easier!
But I have to leave these two.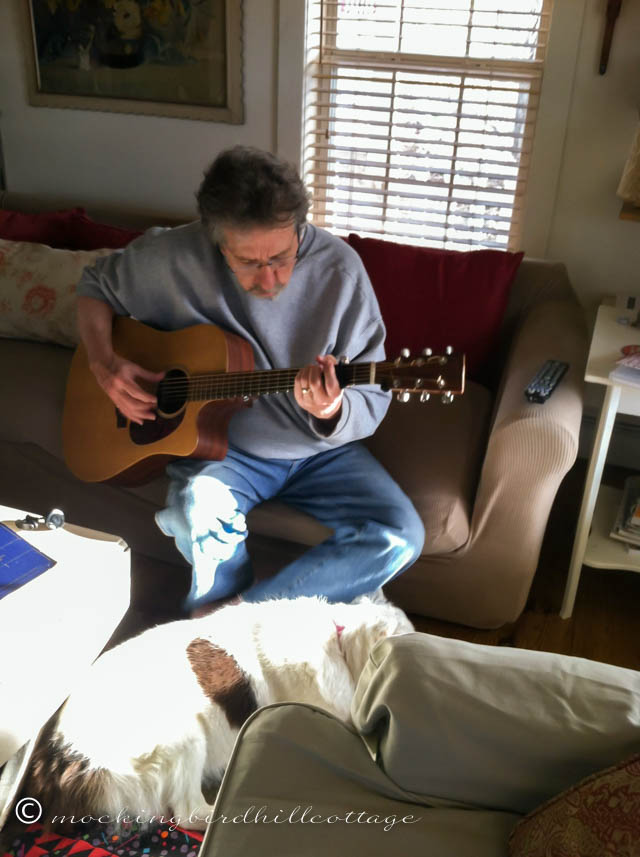 And I have to take our only car. Don will be hanging out at the cottage with his little girl, no doubt playing his guitar and watching the Red Sox.
I'll be back here tomorrow night. In the meantime, I'm writing the next McCoy post ahead of time so that I have access to all my reference books.
The winner of a copy of Threshold, by G.M. Ford, is Debbie Price. Congratulations, Debbie. I'll send you an email right away.
Happy Tuesday.