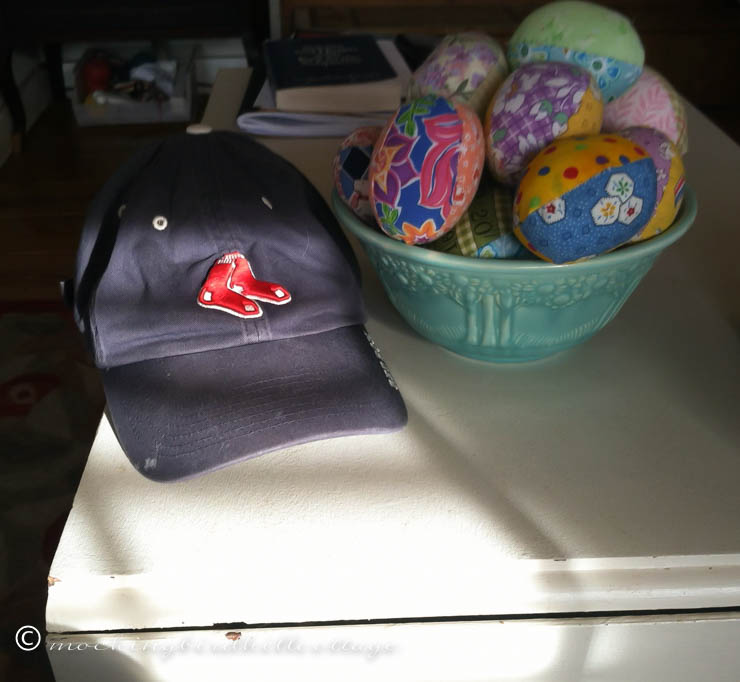 An iPhone/Instagrammy photo that captures this beginning of April: fabric Easter eggs and the Red Sox. Opening Day of the baseball season is tomorrow. The Red Sox are looking good this year. We've already watched a few exhibition games during Spring Training. Oh baseball, I love you. Welcome back!
I walked out to the leaf covered big garden bed the other day and uncovered a small area just to assure myself that something is happening out there: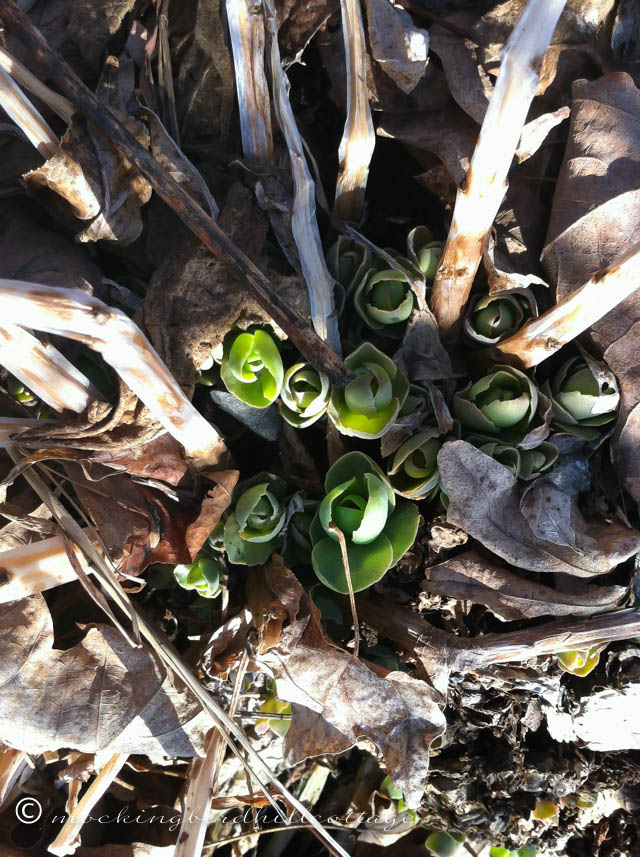 I knew I could count on the sedum – always the first to show new growth. I keep the leaves on the garden beds until there's no danger of below freezing temperatures. I'm hoping that will be in the next week. We have almost two acres here and there are woods and lots of trees and dead leaves and fallen branches and several garden beds to clean up. Brambles have to be cut back – ouch.
All the stones (called Item 4, for some reason) from our driveway that the snow blower propelled onto the grass need to be put back where they belong. That, by the way, is one of the most painstaking and irritating jobs there is in early spring. Last year, Don and I sat out by the driveway with pails by our sides, gathering up all the rocks that weren't where they were supposed to be. And that was before we had our own snowblower that had to be used several times this winter. This year, there are even more rocks on the lawn, rocks on the patio, rocks in the garden. I used to rake them up, and I still do as much of that as I can, but last year I enlisted Mr. Sparks in the whole thing and I'm going to do that again this year.
Someday, we want to pave the driveway. Most people around here, however, have the same kind of driveway we do – part of country living, I guess.
It's a quiet weekend around here. We have no big plans. We watched The Wizard of Oz  last night on TCM. Glorious. And, after decades of watching it, I still worry when I don't see Toto in a shot. Where is he? Is he okay? Did he run off with Dorothy unaware that he's missing? Then, he'll suddenly come into the shot from offstage and I relax. Don understands, bless him. He knows I worry about that sort of thing.
What are your plans for today?
Happy Saturday.