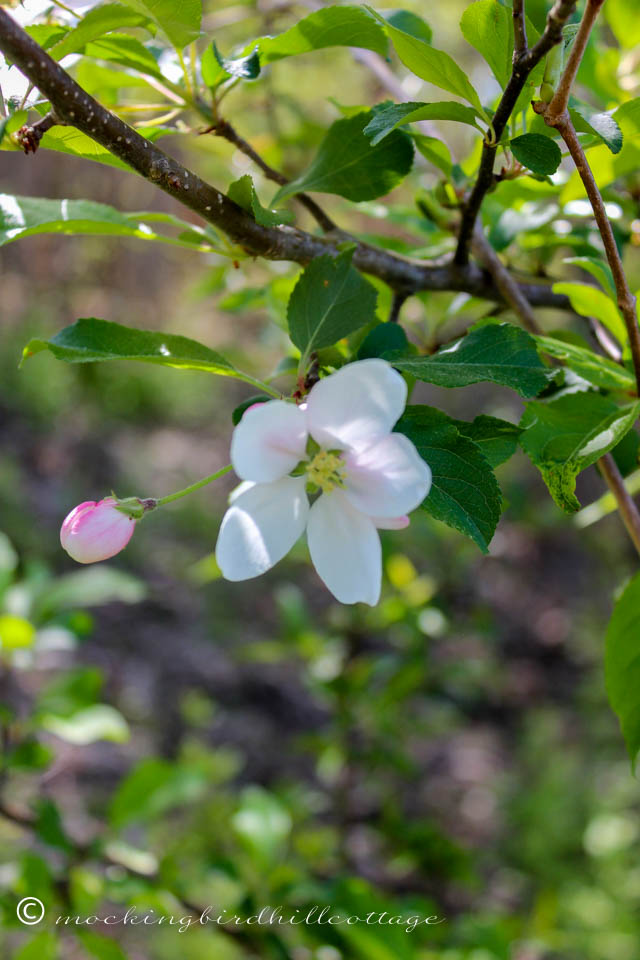 There is a smallish tree – really, more of a sapling – down at the edge of the property. It's right next to our deceased shag hickory, which needs to be taken down. We have a lot of saplings that spring up on the property. Last year, right at the end of its bloom, I looked at the tree and realized it was a dogwood.
Oh, wonderful!
This year, its bloom is even more abundant, as if it is entering adulthood. Taking photos requires some dexterity, as it's wedged into a tight corner. Worth it.
I love the pink buds which open into a lovely white flower.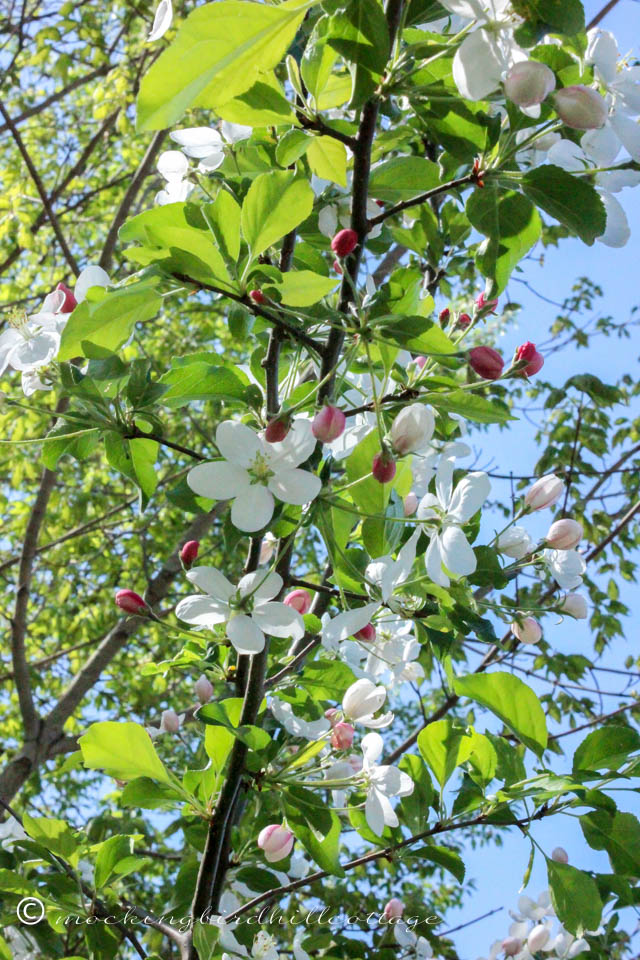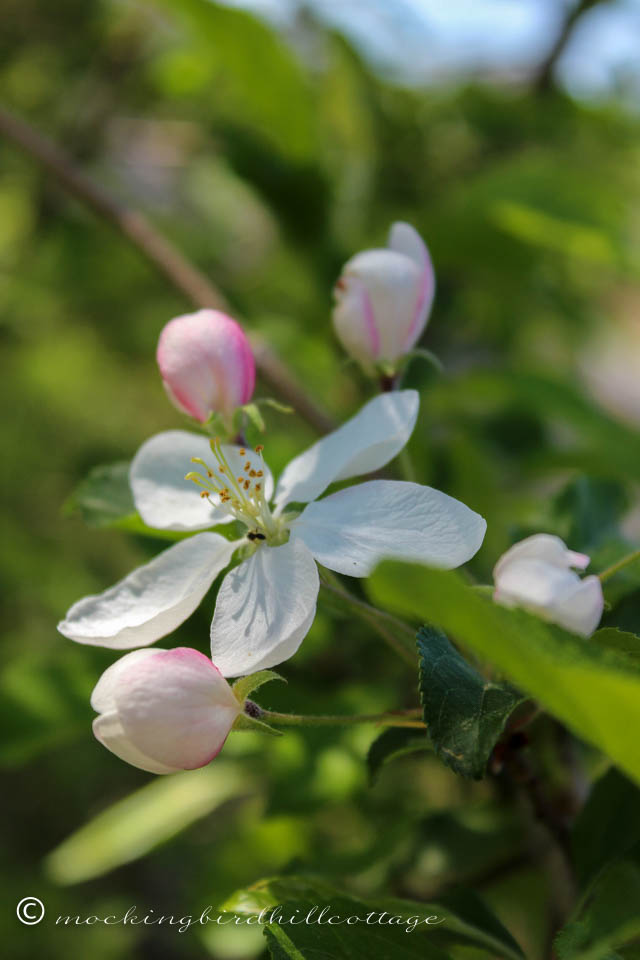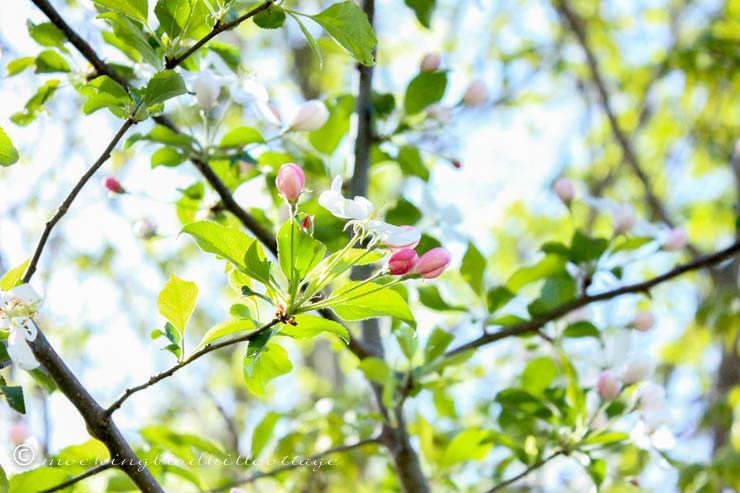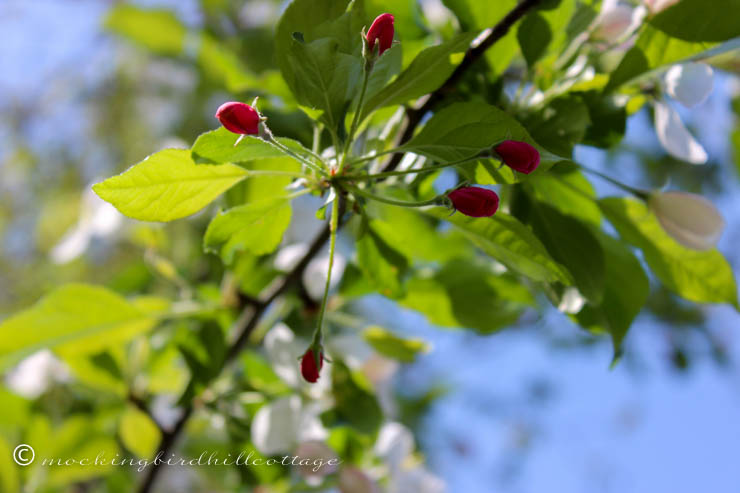 Splendiferous.
Dogwoods spring up all over the place in these parts. But this beauty is on our property and that makes me very happy indeed.
Update: Reader Nancy just wrote me to say dogwoods have four leaves. Whoops! I think this may be a crabapple tree. Frankly, I like that idea a whole lot better because they are gorgeous!
Don and I went to a local nursery yesterday and bought mulch and some potting soil and new garden gloves for me (I go through them at an alarming rate) and a flat of impatiens to add to pots that were overwintered and some morning glory and zinnia seeds.
And we bought a little garden cart to replace our wheelbarrow. We have a perfectly good wheelbarrow but a couple of years ago something happened. I had turned it upside down on the ground near the shed and after a few months, I decided to move it. However, as I lifted it, my astonished eyes saw something.  Ants, the tiny variety, had built an entire city underneath the wheelbarrow. Tall buildings, short buildings, openings, pathways – it was extraordinary. It reminded me of some ancient cliff dwelling you might see in the Southwest. They scurried here and there – lots of activity, of course – but they were clearly more than a bit panicked about being exposed. So I gently set the wheelbarrow back in place and told Don about it. And ever since that day, we occasionally check on them in early spring when they are active once more but other than that, we leave them be. They're safe there. They don't harm anything. And they are amazing.
This year we might paint the wheelbarrow with an ant design, officially making it their home – even though it already is. So that's why I had to buy a little cart, so that I can use it to move the mulch as I spread it here and there in the garden. It will come in handy in all sorts of ways.
It's too hot, of course, with the high today going to 87°. But it's sunny and I can work outside.
And I made it through the night without coughing for the first time in over a week.
Happy Friday.