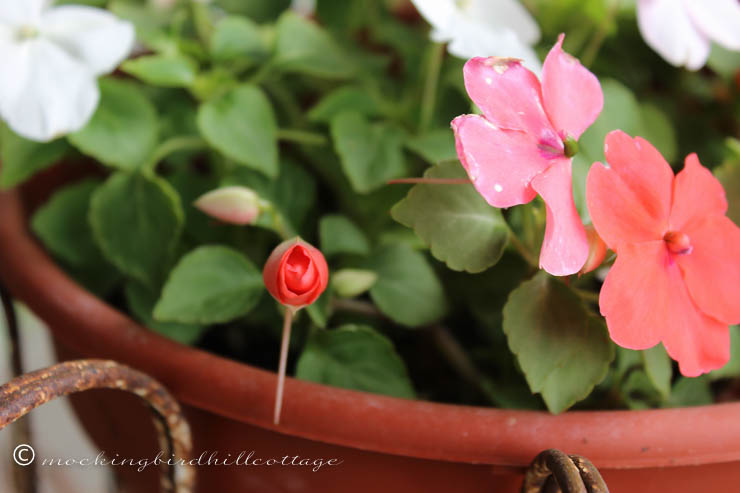 Pretty. Today is simply beautiful. The grass has been mown, the birds are singing, blooms are about to open, the sun is shining. Oh spring, I'm very glad you're here.
We took our lawnmower in to our local hardware store for a tune-up. The news was not good. The blade was bent, something else was broken and their advice was that it would be less expensive to replace the lawnmower than repair it.
We beat the heck out of our lawnmowers. There's a lot of grass on this property and a lot of uneven, hilly, and sometimes rocky ground. They earn their keep, that's for sure. I'm convinced that they have a five year shelf life. We've gone through two of them since we moved here. Just for clarification, we're talking a push mower, not a rider mower. We do the pushing. A lot of it.
So, Don stopped at Lowe's and we spent a half hour putting it together and then we did some serious mowing. It's so shiny and red and purty. Alas, I know that will fade in time and it will look like the workhouse it is destined to be. But for now? Like a new red wagon. Or a red snowblower. Shiny and glossy and sleek looking.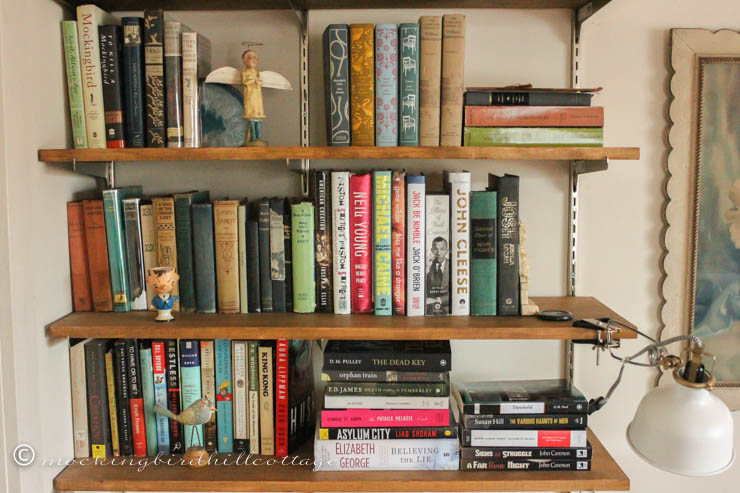 I succumbed to the lure of magazines the other day and bought Country Living and a special publication called Bohemian Home – because you must have noticed that Boho decorating is all the rage. Lots of color, plenty of vintage and exotic fabrics and textiles, eclectic decor and, as far as I can tell, lots of plants. It's a cheery look. As I thumbed through the pages of this particular publication, I was struck by the fact that the rooms I was seeing were rather like anyone's home who uses a lot of color and an eclectic style. Like, for example, my home. Though I wouldn't call it Boho – lots of pattern but not necessarily the same kind of pattern and of course I tend to gravitate toward reds and McCoy colors – it's awfully close to what I see out there. I would choose the words eclectic (which I've used a lot in this paragraph already!) and colorful, with a dash of cottage style re: my home, but decorating is all about labels and trends and styles and Boho seems to be the word and hot style of the moment.
Anyway, I like the pictures but, at least in the magazine I bought, they don't look shockingly new or different. They just look like the sort of mix I've alway preferred – both in my home and in the ones shown in magazines and online that seem to draw me in. Is it marketing? Or did home design bloggers like Justina Blakeney (whose style I really admire) coin this term and go with it?
Blakeney – I've been reading her blog for a long time –  tends to use a mix of wonderful textiles and her multi-cultural upbringing and world travels have definitely influenced her style. Her style is truly Bohemian and happy and infectious.
But there's nothing new under the sun. That particular style reminds me very much of the way young people (which I was at the time) decorated in the sixties and early seventies. Lots of fabric from India, beads hanging from doorways, lots and lots of plants and sunlight, cushions covered in exotic fabrics. And some macrame plant hangers. All done on a budget, because who had money in those days?
It all comes around again. Mid-century modern is the exact same style I grew up with. My mother, rejecting my grandmother's style, went for all modern. No antiques. No period anything. Been there, done that. I, in turn, have rejected what was called modern or contemporary at the time, and have embraced the eclectic, with a nice mix of vintage thrown in. Mid-century modern holds no appeal for me, perhaps because I was surrounded by it when I was growing up.
The same goes for fashion, of course. I wore midi-dresses in the seventies. They're back. And tie-dyed shirts? They're back – at least around my neck of the woods. Again; been there, done that. (Although, to be honest, I was never a fan of tie-dye even back then.)
It's fun to see how a style resurfaces, but with a new spin. It's refreshed. It's added to. It becomes a reflection of a new generation's take on the subject.
What style did you grow up with? Have you embraced it or have you moved in a different direction?
Don't forget to stop by my post about Enabling the Change. There's a fun video to watch (you might see yours truly) and you could be the winner of a $100 Visa Gift Card!
Happy Friday.