It's that time of year again. The Country Living Fair is taking place next weekend in Rhinebeck, NY. Rhinebeck is just across the Hudson River from Mockingbird Hill Cottage; lucky me! I attended the show last year and had a great time.
Stella Management contacted me and asked me if I would like to host a giveaway. I immediately said yes. So, I'm now in possession of 6 tickets. Two for me, and two pairs for two lucky readers.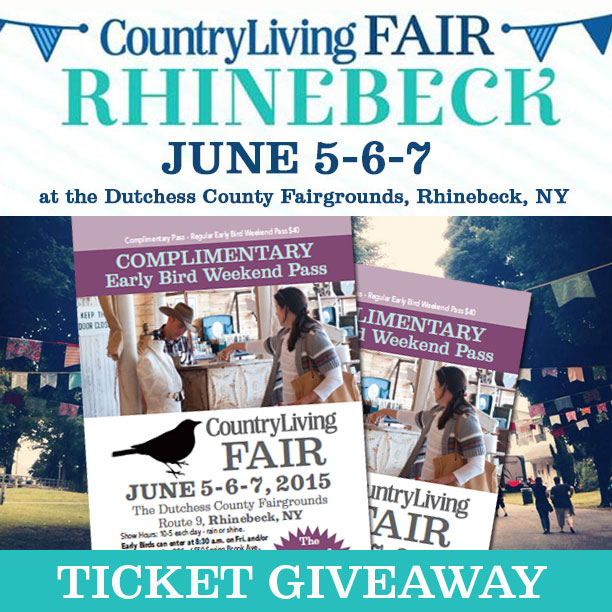 The tickets are Complimentary Early Bird Weekend Passes – each ticket a $40 value. That means you are allowed to enter before the Fair is officially open (on Friday and Saturday) and you can visit for one day, two days, or all three days. I took advantage of the Early Bird Entry last year and it was so nice to visit all the booths before it got too crowded.
It takes place on Friday, Saturday and Sunday, June 5 -7. If you live in the area (and by area I mean New York, Pennsylvania, New Jersey or Connecticut; or maybe even Massachusetts or Rhode Island) and you'd like to be entered in this giveaway, please leave a comment on this post. As always, no hoops to jump through, just a comment. This will be a quick turnaround, as I have to get the tickets in the mail on Monday. So…the deadline is Sunday at 9:00 pm. After that, the giveaway will be closed. I'll pick two names via the Random Number Generator Sunday evening.
I'm thrilled to have the opportunity to share some tickets to this wonderful event with you. A big thank you to Stella Management. Good luck, my friends!
Update: The winners are Betsy and Damara. I'll be sending you an email to get your mailing address. Thanks!