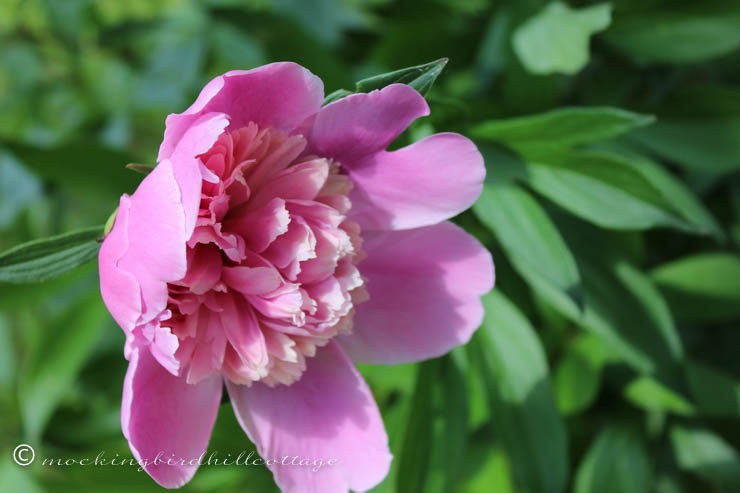 Stop. Breathe. Lean in. Take a whiff.
The first peony bloom appeared yesterday; a little earlier than usual, due, I suppose, to the unseasonably warm temperatures we've been having.
Be still my heart.
This particular bush (we have two) is under what used to be a small tree – a shag hickory – but is now, after several years, a much taller and bigger tree. The result is that for the last two summers, there have been only a few buds on this bush. Not enough sun. I could try moving the bush, but I don't like to mess with peonies. This one has been in the same location for years and years.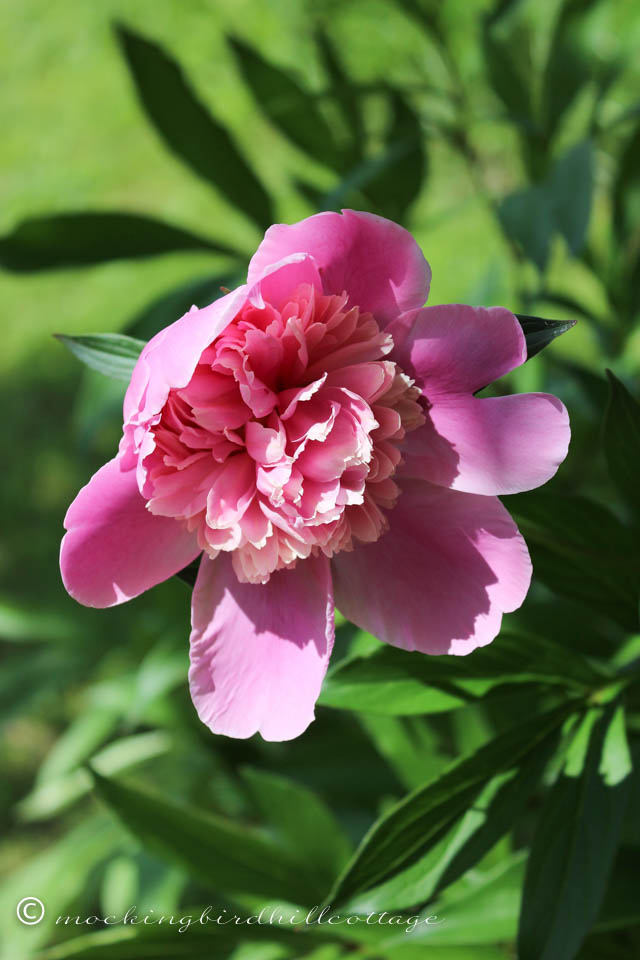 What a beauty. The scent is simply incredible, heady and more than a wee bit addictive.
I look forward to this small window of time in the spring when my favorite flower blooms. It's going to rain for the next few days, and the buds on the other bush are about to open, so I have a feeling I'm going to be running outside to rescue them. Peonies are easily beaten down to the ground by heavy rain.
They'll just have to come inside.
To Kill a Mockingbird  was on TCM last night, but I didn't watch it. I'd just seen it recently and I'm very careful about how much I watch it. I don't want it to lose its magic and if I watch it too frequently it will become less powerful – at least, for me. Heck, I own two copies and I never watch them for the same reason. So, I opted out and we watched the Rock and Roll Hall of Fame Induction Ceremony on HBO. Quite a contrast, don't you think?
We did watch another favorite, The Third Man, on Friday night. Beautifully directed, beautifully photographed. Black and white, highlights and shadows, dark and rainy streets. Orson Welles. Joseph Cotton, Trevor Howard. What else do I need to say? It's a great movie. And the music, the theme! Played on a zither, the music is haunting and stays with you for days.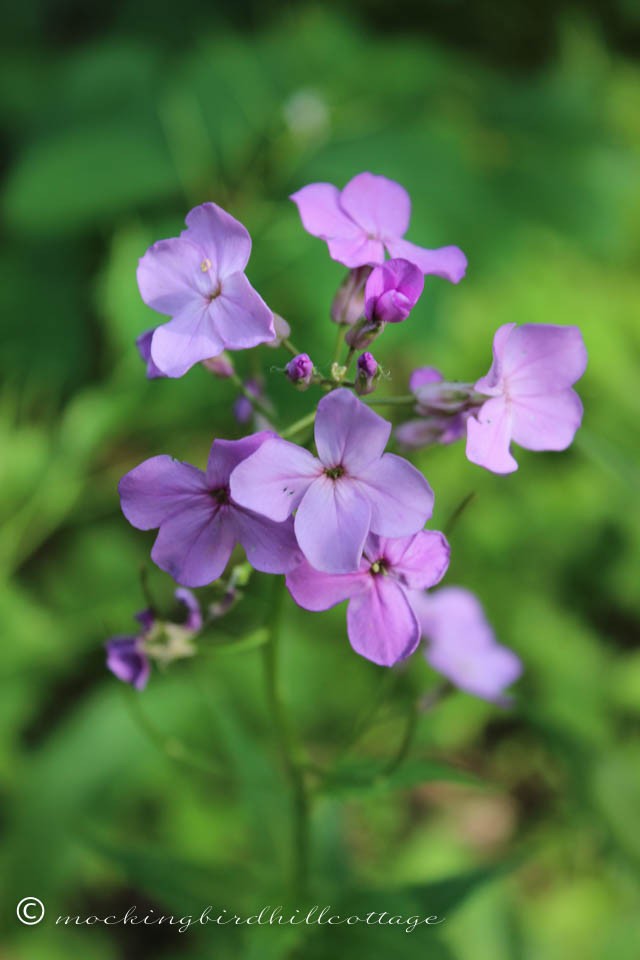 Also blooming on the property: Rocket, or Dame's Rocket, or Sweet Rocket. Rocket is a wildflower that springs up on the edges of the woods. It has a lovely scent. Some call it an invasive weed, but one man's weed is another man's flower. I love them. I haven't found them invasive at all and their appearance is always welcome here at Mockingbird Hill Cottage.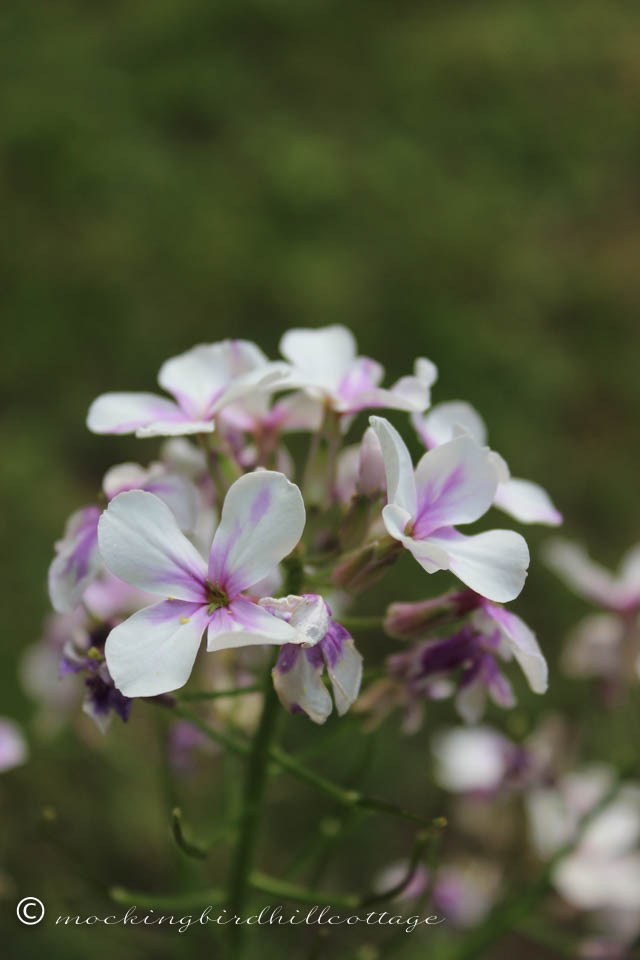 Usually purple or white, this is the first time I've seen this combination of the two.
It can be confused with wild phlox, but phlox has five petals and rocket has four. (I just learned that little bit of information yesterday.)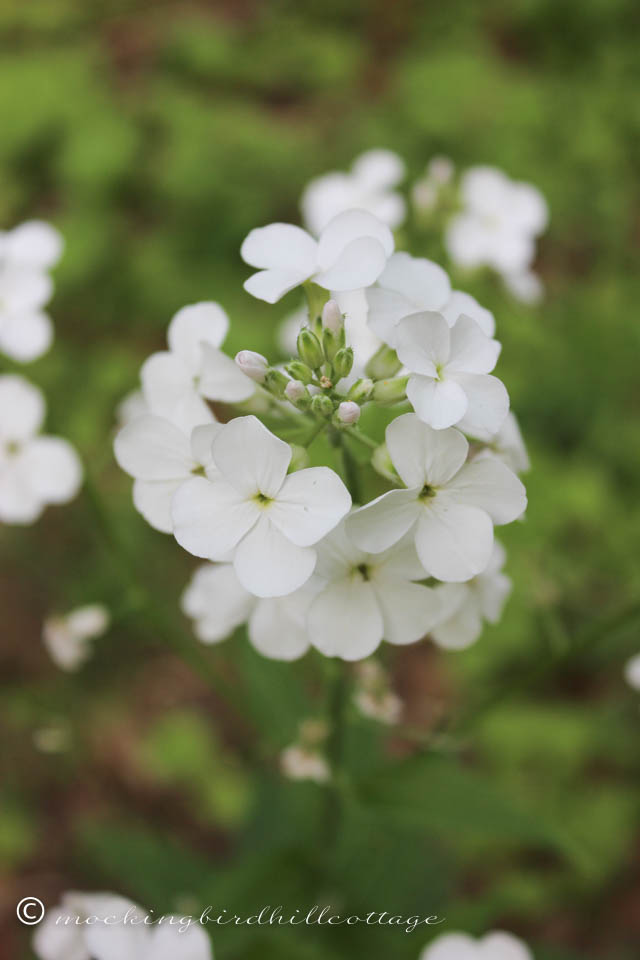 Isn't it pretty?
I'm finishing up The Whisperers  by John Connolly (what a writer!) and will then tackle my next review book, Disclaimer  by Renee Knight, which has been getting a lot of buzz. I look forward to it, but I wish those who write blurbs would not say things like "in the tradition of Gone Girl."
I didn't like Gone Girl, as you well know. As a matter of fact, I disliked it intensely.
So I just have to ignore those things and start the book with an open mind, erasing the words "Gone" and "Girl" from my brain.
There. It's erased.
Happy Sunday.