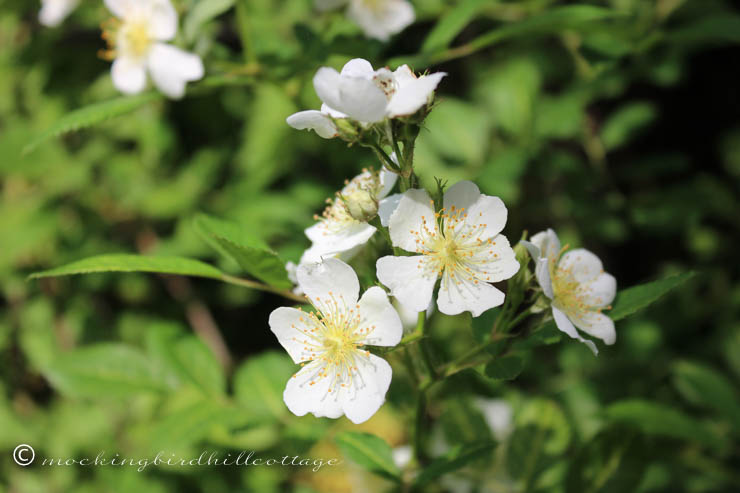 Please take note: we are celebrating the one time of the year when the thorny plants that live all over the place on this property, which I call 'brambles' for lack of a better term, become what they actually are: wild roses. The view from my kitchen window is gorgeous. Fragrant white roses are everywhere.
I think I need to start calling them wild roses, period, no matter what time of year. Because that's what they are.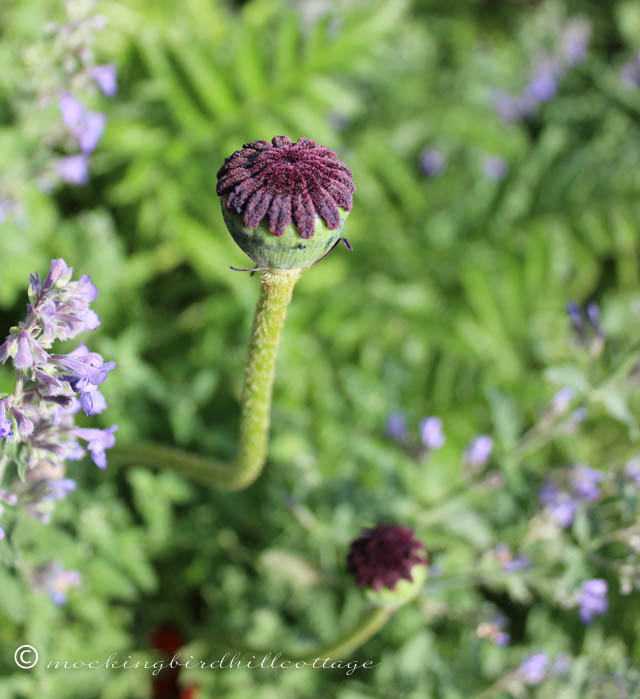 I told you that the poppies are short-lived. I walked out to the garden late in the day yesterday and most of the flowers had shed their petals. But isn't this de-flowered poppy beautiful as well?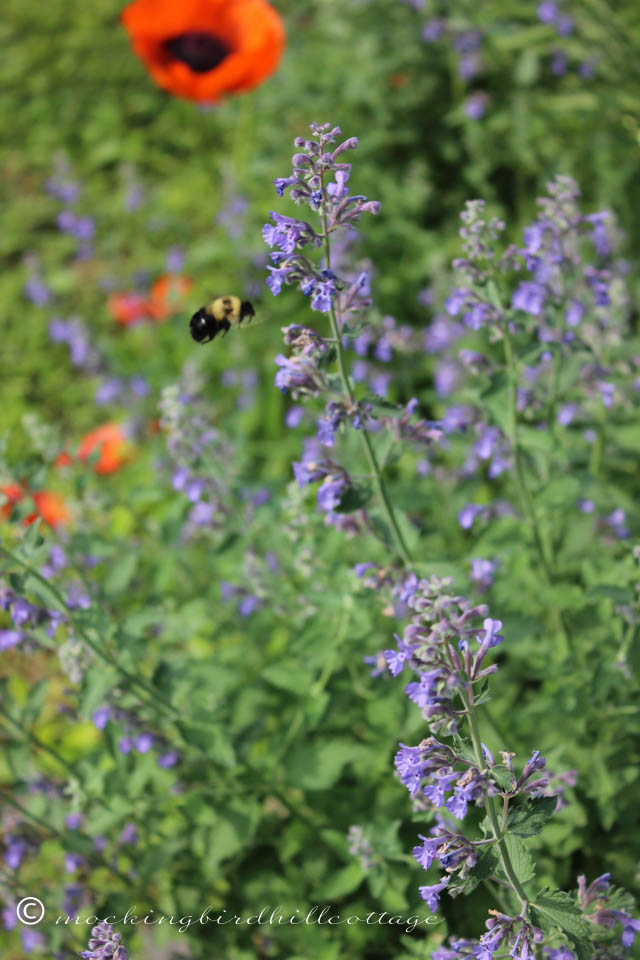 The catmint is blooming, as well. I have lots of catmint in the big garden bed and also in the side garden. It's so dependable. I planted myself, camera in hand, snapping countless pictures until I got one of this bumble bee. Those bees are loving the garden.
How are you all on this Saturday morning? It's beautiful here; sunny, less humid. The lawn has been mowed. The peonies are about to bloom in the next few days. Scout is in the 'tunnel.' Don is humming to himself in the living room. I'm drinking my coffee, which tastes especially good this morning.
You know, I am blessed by the lovely people who read and comment on this blog. I almost never get a comment that is questionable or offensive or rude. But I do  get them. In the past week or so, there was a rude comment left on one post. Then, the other day, another one on a different post. Not the same commenter. If you've ever read the footer of my blog, you've seen my commenting policy: I reserve the right to delete any comment I find offensive, in poor taste, or is bordering on spam. (My spam plugin takes care of all the actual spam.)
In the case of these two separate comments, my first impulse was to respond to the comment, as I do to all comments. And in each case, I came up with a response. Initial response: a sarcastic comeback. Not good, Claudia. Sinking to their level. Edit. Next response: try to be kind. But why am I even taking the time for this nonsense? Finally: I just said "Screw it" and deleted them, along with my responses. I refuse to engage. When someone is deliberately rude or offensive, the right to any sort of debate is forfeited. Gone. Bye bye.
Thank goodness, 99.9% of the comments here on the blog are lovely, intelligent, wise, kind, funny and helpful, to boot. The debate can be lively, but it is always from the heart and respectful.
So, my friends, a big thank you for contributing so much that is good to this blog.
One of my readers sent me a package. Kathy is from Iowa and the contents were Iowa proud: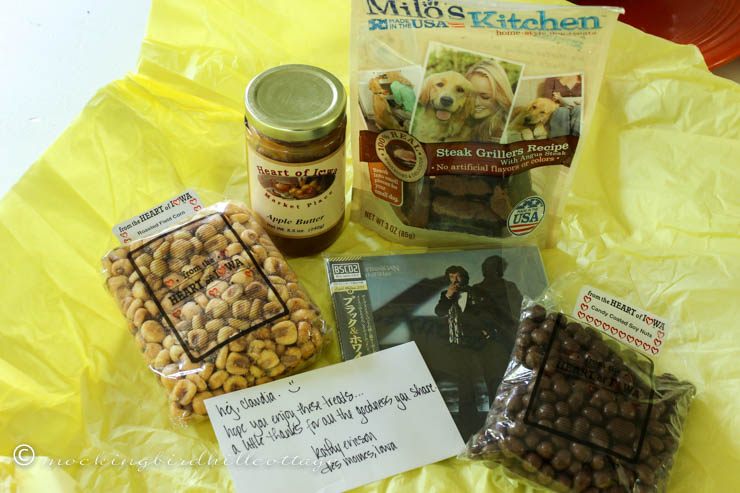 From the heart of Iowa: roasted corn, apple butter, candy coated soy nuts, along with a CD and some treats for Scout. What a lovely gift! Don was popping those candy coated soy nuts yesterday. We've had the apple butter on some toast (yummy!) and Scout has found her new favorite treat. Kathy thoughtfully chose soft, easily chewable treats and Scout is very grateful.
Thank you so much, Kathy. I love Iowa. I've been there more than a few times and it is a beautiful state.
And one more note: I realize that most of you live far away from NY and Rhinebeck, where the Country Living Fair is going to take place next weekend. But if you know of someone who might be interested in attending, please let them know about my giveaway. I'm giving away two pairs of tickets – a really great value – and the deadline for leaving a comment is tomorrow night at 9 pm. Thanks so much! Here's the link.
Happy Saturday.