Rain. Torrential rain. All day long. My plans to walk over to Chautauqua Miniatures yesterday morning were foiled. It was raining so hard that a dash over to the theater office to sign out a car was equally impossible.
So I stayed in and read.
My responsibilities at afternoon rehearsal eased up enough for me to grab a car and dash over there around 3:30. They were having a sale.
No big girl camera, but I did have my iPhone with me – however, the iPhone doesn't handle inside the shop pictures as well as the big girl camera. I got a few.
Does this dollhouse look familiar? This is the Real Good Toys version of my dollhouse. Everything is flipped.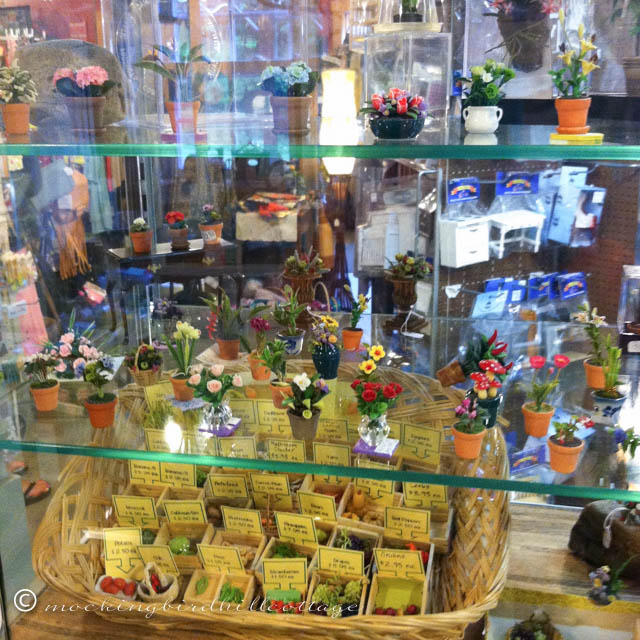 The view inside a display case. I could have gone nuts buying potted plants.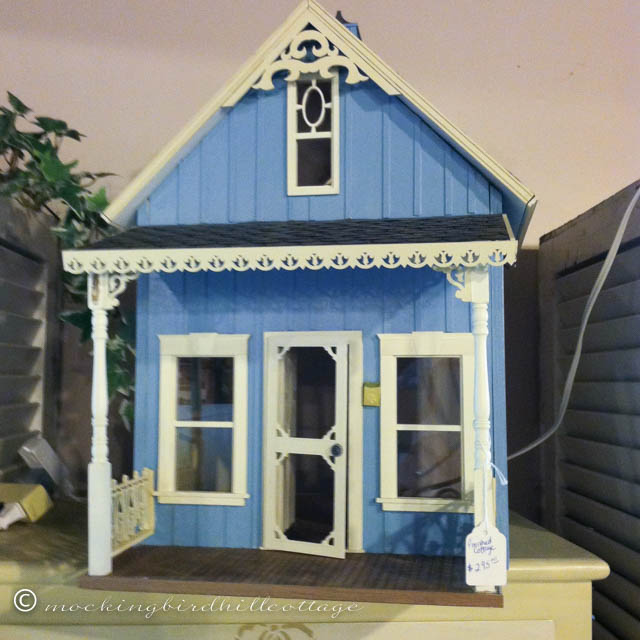 I had to get a photo of this dollhouse that one of the owners made. Very Chautauqua Cottage-like, I think. She made it as part of a contest using a basic unfinished box. She added the strips of wood to make the siding board and batten, as well as all the trim and the period windows and doors and railings. Can you tell I'm thinking long and hard about a Chautauqua Cottage for my next project?
Both of the owners used to work for the Chautauqua Institution and I had the chance to chat with them at the end of my visit. They're wonderful women who clearly love what they do. And they're a lot of fun! I wish I lived just down the road from them; I'd be stopping in all the time.
I promised them I'd stop in one more time before I leave. And I will.
What did I buy?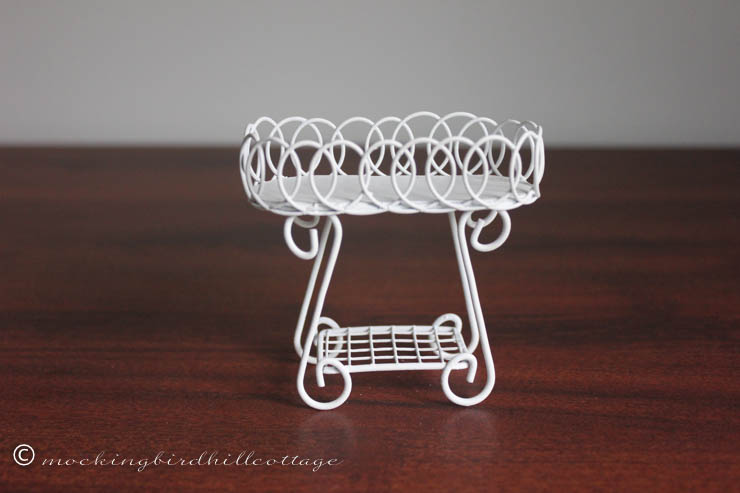 This planter. Roof or porch? I'm not sure at the moment.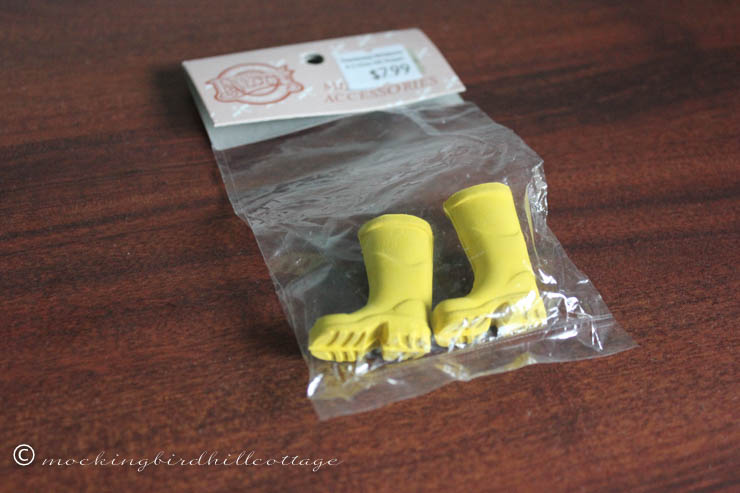 Boots for gardening.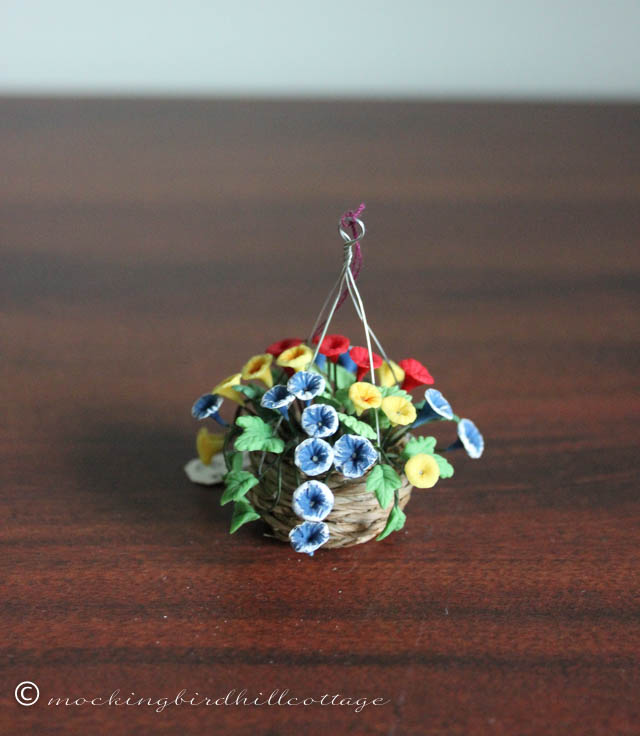 Another hanging plant.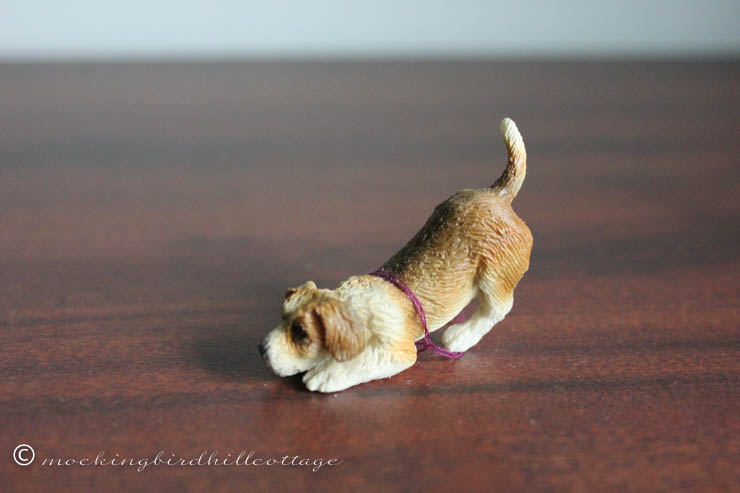 And this little sweetie. I looked for a Border Collie like Dame Scout, but came up empty. This little Jack Russell Terrier won me over with the 'pounce' stance, something my girl loves to do (though less and less as she copes with arthritis.)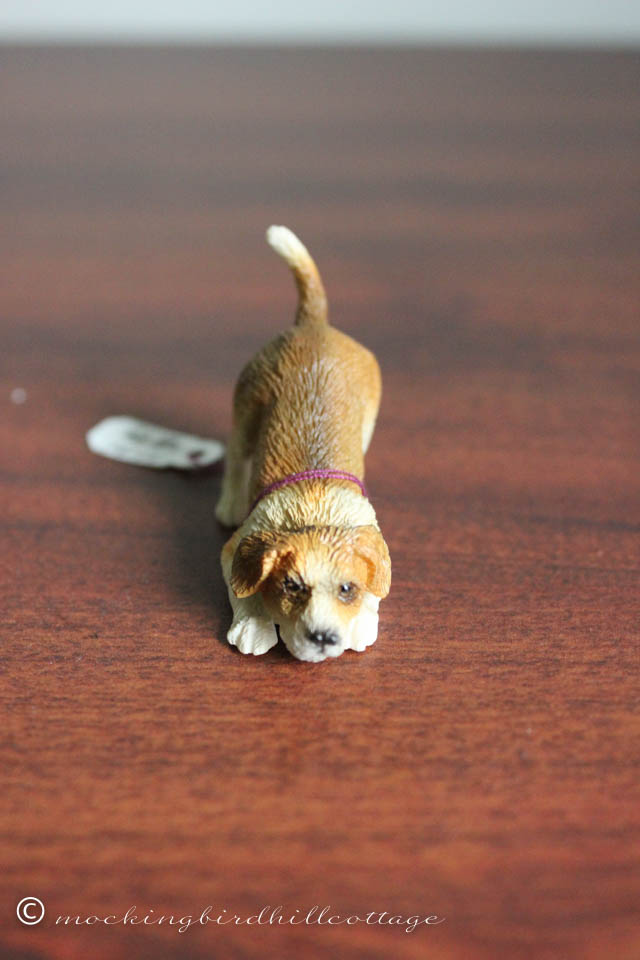 I know I'm probably the exception, but I'm not a fan of dolls in a dollhouse. They usually look out of scale and, frankly, I like the inhabitants of the house to be living in my imagination only. But a little doggie? That I can go for. I haven't thought of a name yet. When I do, I'll share it with you.
The sale included older issues of dollhouse magazines – 5 for $10 – so I gathered up my favorites and I'm looking forward to reading them. There were also partially finished dollhouses and kits on sale and if I had a car, I'd probably have purchased something. Ah, well. It's most likely for the best!
Today – opening festivities. There's a barbecue later in the day, but I may bow out. I haven't been getting enough sleep and some restful time to myself looks awfully appealing.
Happy Sunday.