Here I am, sitting in an apartment (shared with two roommates) in Chautauqua, a mere four days after we were blindsided by a tornado. The transition to a new, but temporary, space is always somewhat strange, but this transition is even more so. I'm still reliving those few minutes on Friday that seemed like a lifetime.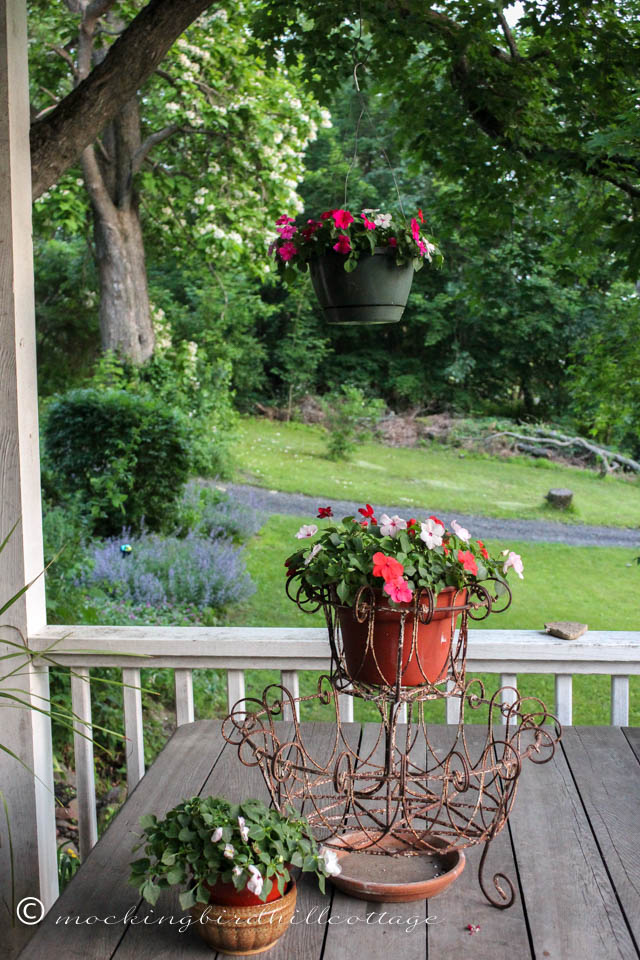 It was somewhere near 5:00 pm on Friday when everything happened. We had been getting thunderstorms for a couple of days and the weather was hot and muggy. I'd just made a mug of hot chocolate (yes, I drink it in the spring and summer, too) and was sitting in my blogging chair when another thunderstorm started with lots of lightning, thunder and very dark skies. I like a good summer thunderstorm and so does Don, so at some point, I got up to watch it through the living room windows.
I'm going to try to describe this as best I can, but so much of it is a series of impressions and quick snapshots. I'm afraid I won't be able to capture the panic we felt.
Suddenly, the wind changed direction and the rain was blowing sideways in a direct horizontal line. The wind seemed to be surrounding us, enveloping the house, the garden, the trees, everything – creating a vortex that was terrifying. I looked out the window and saw the top (and by that I mean about 60 feet) of our dead hickory fall. In what seemed like slow motion, it fell forward onto our front lawn. I screamed, "The tree, the tree!" and I also remember feeling grateful that it didn't land in the road.
The power went out. I ran to unplug my computer. The wind kept up its intensity and I could hear things flying off the porch, hitting the railing. Don shouted for me to keep away from the windows. There was no way to take cover. We'd had no warning and the entrance to our basement is outside. It was terrifying. I kept running from room to room, trying to see what was happening. At the same time, I could hear Don shouting, "Stop! Please stop!"  – to Mother Nature, I suppose. Because this storm, this tornado, seemed to last forever.
We felt totally at the mercy of the storm and we worried that the huge Maple would come down – on the house. In fact, I could hear things hitting the roof. To be honest, we worried that the house  was going to go, with us in it.
We called 911. We called the power company.
When the wind finally died down, we surveyed the property. Another pole had snapped (this makes two this year) and the wires connecting our house, and our two neighbors' houses, to the main pole had fallen to the ground. Cushions from the glider were on our neighbor's property, far, far away from our house.
We went outside and saw that the top of the tree that had fallen had broken into pieces – some of them too heavy to move. One of our neighbors called out to us to ask if we were okay. He came over, along with his wife and son, and showed us a video taken with his phone. On the video was a black bear, running frantically back and forth in front of their house, clearly panicked by the tornado. It broke my heart.
It turns out that no one on our road had power. There were lines down everywhere. Power lines fell on a car, trapping a father and his children. They were okay. A woman's car went into a ditch. She was okay. Roofs were ripped off houses. As cars came down the road and realized they couldn't get through, we talked to the drivers. Everyone we talked to had no power, had seen outdoor tables and chairs flying through the air, had their own personal moment of terror. No one could get anywhere because huge downed trees were blocking the roads.
Eventually, the state police arrived, as well as the fire department. They blocked off the road. And then we saw something that looked like a scene from some sort of zombie movie. Groups of dazed people were walking down the road after emerging on our neighbor's driveway, which apparently provided a path to cut through from further on down the road. Others were guided through the mass of downed wires by the police. They had had to abandon their cars. So Don started ferrying some of them home. We checked on our elderly neighbors. I picked up endless limbs and pieces of bark from the trees. My other neighbors found yet another pillow from the glider and returned it to me.
The catalpa lost a limb. So did the sugar maple.
We were all stunned. It came out of nowhere. We had no warning. Was it a tornado? Was it a microburst (just as lethal and just as powerful)? We kept hearing the word 'tornado' from everyone we encountered.
The power remained out for about 22 hours. The crews worked all night to replace the main pole that had snapped in two, but they couldn't come back to connect the lines to our houses until the next afternoon. I had very little sleep because the images of what I had seen kept replaying in my head, relentless and terrifying.
By the time the power was on again, I knew I would be able to get to the train station in Albany on Sunday to head to Chautauqua. I left Don with no cable, landline or internet, but that was reconnected on Sunday afternoon.
I read this draft and realize I have been woefully inadequate in describing my terror. Our terror. Scout can't hear very well, but she felt the changes in air pressure that occurred and she remained agitated for a long time. We are lucky. Tornados just don't happen around here. And this one hit right smack dab in our neighborhood.
I've been in hurricanes. I've been in earthquakes. But this, my friends, was the most terrifying event I've witnessed. I thought it might be over. So we are profoundly grateful that we are okay and that our neighbors are okay and that it's over.
Just read an update on the storm. The NWS has issued a preliminary report saying it was a Microburst with winds clocked at 90 -100 mph. From the National Weather Service: a microburst is a convective downdraft with an affected outflow area of less than 2½ miles wide and peak winds lasting less than five minutes. Microbursts may induce dangerous horizontal/vertical wind shears which can adversely affect aircraft performance and cause property damage. Equivalent to a EF-1 Tornado.
I started rehearsals yesterday. The days are long. I haven't had any time to take pictures. And it's stormy and humid here. Just like it was back home.
Happy Tuesday.