Post title courtesy of William Shakespeare – Twelfth Night.
We've entered tech/dress rehearsals and it all has to be done in about three days, so the rest of the week here will be intense. It's also very rainy around here and there are going to be thunderstorms today, so taking photos is on hold for the moment. I swear I can't remember a more rainy season than we've had this spring and early summer.
Anyone want to take a guess at how many hours I'm going to have spend weeding when I get home?
The mind boggles.
On Sunday, after the opening festivities – and in the rain – I took a few more photos.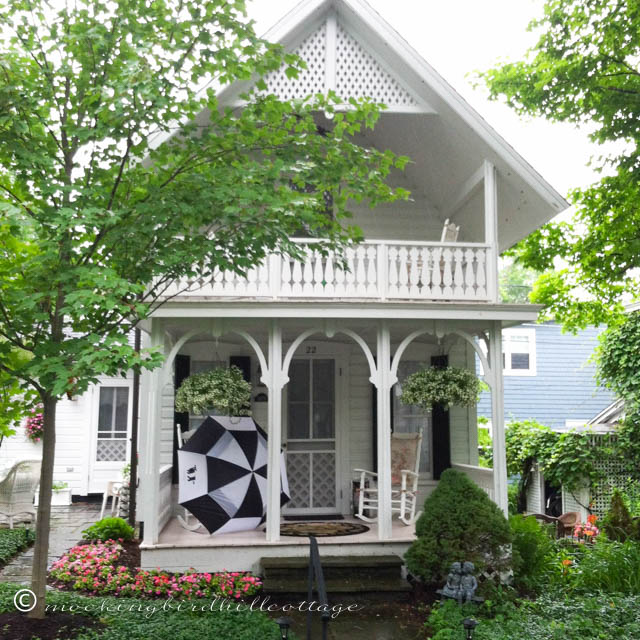 I forgot about my other favorite white house. This is it. It's an adorable tiny cottage, with an extension on the side. Sorry for the umbrella in the shot, but as I said – rain.
It has two matching rockers on the porch with faded flower cushions, a little hooked rug on the pale pink porch floorboards, two beautiful hanging plants and incredible detail. The yard is beautifully landscaped and over to the left you can see the lovely outdoor seating area – full of white wicker furniture. Oh my heavens.
This house is right across the street from my other favorite white house, so I took another picture so you could see more of it.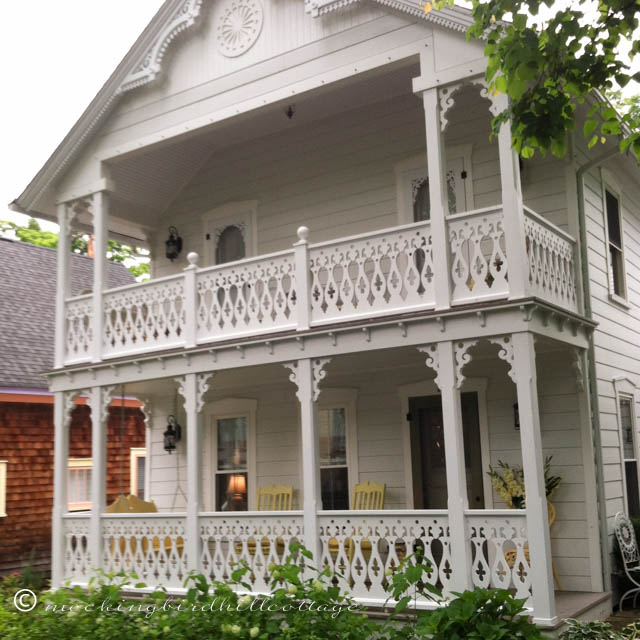 Gorgeous. Yellow porch swing, yellow chairs, yellow flowers in a vase.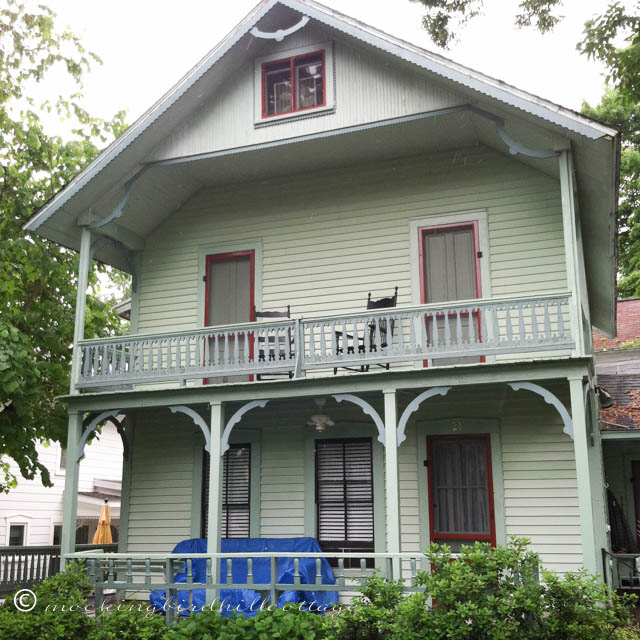 Next door is another house, with less ornamentation but quite lovely. I don't think it had been opened up for the summer when I took this picture, if the blue tarp is any indication. Love the graceful arches on the front porch and the paint colors.
You can tell it's next door to the house pictured above because….yellow umbrella.
And finally, I saw this tiny little house for sale on one of my walks the other day.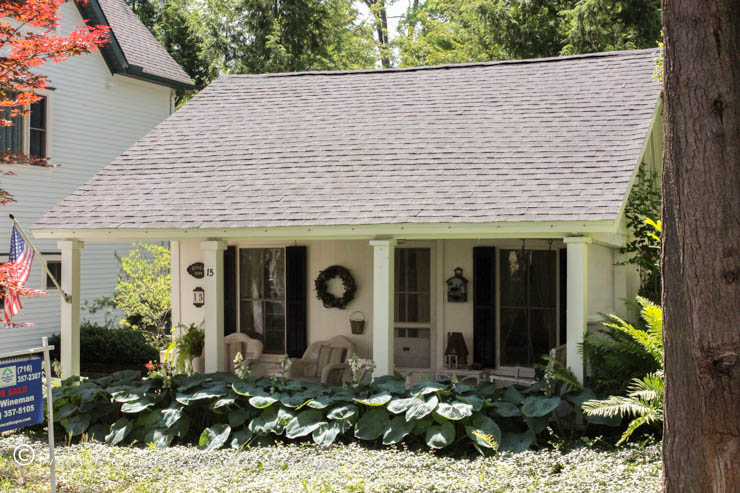 There are houses and cottages of all shapes and sizes here.
I'm tired and more than a little homesick, but I'm hanging in there. The cast and staff of the theater are wonderful people. My roommates and I are doing our best to give each other some space in this apartment, but we're also having fun together. I couldn't ask for nicer people.
I'm the oldest of the roommates. And I think I'm the oldest person working at the theater at the moment. The director, who is a pal of mine, is a few years younger than me. Don and I regularly have conversations about this new phenomenon of being the oldest person in the room. What the heck? When did that  start happening?
I just wish the weather was nicer, but I can't control that (darn it) so I'll just have to go with the flow.
I posted a book review on the other blog yesterday. If you haven't had a chance to read it, here's the link. I loved it and I think you will, too.
Happy Tuesday.