I had some free time yesterday morning – and it wasn't raining – so I grabbed the opportunity to visit Chautauqua Miniatures. Last year, I drove there but it's really just down the road (about a twenty minute walk,) so this time I walked it.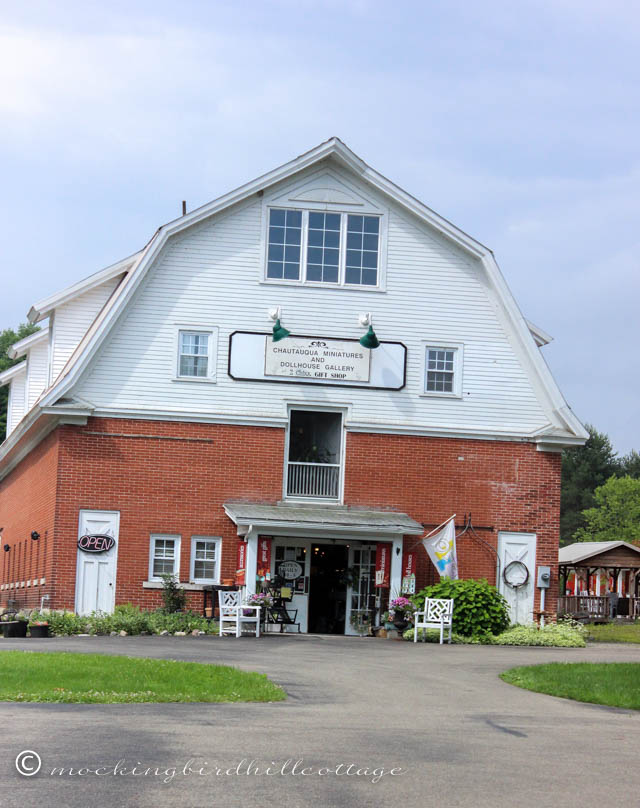 It's in an old barn and, along with all things mini, there are also sections of the shop that sell gifts and women's clothing. Isn't this a neat building?
I renewed my acquaintance with one of the owners, who, it turns out, used to work at the Chautauqua Institution, as did her partner in this business. Several years ago, they left their jobs to start this shop. I sure am grateful!
I've taken a lot of photos, but there's really no way I can fully and adequately show you what's there. Just like last year, I made a promise not to photograph artisan pieces, so I can't show you the details of all the room boxes and the incredible creations that were everywhere in the shop.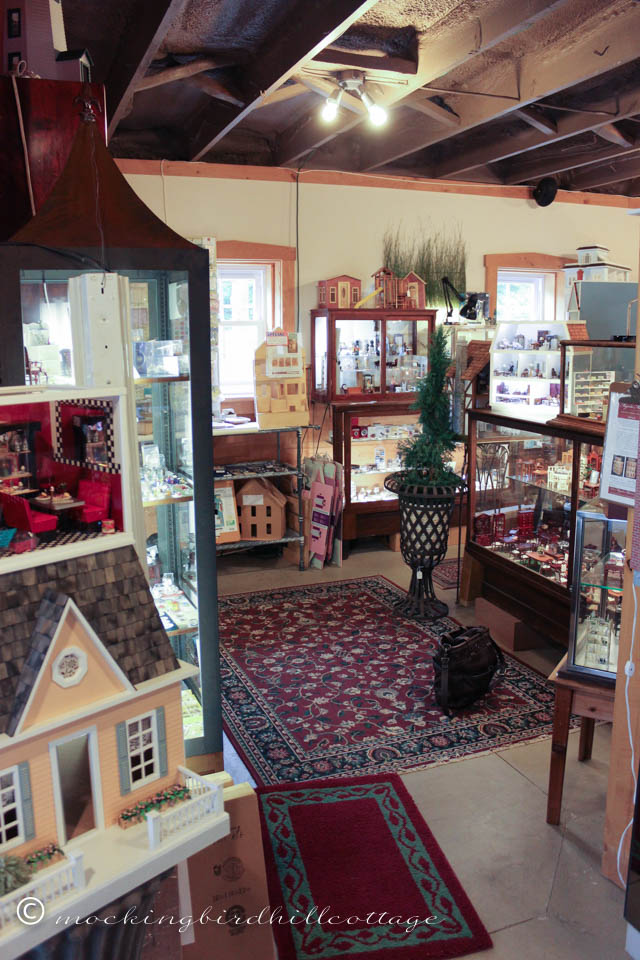 There are finished dollhouses everywhere and display cases full of minis. The display case to the left in this photo holds lots of artisan creations. I may have purchased a few things from that very case.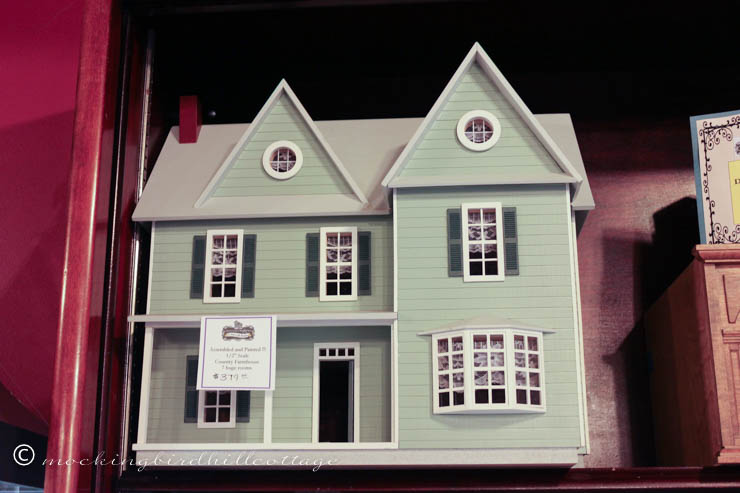 I love this finished dollhouse.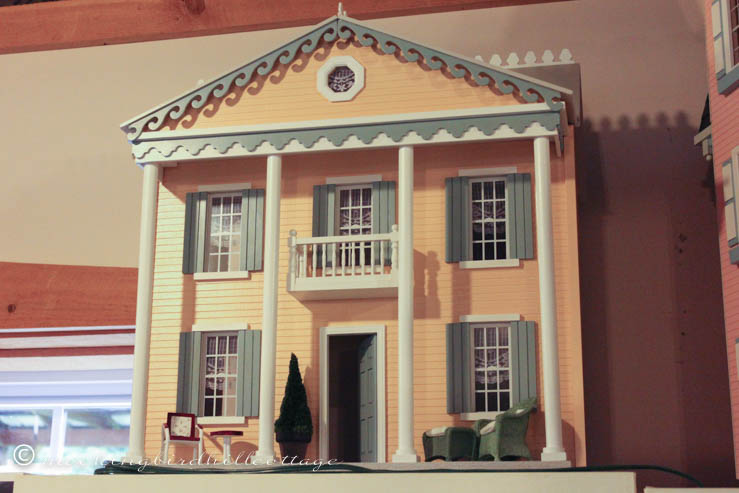 And this one.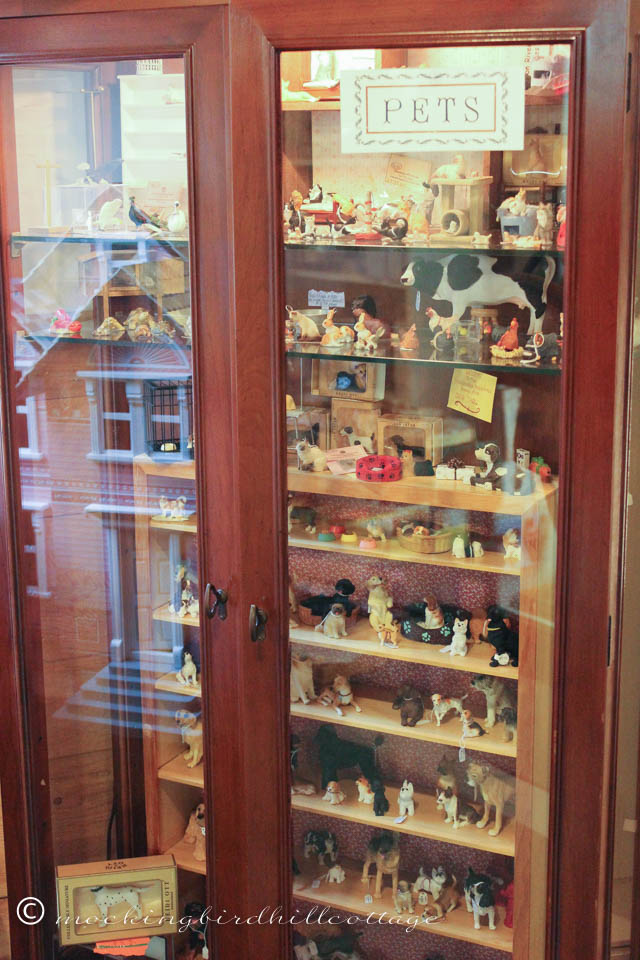 There's a whole pet section. I need to look more closely at that section next week – during their (gulp) sale.
There's a section devoted to fairy garden supplies.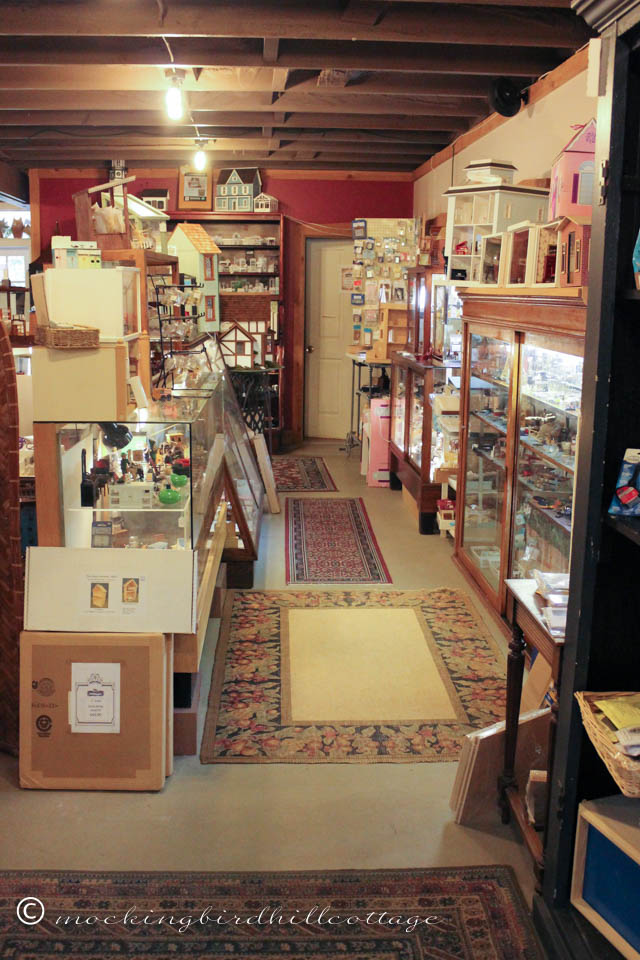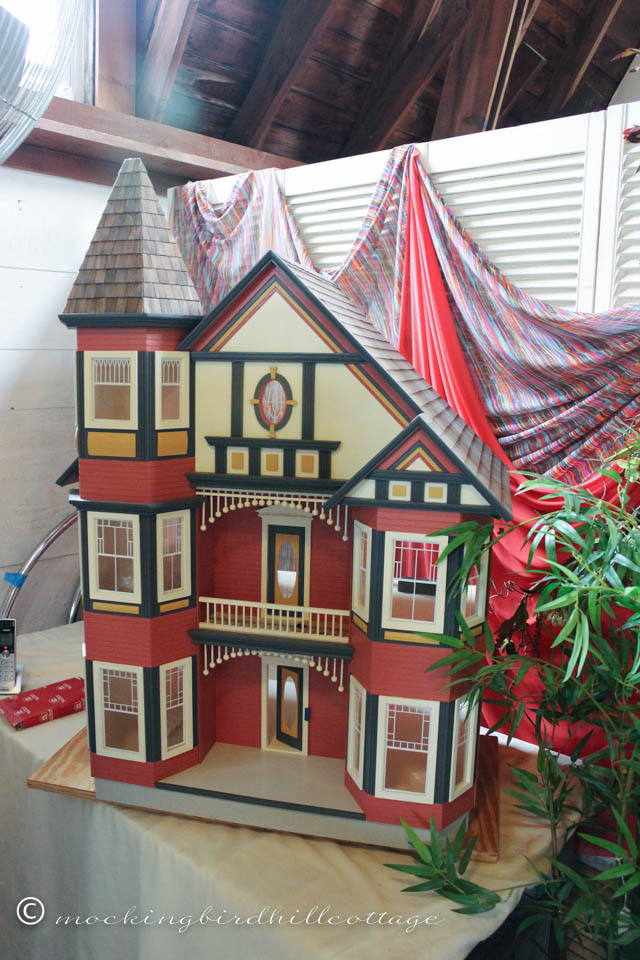 Gorgeous.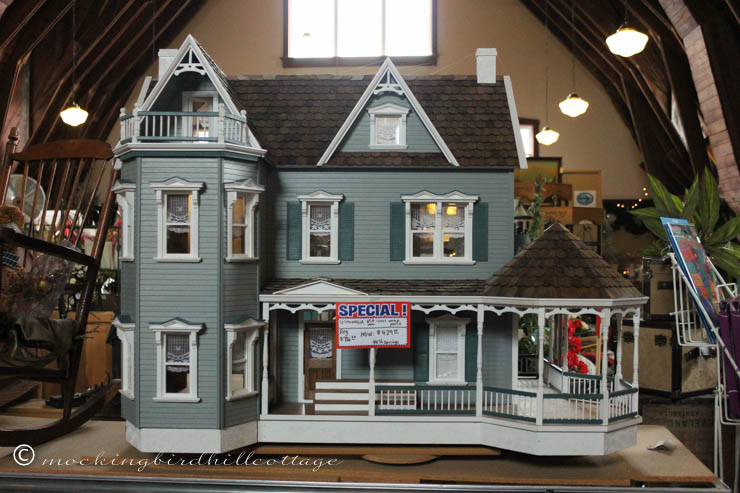 Talk about a porch!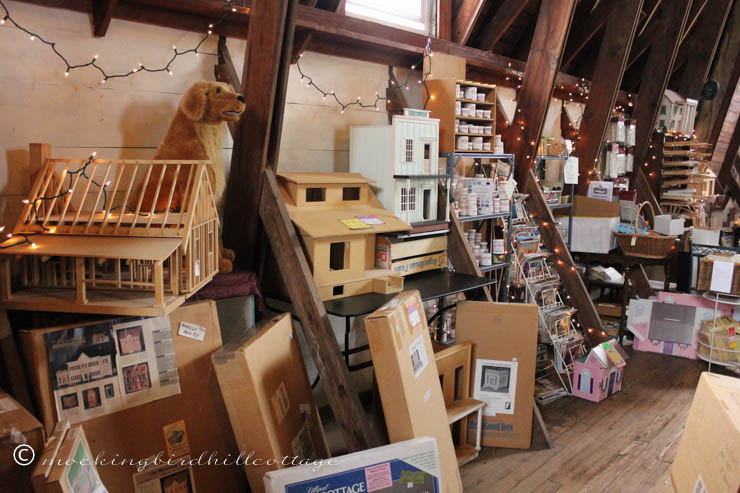 Upstairs you'll find lots of building supplies and dollhouse kits.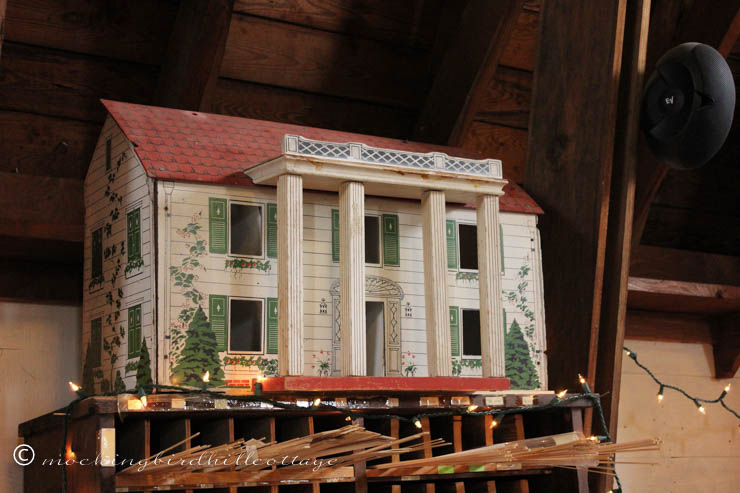 Love this vintage dollhouse.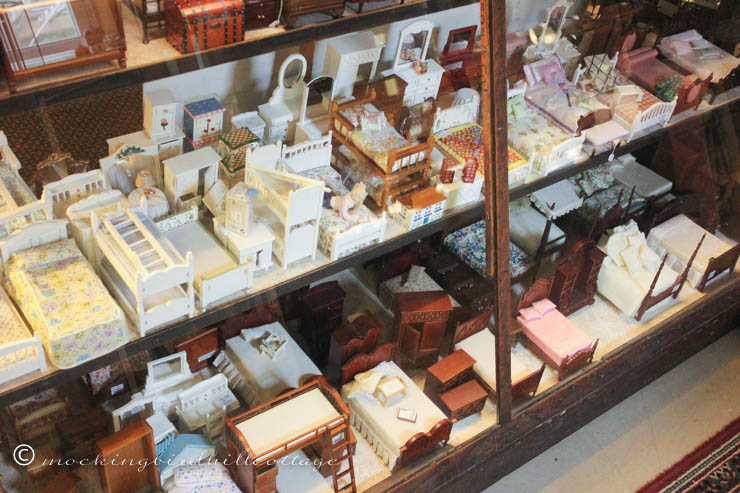 Need a bed?
Needless to say, there is even more and I promise to take my camera along when I go there next weekend.
I had a little bit of money set aside (I hid it in my desk) to buy some minis – specifically for the rooftop garden. And I did buy some.
I bought two picket fence planters.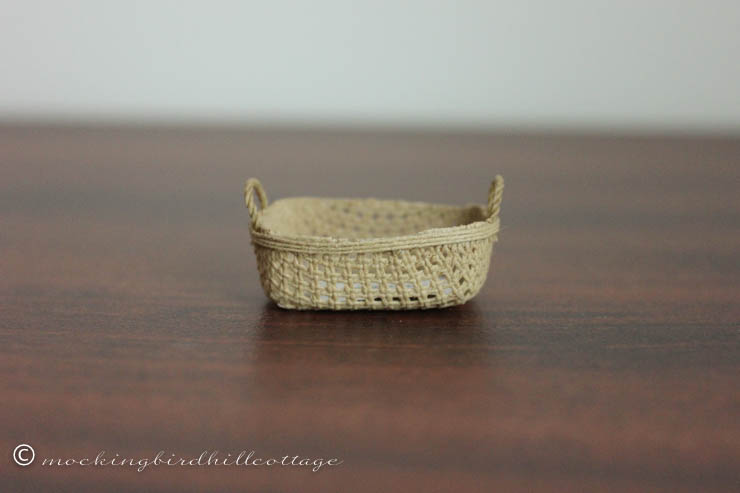 I bought a basket.
I bought a hanging basket of flowers. Isn't it pretty?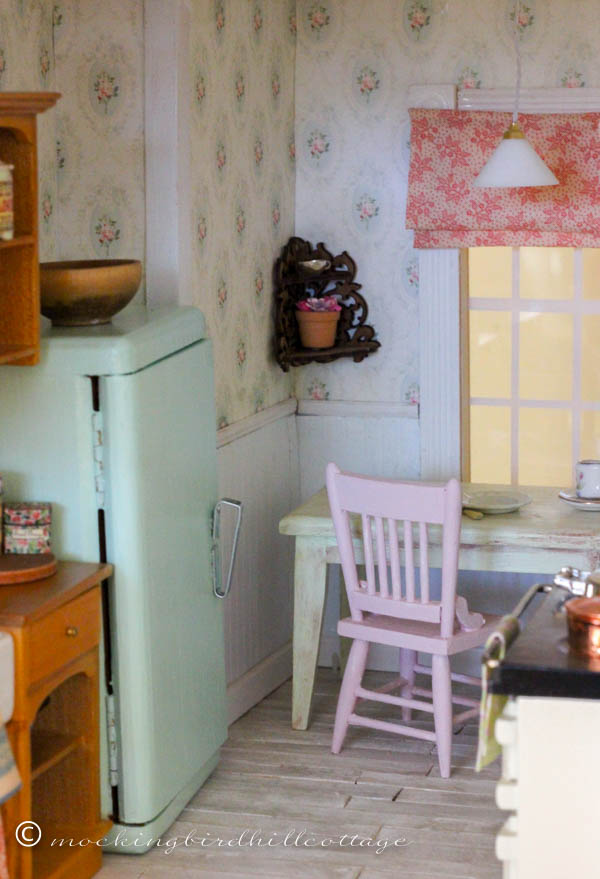 And I bought another corner shelf kit – like the one you see in the kitchen. I purchased this one last year and I thought it would be nice to have a matching shelf in the opposite corner.
But, my friends, I must confess: just as in real life, I was diverted by pottery. Gobsmacked, really.
First, I saw this (the picture doesn't do it justice):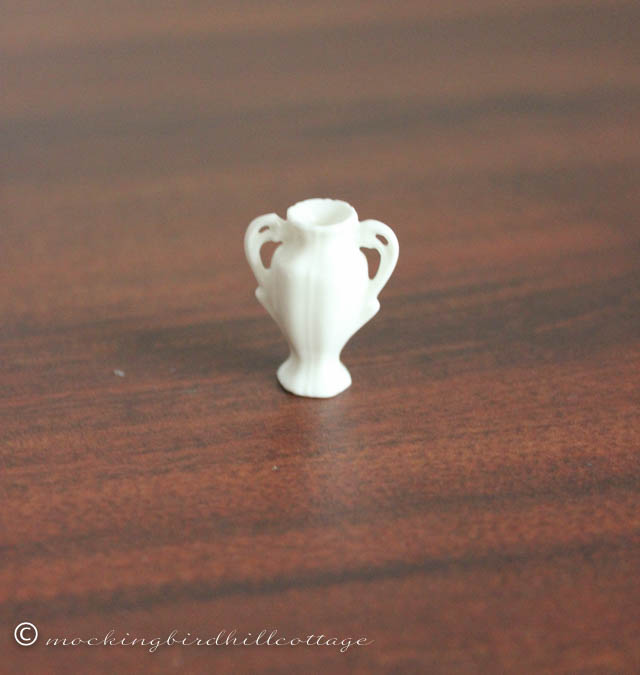 This little white vase, which is just like a real-life McCoy vase. You see that I had to have it, don't you?
And then…and then…I saw three pieces that blew me away. I was going to pick one. Just one. But I realized I was kidding myself, and I bought all three.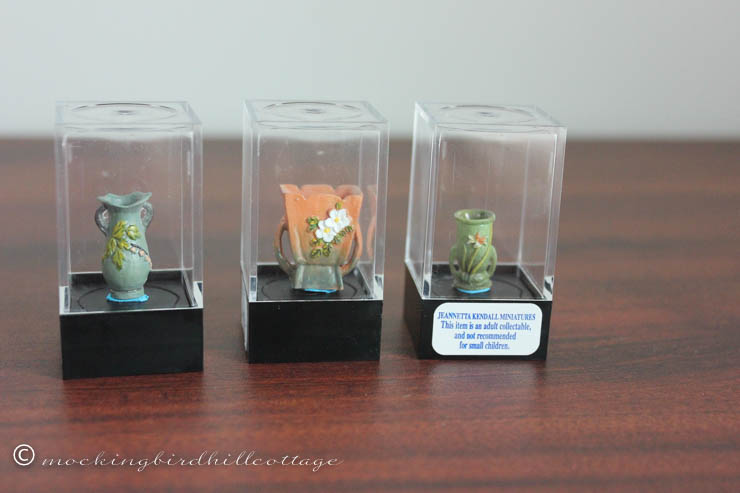 Miniature Roseville Pottery.
You have my permission to gasp.
I am so in love with these pieces that I can't find the words to express my adoration.
Let's look a bit more closely and give them the chance to take a bow.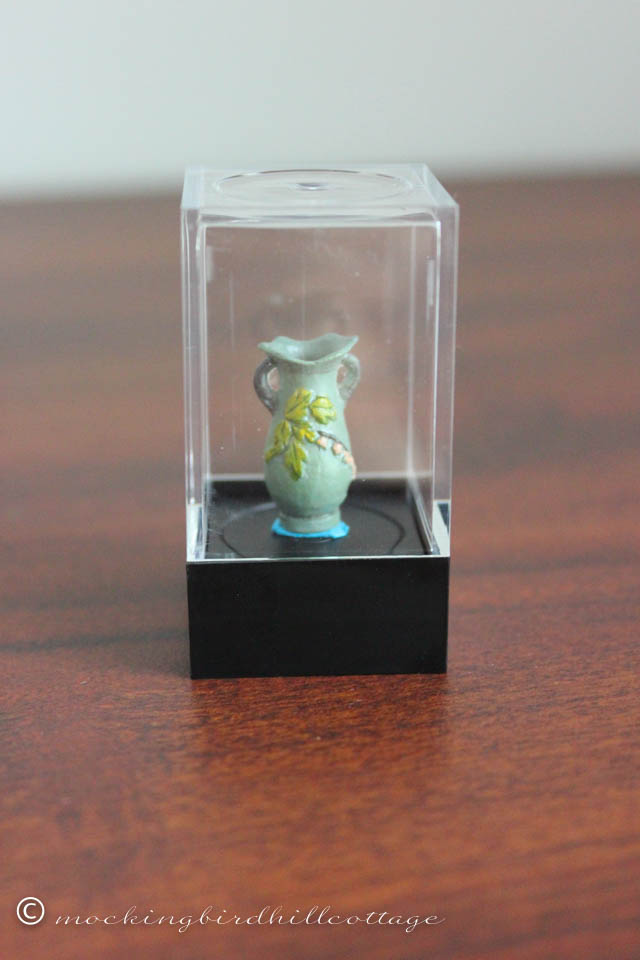 Oh, my goodness. I can't stand it.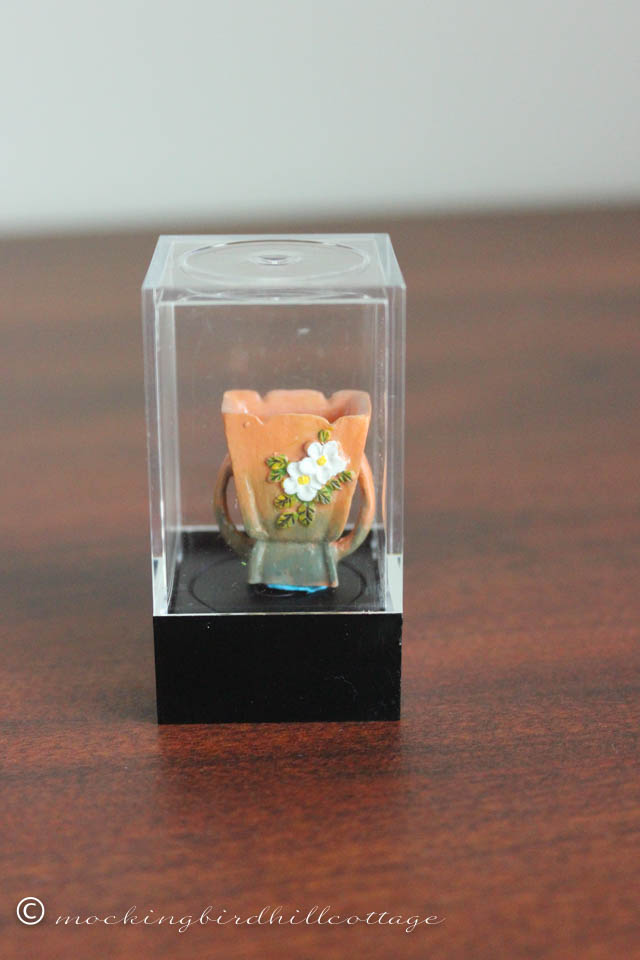 I'm dying here.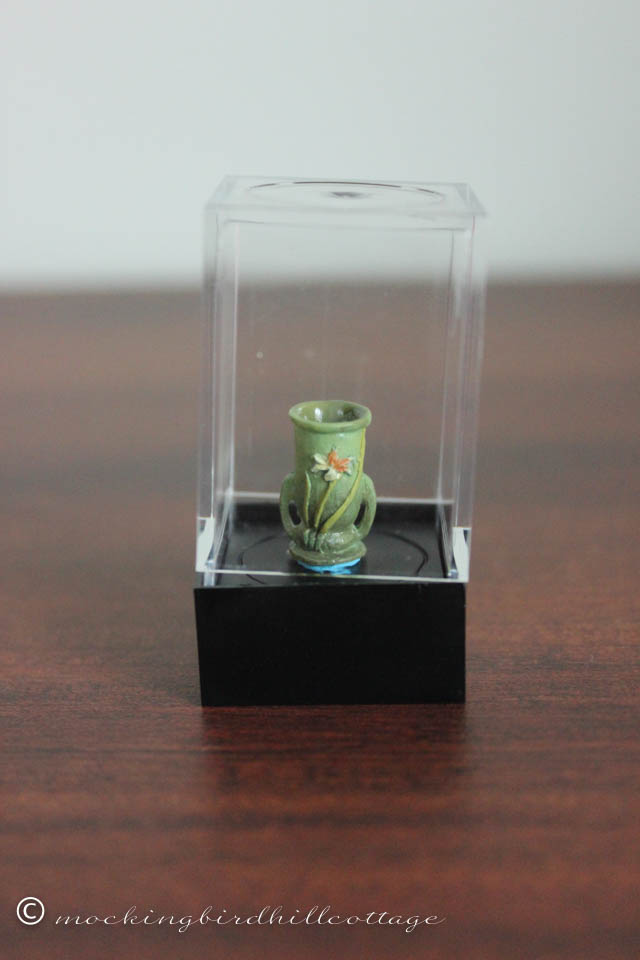 Perfection.
They are made by Jeannetta Kendall Miniatures. I, of course, want even more. I have no idea where or how I am going to display them, but I'm thinking there needs to be a shelf devoted to them.
Caroline has made no secret of the fact that she likes and covets my pottery collection. Do you think she'll appreciate this sacrifice I have made for her?
One can only hope.
The winner of a copy of Disclaimer  is Vera. Congratulations, Vera! I'll drop you an email right away.
Happy Sunday.