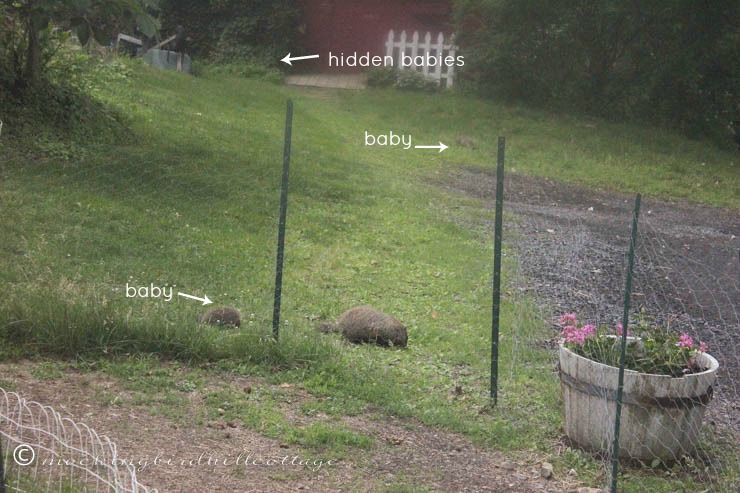 • We're now referring to the baby groundhogs as a gang. Despite their adorableness, they sometimes need a rebuke, provided by either Don or me, when they venture into areas of the property where they should not be. For example: Scout's mini corral. They've been discovered there a couple of times. As soon as they see us, they run like the dickens back to the safety of the shed ramp, where they sit and stare at us. Another example: my garden bed, where I've discovered Henry/Henrietta a couple of times and, yesterday, one of the babies. Said baby retreated immediately, but a few minutes later, I saw the baby run under the car, case the surrounding area, and head for the garden bed. Again.
We don't like yelling at Henry (who, by the way, wasn't labeled in the above picture, because it's obvious, isn't it?) Before the babies came along, we had a very nice relationship. But kids? Well, they change everything, don't they?
Suddenly, they grow up and become gang members. Do they have tats, I wonder?
Now, I feel like I have to stay on watch 24/7.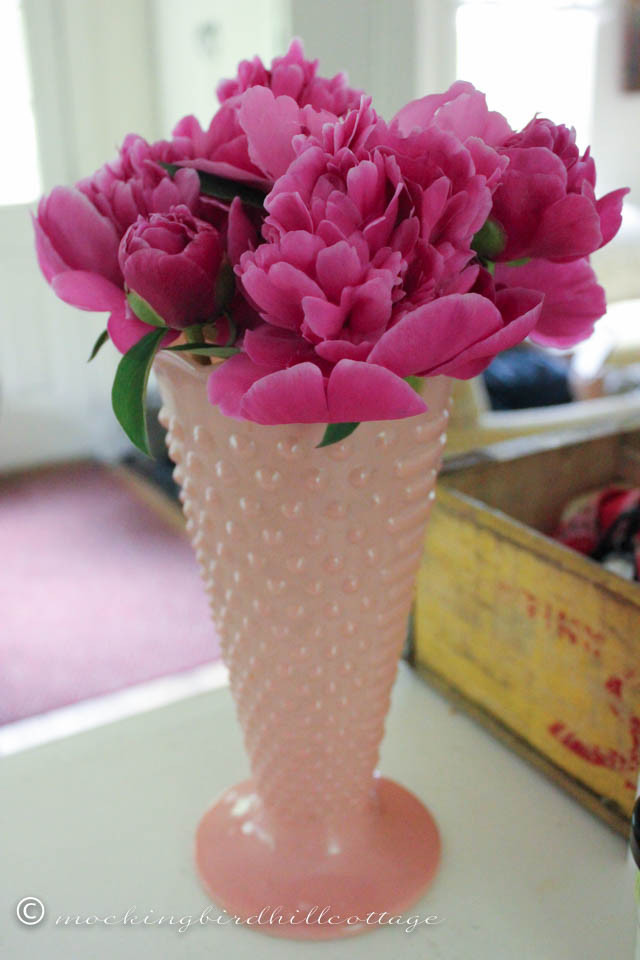 • We were under a tornado watch last night as storms headed our way and humidity increased. As the skies darkened, I made a tactical decision to rescue some peonies. Clippers in hand, I ran down to the bush, snipping the ones I knew would become too top heavy. I'm glad I did, because that was some thunderstorm! Yowza. As we watched So You Think You Can Dance, the skies lit up with lightning, the thunder rumbled, and the rain poured down.
I don't like cutting them this early, but, as someone said in the comments yesterday, peonies in bloom guarantee that it will rain. I'm paraphrasing, but that's the gist of it. I agree with that sentiment. I'll even add to it: peonies in bloom guarantee it will rain torrentially. It happens every year.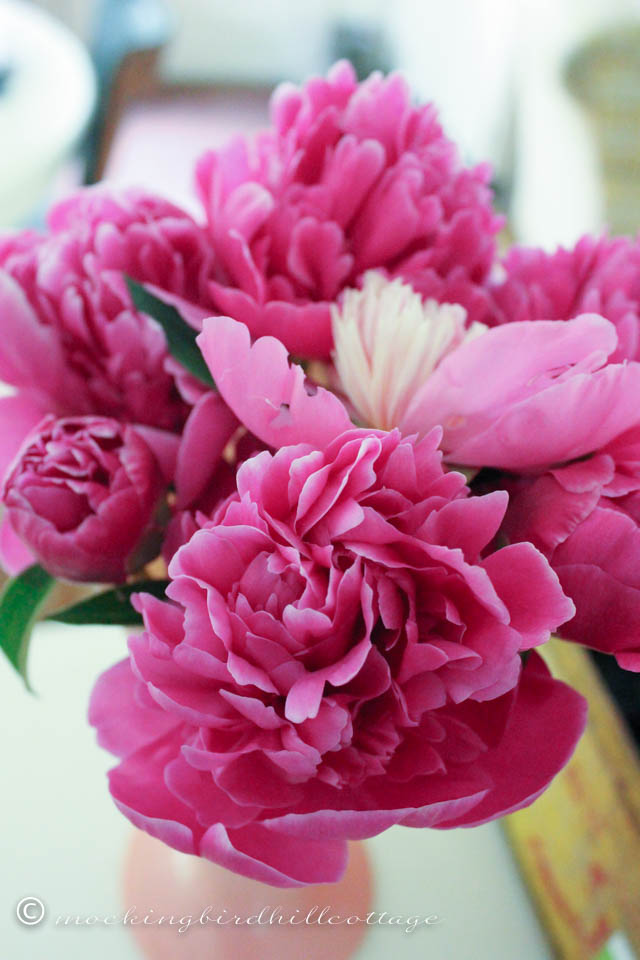 It sure smells nice in the kitchen.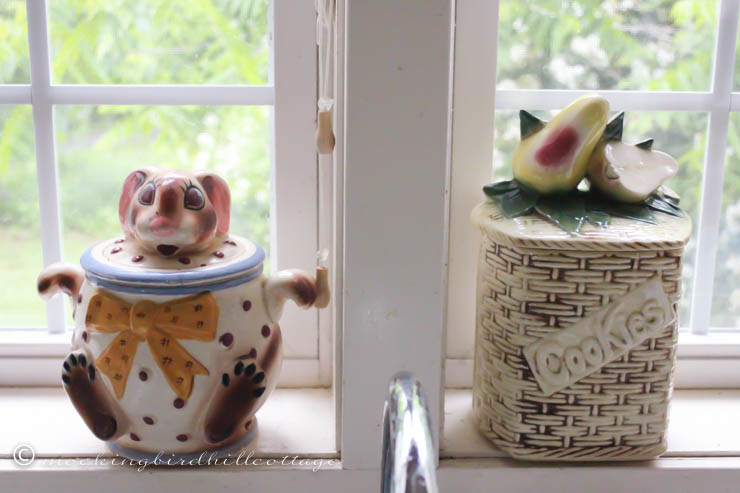 • Say hello to the beginning of our cookie jar collection. That's the faucet you see there. There's no way to hide it as these jars are on the window sills right above the sink.
The rabbit cookie jar was found several years ago in a small antique shop in a neighboring town. We fell in love with it. It's perfect here, as I often look out this window and see one of our bunnies chomping on the grass. We think this cookie jar was made in England. Either that or Canada.
And you know all about the McCoy cookie jar, found a few days ago at the Country Living Fair.
They will be more. But we're sort of picky. We want unique but not tacky or cheap looking. Of course, that particular decision is purely subjective as what could seem tacky to us might be beautiful and collectible to someone else.
• I have to start getting ready for my trip to Chautauqua, as I leave on Sunday. Getting ready in this house consists less of packing and more of writing up lists of Things That Must Be Done Around Here for Don. Then I have to find the right time to go through these things with him, knowing that he will not retain what I'm saying and we will then go through this kind of conversation on the phone:
"Where are the stamps?"
"Don't you remember? I showed you where they were. They're on the white desk in that little letter holder."
"What letter holder"
"The one on the left side of the desk. Remember?"
"No, I don't remember. I wouldn't be asking you if I remembered."
Sigh.
Happy Tuesday.