First off, let me be honest. I failed you. I didn't take as many photos as last year, though the Fair in and of itself is set up in much the same way. So if you want to see more photos that give a very good picture of what is there, see this post and this post. And I took them with my iPhone, which is not my preferred way of photographing anything, but I didn't want to lug around my big girl camera.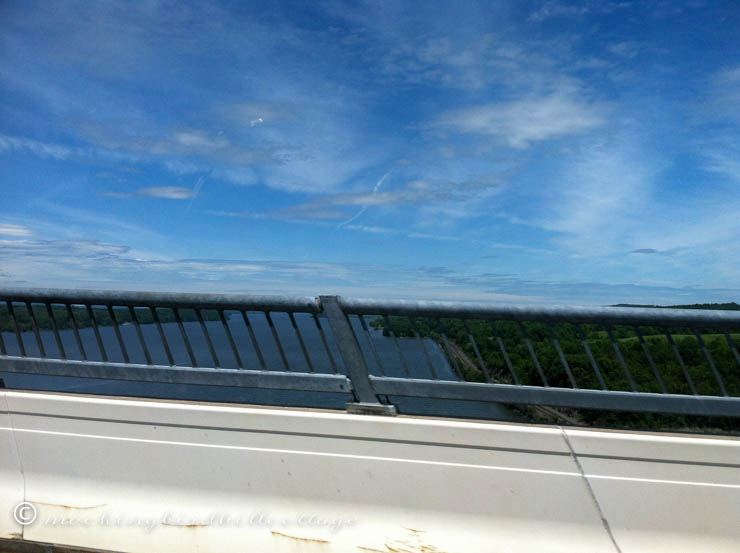 It was an absolutely glorious day; blue skies, mild temps, and a view of the Hudson and the Catskills that couldn't be beat. We got going early. I think we were on the road by 7:30. If you ever plan on attending the Fair and crowds and lines make you cranky (like me), get an Early Bird Pass. What a difference it makes! You are allowed in at 8:30, rather than 10:00, and it's quiet, easy to move around and see  everything, and your sanity will stay intact. Don couldn't believe how much more crowded it was by 11:00 am.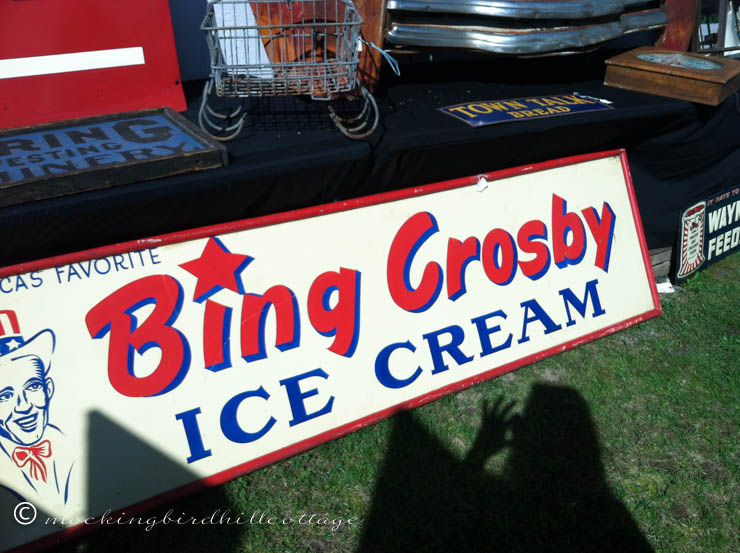 There's a wonderful seller that carries all sorts of old signs and statues and salvage. I loved this one. Who knew that Bing Crosby had his own brand of ice cream? It was huge, by the way.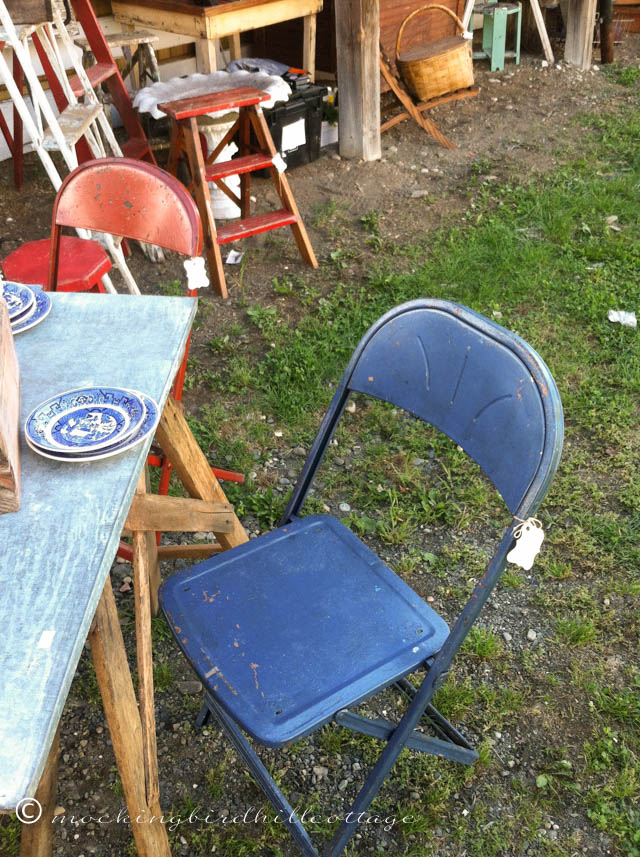 Just down the aisle were these metal folding chairs. They were charming and we briefly considered them, especially the red ones that had a cut-out design at the top, but we didn't bite.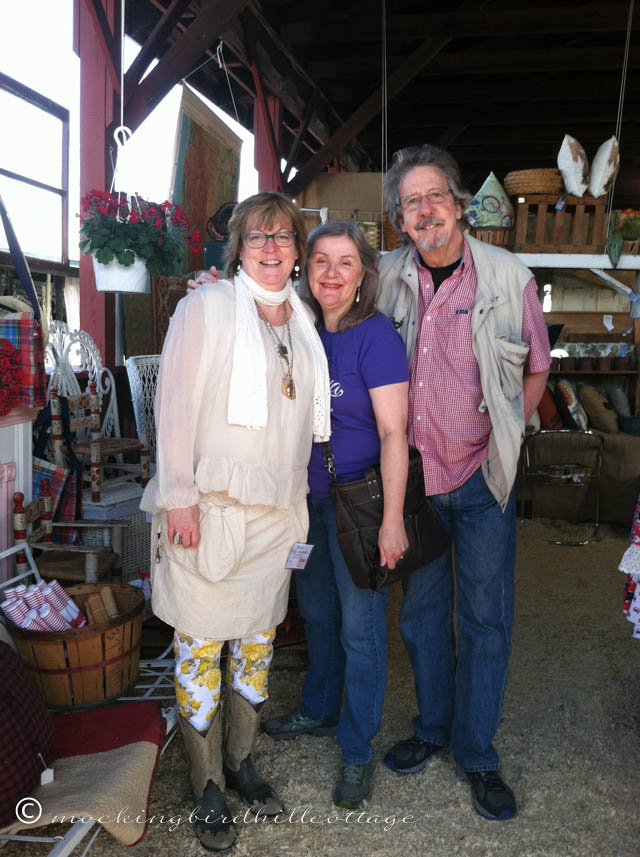 Here we are with our friend Heidi. She's also our neighbor. Long time readers of this blog will remember that Heidi used to own a shop in our town. I actually worked there part-time for a while. She closed that shop last year, but she still has a booth at the Country Living Fair. Her daughter, Whitney, and son-in-law, Cory, were helping out.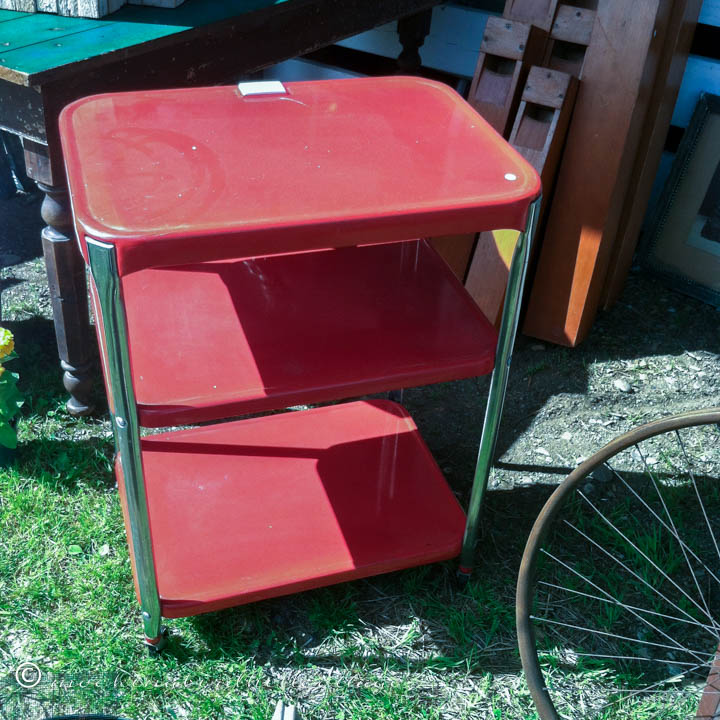 Don fell in love with this cart; very retro, with an outlet (that worked) on the back edge. He could see it sitting in our kitchen. I could, too, but I had some doubts about whether it would fit. It was a good price. We walked away. We went back. Don was sure it wouldn't be there long. But, because we were unsure, we let it go for a while. Sure enough, an hour later, it was gone. In this case, it was for the best and we didn't feel that pull of regret.
But I learned this lesson last year at the Fair. If you see something you want, grab it. It will not be there long. I lost out on a piece of McCoy last year, as well as a lamp I loved.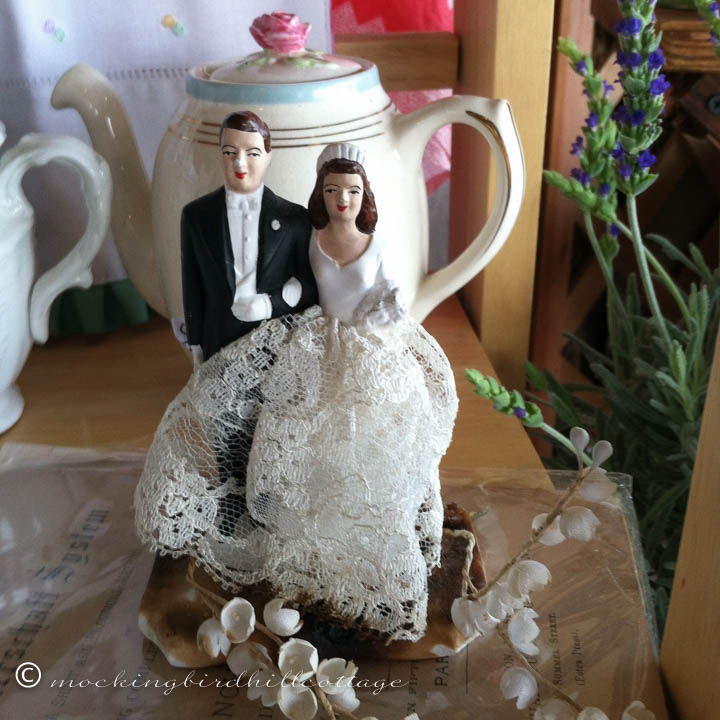 I saw at least three gorgeous cake toppers in this booth.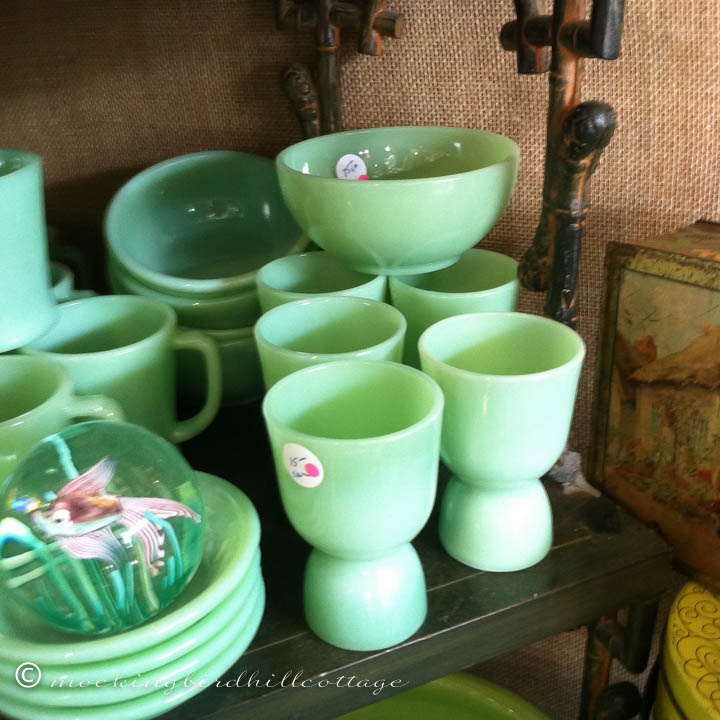 Almost bought one of these Jadeite egg cups, but they're pretty common, so I held off. BPP. (BPP=blurry phone photo.)
This is a McCoy frog planter. I don't see them often and I saw two of them at the Fair. It's the kind of piece I feel I should buy because I'm a McCoy collector, but frankly, it's not my cup of tea. So I pick it up and hold it and consider it and put it back down. Several times.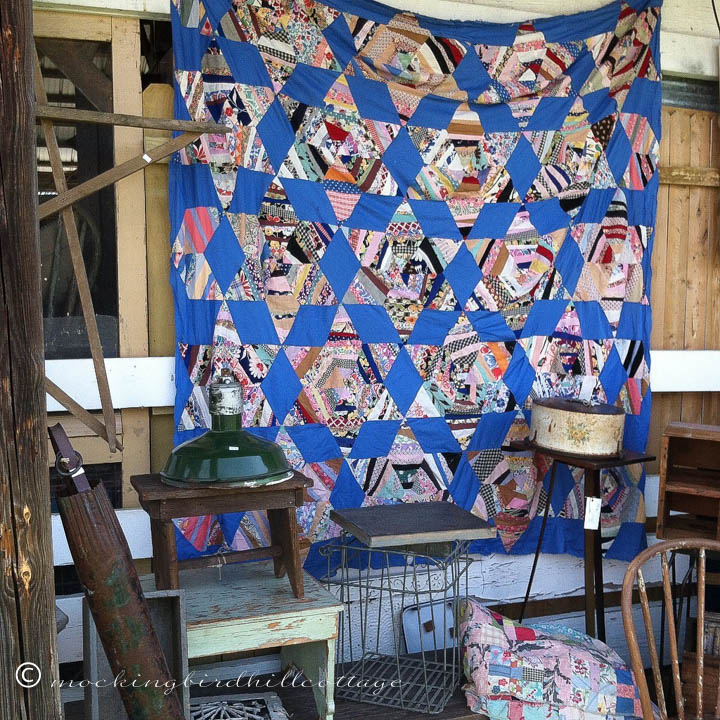 A simply gorgeous quilt top, no backing, no quilting. But isn't it beautiful?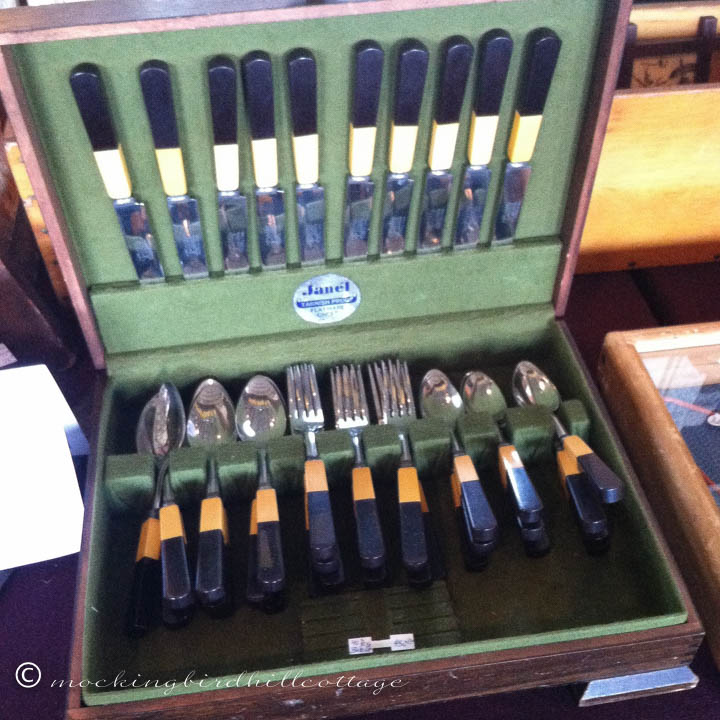 Be still my heart. A set of Bakelite, yet another thing I collect. BPP.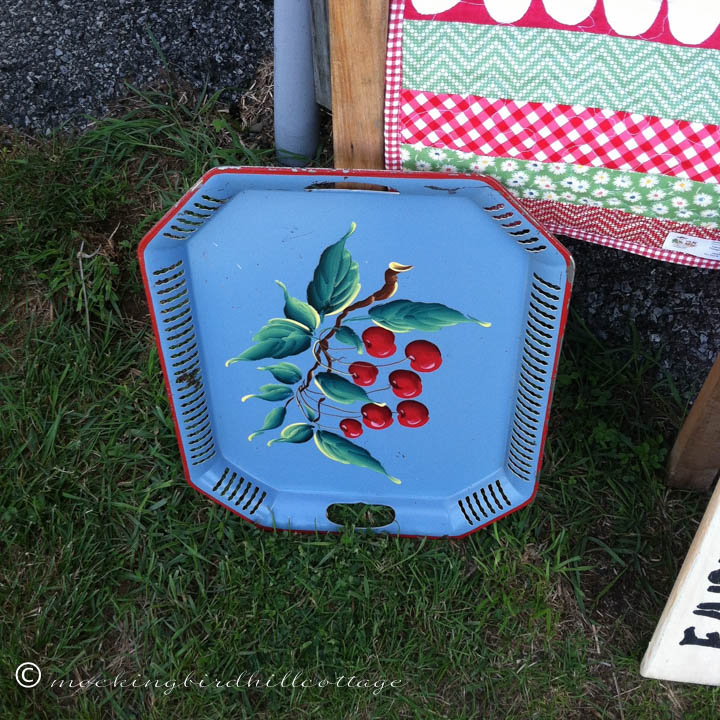 Can I tell you how much I wanted this tole tray? The blue, the red trim, the CHERRIES. But it was $45. And I wasn't sure where I would put it. And I had already purchased a couple of other things. So I passed.
I'm sure it's gone now.
There are deals to be had at the CL Fair, but I've also found that there's a pretty steep mark-up in some booths. The dealers know they're going to get a big crowd and of course they travel there, set up, spend hours each day selling, and have to make a profit. I get it. I didn't bite on several items because I knew they were too pricey. I guess it depends on how much you want the piece. More on that later in the post.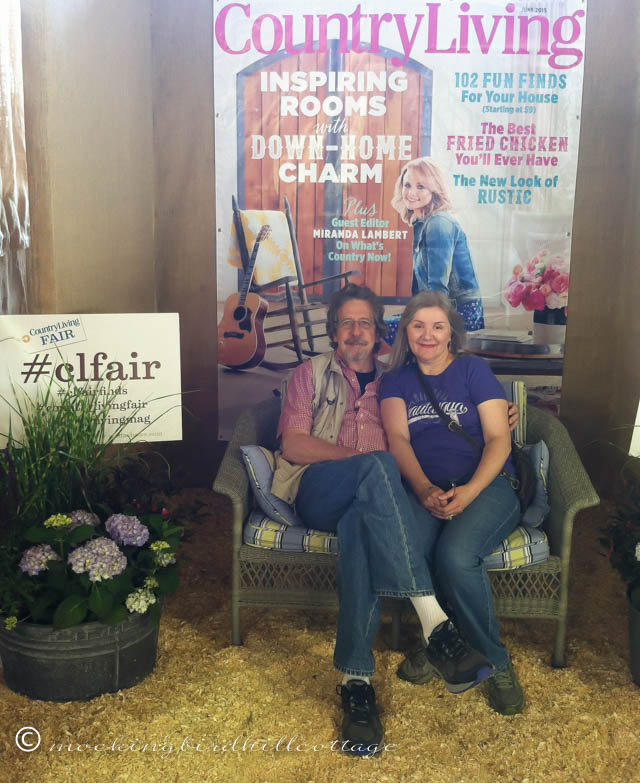 Heidi took this picture of Don and me. We had the best time together, by the way. I'm so glad he came with me.
Okay. Here's a little story. I'd seen a piece of McCoy that I coveted in a booth. I asked the price of the dealers (two women) and it was about $15 higher than I thought it should be. On the other hand, I never see this particular piece. Anywhere.  I took a picture of it and we went on our way.
Later on, we circled back. I picked it up, held it. It was in perfect condition. After I dithered, Don told me to go for it. As I walked up to one of the dealers (who turns out to be Jane) I heard someone say, "You're Claudia." Startled, I turned around and said, "Yes." It was the other dealer speaking, who turns out to be Valerie. She must have seen the startled look on my face because she said, "I read your blog." She then turned to Don and said, "And you're Don."
Now, Don is usually the one who is recognized. Someone will have seen him on television (usually Law & Order.) When we were living in San Diego, he was routinely recognized everywhere we went.  I run under the radar. But I have to admit to being flattered that someone recognized me from this blog of mine.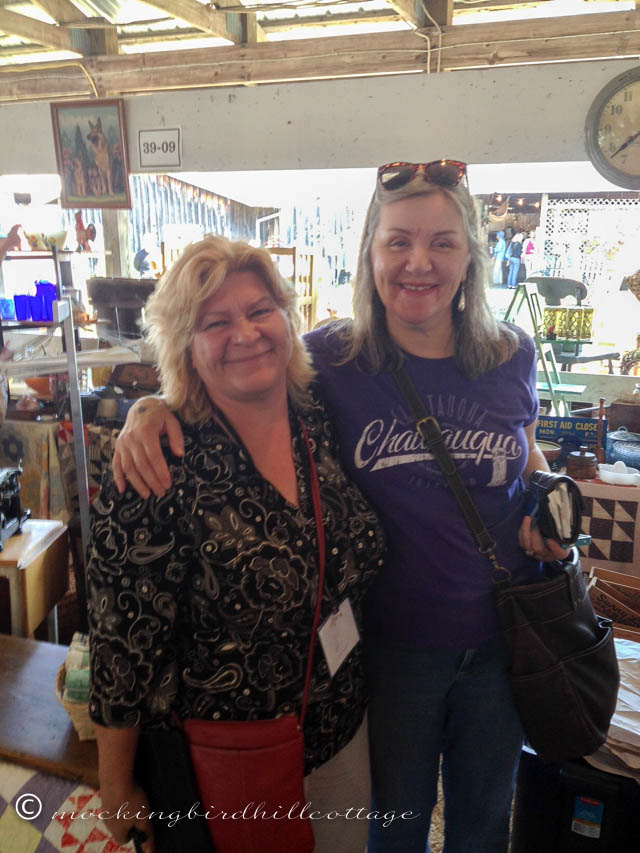 Here we are. Say hello to Valerie. Valerie and Jane have a booth in The Summit Antiques Center in Summit, New Jersey – not far from where my niece used to live.
We had a nice chat with both Valerie and Jane and I left with my pretty piece of McCoy.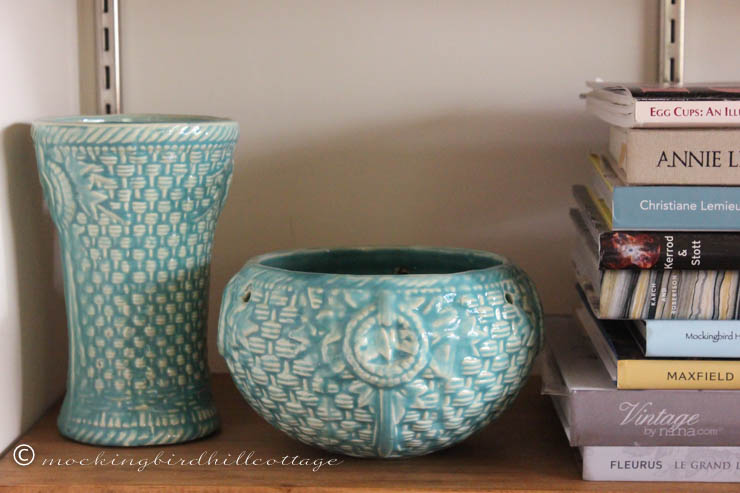 It's the hanging planter pictured here. You remember the vase on the left that I found about a month ago? Well, this one has been on my I Want List for quite a while. You can see the holes where a chain was threaded in order to hang the planter. It was more money than I should have spent and I felt guilty, until….
We found a cookie jar that we fell in love with. Also McCoy. (Don and I recently decided that we are starting a cookie jar collection. We already have our rabbit cookie jar, which sits on a window sill in the kitchen. Cookie jars are something we can collect together.) This particular jar was worth at least $60 or more. At one time, it would have been $75, but values have gone down a bit. It was priced at $24, and it was in perfect condition. The dealer gave it to us for $20.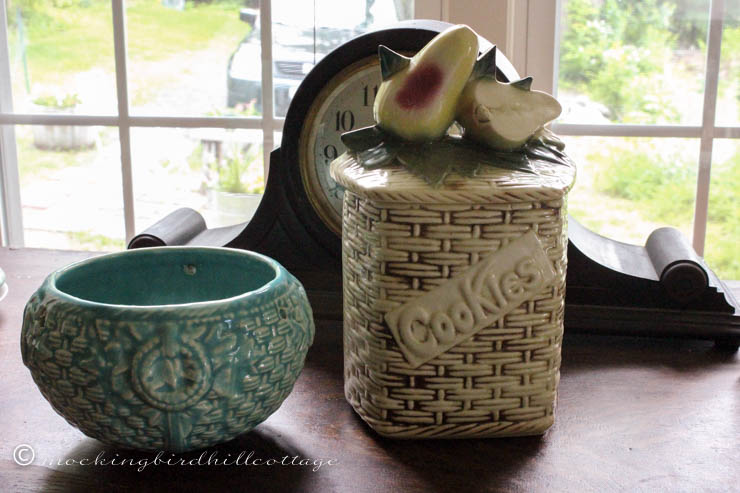 I'll get a better picture later. Those are pears on the top. McCoy made a series of these basketweave designs, some had kittens on top, some had dogs, there are several different handles. Usually, there is some damage to a cookie jar simply because of daily use. There is absolutely no damage on this one. So, to end this rather long story, we paid more than we should have for the piece on the left. But we got a steal on the piece on the right. So it all works out! And I feel better.
Long post, sorry! We had a great time together, but by the time we headed home at 12:30, we had had enough. There are a lot of artisans at the Fair, as well as lectures and book signings, none of which I am particularly interested in. I'm there for vintage. But there is truly something for everyone there, including a great bluegrass band that we loved. We dined on veggie paninis and a chocolate milkshake.
And Don was greatly impressed by my 'fame.'
I think things are going to change around here.
(Thanks so much to Stella Shows for the free tickets, as well as the opportunity to give some away to my readers!)
Happy Saturday.