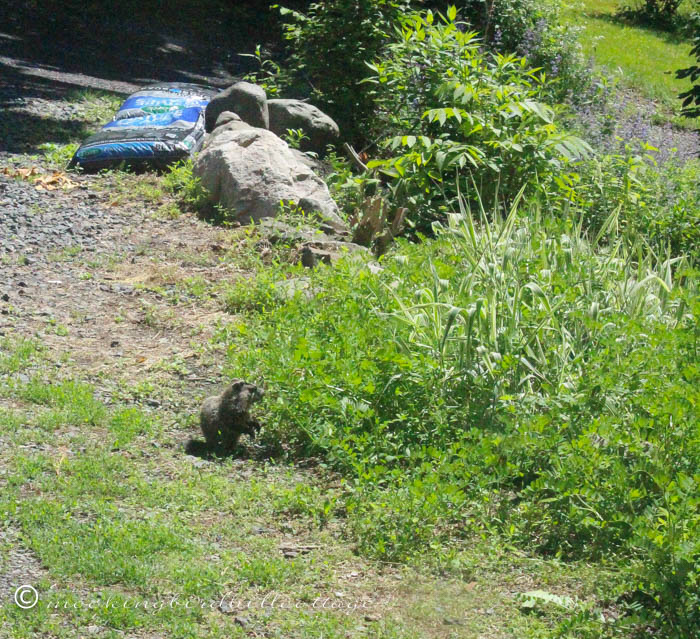 Meet baby Henry.
Don and I happened to look out the window and both Henry and baby Henry were chomping on food rather close to the house, and running back and forth under the car. At one point, Henry was in Scout's little corral. Then they both got scared by something or other and ran back to their home under the shed.
About five minutes later, who did I see but Henry in my garden, dining on something that wasn't on the menu we have provided for him. I opened the front door, went out on the porch, and of course, he scrambled for the shed. He stopped on the ramp and stared at me.
We had to have a talk. I firmly told him that he was welcome to dine on the grass and on all the vegetation in the woods, but that the garden was a NO. He continued to stare at me. NO, I repeated.
That scamp. Do you think he understood? All I know is that later in the evening, he was seen in what we call his 'pasture' eating the grass.
I'm going to have to keep an eye on him.
Yesterday was a sunny, beautiful day, very welcome after all the rain we've had. I weeded. I weed wacked. (I'm alternating the spelling of wacked/whacked because I've given up trying to figure out which one is preferred. Last time I wrote about it I used 'whacked.' Hence, 'wacked' in this post.) Later on, when the grass was dry, we mowed. I watered the plants on the porch.
It was just so nice to be outside!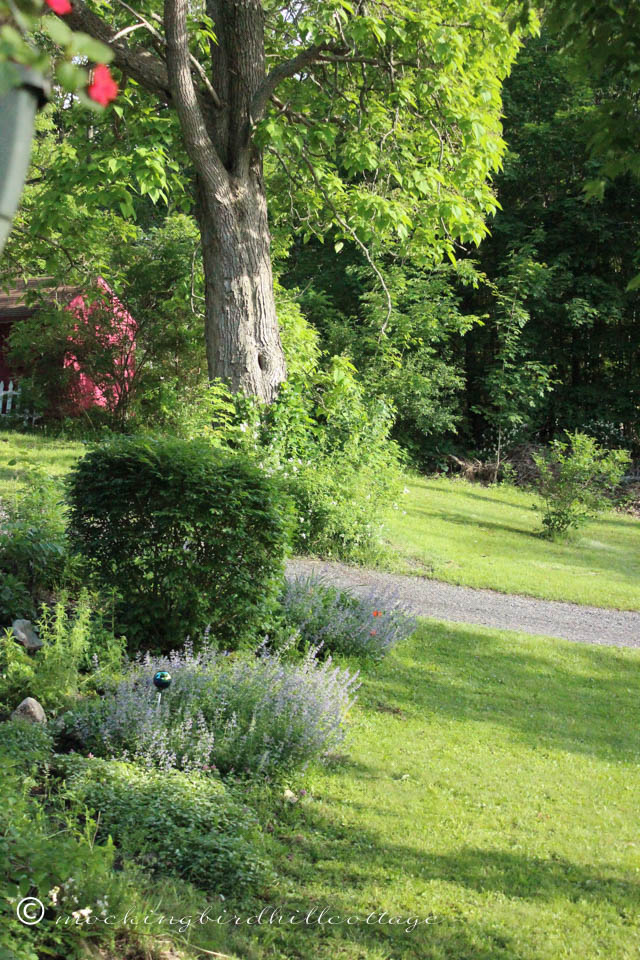 I'm reading Disclaimer  by Renée Knight (scheduled for a book review) and it's very good! Rather chilling, in fact. More on that in about 10 days or so. And it's not at all like Gone Girl, thank goodness. In fact, when I grabbed it from my shelf, I noticed the blurb on the front is from Lee Child. Okay. Now we're talking!
Don may or may not have purchased donuts yesterday. I may or may not have eaten two, which was one too many.
And speaking of language and communication, I really dislike this sort of thing:
"Do I wish I had done things differently?"
"I do."
"Did I experience regret when I made that choice?"
"I did."
Commit, for heaven's sake. Don't circle around the subject.
I'm rewriting the dialogue.
"I wish I had done things differently." Or, better yet, "I was wrong."
"I regret that I made that choice." Or…"I was wrong."
Asking the question and then answering it for oneself keeps the speaker one step away from taking full responsibility – just over the border from clear and unvarnished truthfulness.
I'm tired of people not taking responsibility for their actions and using language to dance around the subject, all the while bobbing and weaving, when a direct hit would be much clearer.
"I was wrong." "I'm sorry."
Simple, right?
"Don bought donuts. I ate two of them." Nothing unclear about that.
Sigh.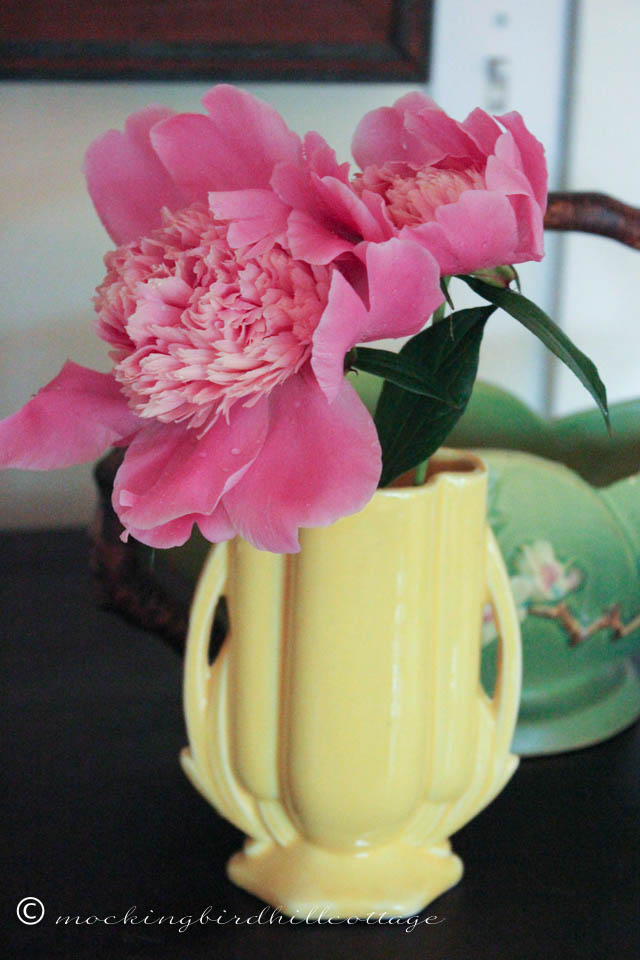 McCoy reporting for duty and providing a nice little home for my rescued peonies.
Don't forget to stop by Hanging Out With Bloggers: Enabling the Change – the post I wrote about a great discussion I had with four other bloggers. There's even a video of us! If you leave a comment you will be eligible to win a $100 Visa Gift Card.
Happy Thursday.