We're in the midst of a frothy sea of white blossoms here at the cottage. It only lasts a short time, but it sure is beautiful while it's happening.
I've mentioned the wild roses that bloom this time of year. Since the brambles/roses are all over the property, so are the white flowers.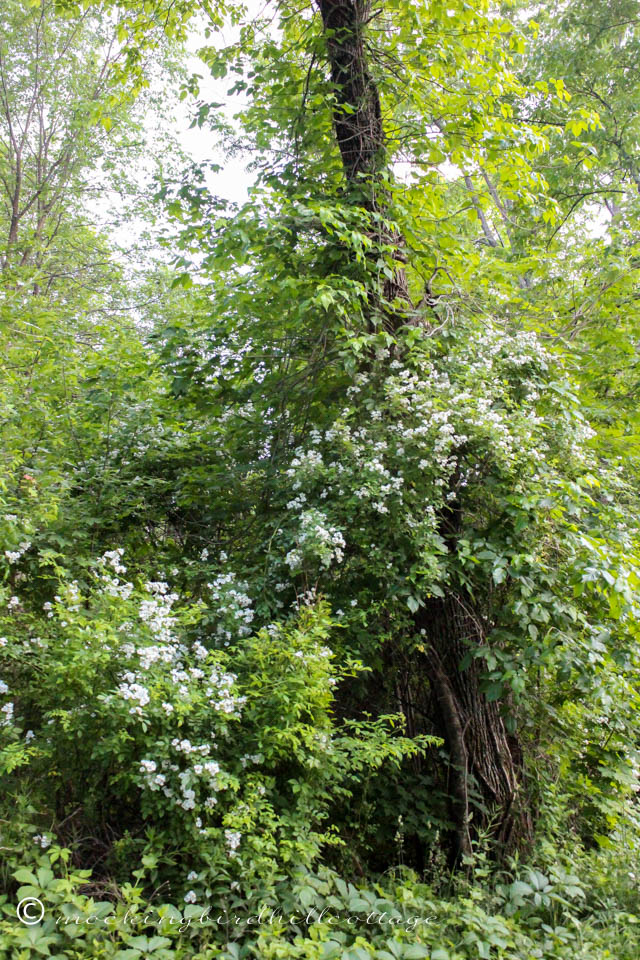 On the edge of the woods, in the area between our neighbor's property and ours, climbing up trees.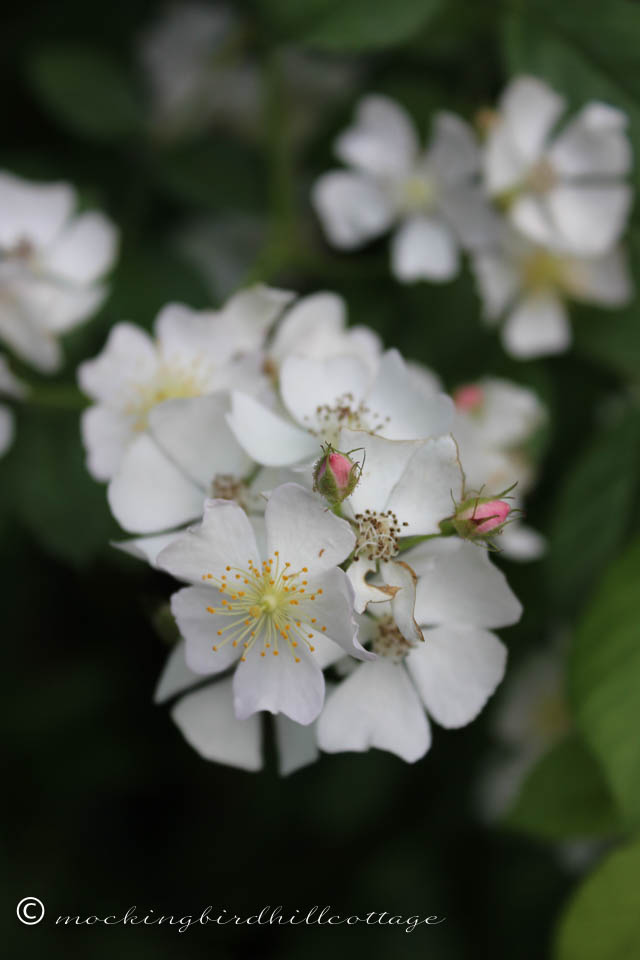 From a distance, you just see white dots. But up close, what perfect little flowers! And the pink buds are making my heat beat a little faster.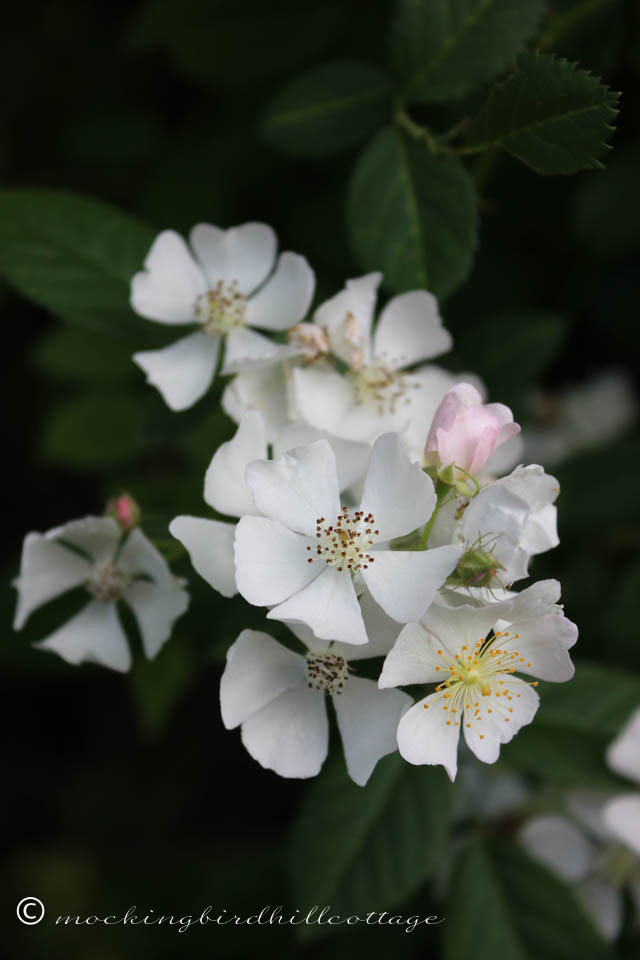 At some point, when the blossoms have vanished for another year, I'll be cursing these very same wild plants. They will be called brambles or prickers. They just might be cursed a few times. But now….oh, how beautiful.
To add to the sea of white, the catalpa has bloomed.
Do you see the white blossoms scattered among the leaves?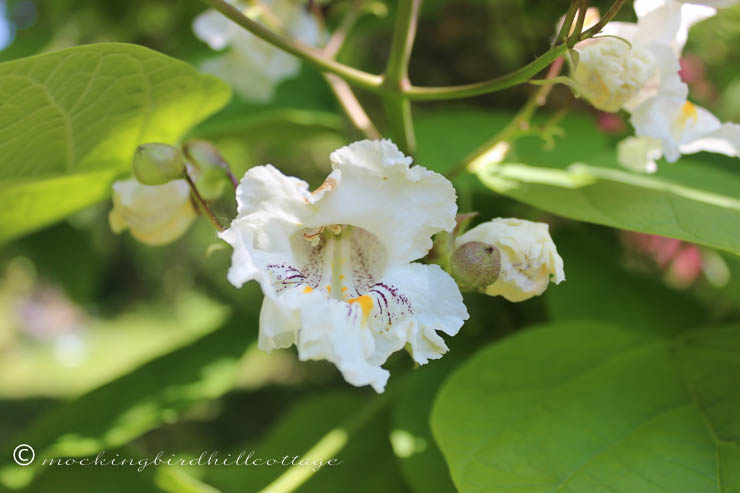 This is what they look like. Perfect white flowers with streaks of purple and yellow. And they smell heavenly. But alas, their bloom time is even shorter than the wild roses.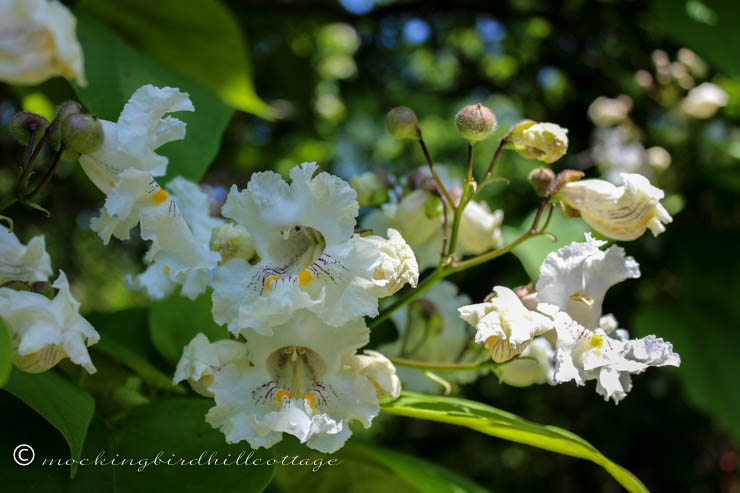 They fall to the ground within a day or two. Since it's raining today, I suspect I'll find many of them on the ground by the end of the day, which makes me sad. I always want to shout to the heavens: "Don't rain for a week, okay? The peonies are in bloom, the catalpa is blooming. They're fragile. So hold off!"
But invariably it will rain. And rain. And I'll try to rescue the peonies. But I know I can't rescue the catalpa flowers. It doesn't work. I've tried it.
Last year, I missed the catalpa bloom entirely. So I'm grateful to witness it this year.
Oh, by the way, their are at least four groundhog babies. Maybe five. Yesterday morning, I watched them playing outside the shed. They ran back and forth. They climbed up on the picket fence that leans against the shed, weaving in and out of the pickets. They hid behind and under the hostas. They had a grand old time, just like baby animals everywhere.
Mom was nearby, probably saying to herself, "Maybe this will tire them out and they'll take a nap!" I've learned that the babies start to leave home and dig their own tunnels to live in after about three weeks of eating and foraging outside the nest. Where will they go? I'll miss them. And then Henry/Henrietta will be alone again. Sigh.
Don and I stood inside the kitchen and watched the frolicking brood for the longest time. They are adorable.
Happy Monday.