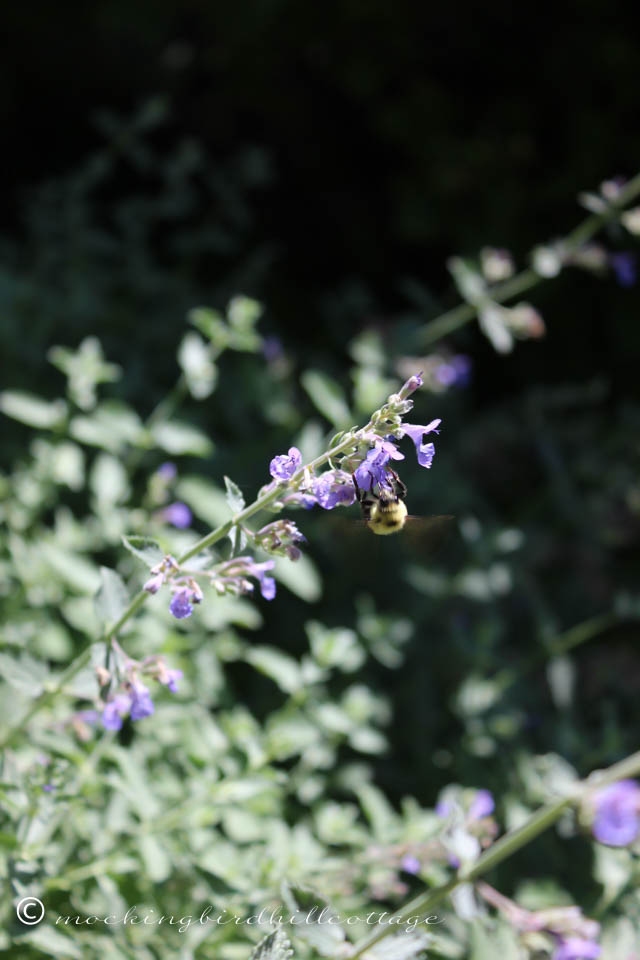 Big, fat bumblebees are constantly on the move in the garden.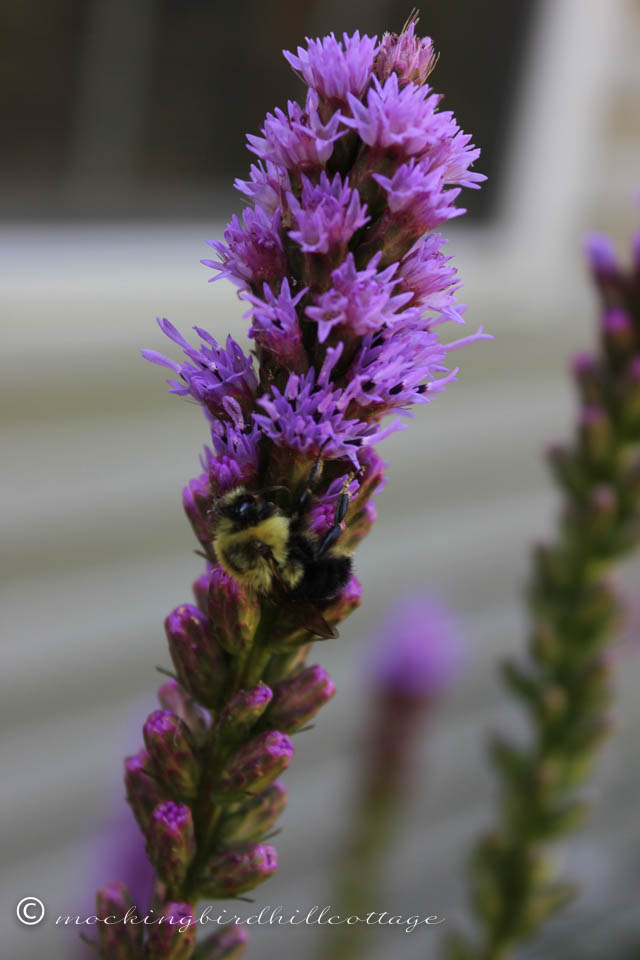 This one was drunk on the liatris. He stayed there for a long time.
One of my favorite things about gardening is the element of surprise. Good surprise, that is. I've chatted with you before about perennials that self-seed and how much I love it when that happens.  I have coneflowers, rudbeckia, sedum and phlox that have spread their beautiful wings in areas of the garden other than where they were originally planted.
So. We come to my little story. There is a narrow raised bed right outside our kitchen door. It was here when we moved in. The wood will soon need to be replaced, but that's neither here nor there. I usually plant lavender there because it gets a lot of sun. I've also planted lettuce and four o'clocks. It's different every year, though the lavender is a perennial and is consistently a part of that bed.
This year, a plant started coming up at the far end of the raised bed. It had big, textured leaves. I figured it was probably a weed, but it was an intriguing one, so I let it keep growing. (I do that sometimes.) It got bigger and bigger.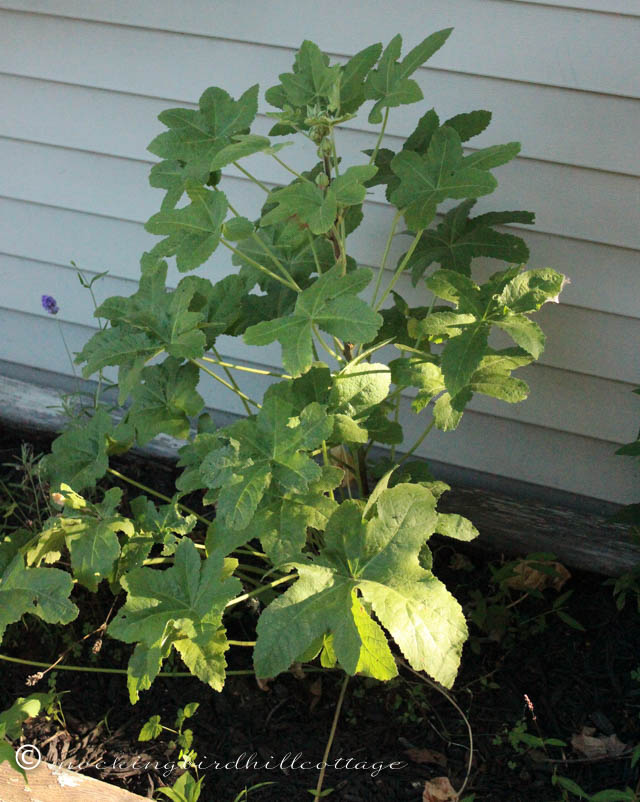 It's well over two feet high – maybe three feet.
I considered – briefly – yanking it. But something made me hold off. I figured that, at the very least, it was sculpturally interesting.
When I came back from Chautauqua, I checked it out. It was even taller and I noticed some little pod-like additions which were hidden from sight, situated on the main stalk of the plant.
I checked it out again a week or so later, and saw some new leaves there, so I shrugged and figured pods equaled new leaf growth.
Yesterday, I was outside getting ready to mow and I did a triple take. Literally. I had just seen a flash of rosy-red hidden within the leaves.
Hello! I was gobsmacked. I was delighted. I was thrilled.
I ran into the house, grabbed the camera and took these photos. I had a suspicion this plant was a type of mallow. Or a hollyhock. Mallow or Malva is the name for a large group of plants in the Hibiscus family. I have planted some mallow in the past but it didn't last and it was not this species. I've never had this particular beauty growing on the property. I don't know where it came from but what a welcome, delightful surprise it is!
Or…is it a hollyhock? Now that I'm looking at hollyhocks online, I'm leaning toward that as the mystery plant. I can't make up my mind now. Hollyhocks are also in the mallow family, so it's a mallow, no matter what. But is it more specifically a hollyhock? Hmmmm.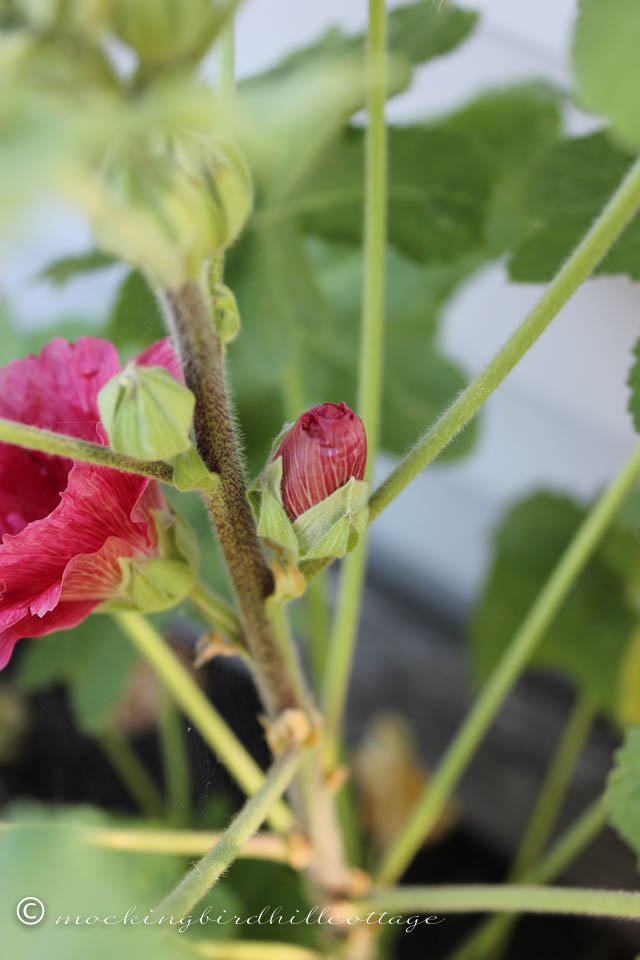 And another bud is about to open.
I'm grateful I trusted my gut on this one and let it grow. It was a mystery plant and, as you know, I like a good mystery.
Especially one that has a happy ending.
Some people call this a weed, but….really? I don't think so. It's also used in herbal remedies.
Nidia mentioned that she wondered if it was a hollyhock. I did, too. And they're very similar, though I've never seen a hollyhock this wide. So, it's still a bit of a mystery. Same sort of blooms. Same sort of leaves. Any thoughts?
Gardeners: You never know. Don't yank immediately. You might end up yanking something that looks questionable, but will reveal itself to be a beauty if given time to grow. Cases in point; my bee balm fiasco in the spring and this mysterious beauty that arose out of nowhere.
It made my day yesterday.
Happy Saturday.