Do you remember a recent post where I showed a picture of a Tiny House that was being built locally? Well, I was at a local political function last night and I heard a young man talking about living in a Tiny House and I was intrigued. I introduced myself and asked about it and it turns out he lives in that  house! He and his girlfriend built in and they love it. Small world! Maybe someday I can finagle a tour?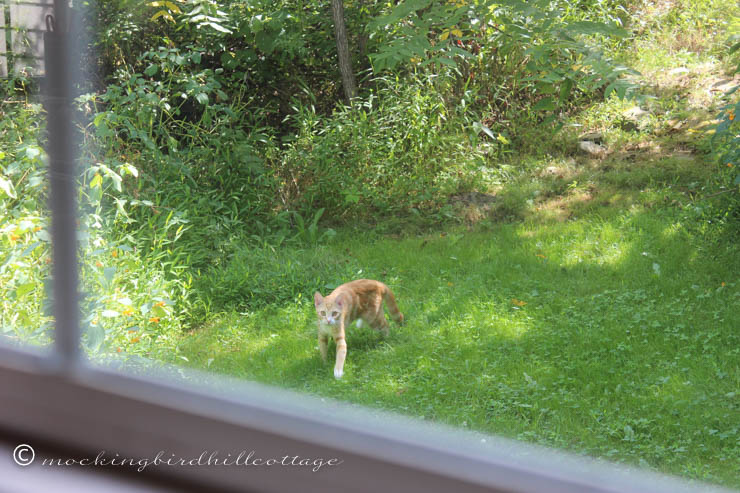 This little cat has been hanging around our property. She's skinny and beautiful and I presumed she was a stray. Don spotted her, too, and I put out a bowl of milk. Then I bought some cat food and put that out. They remained undisturbed. In the meantime, if I came to the front door and she saw me, she started meowing and walked right up the steps in my direction. Or, like in this photo, she immediately knew if I was at the window and, again, walked in my direction, making lots of noise.
So, yesterday, right after I took this photo, I grabbed some food and milk and walked around the side of the house with them. She walked right up to me and was rubbing against my leg, rubbing her body on the grass obsessively…but not at all interested in food. Something was up.
I finally made a sensible move and called my neighbor. When I uttered the words, "There's this orange tabby cat hanging around our house, have you seen her?" she immediately responded with "Yes, she's ours." Ah. A sense of relief – she was being fed and taken care of, especially since I had already been worrying about trying to feed her in the winter – where would she find shelter?
Reminder: I'm allergic to cats.
The problem? She's in heat. They've been trying to get her into the vet but it's been tricky because her 'heat' has been erratic. All I know is that she was either on our porch or sneaking into the corral or right outside the kitchen window, constantly rubbing all day long. And this morning, she's back again, announcing her presence with a very loud howl.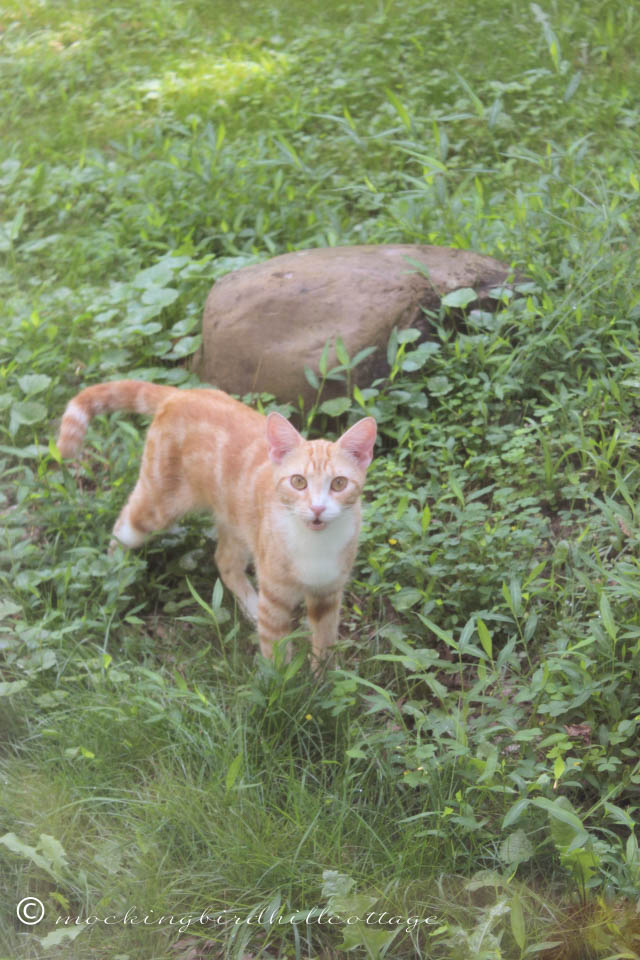 She's beautiful, but she's becoming a wee bit of a pain in the tush. Her name is Amber. As Don says, "Why can't she be in heat over on their property?" For some reason, she's picked us.
I worked on the Top Secret Project yesterday, only it's not quite Top Secret at the moment because I let Don see the basic shape of the dollhouse. But that's all he'll be allowed to see. He's excited.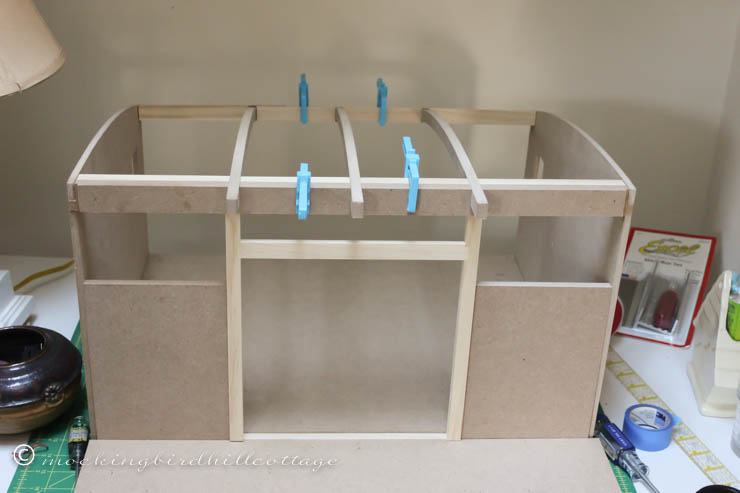 The basic structure is in place. The walls and opening in the front haven't been added yet. I was just dry fitting them to see if they would work. I'll do a bit more today or on the weekend. Don is going away for a singing gig this weekend, so I should have plenty of time to play around with this and start painting the various elements.
Thank you for your wonderful comments yesterday. I take heart that there are so many of us that feel strongly about this issue. I just wish everyone felt that way.
And to close, another bee drinking in the delights of the liatris: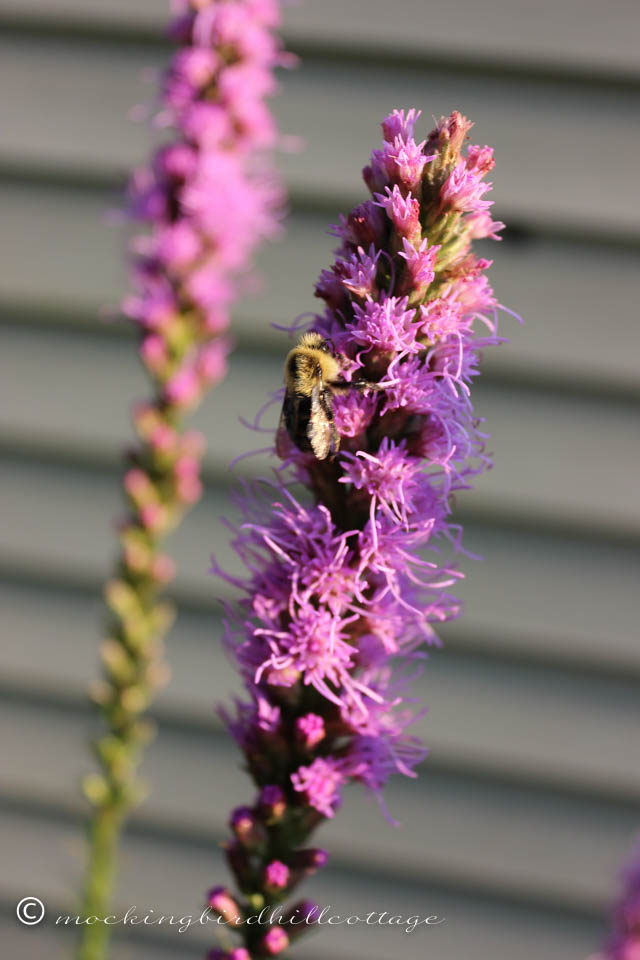 Happy Thursday.