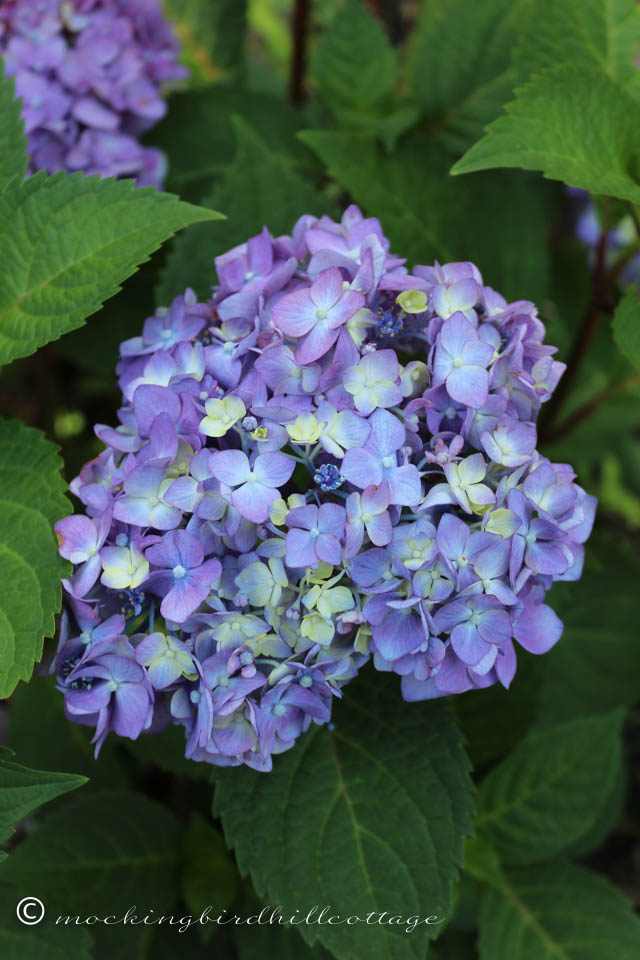 Hello, gorgeous!
I am fascinated by this hydrangea. I've been watching each blossom evolve from an off-white to tinges of pink to a deeper purple to a faded lavender. It really puts on a show.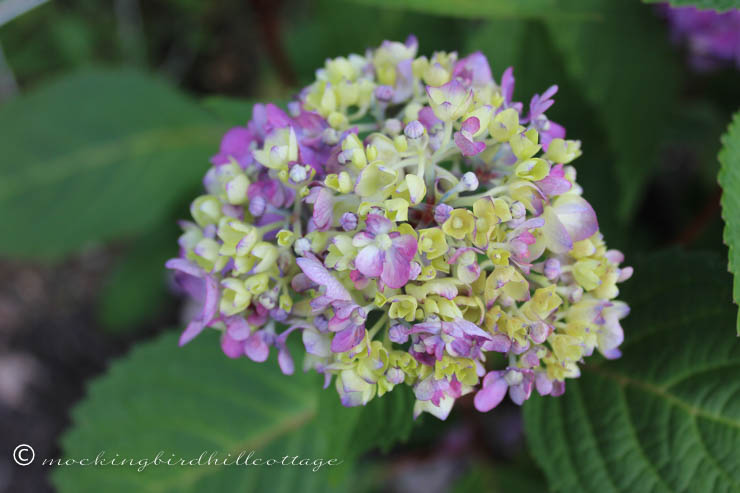 It's doing well in its current location, which was supposed to be on the outside of the dog corral but, due to winter and our worries about Scout, is now inside the mini dog corral – next to the remembrance rose. There's a little fence around both plants, basically to keep Scout out of there, and it seems to be working.
Let's pause for a moment to utter a thank you. The humidity broke overnight. We couldn't be happier. The windows are open, the front door is open, Don's making breakfast, Scout is snoozing in the living room.
I might even be able to function today.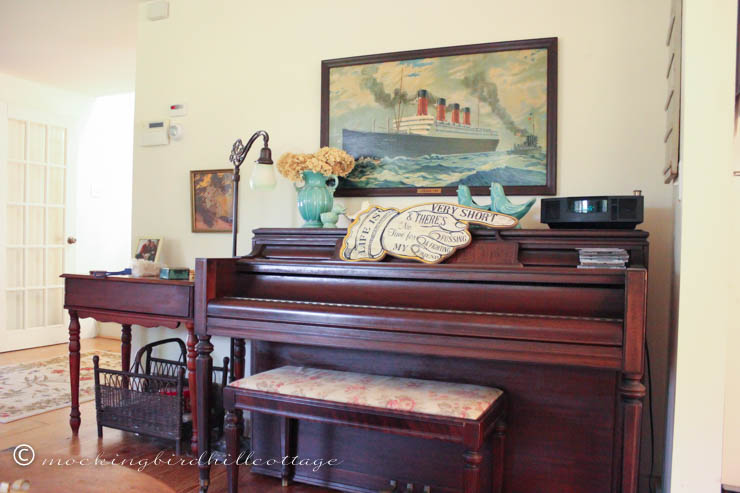 The living room wall sans dollhouse. Lest I be accused of staging a photo, look closely at the desk. Yes, that's my duster.
The Maxfield Parrish has been moved to this new position and we love it here. It's much easier to see and it's not hidden in a darkish corner like…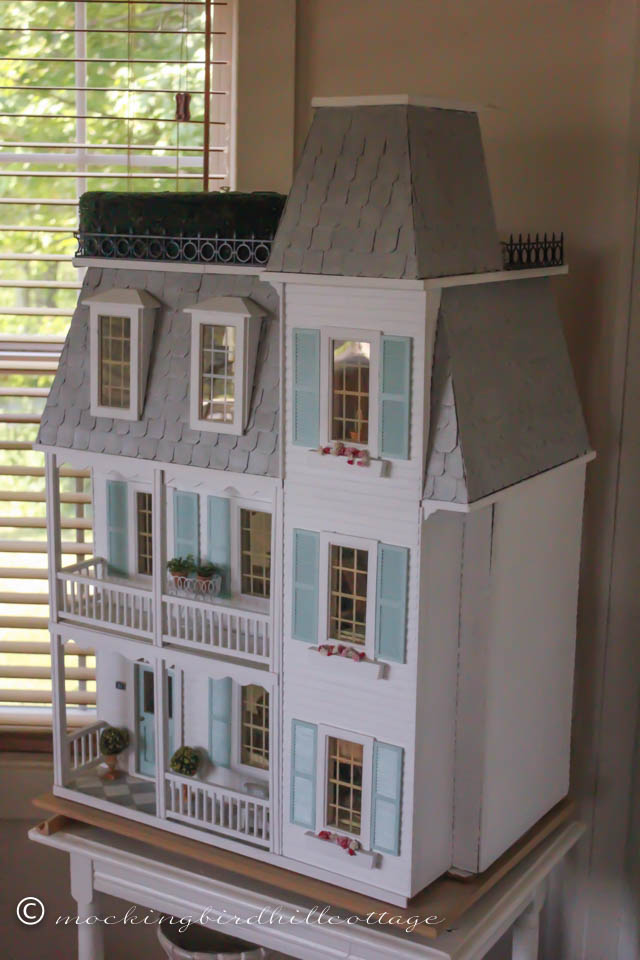 the dollhouse is. It's not all  that dark, but it's very difficult to photograph the outside with the light from the window to its left.
But I like it here in the den because I can see it from my good old blogging chair. That's a good and a bad thing. I can see it, but that also means I think about it a lot, which means I'm constantly dreaming of new accessories. Which means I have to pull the reins in on my "I want" list.
Moving the desk was a good thing but the whole situation arose out of a need to keep the dollhouse safe when Scout bumped into the dollhouse table. So we still had to move the pottery that was on the desk or it might have suffered the same potential crash-to-the-floor fate.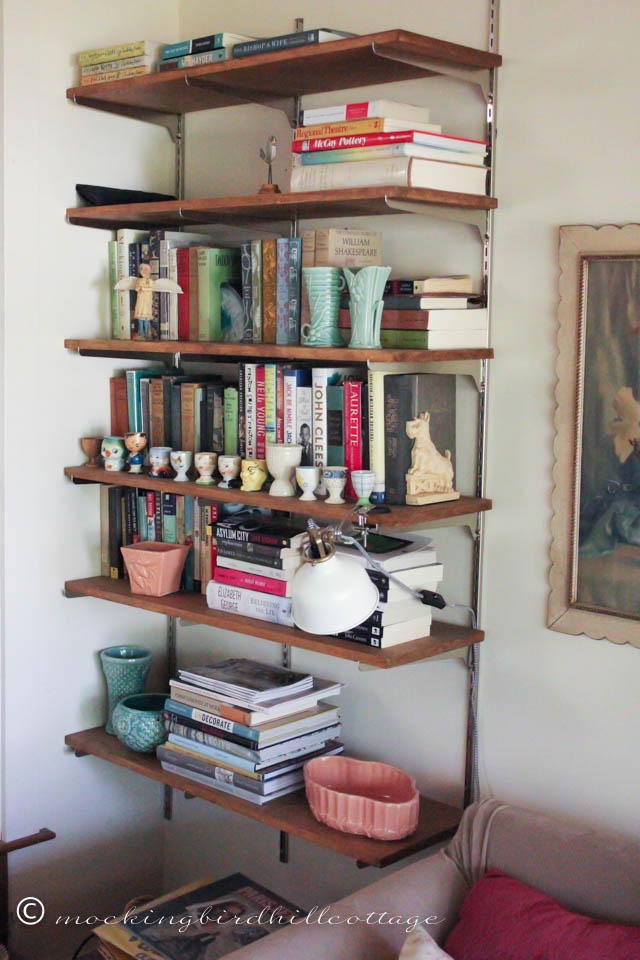 The two smaller McCoy vases are now on the bookshelves.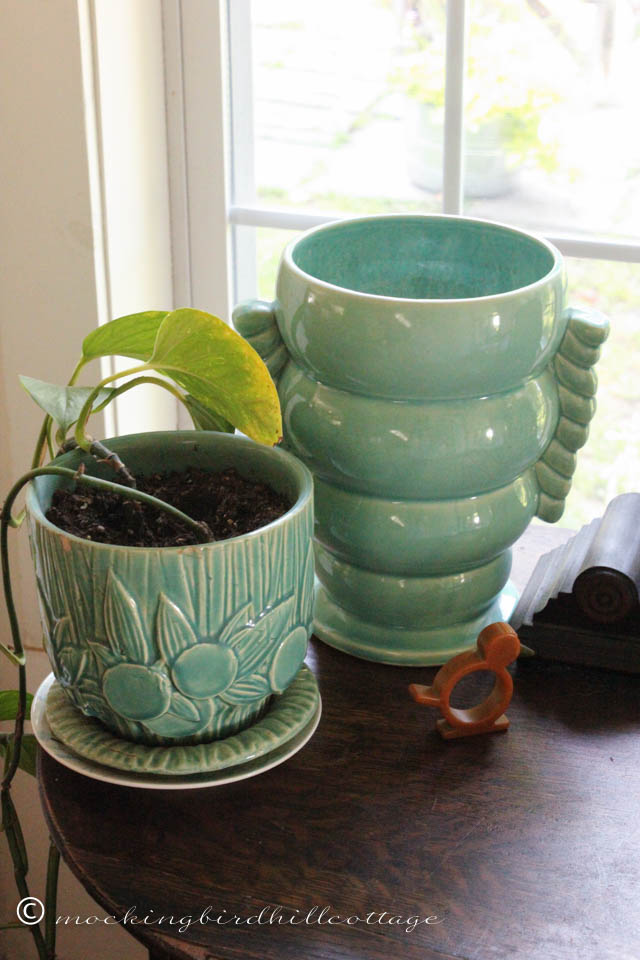 The large vase has moved to the sideboard.
I promise I am not going to become a blogger that informs you about every item I move from one place to another in the cottage. Lord, no. Just the bigger changes. Since I had written about Scout's problems and the need to relocate the dollhouse, I thought I'd share the end results with you.
Frankly, I don't move things around all that often – when it happens, it's usually out of necessity.
Although I may write a triumphant post when I finally move all the crap off the kitchen table.
Happy Wednesday.