Okay, my friends, it's tour time!
This roof garden is not completely finished. I have to add the hanging plants. I have a few other ideas swirling around in my brain. Mini flowers and pots are not cheap, so I'll add more as funds allow.
In no particular order, here are some photos (and there are quite a few, so settle in for Caroline's Roof Garden – The Tour.)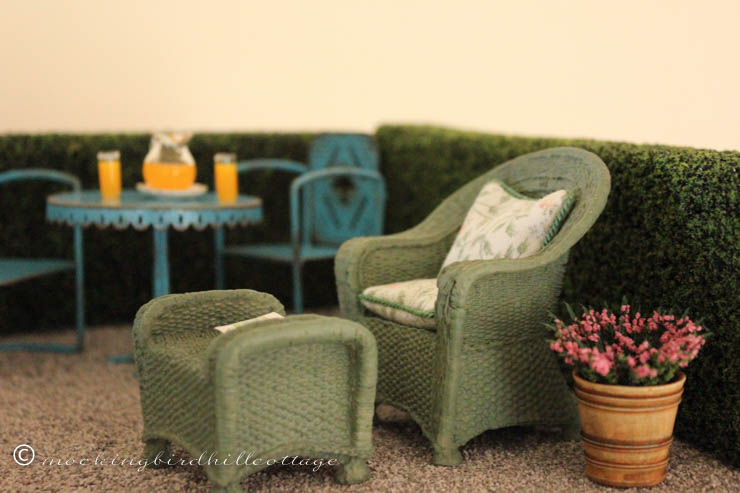 The hedges arrived in the mail yesterday. They're just what I wanted and something I see in the big city quite frequently. After all, Caroline needs some privacy.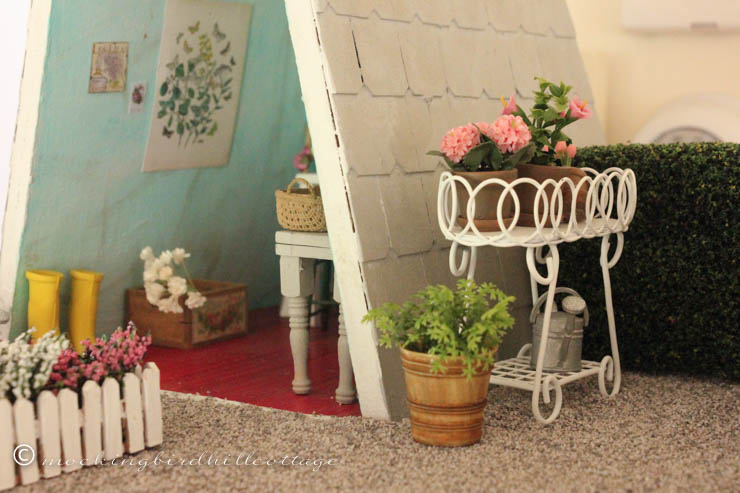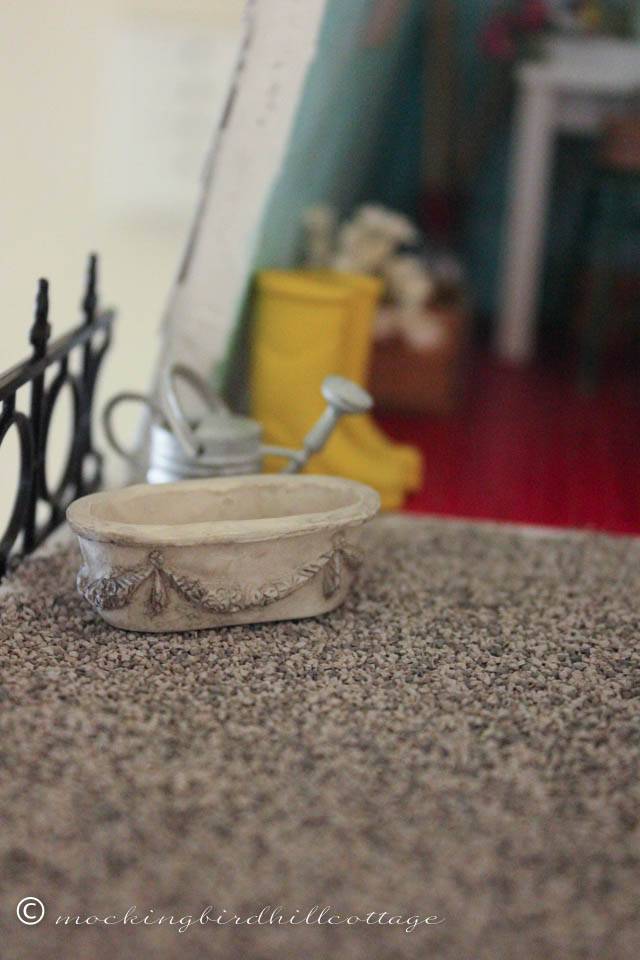 A planter at the ready. (Purchased last year at Chautauqua Miniatures.)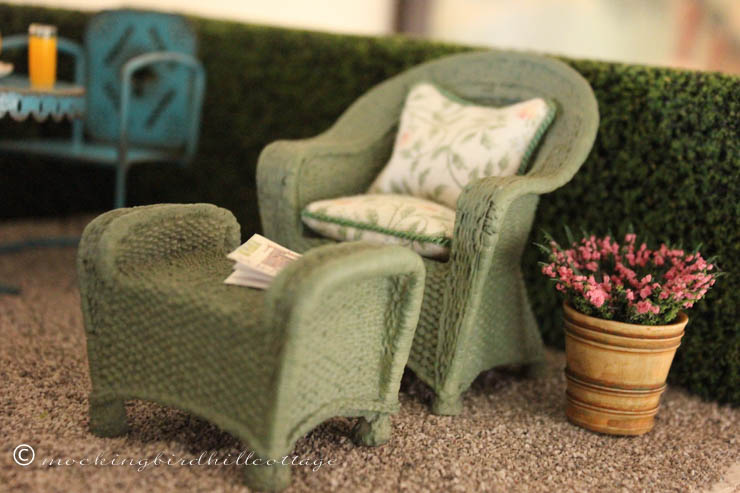 Caroline can't believe what a difference the hedges make – she remarked that she could now sunbathe in total privacy.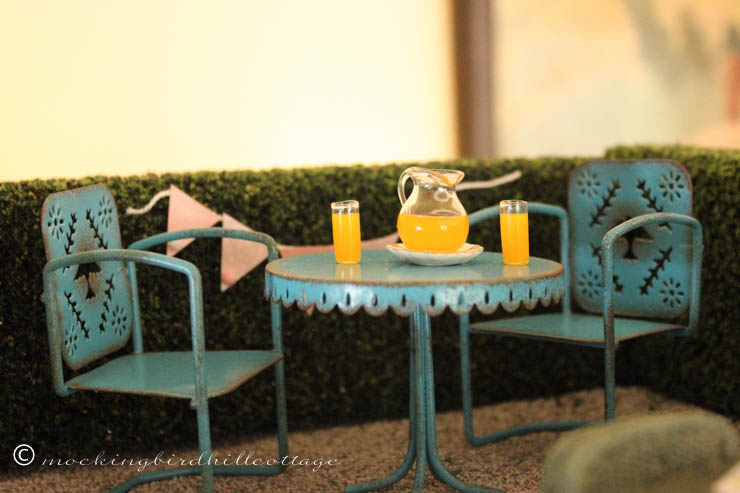 A cool drink, anyone?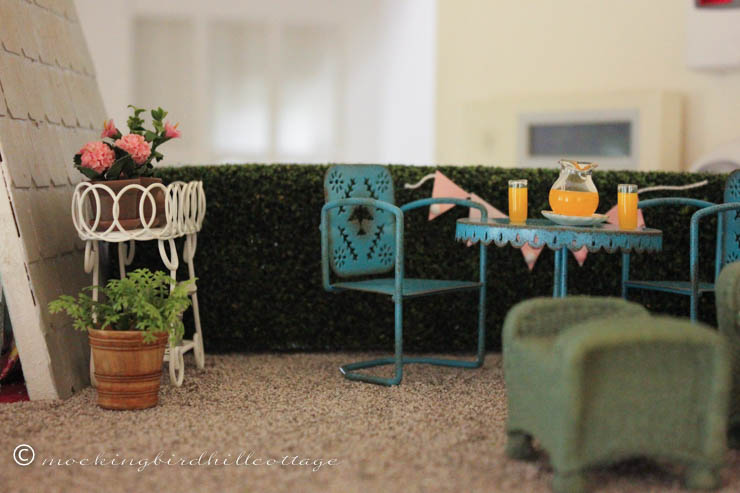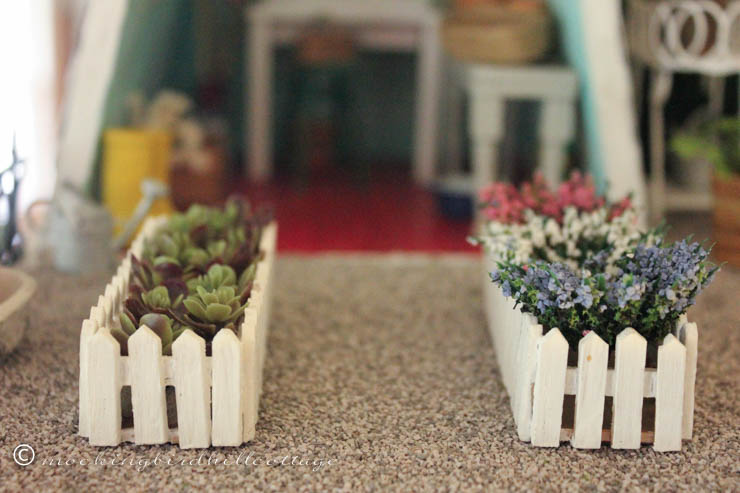 Caroline likes to grow things.
(I got the flowers from Miniatures.com, the succulents were from a faux plant that I took apart. I  found it at Michael's. The picket fence planter boxes were found at Chautauqua Miniatures. Pea gravel, which is really ballast, found at Train Sets Only.)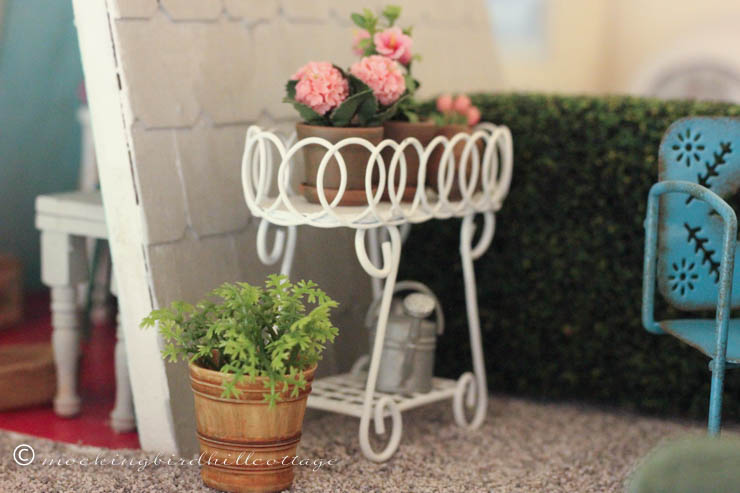 Planter and potted plants from Chautauqua Miniatures, watering can, hedges, and large French pot from Miniatures.com.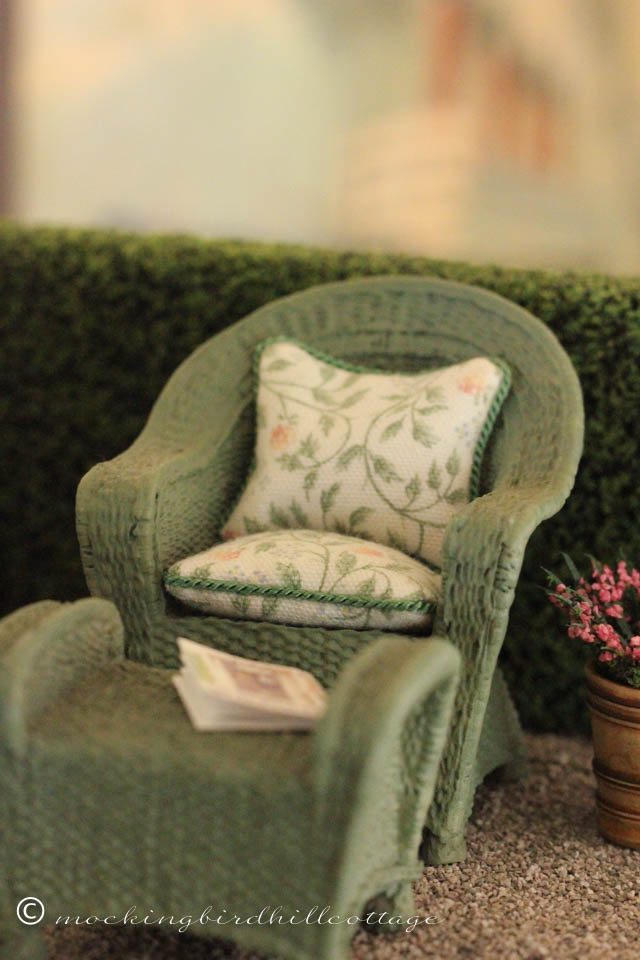 Chair and ottoman, as well as the pillows, are from Chautauqua Miniatures. The magazine, I believe, was a gift from my friend Norma.
And now, Claudia climbs on a chair for the aerial view: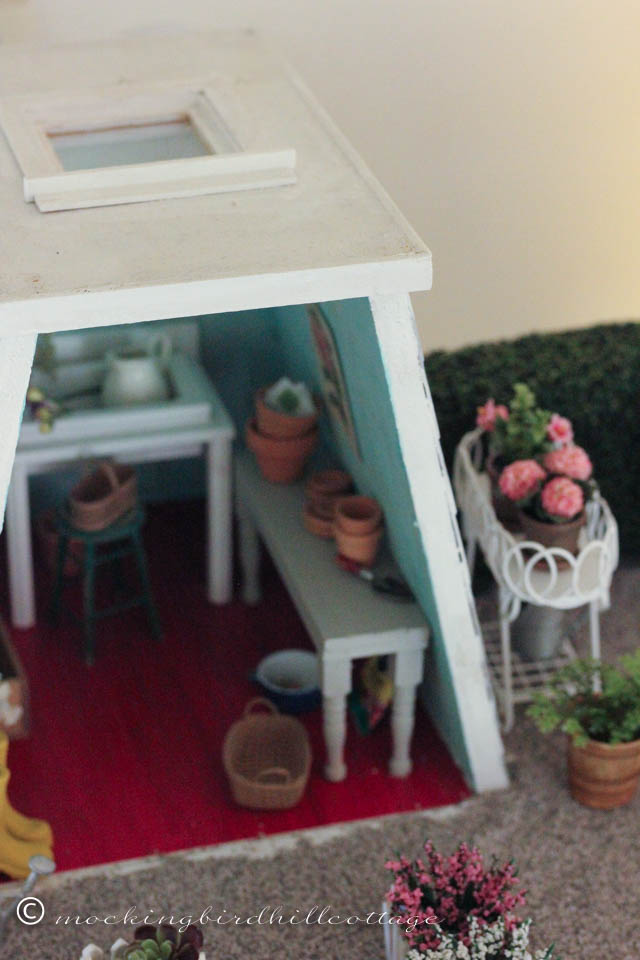 This gives you a nice look at the skylight. (All information about sources for the potting shed can be found here.)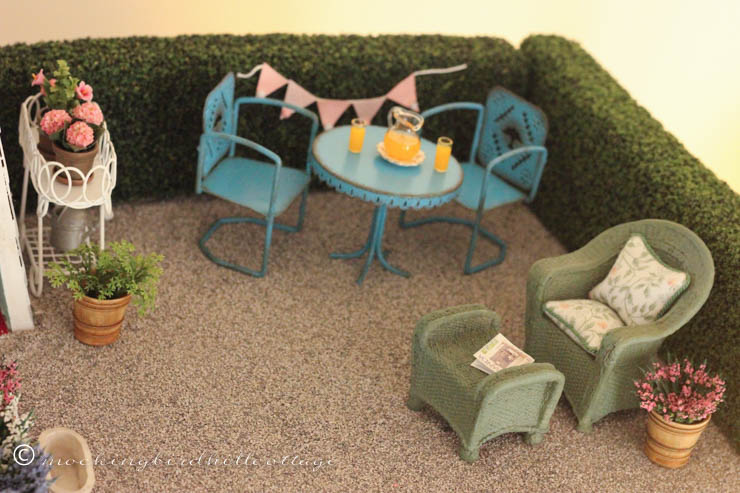 Oh my goodness. I love this little space, which provides more living space for Caroline in the spring, summer and fall.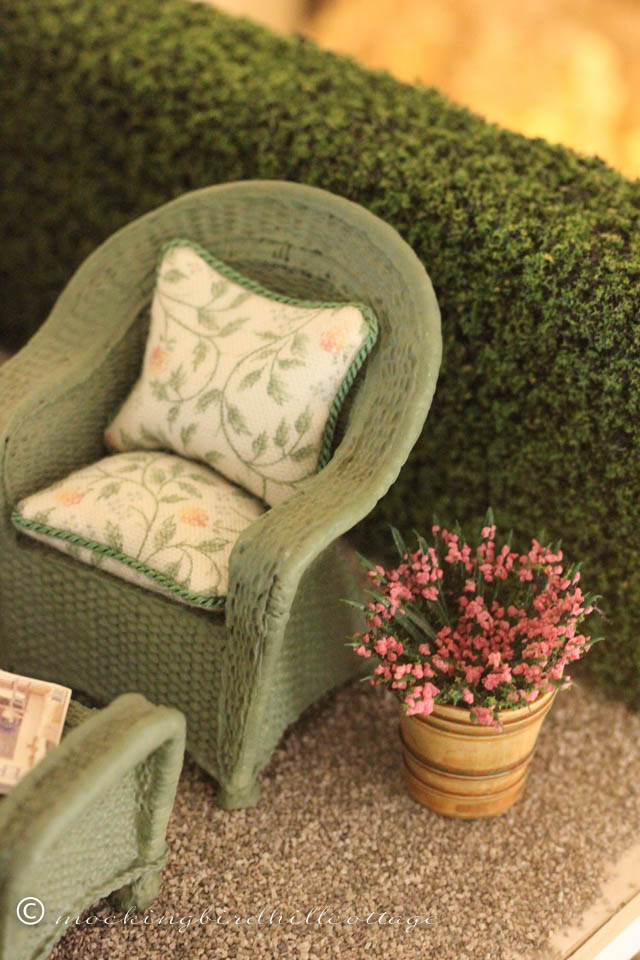 Pot and flowers from Miniatures.com – purchased separately, but don't they go nicely together?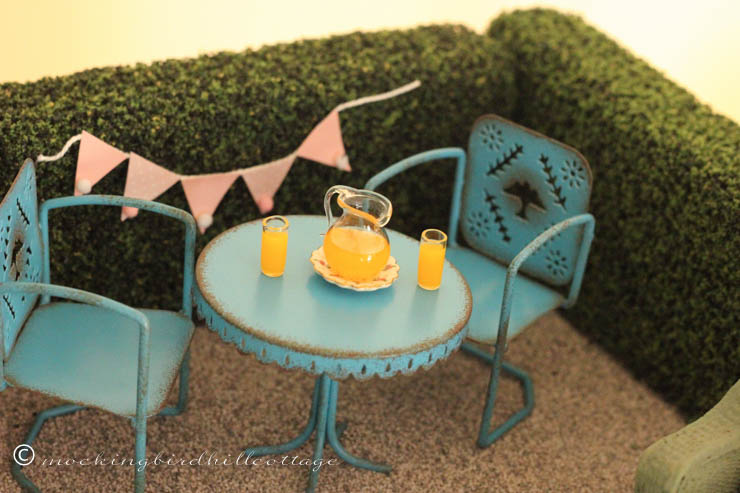 Table and chairs from Chautauqua Miniatures, pitcher and glasses were given to me by a friend (I'm having trouble remembering exactly who that was, so if it was you, let me know! I just heard from her, it was Sharon! Thank you, Sharon.) and the banner was part of a swap.
Boo really likes it up there. He can bark at the birds and listen to all the sounds of the city. (Boo came from Chautauqua Miniatures.)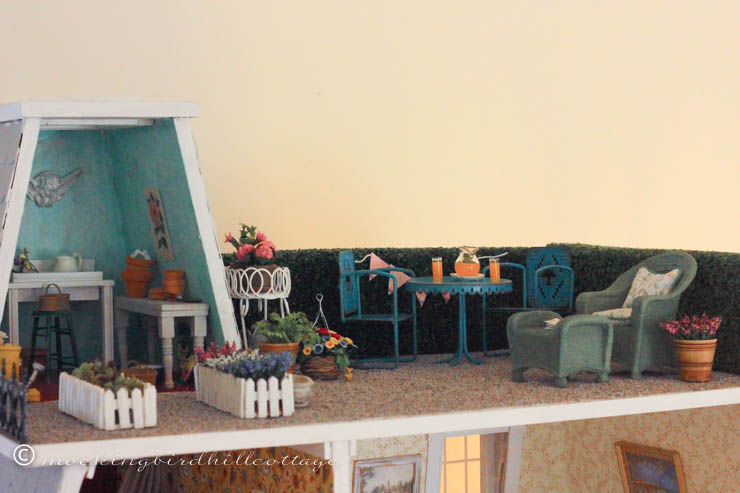 The roof top garden and potting shed.
I love the hedges, but the dark green and the black wrought iron railing sort of blend into each other.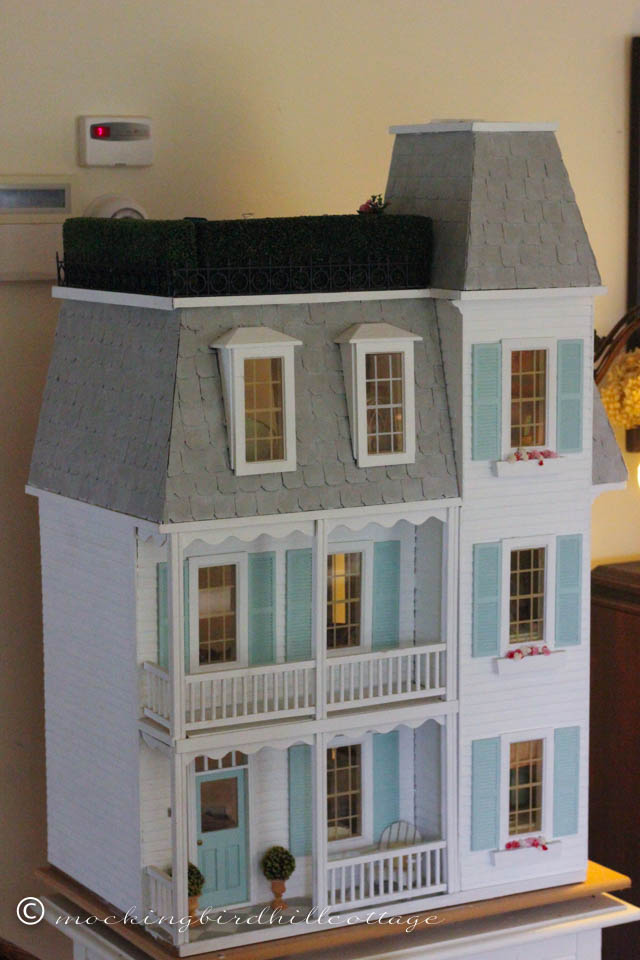 See?
I'm contemplating switching out the black wrought iron for the same item in white. I painted a piece that I had in my stash to see how it would look.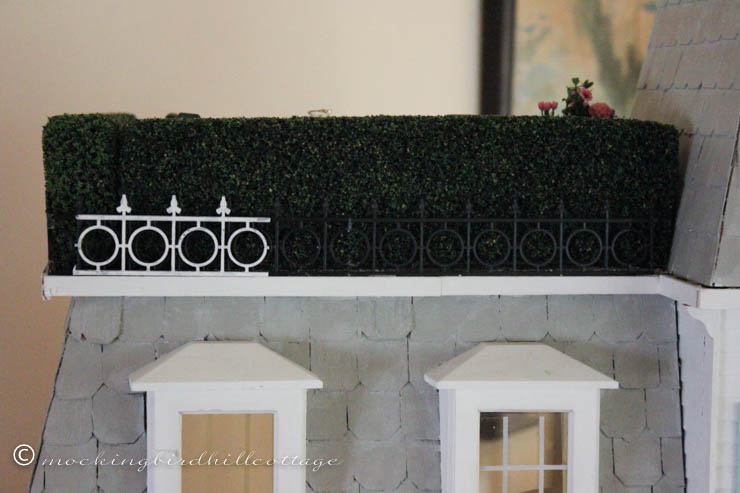 I think it provides more definition to that area. The trim and the hedge don't become one big dark blob. I can always switch it back to the black if I decide to eliminate the hedges, but I really like them so I don't see that happening anytime soon!
When Don came home late yesterday afternoon and I did a sort of Ta-dah! reveal, he said he wanted to be able to hang out there. We contemplated miniaturizing ourselves and going for it, but we soon realized that Caroline wouldn't like that. Big thumbs up from Don, and he also mentioned again how much he loves the red floor in the potting shed.
I'm thinking I need a climbing plant of some sort on the side of the potting shed. Maybe another raised bed. And more plants. But for now…I think we've got a pretty nifty roof garden.
Hope you enjoyed the tour!
I'd love to open things up again for general dollhouse questions. I started a little series about that and haven't written an additional post as of yet. So if you have questions, leave them in the comments section, or if you'd rather, email them to me.
Sources:
Chautauqua Miniatures
Miniatures.com
Train Sets Only
Happy Thursday.