Some weeding happened yesterday. Actually, a lot of weeding happened yesterday.
By the time mid-afternoon rolled around, my back was complaining loudly, so I headed back indoors with two packages that came in the mail. One was big (more on that later) and one was on the small side. Both had to do with miniatures.
Am I intriguing you?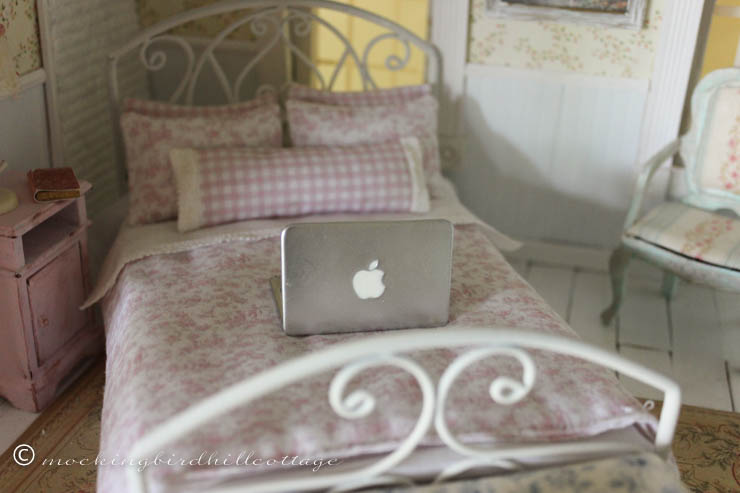 Apparently, Caroline upgraded her laptop. This looks like a 15 inch MacBook Pro.
I have a 13 inch. Seems unfair.
Actually, if you remember, I made a laptop for the studio/office and it was okay for a while. But the scale was off and I knew it and I resolved to replace it eventually.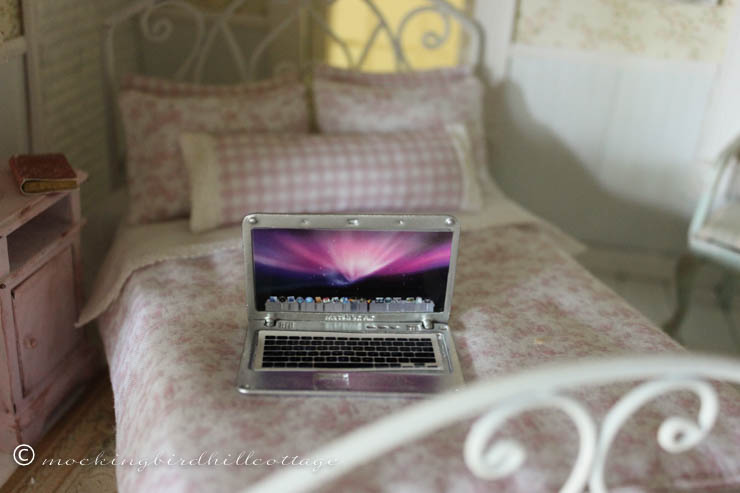 I need to fix that keyboard decal. It's not quite flat. Later today.
Also, the white wrought iron fencing arrived.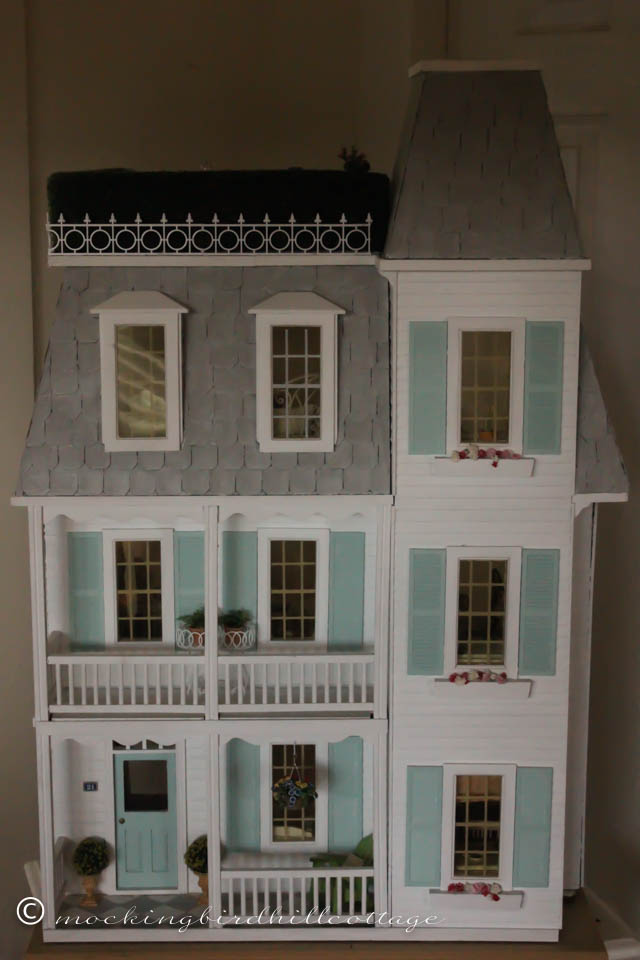 I carefully removed the black wrought iron and added the white. I like it. But then I sat here and looked at the edge on the right – next to the tower – and realized I was going to have to add another piece or it would drive me nuts.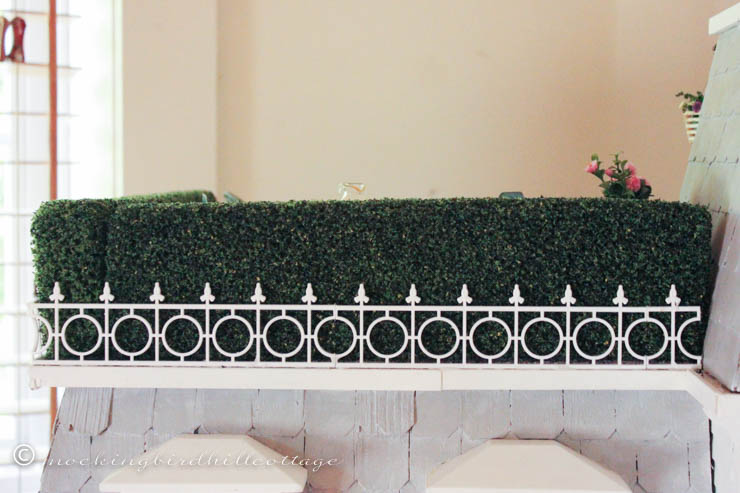 That little piece closes the gap between the fence and the tower. Much better. Now I can relax.
Some more views: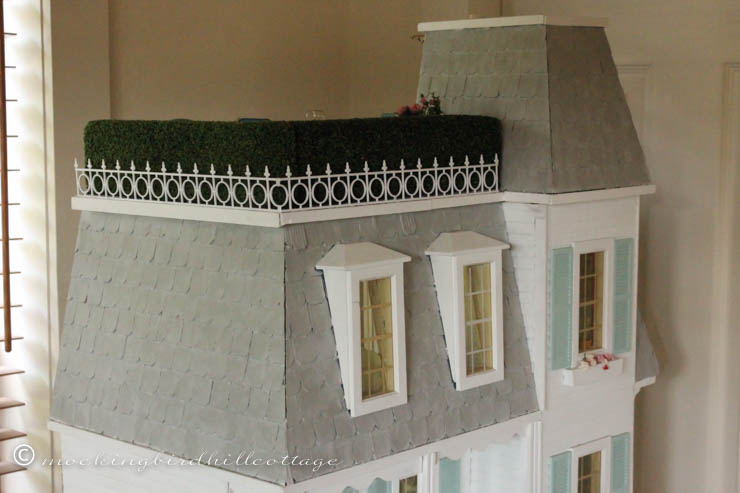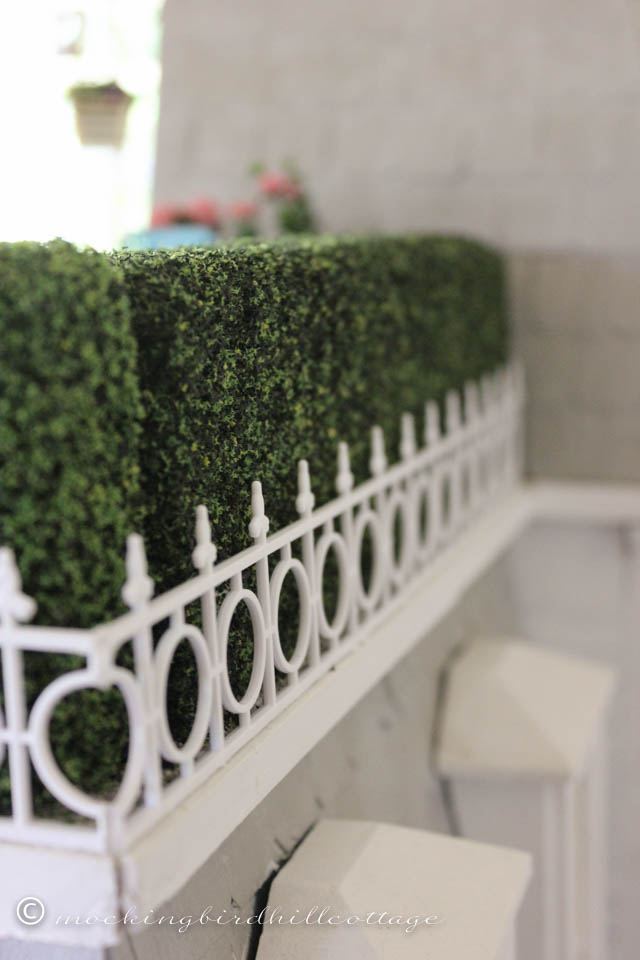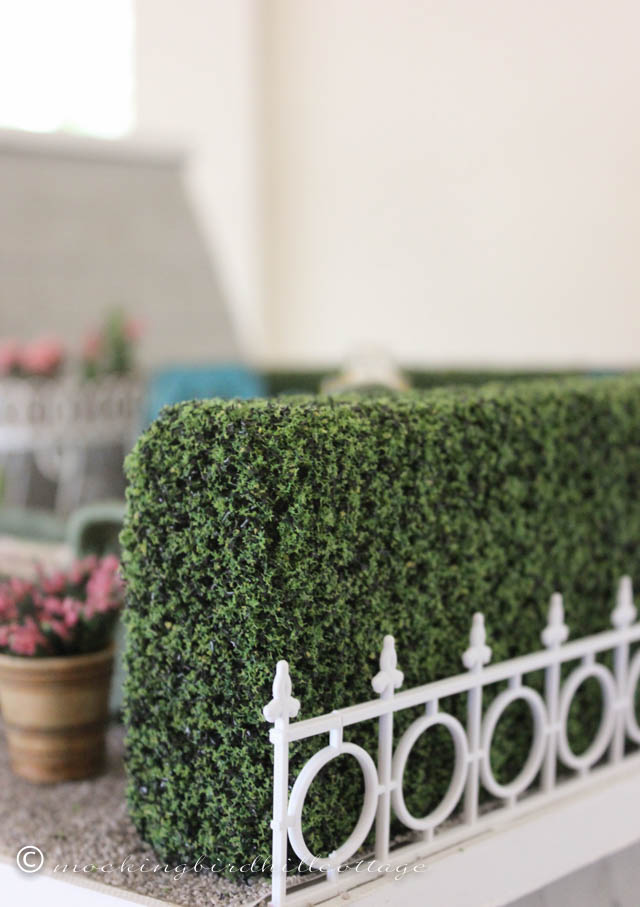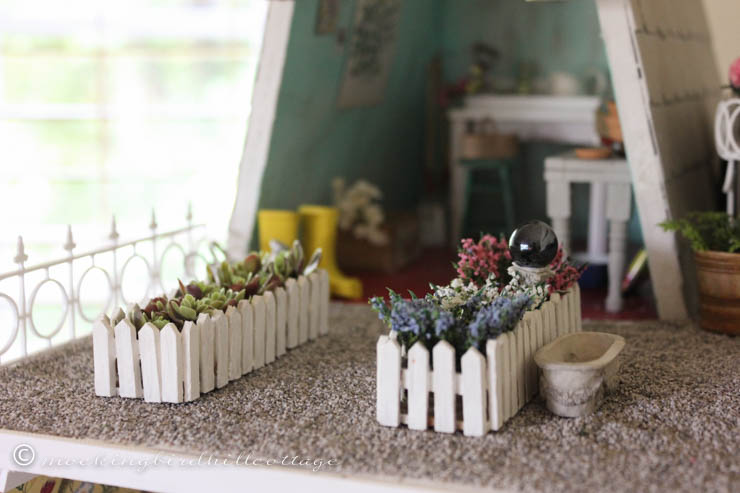 It looks crisp and clean. I loved the black wrought iron and miss it, but it clearly didn't work once I added the hedges. (I saved it, in case I want to use it again.)
And some plants were hung. I ordered two brass plant hangers from miniatures.com (all of these new additions are from that site.)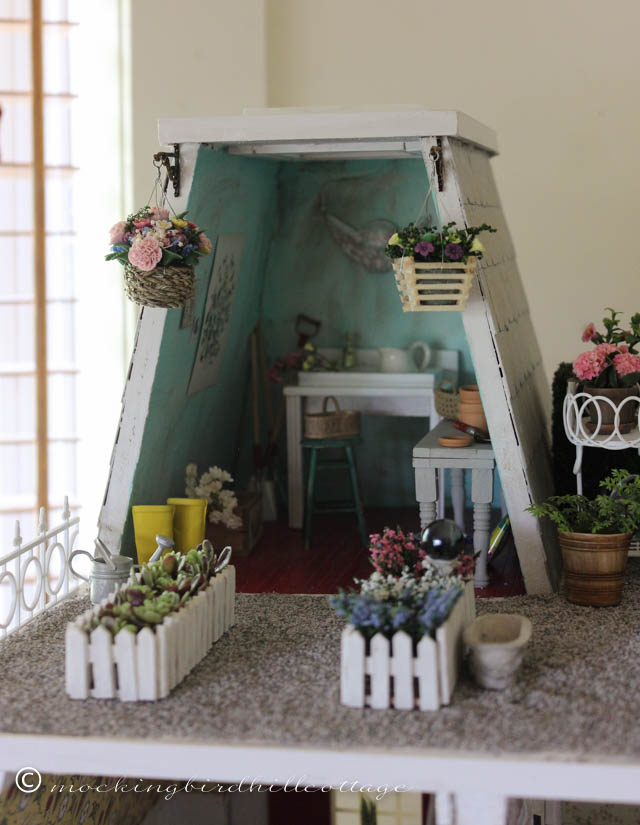 A closer look at the plant hanger: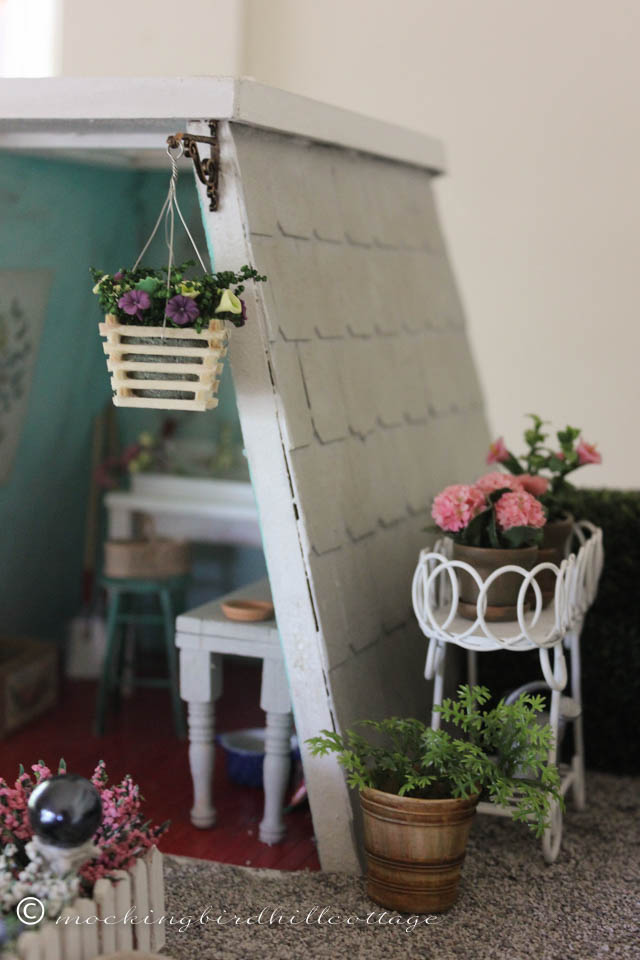 You're looking good, rooftop garden!
I wonder what the view is like from the neighbor's roof?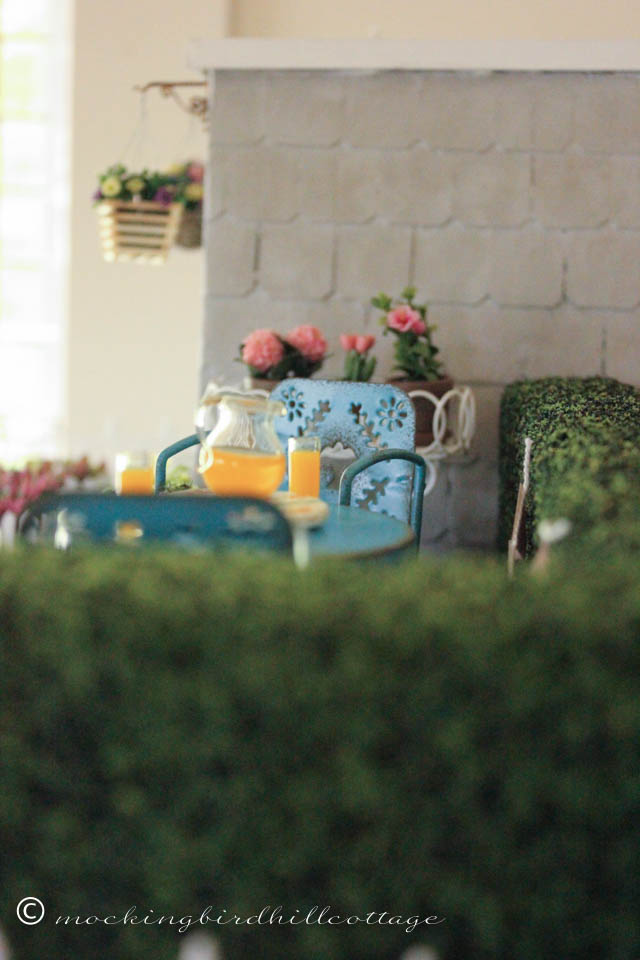 A tantalizing peek into Caroline's rooftop life.
Just like in Rear Window, one of my favorite movies.
The other package was much bigger and heavier.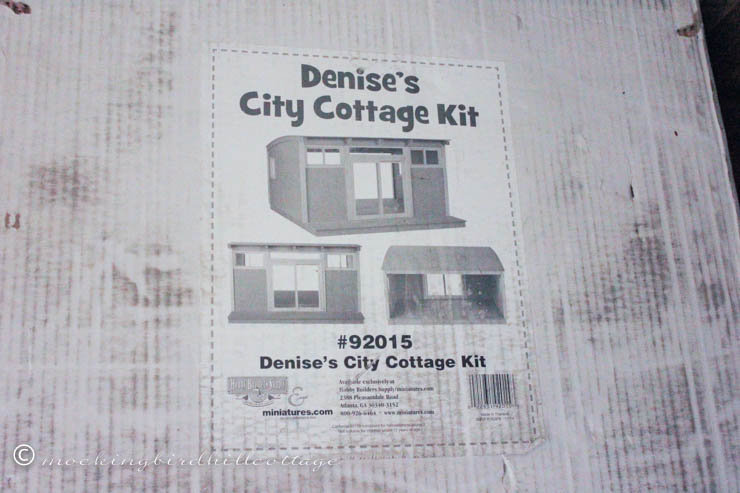 This is the kit for the HBS (Hobby Builder's Supply/Miniatures.com) Creatin' Contest 2015. I'm not really interested in entering the contest, especially since I purchased this late in the game. But I was intrigued by the design and kept going back to the site to look at it.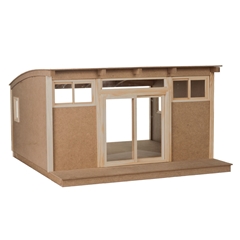 Source: Miniatures.com
Isn't this cool? It reminds me of a Tiny House or a backyard studio. It's relatively small, which means that this would be a good first build for me. Originally, I was contemplating making it a Tiny House, but then one day I remembered that Don has said, more than a few times, that he'd like his own little miniature house – from a guy's point of view. Hmmm.
So, I'm going to build and design a space that we can't afford to build in real life, but so wish we could. This will be Don's retreat and it will include everything he'd like: a small recording studio, a place for all his guitars, a sofa and chair, music stands, records, turntable, posters on the wall. Maybe a mini refrigerator?
But it will be tasteful. Because I'm decorating it. It will also be fun.
I'm so excited! My goal is to finish it in time for Christmas.
He's knows I have a top secret project, simply because I had to alert him. I'm going to have to cover it up when I'm not working and will be constantly saying things like "Don't look!" if he walks by when I am  working. There are very few places to hide away in Mockingbird Hill Cottage. I'm thinking I'm going to take the sewing machine out of the sewing table (in my crafty studio area) and use the table as my construction site. I haven't sewn in quite a while, have no desire to do so, and I'm far more interested and passionate about miniatures/dollhouses right now.
First, I have to put it together. Then I have to figure out how I want to finish the outside. I have some ideas percolating.
I'm very excited about this new challenge!
Happy Thursday.