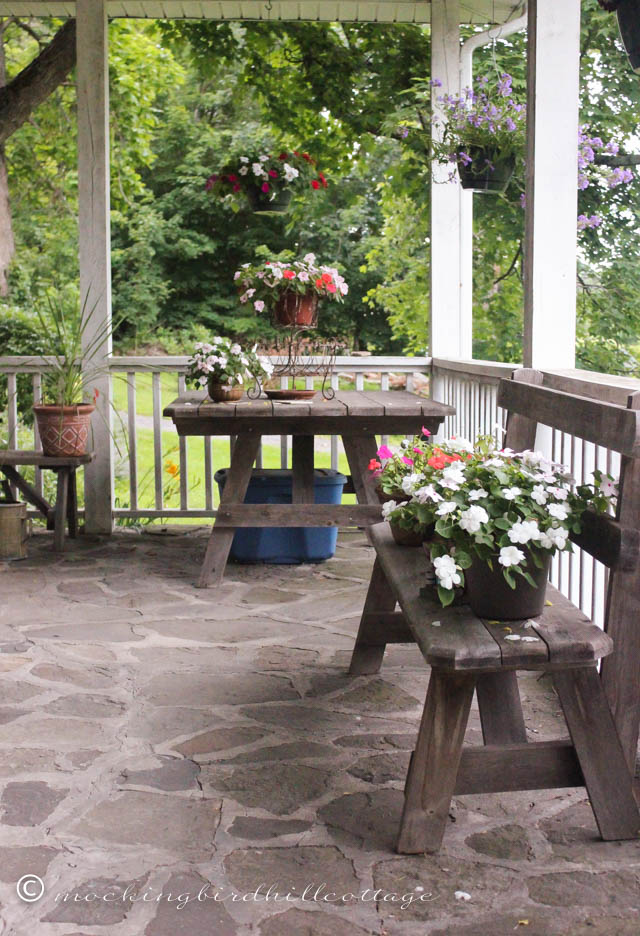 My view as I sat on the glider yesterday morning, chatting with my husband. Oh boy, was it humid out there! The healthy, lush look of the impatiens and the scaevola are a testament to Don's diligent attention to watering while I was away. I gave him a schedule and he kept to it. In fact, he asked me if he could continue watering the plants because he likes it.
Umm….an emphatic yes!
He also swept up debris and hosed down the bluestone floor of the porch late in the day yesterday.
What a guy.
The container plants on the patio are doing just fine. They need a little watering here and there, but basically, they thrive without much attention.
The yarrow that self-seeded in the main garden bed a couple of years ago, was so top heavy that it had drooped down to the ground. So I got another one of the trellises from Lowe's and tucked the yarrow into the openings. Much better. Love the height and graphic look it gives to the garden.
And the trellis is inexpensive and a good investment. I'll use it again and again.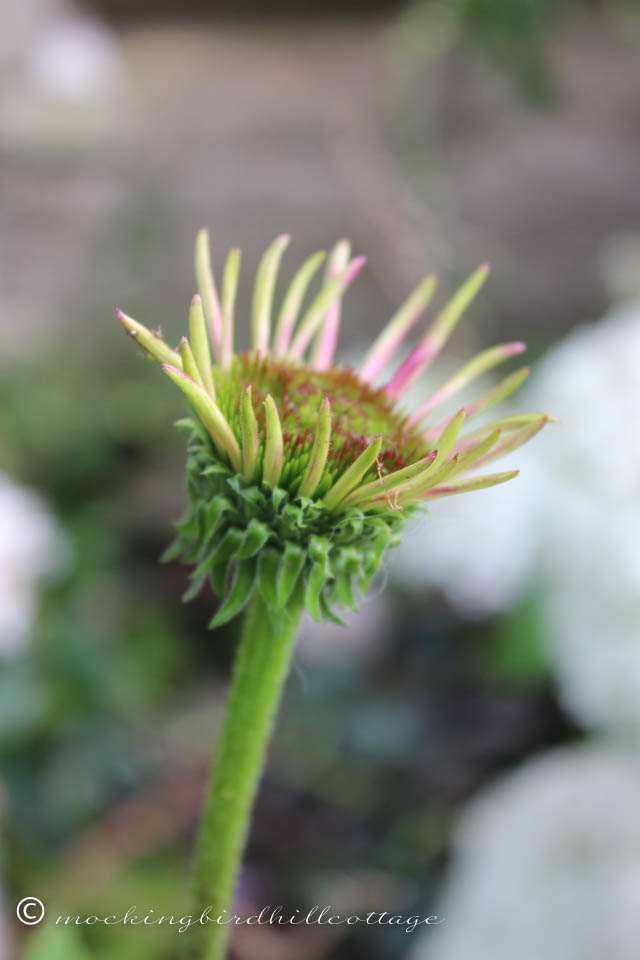 Coneflowers are about to open. I have them everywhere in the garden beds; easy maintenance, self-seeding, long-lasting. Last year (I guess I was bored that day) I counted the number of coneflowers and the final count was over 200. I imagine there will be even more this year.
I've done a little tweaking on the dollhouse.
Don once mentioned that I didn't have enough artwork hanging on the walls of the bedroom. He's got an eye, that one. I filed that observation away and recently took steps to remedy the situation.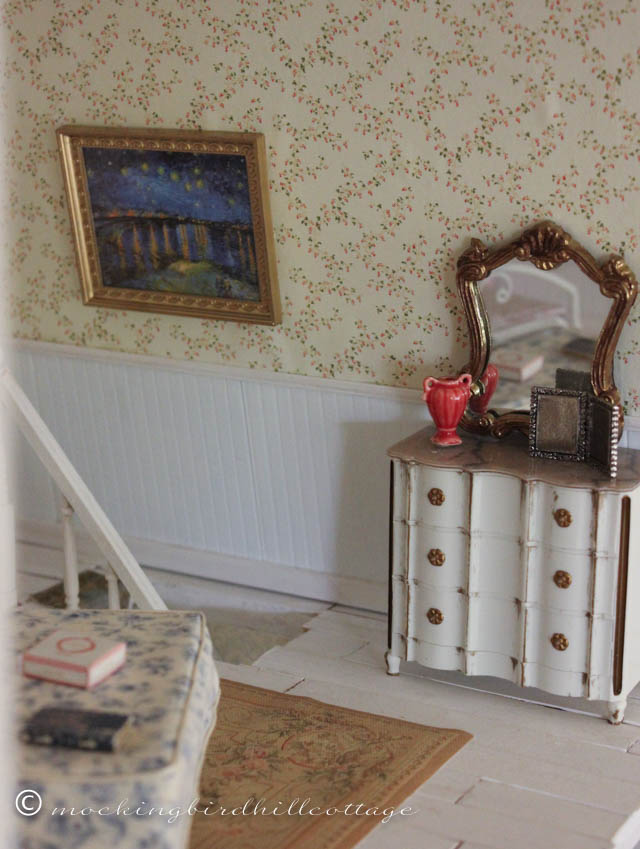 I bought this framed Van Gogh print, "Starry Night #2 – Rhone River." Caroline and I both love Van Gogh and the gold frame nicely echoes the metallic frame on the mirror. You'll also see the silver double frame I bought in Chautauqua in its new home on the dresser.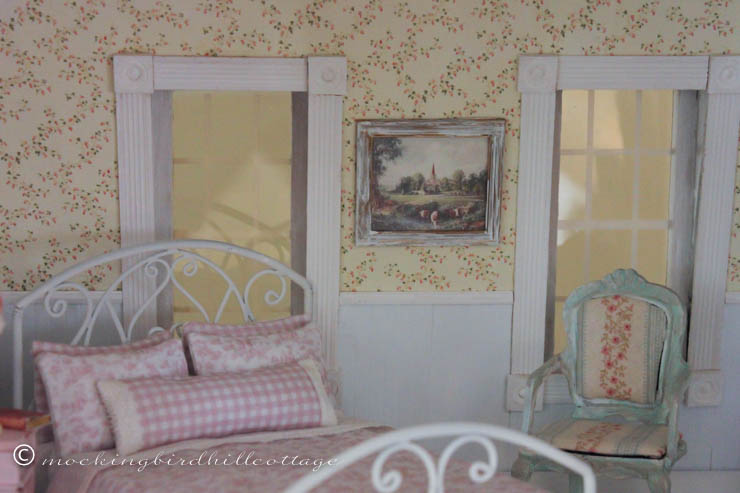 I moved the smaller painting that had been on that wall over to its new position between the windows.
And I added one more new print: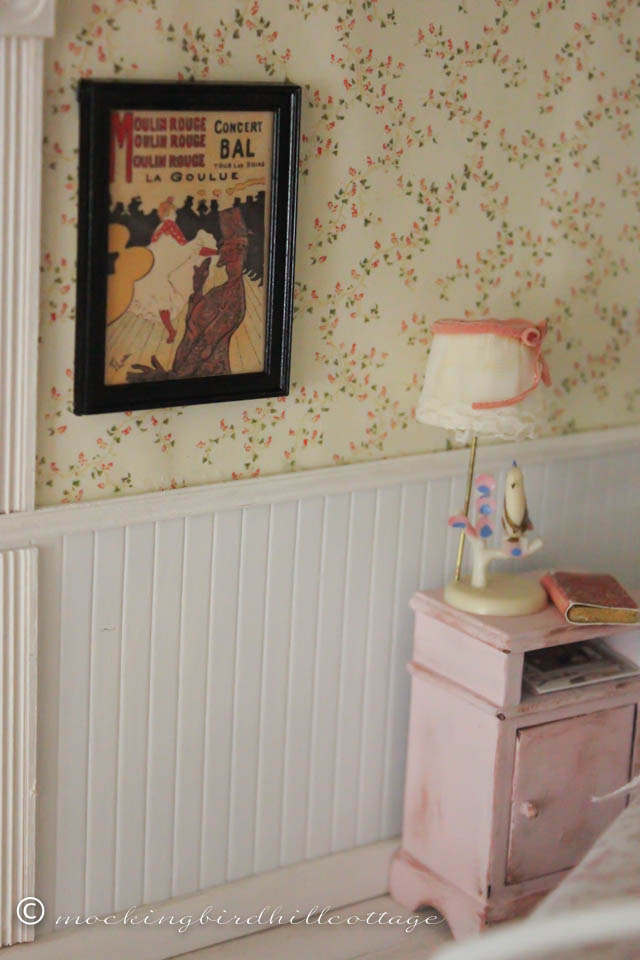 "Moulin Rouge" by Toulouse Lautrec.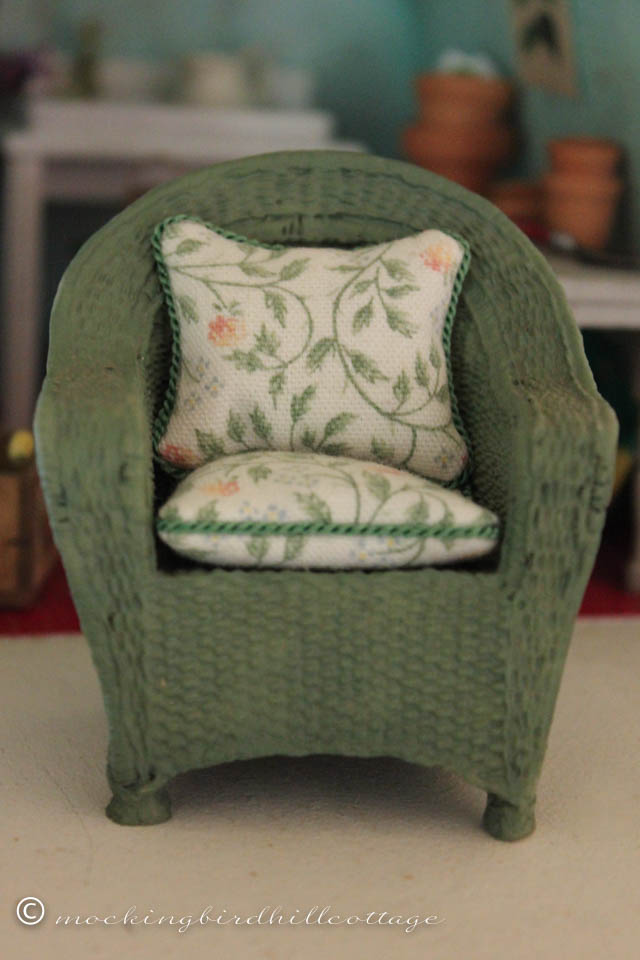 The cushions have been added to the wicker chair.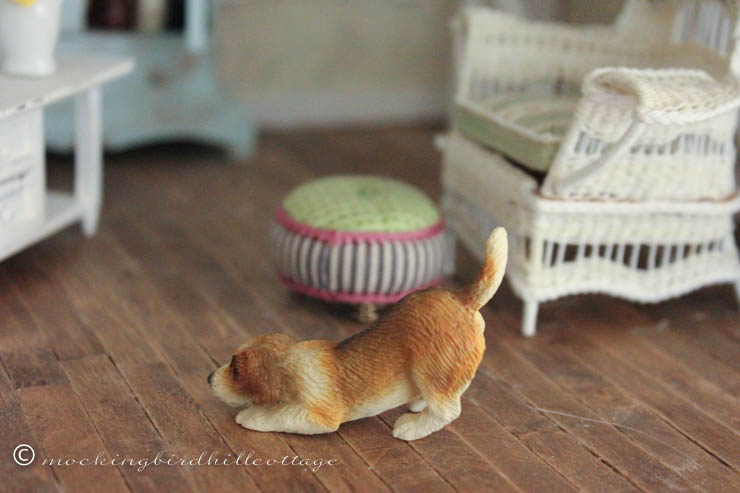 And someone is exploring his new home. Meet Boo. That was the name I had already picked out and then one of you – was it Nancy? – suggested that very same name in the comment section.
Ironically, I believe that's one of Scout's dog hairs to the right. (She's already staked her claim on the dollhouse.)
Don got up before me (a very rare occurrence) and Scout is out on the porch with him. I miss that little scamp. We'll have to make up for it with some tunnel time later in the day.
Happy Thursday.