Yesterday was moving day.
Scout, as you know, has arthritis and her hind legs aren't nearly as strong as they used to be. Much like Riley, she isn't always steady on her feet, especially when making turns. We spend a lot of time helping her maneuver and picking her up after she's stumbled. Lately, we've been watching her round the corner where the dollhouse is situated in the living room. She often stops and loses her balance, causing her to bump up against the table.
We'd been talking about switching the dollhouse out with the desk in the den. When Don saw the dollhouse swaying yesterday after one of Scout's encounters with the table, he remarked that it was time. I agreed, as the vision that came to my mind of the dollhouse crashing to the floor wasn't a pretty one – for either the dollhouse or Scout.
So now I get to look at it from my blogging chair. Not bad. Not bad at all. (I'll show you a photo tomorrow – it's rather dark in here in the morning. The den gets the afternoon sun.)
In the meantime, I did a little mini work yesterday.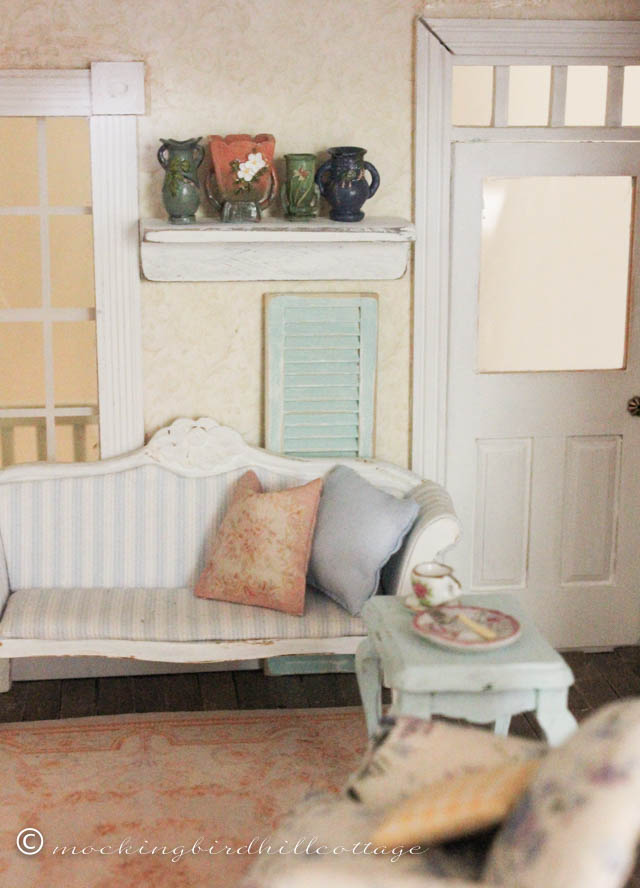 I made a little shelf out of some trim I had in my stash and now the mini Roseville pottery has a home.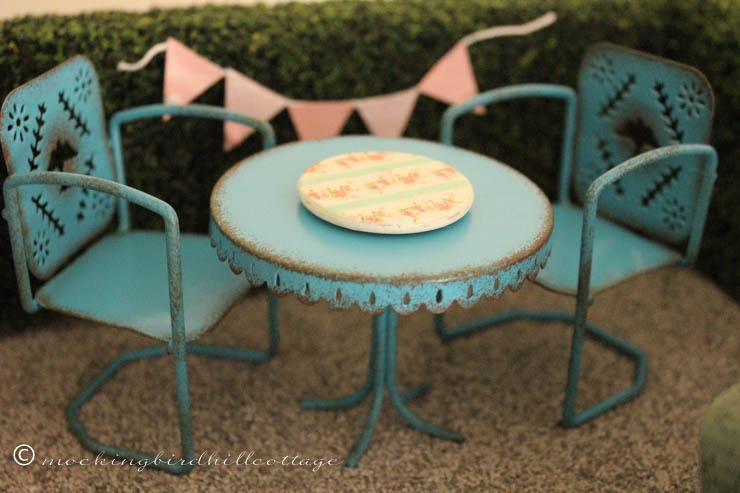 I repurposed a table top that had detached itself from its legs (a gift from my friend, Jill) and now it's a lazy susan.
And a little package arrived from Chautauqua Miniatures.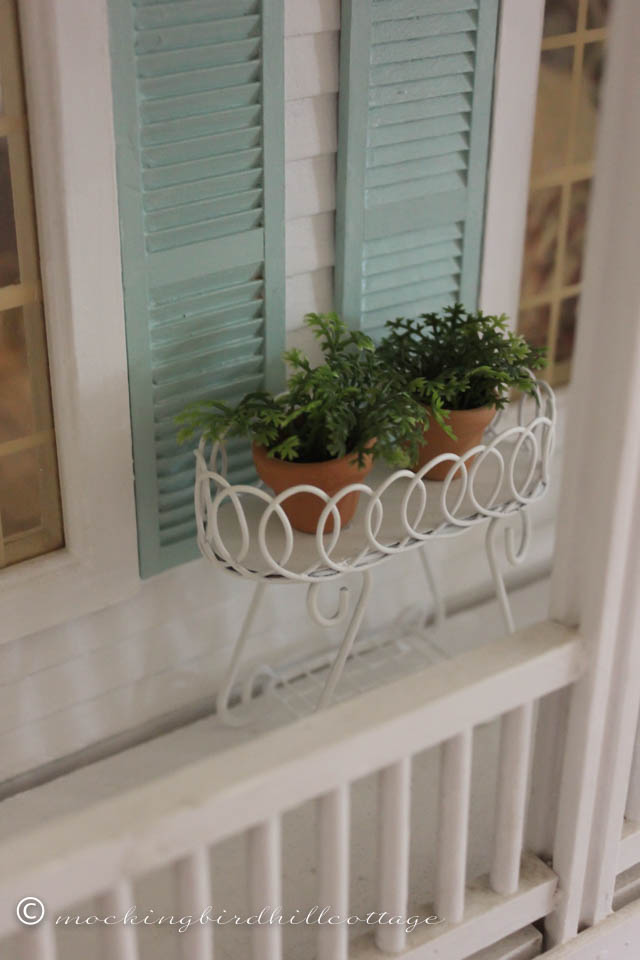 I had planned on buying another one of these white wrought iron planters on my last visit to the shop but forgot all about it, so I ordered it online. Here it is on the upper balcony.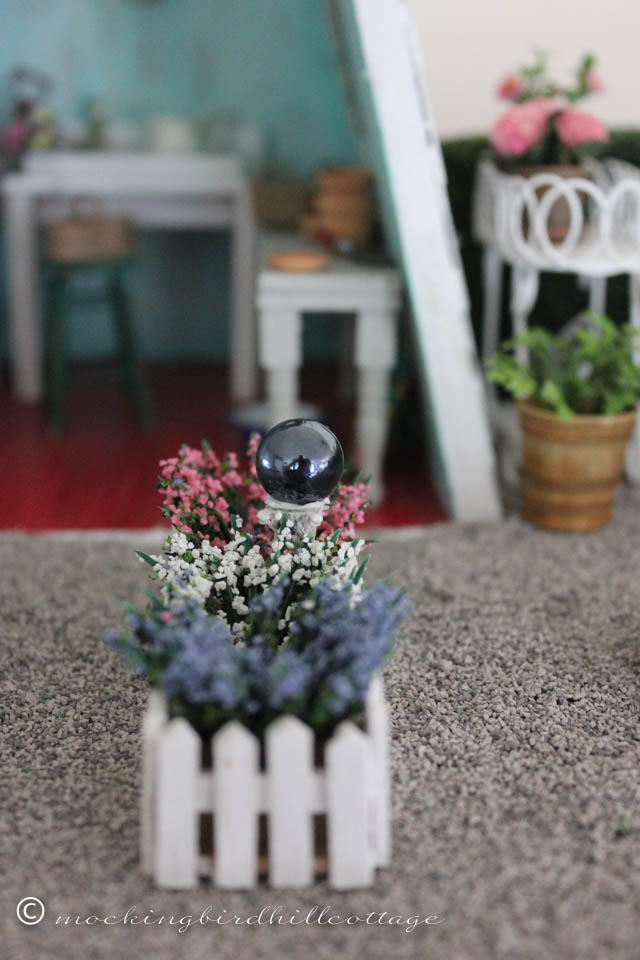 Also from Chautauqua Minis: a gazing ball. It's really tiny, so I stuck it in this planter. And I purchased another hanging plant, but you'll see that when I get around to hanging it, along with the two I already had on hand.
Look what they included in the box: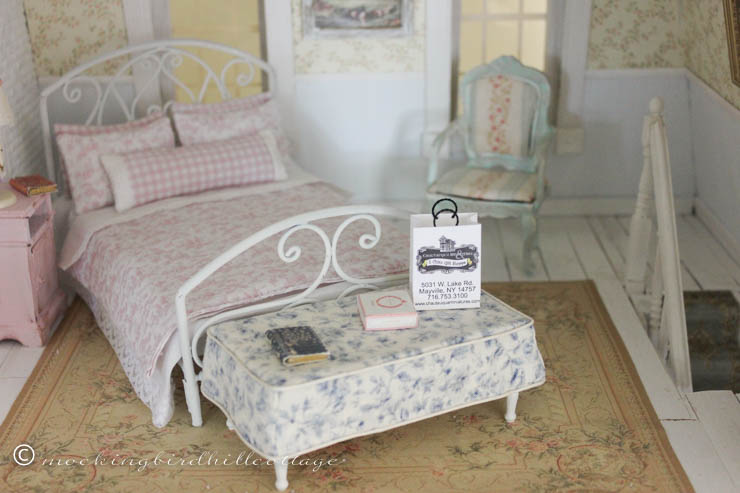 A mini Chautauqua Miniatures bag. Adorable! Hmmm. Now, I'm thinking Caroline needs a dollhouse, if only to validate the presence of that bag in her bedroom.
If you haven't figured out yet that Caroline is my alter ego, I would be very surprised indeed.
A quick note of thanks. I wrote in the American Miniatures article about blogging and how my explorations online led to my interest in getting my own dollhouse. But something else occurs to me. As I've renovated and decorated the dollhouse over these past six years, I've shared with you, my readers and friends, photos of the process. The blog has become a timeline of sorts, chronicling every new addition, every new skill learned.
What would I have done without all of you watching and cheering me on? I don't have a dollhouse/miniature shop nearby. I don't belong to a miniatures club. Let's face it, not everyone is into this sort of thing. But I've had something precious and dear – all of you. You've kept me honest. You've kept me on track. When I didn't post something about the dollhouse for a month or two, you asked about it and I got moving once again.
Thank you so much! It would have been fun to work on the dollhouse no matter what, but it is so much more enjoyable and rewarding sharing it with you. You make the difference.
By the way, several readers have mentioned Pocket Mags as a site where you can view a copy of this month's American Miniatures. It can be hard to find copies of it in bookstores as I don't think they carry it. Here's the link to their site. You can buy a single issue for $5.99.
The winner of a copy of Bum Rap is Annie G. I've sent you an email, Annie. Congratulations!
Happy Sunday.