•  We finally got around to celebrating Don's birthday – a month after the fact. To be fair, I kept asking him when he wanted to celebrate and finally took matters into my own hands.
Where did we go?
Cracker Barrel. We rarely go there and we both love eating breakfast out and, let's face it, Cracker Barrel has those darned delicious biscuits and grits and eggs and cheesy hash browns. Oh, lordy, we ate too much, but boy, was it good! Don opened his presents and a good time was had by all.
Scout had better things to do. She was home sleeping.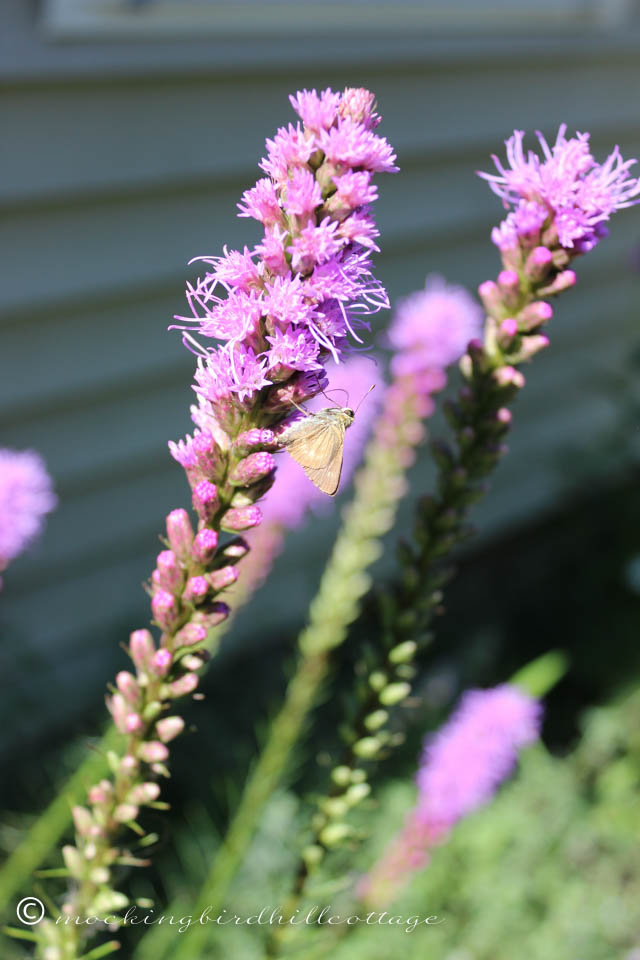 •  We're headed into a 10 day stretch in which 7 of those days will have temperatures above 90 degrees. Ask me how excited about that I am. Go ahead. Ask me.
Aw, don't bother. You already know the answer.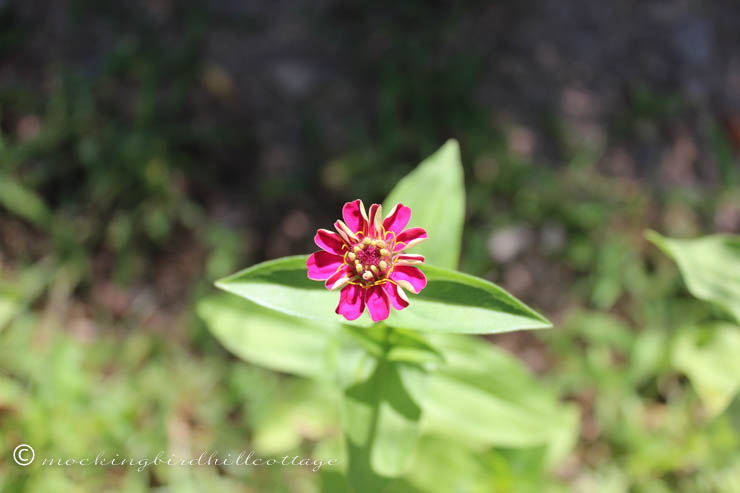 •  The zinnias are blooming, but I clearly didn't plant the large ones of summers past. I don't know why that happened. It's disappointing for Don, who loves the big zinnias. A fail on my part. They're very pretty. Just petite.
•  This morning I started to scan the news sites and I simply had to stop. Too depressing. Some days, like this one, become No News days in order to preserve my mental health.
•  I never order from Decor Steals, though I love many of the great deals they offer. We're on a budget and this house is full up, thank you. But I saw a daily deal while I was in Chautauqua that made me think twice. And three times. So I ordered it. The item was very inexpensive and would, I thought, add a little practical fun to our cottage.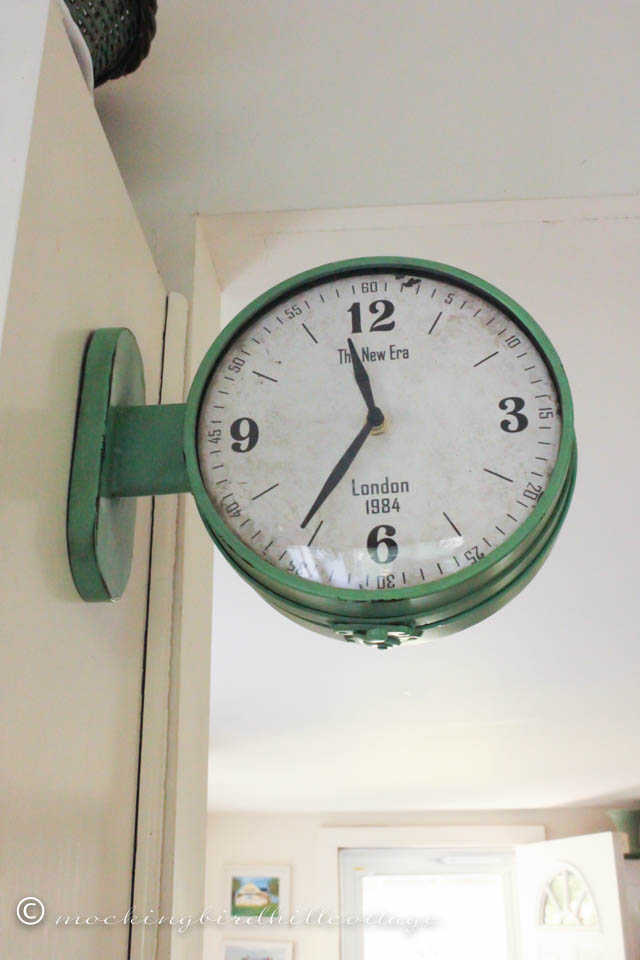 It's this two sided clock. First of all, the color is perfect for our home. I love the graphics, with London/1984/The New Era printed on the clock face. Did I ever tell you I was in a production of 1984 (in 1986) that was a big hit in Philadelphia and went on to a run at the Kennedy Center?
I digress.
Isn't this cool? Don loves it. So do I.
I spent some time on Saturday drilling holes, cursing, drilling some more holes, and finally getting it in place.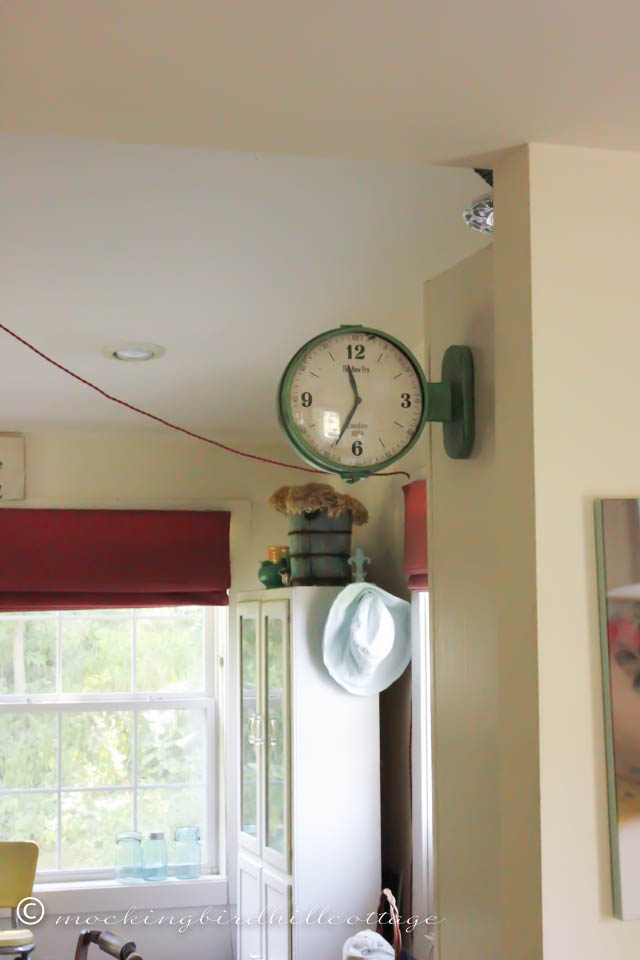 One side.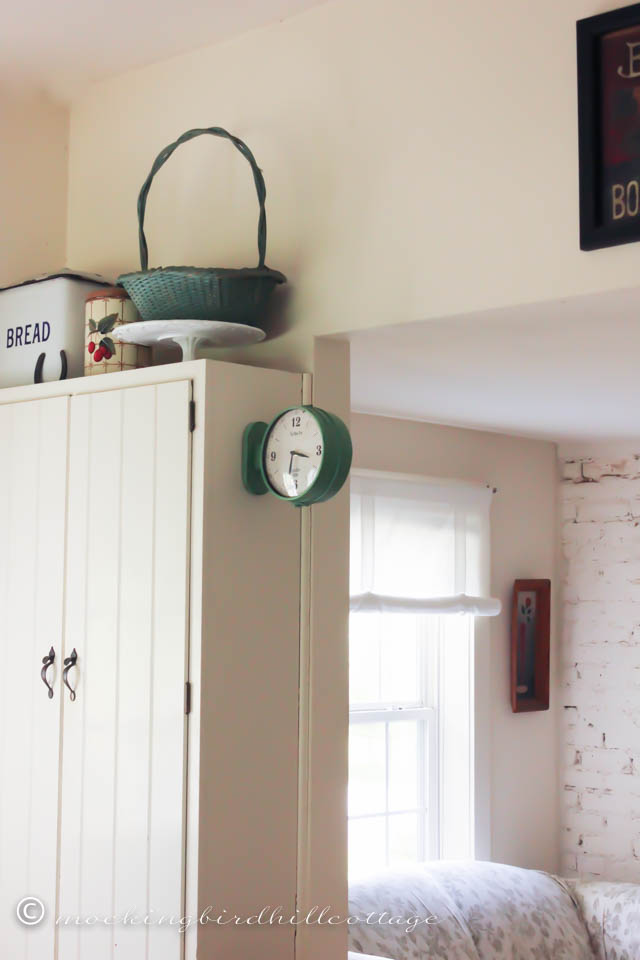 The other side.
Don was recording an album all day Saturday. He and his pal, Dan, recorded 11 songs for a live album – more details will be forthcoming – and then he had a gig after that, so I didn't see him all day. I also didn't tell him I'd hung the clock, so he was surprised and a wee bit delighted when he saw it.
It makes us smile.
•  I'm pleased that you liked the miniature source list I posted yesterday. I've already added more links, and will continue adding them as time goes on. I'll also post a link to the original post that will live permanently under the Dollhouse tab in the navigation bar. That way, it will be easily accessible for all of you mini/dollhouse fans.
New post up on Just Let Me Finish This Page.
Happy Monday.