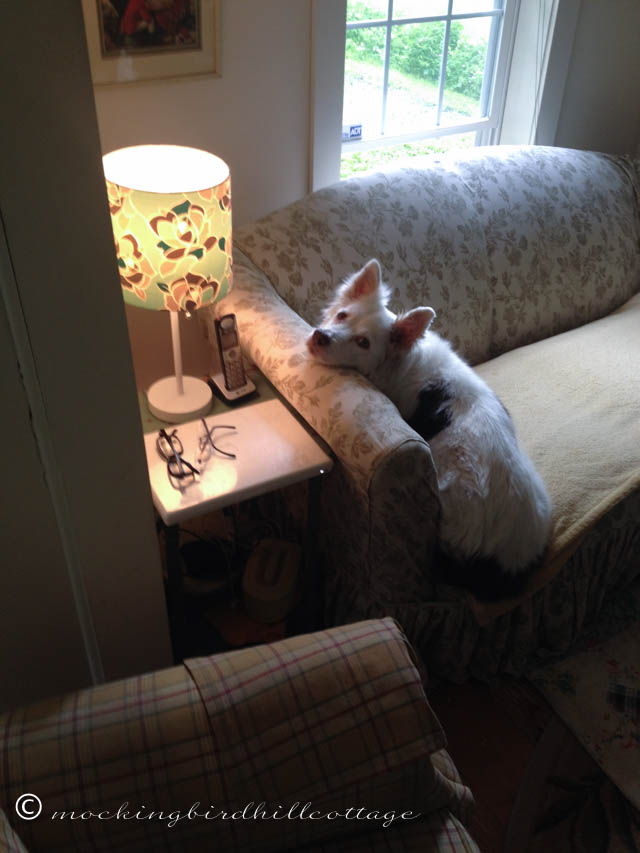 Don took this photo with his iPhone. He came in the door after having run an errand and this is what he saw.
Maybe my favorite picture, ever.
You all know that Don had a few 'adventures' with Scout while I was away. The first, and scariest, occurred around 10 pm one night, when, just as Don was about to go to bed, he noticed copious amounts of blood flowing from Scout's left ear. He called me immediately and, when it became clear the bleeding wasn't going to stop, he took her to our local Vet. A relatively common growth inside her ear was the culprit and the next day, the doctor cauterized the growth.
On another night, he came home and couldn't find Scout. He looked in the kitchen. He looked in the living room. He looked in the den. He finally realized she'd somehow managed to close the bathroom door during one of her bathroom patrols and was stuck there. In the dark. For how long, we don't know, but she was a bit panicked.
The third incident happened during the night. When Don got up the next morning, he saw Scout laying/lying (I'm never sure and I'm tired of looking it up – don't bother educating me on this one, I guarantee I won't retain it) on the kitchen floor with what looked like a rug beneath her. However, as he quickly scanned the room, he noticed that all of the throw rugs were still in place. He looked more closely. She was sleeping on top of the large 5×7 indoor/outdoor red rug that is just inside the kitchen door. How could this be? As he bent down to look, he discovered that one of the jump rings on her collar had caught on the rug fiber, she hadn't been able to extricate herself, and she ended up dragging the whole rug – which is heavy – across the kitchen floor, until she gave up and went to sleep. Thank goodness she was okay, but poor baby! That must have been a heavy load to carry.
Needless to say, her collar is now removed every night. A chair is put in front of the bathroom door every time we leave the house and before we go to bed at night. More throw rugs will be added this week (it's looking like a crazy-quilt in here) to help her get up and down – wood floors are daunting for an elderly dog.
This girl. This beauty. She continues to shower us with love, worry us, add more gray hairs to my head (I can't speak for Don's head), and make us laugh. She's the best girl ever.
Happy Sunday.