Except for going outside to get the mail and water the plants, I stayed indoors yesterday. The inner workings of my brain felt mushy, as often happens in this kind of overbearing humidity. Don experienced the same thing.
I managed to rouse myself late in the day to indulge in a little bit of dollhouse miniature play.  I now have three hanging plants. One of them was meant for the front porch, which presented me with a 'how to' quandary. I didn't want the hanger extending horizontally from one of the porch posts. I wanted it to be attached to the trim/ceiling, so that the plant was hanging between the posts – like the plants on MHC's front porch. I looked in my junk drawer for some sort of little thing that would work as a plant hanger.
I ended up finding it among my office supplies.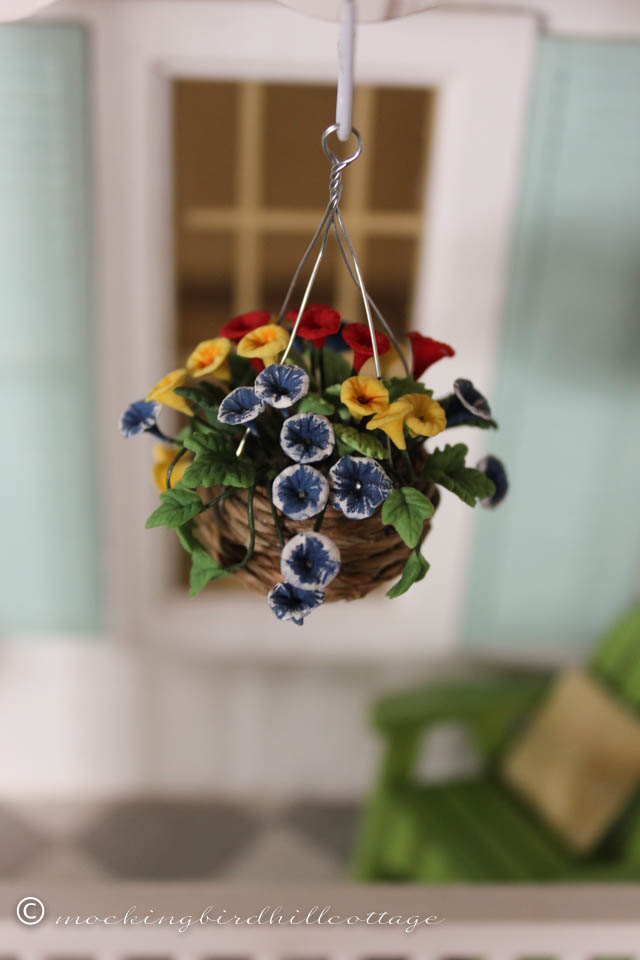 It's a paper clip that is covered in white vinyl. I twisted it and tweaked it so that most of it was hidden behind the trim – save for the hook. I glued it to the trim and now we have a hanging plant on the porch. (If only real life was this simple. A bit of glue and we're done!)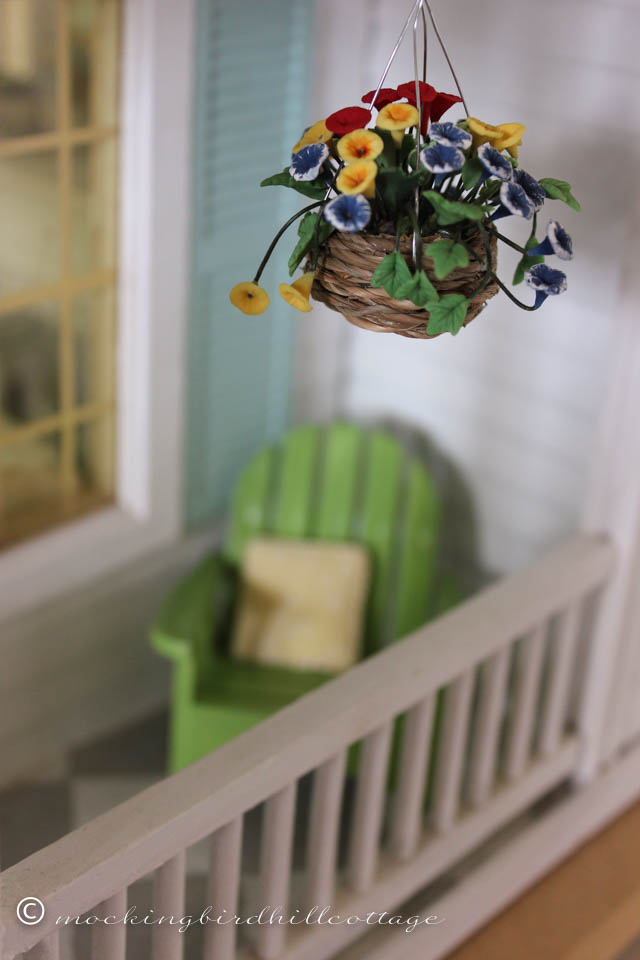 Since the house is white with aqua shutters, I think the porch needs a shot of a more vibrant color. So I didn't go with my hanging plant with the pink flowers. Too predictable. I don't want to get too matchy-matchy. I chose this plant with its red, yellow and blue flowers. And I took an white Adirondack chair I had in my stash and painted it green.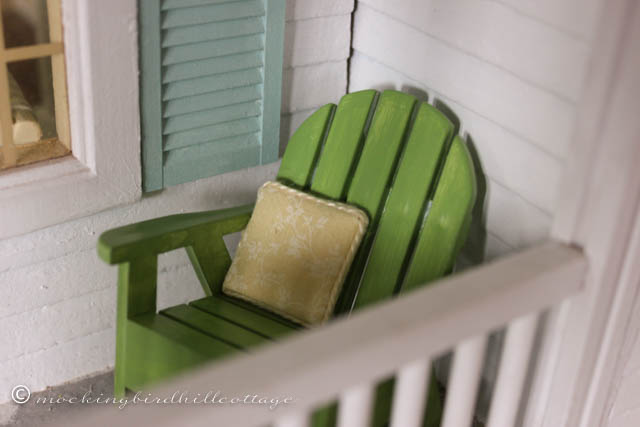 I found this chair a couple of years ago in a fairy garden display at my local nursery. It's really not made for a 1:12 dollhouse, so it's out of scale – too small. That's going to irritate me eventually and I'll replace it. But for now, I like seeing that pop of color on the front porch. Caroline loves her roof garden, but sometimes she likes to sit on the front porch and watch the world go by.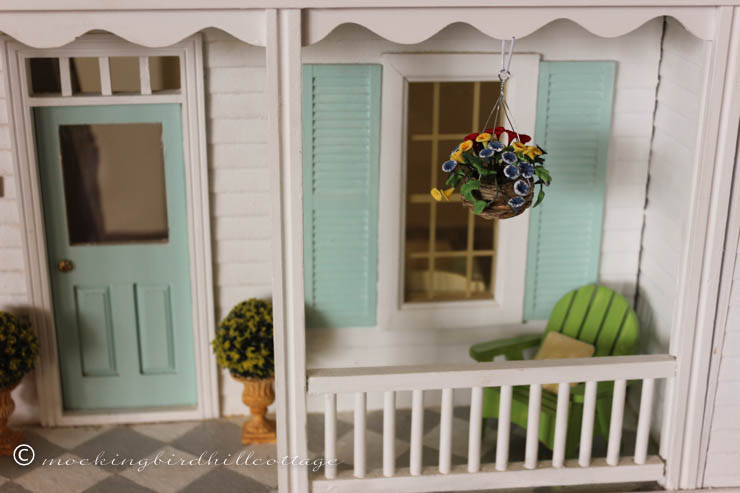 See? A bit too small. Maybe Caroline is petite? If so, she clearly isn't  my alter ego.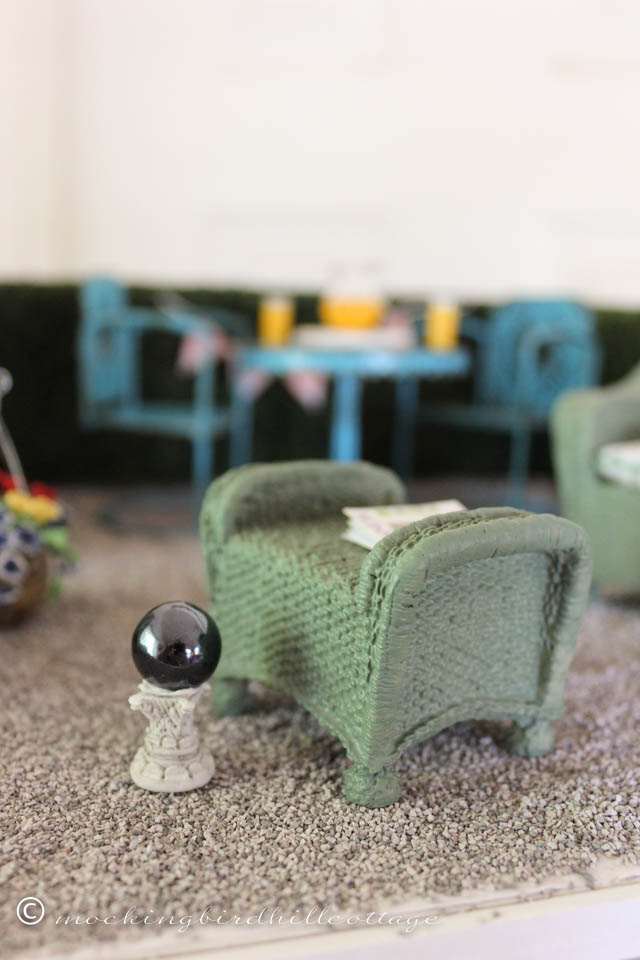 For those of you who asked, here's the gazing ball in its entirety. It's tiny. I like it's current home, but I might end up moving it elsewhere. We'll see.
I've received a couple of requests for a list of dollhouse miniature resources and blogs. I'm in the midst of compiling one for you now and I hope to post it sometime this week. Since I've been back from Chautauqua and working on the dollhouse again, I confess I am consumed by the whole thing. I've found several new sites and some incredible blogs. I am in awe of the creative miniaturists out there. (This is why I hesitate to call myself a miniaturist. These people are incredible.)
Anyway, I'll be happy to share it all with you, along with some explanatory notes.
Finally, I am always thrilled when I find out one of you wonderful readers is now working on a dollhouse. My friend Ann Marie just wrote me the other day to say she'd bid on a dollhouse kit on eBay. Today I received an email from her that said she'd won! It's a beauty, too.
My name is Claudia and I am a Dollhouse Enabler. And I'm proud to say it.
Happy Tuesday.