It was a long day yesterday.
1½ hour trip to the train station. Because I was nice and accommodating, an early drop-off so the Chautauqua driver could pick someone else up at the airport, which left me with 2 hours to kill at the station. A 5½ hour train trip. And a 1½ trip home. Total: 10½ hours.
But I'm home. And my little girl looks great. She's in the tunnel as I write this post.
I won't mention the weeds. Let's just say I'm headed out there soon, before it gets too humid.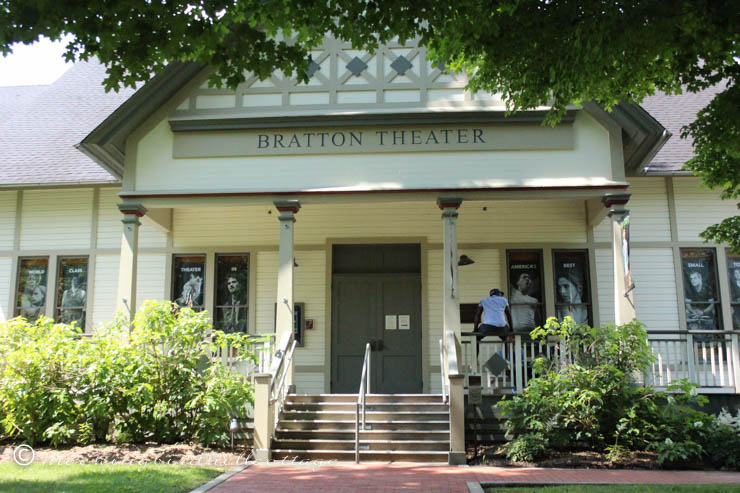 Every play or musical I work on is special. There's a magic that happens in the theater that is hard to define, but, even in less than desirable circumstances, it is a constant. I leave each out-of-town experience a little changed; full of memories and blessed with new friends. While on the train I was chatting, via Facebook, with some of the actors from Kiss Me Kate, who are now performing Darko's glorious production at the Old Globe in San Diego. I was also chatting with the young actors in Our Town, as they prepared to do a matinée performance. We bond working together on these productions. When it all ends and we go back to wherever we're from, that bond stays.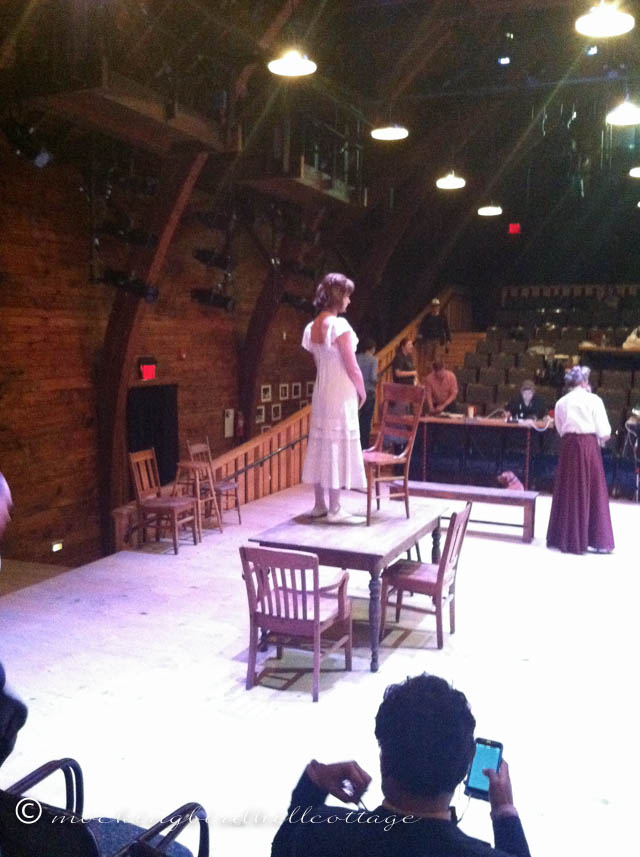 A shot from tech week. That's the actress playing Emily standing on the table. And that's the actor playing the Stage Manager, holding his phone – probably checking his messages!
Our Town  was especially magical. As I sat on the train, I thought about the whole experience and came up with some ideas about that.
• First of all: Chautauqua. Need I say more? It's a beautiful environment and the perfect place to 'put on a play.'
• There's an intensity about rehearsing and staging and opening a play in less than three weeks. It's like Summer Stock and you cannot help but bond in that experience.
• The director, Paul, is perhaps my favorite director to work with. I cannot say enough about what a treasure he is. We first worked together out in San Diego during the summers of 2008 and 2009.  I was thrilled at the prospect of working with him again. He is a rare man; full of joy with a wickedly wonderful sense of humor (I laugh more with him than anyone (except Don). He manages to create a serious but fun working atmosphere. Everyone falls in love with him. And he has an impeccable theatrical eye. He knows how to direct (he's also an actor) and he inspires everyone in the process.
• More on that. As a voice/speech/text coach, I am a part of the process, of course, but I'm also on the edges of the process. By that, I mean that I do my thing but I'm not part of a crew, like the costume team, or the lighting team, etc. It can be very social but also solitary work. Not with Paul. From the very beginning, I was part of the 'table work' we did: reading the play, talking it through, sharing our thoughts. That happens with both Paul and Darko, because they're secure as directors. They also know me well and respect my work, thank goodness. What makes Paul unique is that somehow he lets me be me. I often have to be fairly quiet and serious during the rehearsal process and that's fine – that's a part of me. However, I am a very funny person. I'm not bragging, just stating a fact. And Paul lets me be funny – we almost work together like a comedy team. I feel more fully myself  working with Paul than anyone else. He also welcomes input from everyone involved in the process. He was constantly asking me what I thought of some bit of staging or checking in with me about the actors.
He's a gem. I am so, so grateful that I had this opportunity to work with him again. I adore him. I would drop everything to work with him again.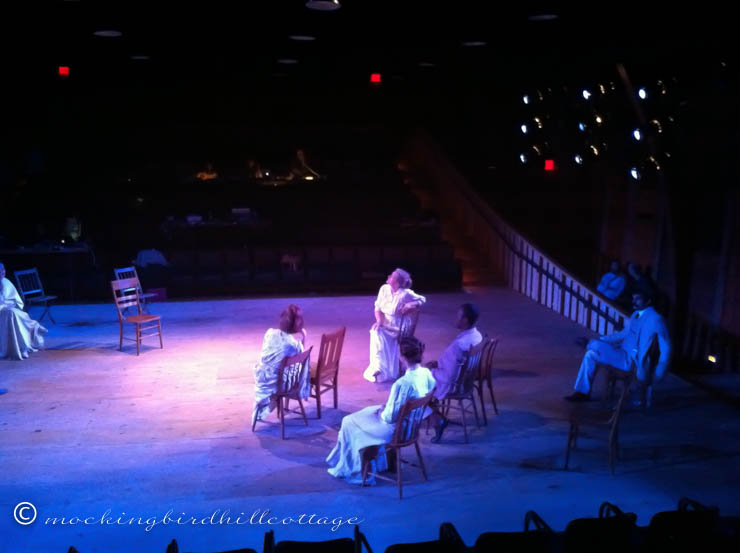 A break in rehearsal – the graveyard scene.
• Our Town. The best American play ever written. Transformational, profoundly moving, joyous and sad – Thornton Wilder has given us a meditation on life and death that moves audiences to tears, touches a place within that cannot help but leave one shaken and moved and altered forever.
• And finally, the student actors. Most of my work nowadays is with professional actors and I love that. The cast of Our Town  is made up of professional actors and student actors. But I am first and foremost a teacher – it's in my bones – and since I no longer hold a faculty position, I don't often get to work with students. The acting conservatory at the Chautauqua Theater Company is full of students currently training in some of the best programs in the country; Yale, Juilliard, NYU and others. They're talented and smart and wonderfully eager and they're still learning. I love being around students. I love that challenge. Students, both former and current, are a big part of my life. For the most part, they have remained my friends, even after they have moved on to the professional world. I treasure those relationships and am very grateful to have had the opportunity to work with this amazingly talented group.
You can tell that I still have one foot in Chautauqua and one foot in Mockingbird Hill Cottage. There's a re-entry that has to happen. Don and I both go through this when we've been out of town. He understands.
It was an incredible experience and I am deeply and profoundly grateful.
Now…on to weeding. (That will bring me back to reality.)
Happy Monday.